These Classic Masterpieces Are Always On Display At The Van Gogh Museum In Amsterdam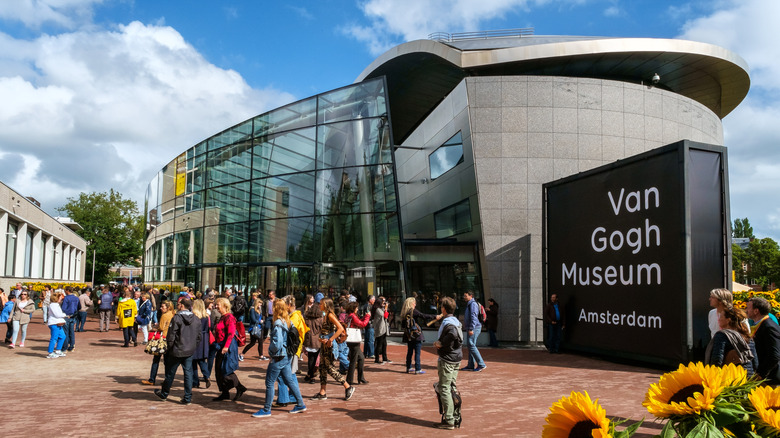 www.hollandfoto.net/Shutterstock
Amsterdam is known for its charm, allure, excitement, and especially for its open-minded take on certain topics. While many people set their sights on this city to check out the picturesque canals or indulge in some extracurriculars, Amsterdam is also home to a big creative community. The day and nightlife might be thriving, but the culture is so much more than dutch bakeries and the Red Light District. Nestled among the winding streets and coveted monuments lies the Van Gogh Museum, a testament to the power of art and creativity.
Whether you are interested in the fine arts or not, this destination is worth a visit. Vincent Van Gogh is one of the most influential painters of the 19th century. But during his life, his works were overlooked, and the public scorned him. According to Britannica, he once told an acquaintance, "They [people] think I'm a madman." His legendary pieces, which are now coveted by both art collectors and casual art fans, were eschewed by critics during his life. Van Gogh may not have lived to see his life's works become revered by millions, but the fact remains that he inspired many with his talents. To be in the presence of these paintings is a truly awakening experience, and the Van Gogh museum in Amsterdam keeps certain pieces on display year-round. If you are in the city, you can find these and more. But be forewarned: You might leave more inspired and moved than when you entered.
Sunflowers, Almond Blossoms, and more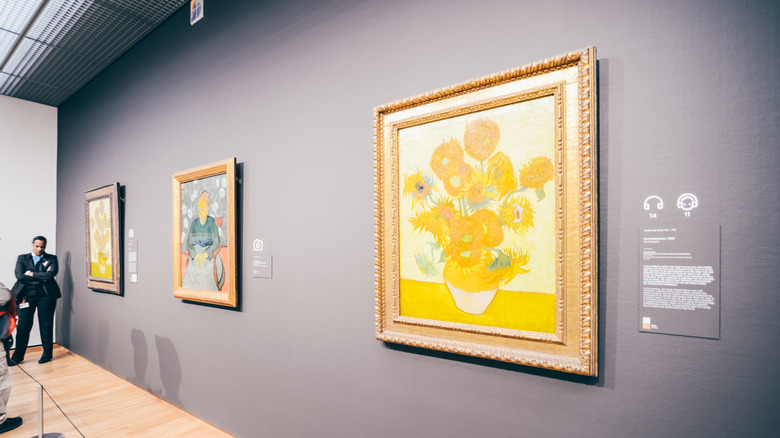 Alina Zamogilnykh/Shutterstock
As a Dutch artist, it is no surprise that Vincent Van Gogh's work can be found in a Dutch city. It might have taken a while for him and his pieces to find the acclaim they deserve, but they are safely kept in a museum under his own name in one of the most popular destinations in the Netherlands. Throughout his life, Van Gogh created over 2,000 works of art, many of which are now considered masterpieces. The entire collection of these awe-inspiring paintings is always on display at the museum, allowing patrons to enjoy them year-round.
Even if you're visiting in winter, the bright and sunny petals of Van Gogh's "Sunflowers" will be radiant, while his "Almond Blossoms" continue to bloom despite the season. Van Gogh's self-portraits are famous and show his emotions as he traversed the life of a failing artist (at the time, at least). One of his most popular exhibits is the "Potato Eaters" painting. Daily Art Magazine notes it is his honesty mixed with his skill that makes it so famous. Within each brushstroke on his canvas, you can find human emotion laid bare: love, pain, hope, understanding, and confusion. Van Gogh seemed to have put his entire being into his paintings, which could be why they have remained so popular. When you look at each one, you feel less alone because someone who struggled through life found eternity through passion.
So much more than paintings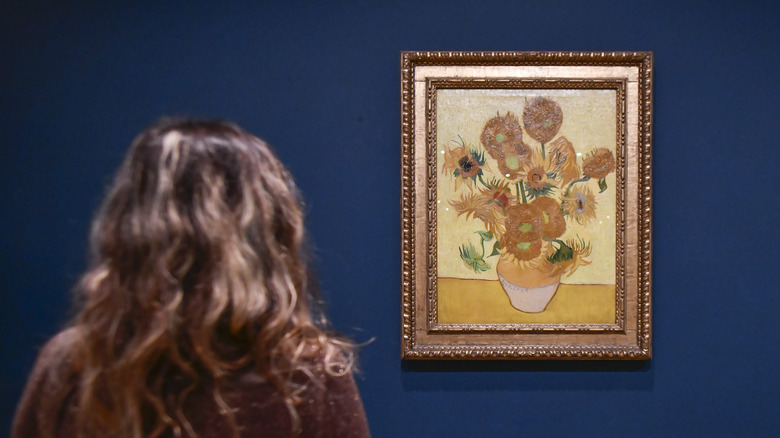 Stefano Guidi/Getty Images
Not only does the Van Gogh Museum let you immerse yourself in the paintings inspired generations, but the Rietveld building also lets visitors peruse personal letters the artist wrote and more. The official website notes that the drawings and notes on display are as much a part of his masterpieces as the finished products. While many museums show audiences the legendary works they want to see, this building is dedicated to helping patrons understand the artist as well as his inspirations.
The museum is so popular that Tulip Festival Amsterdam recommends booking tickets as far in advance as possible because they sell out nearly every single day they are open. Entry costs around €22, but you have the option to join a guided tour as well for a higher fee. These tours are incredibly informative and a way to delve deeper into both the artist and his works. The opening hours for the museum are from 11 a.m. until 8 p.m., and it is open seven days a week (though patrons are encouraged to check with the museum for exact pricing and hours prior to visiting). Regardless of if art is a lifestyle, passion, hobby, or just a passing interest, this spot will leave you breathless and inspired.