16 Affordable Destinations To Visit In Dubai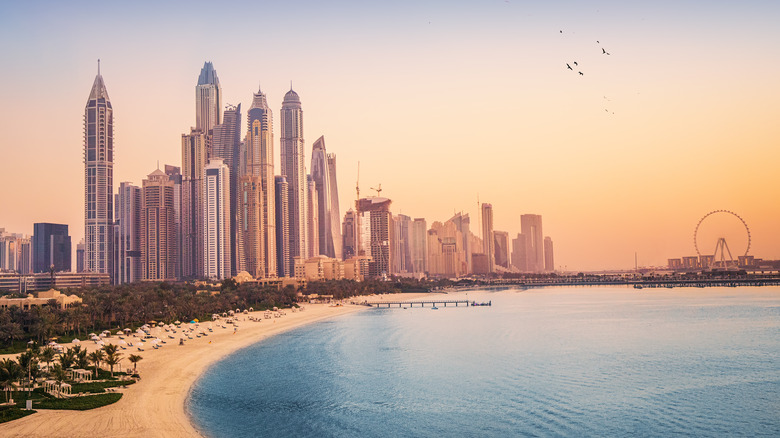 frantic00/Shutterstock
One of the seven emirates that make up the United Arab Emirates (U.A.E.), Dubai is both a province and the eponymous capital city. This modern, glittering, coastal metropolis is where the UAE's vast oil-derived fortunes are brazenly on display — this place is no shrinking wallflower. The population of marquee architectural wonders, giant malls, vertigo-inducing skyscrapers, and fleets of high-octane sports cars have created a globally recognized image of fast-living, faster-developing Dubai. 
And yet, this city works hard to keep in touch with its past, some of it very much alive and thriving. For visitors on a budget, the city offers a wealth of things to do and see that won't have them draining their bank account within seconds of touchdown. From unique museums that celebrate the emirate's humble beginnings to realms where gold stretches as far as the eye can see, Dubai is home to affordable alternatives that perfectly complement the city's more ostentatious, outlandish, and outrageous features.
Deira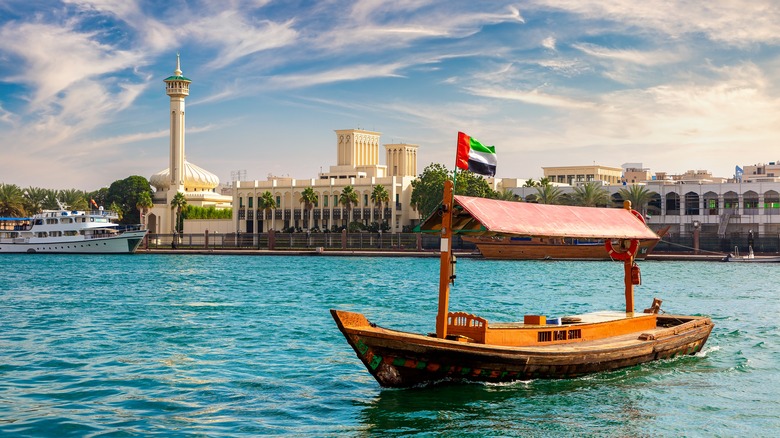 Sergii Figurnyi/Shutterstock
Take a look at today's Dubai — the shiny towers, the canyon of skyscrapers that soar above the surrounding, pancake-flat land, the spanking new malls, and the exotic cars that roar through the streets — and it's hard to imagine what the city used to be like. But an older, low-rise part of Dubai still exists, and you can see it in Deira, which embodies the emirate of days past. It stands as a sober contrast to the glitz and glamor that floods public perception. 
To get a feel for the place, take an abra, or water ferry, to Deira. Costing less than $0.50 and crossing Dubai Creek, these bare-bones wooden boats are a fine introduction to the practical, no-frills area of Deira, one where you will come across old souks, cheap places to eat, narrow alleyways full of history, and the under-appreciated expats that plays a critical role in the city's day-to-day running.
The Dubai Fountain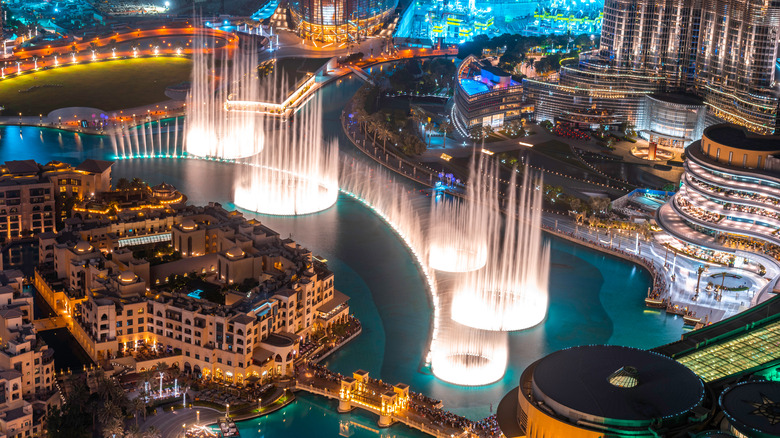 MDXB/Shutterstock
For fans of the silver screen, the Burj Khalifa building might look familiar — it's the tower that Tom Cruise scaled in "Mission: Impossible — Ghost Protocol." For others, the Dubai landmark stands out for its superlatives. It's the world's tallest building (more than 2,700 feet in height), the world's tallest free-standing structure, and has the highest outdoor observation deck in the world (hold on to your hats, it's windy up there). Sitting in front of this soaring, needle-like structure is the Dubai Fountain, which, not surprisingly, boasts an accolade of its own — it's the tallest performing fountain in the world. 
More than being a siphon that regurgitates water in pretty arcs, the Dubai Fountain is a spectacle that's become a tourist attraction, with jets stretching along 900 feet of a 30-acre lake. Alongside the water, the bright lights and color projectors perform choreographed movements and displays to classical tunes, Arabic favorites, and even cinematic soundtracks. Best of all, it's free to watch, though tickets are available for the Boardwalk viewing platform in the lake.
Souks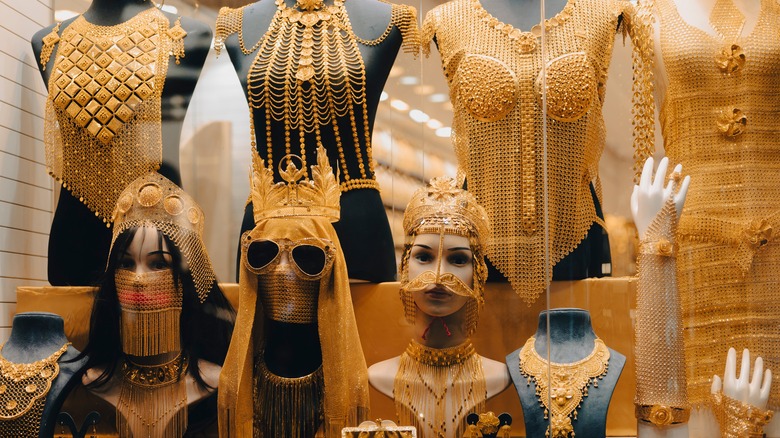 Abu hasim.A/Shutterstock
Located in Deira, the Gold Souk is a glittering prize, quite literally. An old, traditional market, it comprises shop after shop with shiny gold items, from chunky bangles and necklaces to slender, ornate earrings and rings. The choices are overwhelming, and while the place isn't for the budget-minded shopper, it's a great place to window shop and if you do purchase, know that prices are reasonable (relatively speaking!). Given the bright lighting and the amount of gold on show here, it sometimes feels like you're staring into the eye of the sun as you walk around. 
Gold, however, isn't the only pricey item sold here, with diamond jewelry and precious gems also offered. A three-minute walk away finds the Spice Souk, just as notable for its variety of colors as the Gold Souk is known for its ubiquity of gilt. This market is a feast for the eyes and senses, with vibrantly colored dried flowers and herbs piled into woven containers, and the fragrant scent of ground spices filling the air. Close by, the achievements of women in the U.A.E. come under the spotlight at the Women's Museum, where entry is U.A.E. Dirhams 20 (about $5.50).
Saruq Al Hadid Archaeology Musuem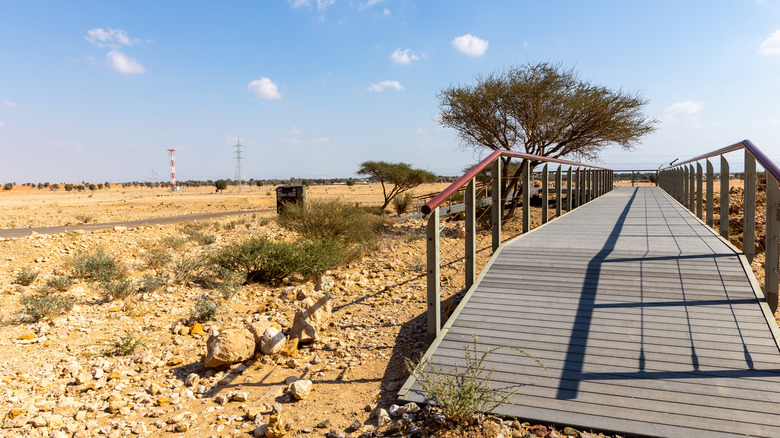 Aleksandra Tokarz/Shutterstock
With a name that translates to way of the iron, this museum, that costs U.A.E. Dirhams 20 to enter, looks at archaeological finds from a remote metalworking hub discovered in the desert, and that dates back three thousand years. The building itself reflects the arid surroundings, an angular, sand-colored structure situated in the city's heritage district. Inside, the collection catalogs items found in the dunes of southern Dubai in 2002 by Dubai's ruler who, while on a helicopter ride, noticed uneven patterns in the dunes below. 
Archaeologists worked tirelessly to uncover what lay beneath, and the fruits of their efforts are beautifully displayed. Visit and you'll see arrowheads made from flint stone, and a bronze axe with a tapered head that speak of the fine craftsmanship of the time. Audiovisual displays recreate the excavation site while workstations in a laboratory section allow you to get a feel for the arduous exertion made by the specialists who sift through the sands.
Ras Al Khor Wildlife Sanctuary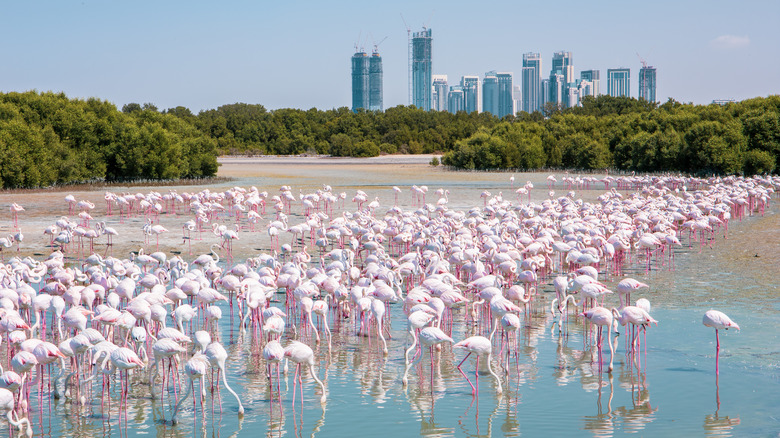 Aleksandra Tokarz/Shutterstock
Despite all the totems in Dubai that attest to the achievements of humankind, the emirate is also no stranger to areas of outstanding natural beauty. These include the Ras Al Khor Wildlife Sanctuary, which sits on the edge of the city, close to the design district. Entry to this refuge is free, with no need to make prior appointments or bookings — you just walk in, show identification to register, and enjoy the sights. 
While the views of the skyline are pretty spectacular seen across the waters of Dubai Creek, the real reason to come here is for the abundant bird life, with three dedicated spots set aside to watch these avian wonders. The Lagoon Hide sits by the still creek, and from this vantage, you can spot raptors and waders. No visit to Ras Al Khor is complete with a stop at the Flamingo Hide, with thousands of flamingos lending the foreground a vivid pink tint.
Alserkal Avenue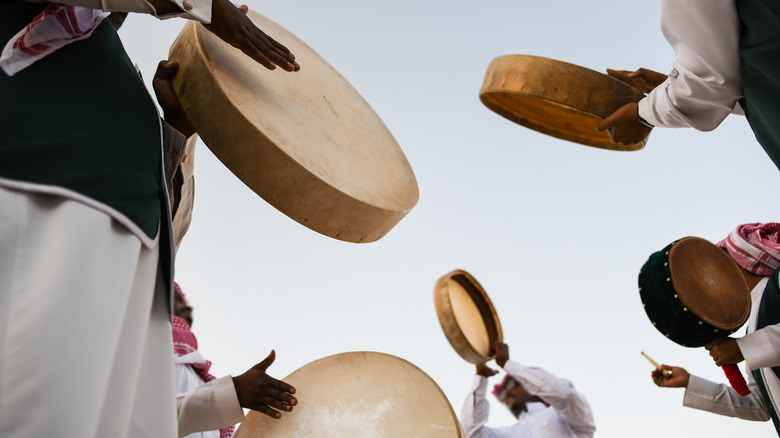 H1N1/Shutterstock
It's hard to justly describe what Alserkal Avenue is — it's certainly not just the name of a road, as its label suggests. More accurately, this is a contemporary arts entrepot located in one of the city's industrial sectors. Established in 2007 by a local entrepreneur, Alserkal Avenue is a 500,000-square-foot assemblage of buildings and spaces that play host to edgy contemporary art galleries, organizations that focus on the arts, fashion labels, performance and community spaces, and new businesses eager to tap into the local market. 
This is a buzzing hub, one where ideas thrive and the energy of innovation and creativity pulses through the place, which is free to wander. In addition to all those cottage industries, Alserkal Avenue is also where to find Concrete, a multi-dimensional exhibition space that can host art exhibitions, fashion shows, dance performances, and more, and was designed by the Office for Metropolitan Architecture, founded by avant-garde Dutch starchitect Rem Koolhaas.
Dubai Mall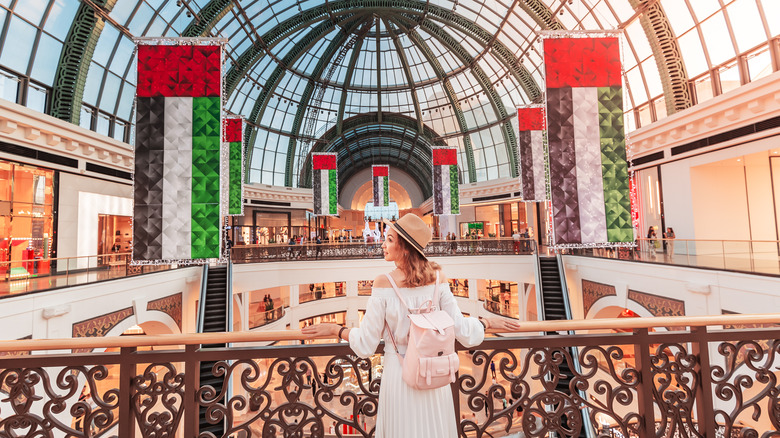 frantic00/Shutterstock
Located right in the heart of Dubai, next to Burj Khalifa, Dubai Mall has stats that make it seem like a bonafide tourist attraction rather than a complex for shopping. More than 100 million people pass through its doors each year, visiting the 1,200 shops scattered throughout the center. Some also come to eat at the 200 restaurants, or experience the various attractions that are here, including an ice rink. It's popular, and also elegant, with plenty of natural light, attractive pieces of public art, and beautiful white Statuario marble floors. 
The two main parts of the mall are Fashion Avenue, where luxury designer brands vie for your attention (and money), and the Souk Al Bahar, or sailor's market, with shopping, dining, and views of the Burj Khalifa and Dubai Fountain. This is a fabulous location to do some window shopping, and even better, you can look into the vast tank of next door's Dubai Aquarium and Underwater Zoo for free — this is also a popular spot, so don't expect to be alone.
Beaches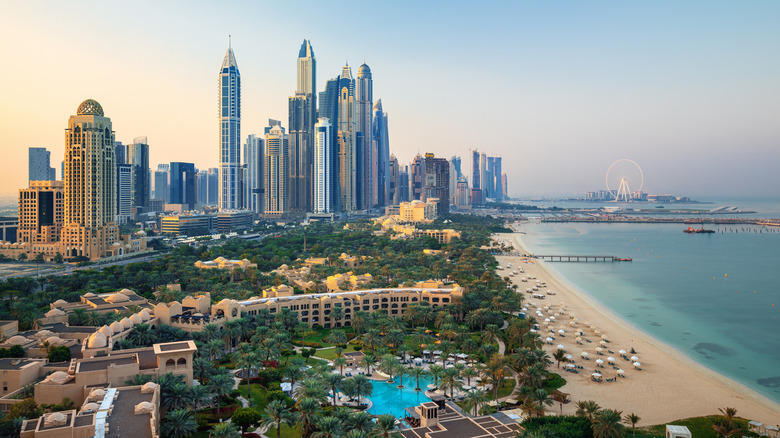 Rasto SK/Shutterstock
Even though Dubai's vertical achievements might grab all the headlines, there remain fantastic facets of the city that are more, geographically speaking, down to earth. The city offers fantastic beaches, which can be comfortably enjoyed for free, year-round, thanks to the emirate's climate (warm winters, scorching summers, a mix of the two in between, and virtually no rain). Though some beaches are private, reserved for the guests of hotels and resorts, visitors aren't starved of stretches of sand that are free to roam. 
Jumeirah Beach is a long stretch of sand dotted with five-star properties, making access to some parts of it off-limits for the casual beachgoer. The free section is at Jumeirah Open Beach (also known as Jumeirah Public Beach), a pretty slice of sand that has excellent views of the sail-shaped, iconic Burj Al Arab. For a closer view of Burj Al Arab, and Palm Jumeirah (a scattering of artificial islands with homes, resorts, and restaurants), head to the Lilliputian Al Sufouh Beach. And for some visual stimulation beyond just turquoise seas and soft sand, Kite Beach is a haunt for kite surfers young and old.
Majlis Ghorfat Um Al Sheif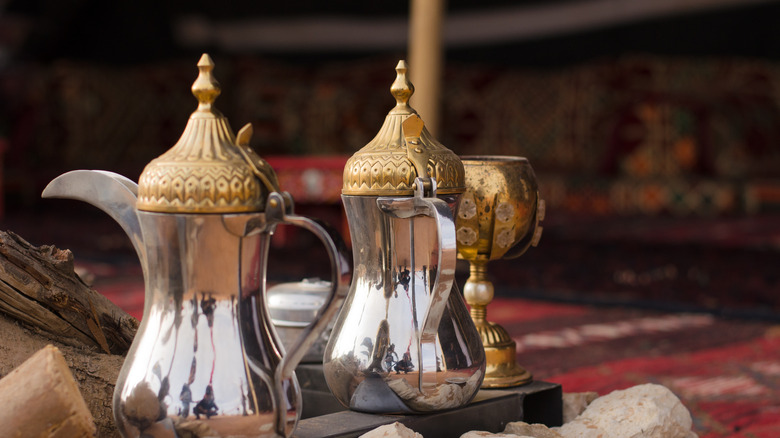 H1N1/Shutterstock
Visiting the home of a royal family is always a treat, palatial spreads that are an eye-opening introduction to how the lives of the rich and famous operate on a different plane from us mere mortals. This place, a former summer home of one of Dubai's rulers, might fall into the category of a royal residence, but it's a much more restrained experience than the typical regal retreat. 
It was originally built in 1955 in the Jumeirah part of the city (so it's very central), where a date plantation once stood, and today costs U.A.E. Dirham 3 (about $0.80) to enter. A modest structure, restored in the 1990s and transformed into a museum, it is made of coral and the soft mineral gypsum, using smart architectural techniques to ensure constant ventilation. Highlights include the terrace where dates were dried and where residents slept on cool nights, filled with artifacts like copper buckets, local rugs, and daggers that speak to its former existence.
Naif Museum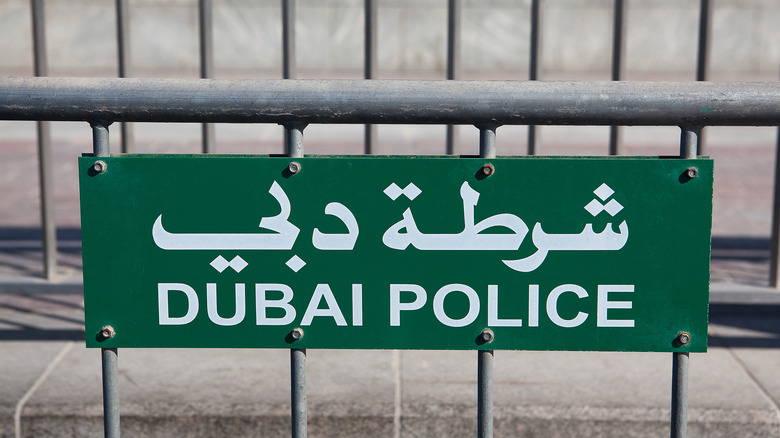 Radomir Rezny/Shutterstock
Housed in a building of clay, this free Deira museum, located where Naif Street becomes Sikkath Al Khail Road, traces the evolution of Dubai's police force. Opened in 1939 as a main police station and also a small prison, the institution now sits next to a functioning police station, seamlessly bringing together the past and the present. People might wonder what the police force does in Dubai, given that the emirate has exceptionally low crime rates — there is very little tolerance of criminal acts, with foreigners that are guilty of crime deported, a deterrent that has proved to be extremely effective. 
Inside this small exhibition space, where entry is free, you'll peruse mannequins dressed in old police uniforms, wander past displays of police weapons like sturdy long-barrelled rifles and chunkier, powerful machine guns, and look over police documentation and images pulled from the station's huge trove of archives.
Jumeirah Mosque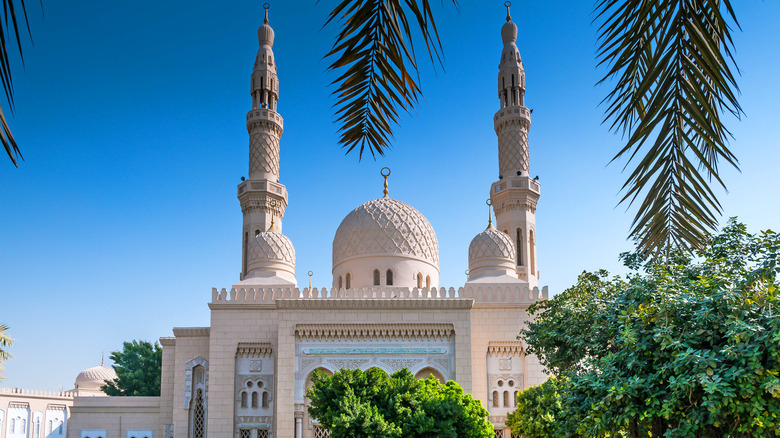 Checco2/Shutterstock
The U.A.E., like most countries in the Middle East, counts Islam as its dominant religion, and mosques can be found all over the nation. Dubai is no exception, with places of worship dotted around the city, though perhaps none is as striking as the Jumeirah Mosque. Its doors first opened in 1979, gifted to Dubai by its former leader Sheikh Rashid bin Saeed Al Maktoum (the father of the emirate's current ruler, Sheikh Mohammed bin Rashid Al Maktoum). 
It's a graceful, elegant structure, with the capacity to hold 1500 worshippers, with architecture synthesized from styles found in Egypt and Syria. While Muslims will come here to pray throughout the day, anyone can visit this manmade beauty. Public visits, available most days of the week, cost U.A.E. Dirham 35 (about $9.50), and are part of a program called "Open Doors. Open Minds" that aims to further understanding of the religion. The tour comes with a guide who can answer any questions, the opportunity to take photographs, and light refreshments.
Textile Souk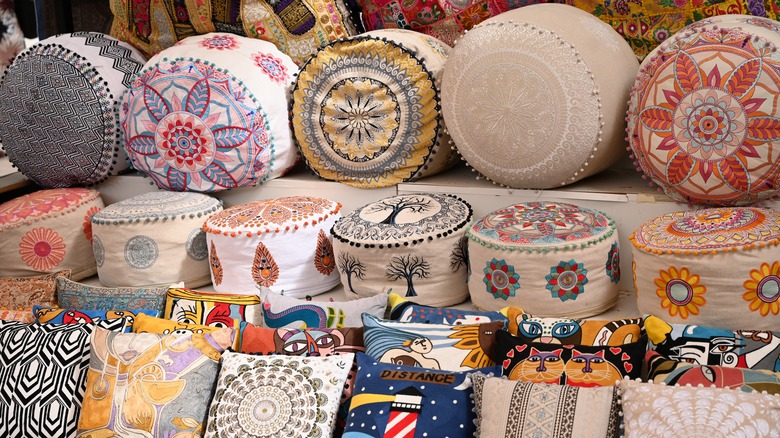 Kateryna Galkina/Shutterstock
In Bur Dubai, across the creek from Deira, the Textile Souk promises visitors a riot of color. Its location places it close to a Shiva Hindu temple (free to visit) and also the Dubai Museum (a fabulous destination that is the oldest building in the emirate, but that is currently closed). Every imaginable fabric — in every imaginable shade — is for sale at this market that inspires many a cherished outfit. 
You'll find stalls with silk, cotton, embroidered fabrics, rolls of cloth in every hue and at prices that will align with any budget. And for wannabe fashion designers — or hobby-horse dabblers in clothes making — the bazaar is also the perfect spot to source accessories like buttons, lace, sequins, bows, rivets, and stones. Beyond unfinished textiles, visitors can purchase ready-made clothing and shoes, cushions (with beautifully embroidered covers), carpets, shawls, and much more to make you, and your home, look great.
Dubai Marina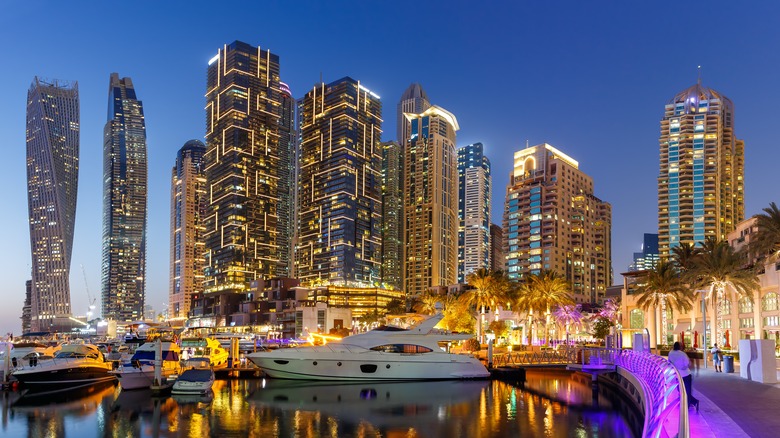 Markus Mainka/Shutterstock
Sure skyscrapers, fast cars, and sparkling jewels all scream money, but so do boats, especially large, gleaming ones that nestle alongside those soaring towers. Dubai Marina is both a place where you'll encounter plenty of those yachts, and the name of a swish neighborhood that has resorts, fancy residential apartment buildings, fabulous places to eat, and plenty of excellent photo subjects. Anchoring the district is the Dubai Marina Mall, with high-end stores galore and an indoor play area for children called Jump N Fun. 
To get a sound handle on the area, take a stroll along the Dubai Marina Walk. A paved walkway that curls around the marina's waterfront, the path will bring you past shops and restaurants (some have al fresco terraces to let you soak in the view over a nibble), open-air plazas that host performances and pop-up events, and of course, past the scores of yachts that will turn you green with envy.
Global Village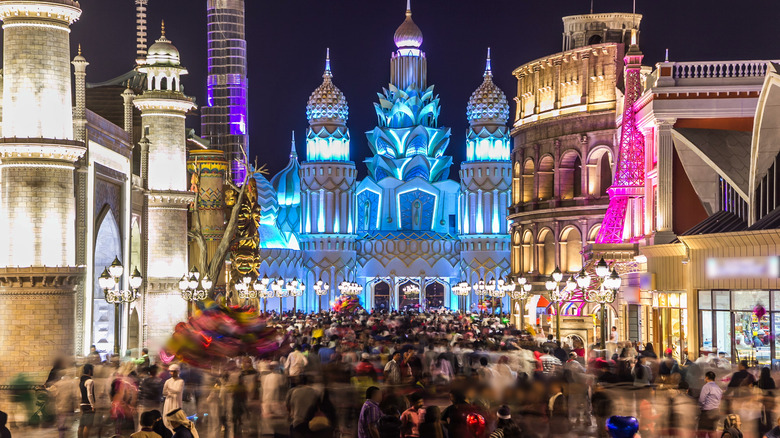 Kirill Neiezhmakov/Shutterstock
This world is a rich and varied place, one whose people have so much in common, and yet whose differences are cause for celebration, not division. That wealth of commonality and diversity is explored through entertainment, food, and public spaces at the Global Village, located in the outer reaches and reachable by public buses. Ladies and families might want to visit on Tuesdays, a day set aside for them. While some travelers might find the idea of this theme park a little kitschy, there's something earnest and admirable about a destination that showcases the distinctive cultures found across the planet. 
Pavilions illustrate the architecture and artistry from different parts of the world (great places to take photos that show you've traveled around the globe in a few hours), while more than 200 restaurants and stalls highlight the culinary prowess of a catalog of countries. Entertainment includes live acrobatic shows, workshops with film directors, musical performances, and even the chance to learn Bollywood dance moves. Entry starts at U.A.E. Dirhams 18 (about $5).
Sheikh Saeed Al Maktoum House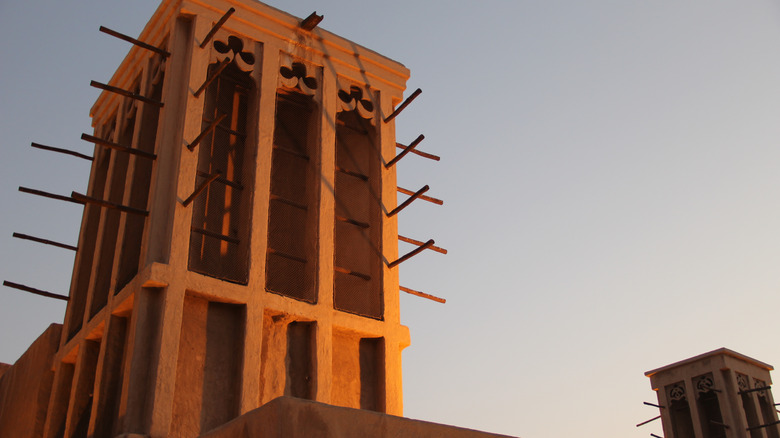 Snapper Nick/Shutterstock
A historical part of Bur Dubai, Al Shindagha sits across the creek from Deira, and it's where the forefathers of the current ruler settled in the late 1800s, declaring independence from the neighboring (and largest) emirate Abu Dhabi. It's a part of the city that is deeply connected to the royal family, a heritage district today, and home to the Sheikh Saeed Al Maktoum House. This former compound of the royal family bears the name of the grandfather of Dubai's current leader and is where he lived from 1912-1958. 
The building, a seedling that sprouted in 1896 before expanding to its present-day footprint, is anchored by three breathtaking courtyards. In addition to the open spaces, the complex captures the imagination through wind towers that catch and circulate air, arched doorways, and vaulted ceilings. You'll also pore over ornately carved teak doors, old coins, rare stamps, and views of the creek from the terrace. Entry is only U.A.E. Dirham 3 (about $0.80).
Street Art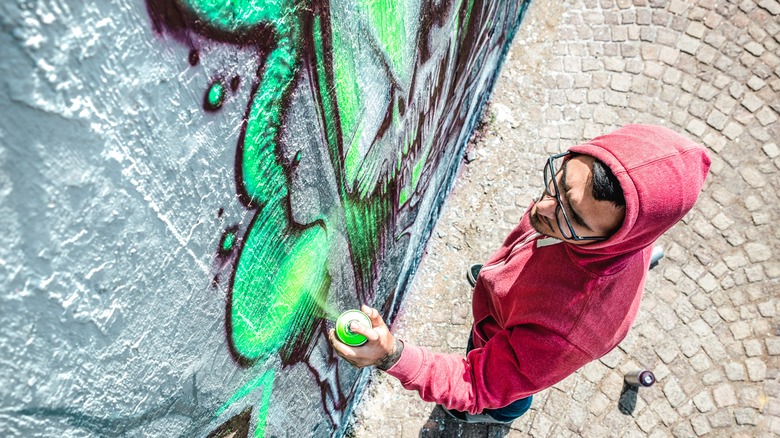 View Apart/Shutterstock
Another fine public beach not to miss is La Mer (French for The Sea, not a particularly original name for a beach), where the fine sand is complemented by family friendly rides and attractions. What makes it even more attractive as a destination is that the area around it has some astounding, Instagram-primed street art. While there aren't any specific streets or spots where it's concentrated, the shopping areas near the waterfront and the waterpark have plenty to show — you'll find murals on corrugated panels on the side of buildings, colorful paintings on walls, whimsical portraits and scenes that incorporate public pipes, and splashes of creativity where you might not expect it. 
Some of the highlights include a pair of bright angel wings, a child with a blue face sipping from a straw that's actually a pipe painted red-and-white, a giant faucet on the side of a building with painted drips of water on the ground below, and a purse-lipped kid with sunglasses on urging you to stay cool. Now that's cool.