The Best Time Of Year To Visit Dubai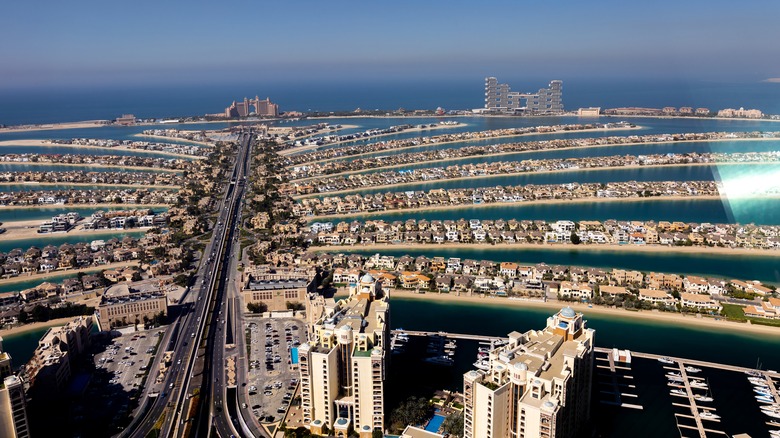 DigitalWork.be/Shutterstock
Everything seems brighter and bigger in Dubai. Literally. There's the Burj Khalifa, the world's tallest building at just over half a mile tall. Next to that soaring skyscraper is the Dubai Mall, the world's largest. The fountain at The Pointe at Palm Jumeirah is spread over 15,000 square feet, setting the Guinness World Record. And in the ultra-luxury hotel Atlantis The Royal, there's the world's largest jellyfish aquarium, via Arabian Business.
The city attracts the wealthy and the uber-wealthy with thousands of millionaires and over a dozen billionaires living in Dubai, according to Arabian Business. Even the main international airport has a collection of spas, a swimming pool, and luxury shopping. But if you drive around 30 miles from Burj Khalifa, you can be out on an Arabian desert safari. And along with high-end name brands from around the world, you can shop at lively souks, or marketplaces, where you can find everything from spices to perfumes, per Visit Dubai. With all that Dubai has to offer, you should definitely put it on your travel bucket list. But when to go?
Avoid the heat and crowds in October and April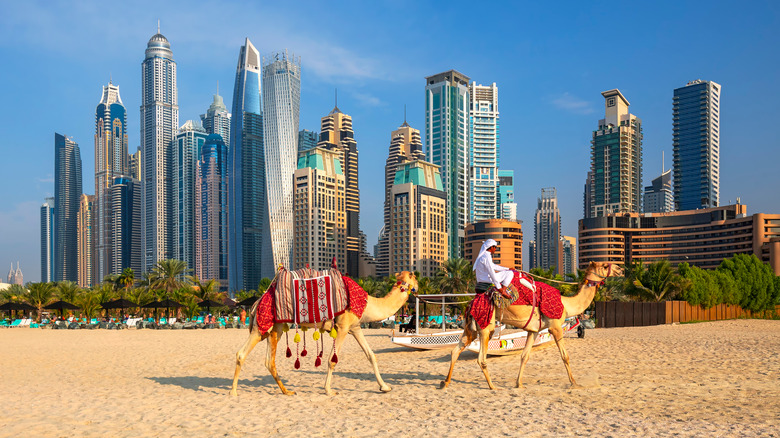 Rasto SK/Shutterstock
One of the main factors to consider in figuring out when to book your trip to Dubai is its desert climate. The average temperature year-round is 83 degrees Fahrenheit, per Time and Date AS. That sounds pretty much perfect for going to the beach, and Dubai has miles of beautiful white sand beaches, per Visit Dubai. However, from May to September, the high temperature can top out at 100 degrees Fahrenheit and above, with July and August as the hottest. With the higher heat, there will be fewer crowds and hotel prices are likely to be cheaper, according to Audley Travel.
That means, weather-wise, the most comfortable time of year to visit Dubai is from around November to April. But according to The Points Guy, you'll find the most crowds from December to February. So if you're looking for the sweet spot for a Dubai visit where it's not too crowded and it's not so hot that you can't comfortably enjoy all the outdoor activities in and around Dubai, aim for late September or October or March and April.
Consider what you want to do in Dubai to know the best time to go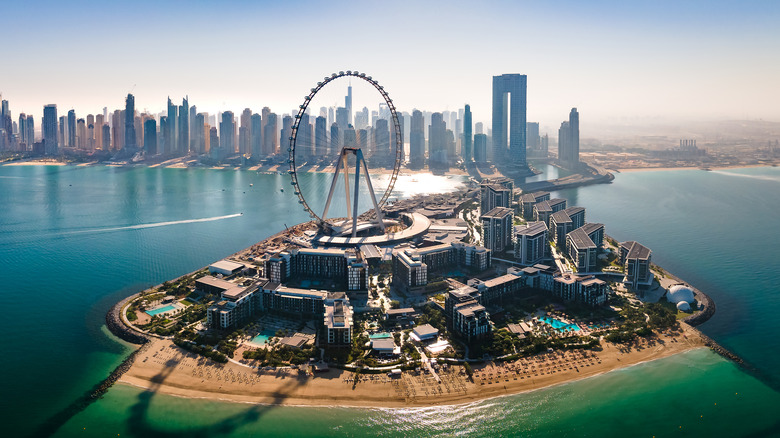 Creative Family/Shutterstock
While the weather may seem like the only dictating factor in your visit to Dubai, there are other considerations. If your goal is primarily shopping, the high or low seasons can be good. Around December and January is the annual Dubai Shopping Festival where lots of shops put things on sale. And in July and August, there's Dubai Summer Surprises, which also means sales in stores and on hotel rooms, and if you are okay with potentially skipping open-air markets, the main shopping spots are air-conditioned.
If you get tired of shopping and it's too hot outside, stop by Ski Dubai, the indoor ski resort that's below freezing where along with skiing and snowboarding, you can watch a movie there. Or treat yourself to a spa treatment; the city is full of indulgent options, like AWAKEN where they have a hot stone massage with rocks that are covered in 24k gold.
There are some other things to think about when it comes to your Dubai vacation timing. If you're hoping to go on a Dubai desert safari, whether it's on the back of a camel or on a quad bike, forget going in the heat of summer. According to Dubai Tickets by Headout, outdoor options are limited or closed. And you'll want to look up when Ramadan is, the three-day festival Eid al-Fitr that ends Ramadan will bring big crowds to Dubai, via Audley Travel.