How To Find The Best Views Of The Hollywood Sign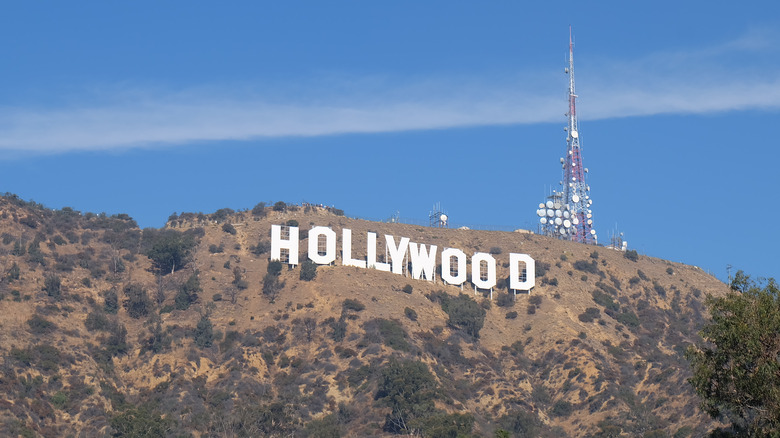 Yybua/Shutterstock
There are few things as iconic as the Hollywood Sign in Southern California. One glimpse of the 45-foot tall white letters immediately transports you to a red carpet full of famous actors, a state of perpetual sunny weather, and glamorous palm tree-lined streets. For many, the Hollywood Sign is an embodiment of what awaits you in Southern California: fame, fortune, and a year-round tan.
What many don't know is that the Hollywood Sign wasn't always as well-preserved as it is today. According to Discover Los Angeles, the sign was built in 1923, rebuilt in 1949, and practically abandoned until the late 1970s when the famous businessman and Playboy publisher Hugh Hefner held a fundraiser to save the sign. Today, the Hollywood Sign is well-preserved and a must-see for visitors to Southern California.
While you can see it from the 101 freeway, you will definitely want to get a closer view. Luckily, there are a variety of ways you can get an incredible, FOMO-inducing photo-op with the Hollywood Sign.
The best views of the Hollywood Sign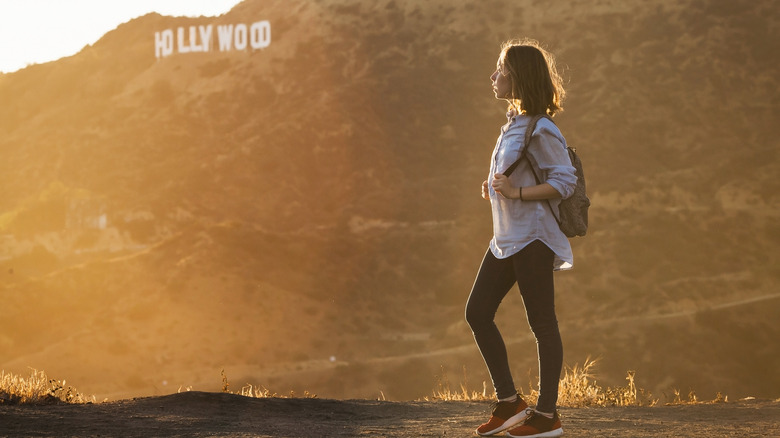 Personal Belongings/Shutterstock
The official Hollywood Sign website lists three hikes — two easy and one hard — that offer great views of the Hollywood Sign, which is located on Mount Lee. The trails can be accessed via Griffith Park and keep the same hours as the park. Some people may give you advice on how to get a closer view of the sign illicitly, but this is very risky and not recommended. There is 24/7 security so if you're thinking about doing this, really ask yourself if it's worth it.
Want to feel like you're on the set of an old Western film from the 1920s? One unique way to see the sign is to go on horseback. So put on your best cowboy boots, get a guided tour from Sunset Ranch Hollywood, and experience the Hollywood Sign like a true cowboy or cowgirl.
Not really into hiking or horseback riding? Lucky for you, there are plenty of other ways to see the Hollywood Sign. Discover Los Angeles recommends either the DASH Observatory Bus or taking a trip to the famous Hollywood and Highland. At Hollywood and Highland, you can shop, eat, and enjoy films at the famous Dolby Theatre or TCL Chinese Theatres. Here you can also view the sign perched among the hills in the distance.
What to bring for a visit to the Hollywood Sign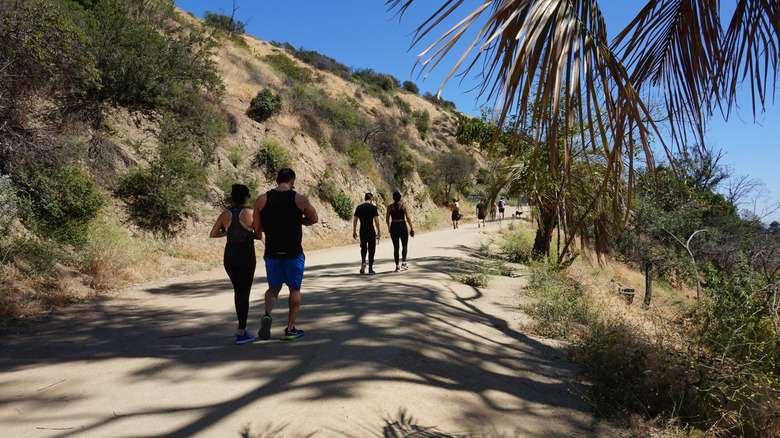 Alex Millauer/Shutterstock
If you decide to take one of the popular hiking trails to the Hollywood Sign, there are some things you will want to bring with you. While Southern California is known for its incredible weather, this does mean that the sun is out all day, and it can get very hot in the middle of summer. Come prepared with sunscreen, a hat, and appropriate clothing and shoes for a hike. On some of the trails there are water fountains, but be sure to bring your own water in a reusable water bottle. Since these trails are so popular, also be prepared to meet lots of runners, people walking their dogs, and other hikers on your walk.
Want to feel like a real Hollywood influencer for a day? Bring an outfit to change into. Whether you're going for old Hollywood glam or '60s California dreamin', you're sure to make a splash in your Instagram feed from one of the best viewpoints of the Hollywood Sign.