Spreeinsel Is The Ideal Home Base For Museum-Hopping In Berlin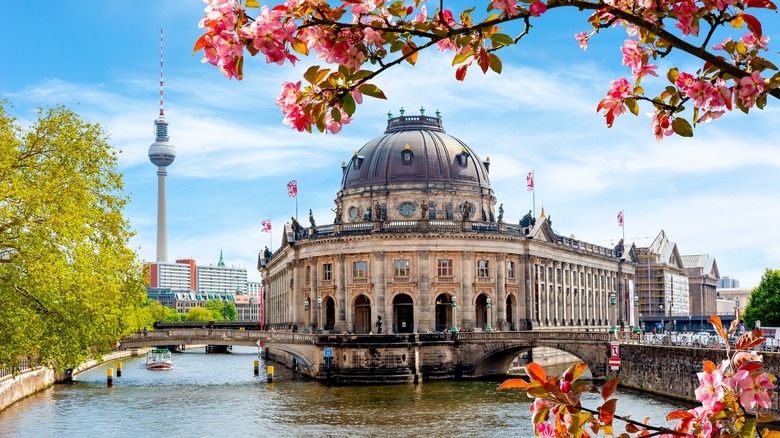 Mistervlad/Shutterstock
When rich history, awe-inspiring architecture, fantastic food, and a vibrant cultural scene are what travelers are looking for in a destination, they'll find it waiting for them in Berlin. As the capital city of Germany, Berlin holds an important place in the country, the European Union, and on the world stage too. Home to just over 3.5 million residents, Berlin welcomes around 14 million visitors each year looking to experience this dynamic destination for themselves.
Top stops in Berlin such as Brandenburg Gate, the Berlin Television Tower, Friedrichswerder Church, and the Berlin Wall Memorial are traditionally well worth adding to any itinerary. However, Berlin's alternative side and eclectic culture can be just as intriguing to travelers. It's also hard to overlook the massive artistic appeal the city holds for locals and visitors alike. 
Berlin is home to over 170 museums. This makes it a prime European locale for those looking for creative inspiration year-round. While there are inevitably plenty of places to explore when it comes to art, historical artifacts, and unique exhibitions, museum-hopping in Berlin is at its very best when visitors set their sights on the one-of-a-kind destination known as Spreeinsel.
A comprehensive and inspiring museum experience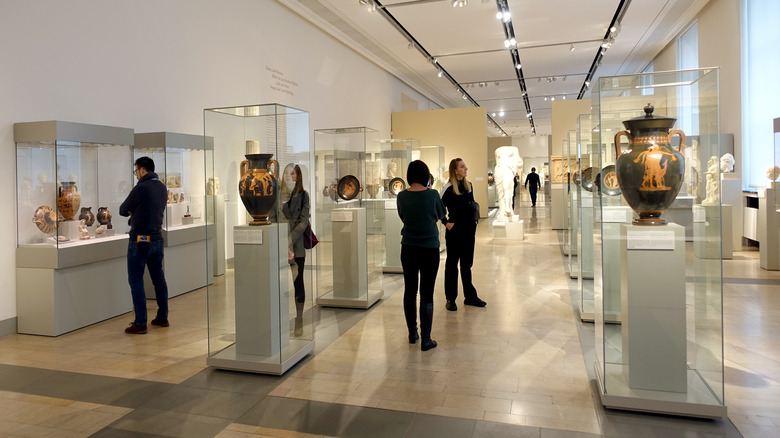 Ligeia/Shutterstock
Situated between the Spree Canal and the Spree River, Spreeinsel enjoys both a convenient and accessible location in Berlin. Spreeinsel is a creative and comprehensive destination where visitors can enjoy access to no less than five museums, an exhibition building, and art galleries too. The northern portion of Spreeinsel is referred to as Museum Island and is a designated UNESCO World Heritage Site, a distinction it was first awarded in 1999.
The collections and the exhibits available for visitors to browse at the museums across Spreeinsel span the prehistoric era through the 19th century. Visitors looking to experience objects, art, and artifacts that originate from such a vast timeline won't have to travel far at all to find what they're searching for. In fact, every museum on Spreeinsel is within walking distance of one another. This means guests can leave transportation out of the equation when checking a variety of museum stops off their agenda.
A visit to Spreeinsel is a great option for Berlin-bound travelers who are looking to maximize their museum-hopping time without having to cover many miles. While it's possible to spend a single day jumping between museums and exhibits here, those with more time to spare might find the three-day Berlin Museum Pass to be an even more effective solution. When museums are top on the to-do list, the pass gives visitors three consecutive days to enjoy as many museums as they like, including those on Spreeinsel.
Museum stops to enjoy when you visit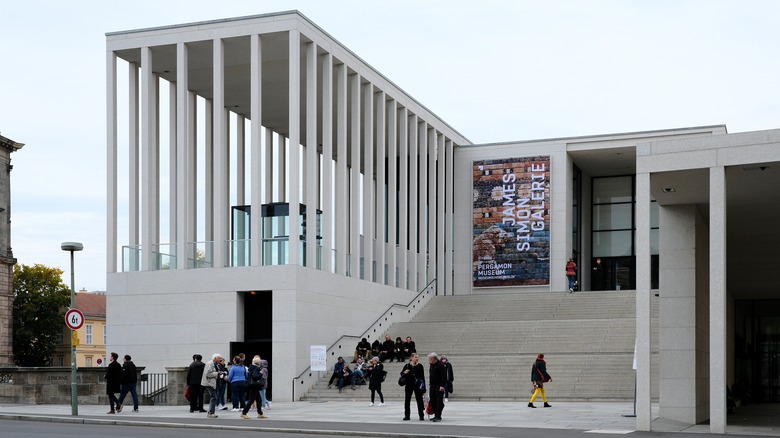 Stephan Dost/Shutterstock
A visit to Spreeinsel starts at the James Simon Gallery. This destination also acts as a visitor center where museum-hoppers who are not using a day pass can purchase individual tickets to the rest of the museums on the island. In addition to ticket and information desks, the visitor center also hosts a gift shop, café, checkrooms, and an auditorium.
Beyond the James Simon Gallery, Spreeinsel visitors can explore the Neues Museum. A highlight display many visitors head this way to admire is the bust of Nefertiti. At more than 3,000 years old, this exquisite work of art enjoys a place in the museum's North Dome Hall.
Getting caught up in the wonders of ancient Egypt at the Neues Museum is easy to do. However, a visit to Spreeinsel also provides an opportunity for guests to visit the Altes Museum, the Pergamon Museum, the Alte Nationalgalerie, and the Bode Museum. In total, these museums house more than 6,000 years of cultural and art history within their walls.
Captivating testaments to art and culture thrive on this island in the heart of Berlin. Those visitors excited to experience as many world-renowned museum exhibits and displays as possible will love how here, it's all easily within reach. The next time you're in Berlin, make sure Spreeinsel is at the top of your itinerary and be prepared to be inspired along the way.