12 Scary Roads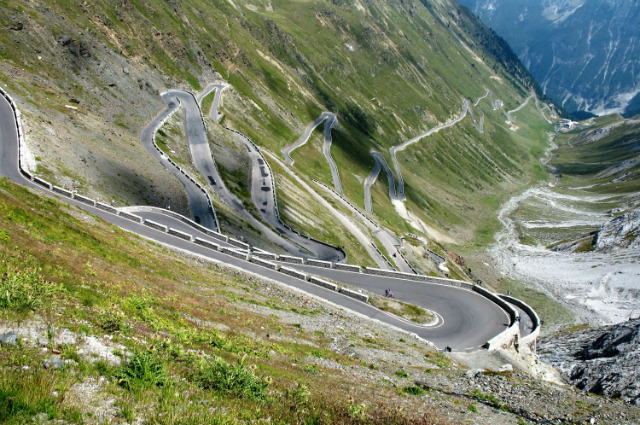 Shutterstock
The Death Road—Bolivia
Bolivia's Old Yungas Road is a winding, 40-mile-long stretch that links the high Andean capital city of La Paz to Coroico, 11,500 feet below in the Amazon basin. Hundreds of rickety trucks, cars and buses—including one carrying 100-plus passengers—have misjudged its sharp turns over the years, plunging over the guardrail-free cliffs into the canyon below. Even though new construction bypasses one of the most treacherous sections and its steep hills have become a tourist attraction for adventurous mountain bikers, the so-called "Death Road" still kills more than 100 people each year.
The Million Dollar Highway—Colorado, USA
Southwest Colorado's Million Dollar Highway is, for much of its length, an idyllic, breathtakingly beautiful alpine road that connects Durango to Ouray via three 10,000-plus-foot mountain passes. But the 12 miles south of Ouray—particularly for Durango-bound drivers, who are exposed to the unprotected cliffsides—are steep, twisting and completely unforgiving of driver error. Originally hand-carved by Russian immigrant Otto Mears in the 1880s, the modern highway remains open through the slip-and-slide snowy months (pictured). As the locals say, though, you'd have to "pay me a million dollars" to drive that stretch in the snow.
Trollstigen—Norway
The serpentine "Troll's Way" winds through 11 hairpin turns at grades of up to 9 percent on its way up to a 2,790-foot mountain pass. Try not to be distracted by the 1,050-foot Stigfossen waterfall that tumbles down alongside the route and into the valley far below.
Federal Highway 1—Mexico
The only road to link the far-flung towns and villages of Mexico's sun-baked Baja Peninsula is this narrow, two-lane byway. Shared by freight trucks, oversized RVs and, well, almost every single vehicle on this 1,000-mile-long peninsula, it can get downright hairy, particularly where it twists through the mountains and hugs the coastline between hillsides and sea. Accidents are common and, in many places, guardrails are split open where previous drivers have missed their turns.
Guoliang Tunnel—China
This treacherous road was carved into the cliffside to connect the mountaintop village of Guoliang with the rest of civilization (previously, the only access was via a steep stairway called the "Sky Ladder"). After years of their pleas for a road falling on deaf government ears, local villagers took matters literally into their own hands and hand-carved a 0.75-mile tunnel that's 16 feet tall and 13 feet wide. The roadway twists, turns and dips unpredictably, as might be expected of a DIY project, and is only wide enough for a very slow, careful passing of oncoming traffic.
Highway of Death—Iraq
It's a given that many Iraqi roads are dangerous as of late, littered as they are with improvised explosive devices (IEDs) originally intended for American troops and their allies. But one stretch of Highway 80, from Kuwait City to Basra, was dubbed the "Highway of Death" during the Persian Gulf War after U.S. aircraft bombed a retreating column of Iraqi tanks and trucks, destroying 2,700 vehicles in all. Death toll estimates range from 300 up to 10,000 in the attack, which occurred just days before the war ended.
The Trans-Siberian Highway—Russia
The Russian Federal Highway system stretches thousands of miles across Siberia's boreal forests and frozen steppes, linking Moscow to, at its farthest reaches, Yakutsk (which, with its average January temp of –37ºF, is the coldest city on Earth). During the 10-month-long winter, these highways are rerouted across frozen lakes and rivers and are bedeviled by mountainous snowdrifts, whiteout conditions and, of course, bone-chilling, engine-seizing cold. And it's no better in July and August, when the 700-mile-long unpaved Lena Highway to Yakutsk turns into a traffic-choked mud wallow.
Luxor-al-Hurghada Road—Egypt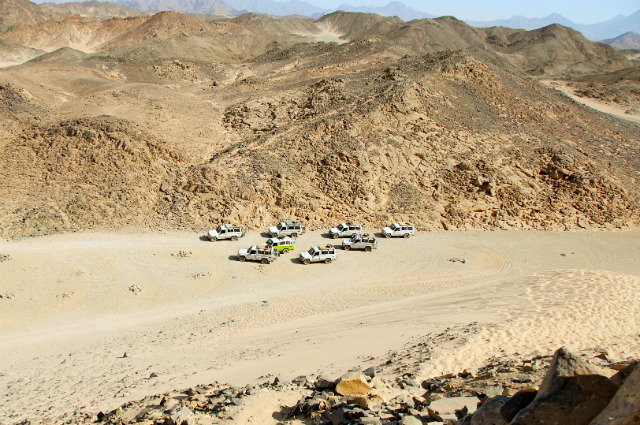 Shutterstock
The 180-mile route from Egypt's Red Sea diving resort of Hurghada to the Nile-side city of Luxor doesn't look treacherous at all. In fact, the modern highway runs pretty straight across the flat, wide-open terrain. But topography's not the challenge here. At night, bandits and terrorists are known to prey upon defenseless motorists, reportedly prompting those unlucky enough to be caught out after sunset to speed across the pitch-black desert with their headlights turned off. Collisions, as you can imagine, are common.
The Karakoram Highway—Pakistan
The Karakoram Highway, which links China and Pakistan over the 15,400-foot Khunjerab Pass, winds through some spectacular gorges along the route of the old Silk Road. The international "Friendship Highway," which isn't even paved on the Pakistani side, is so unstable and prone to flash floods that almost 900 workers died during its construction, mostly crushed by landslides. For bonus points, take the Fairy Meadows spur to the base of Nanga Parbat.
The James Dalton Highway—Alaska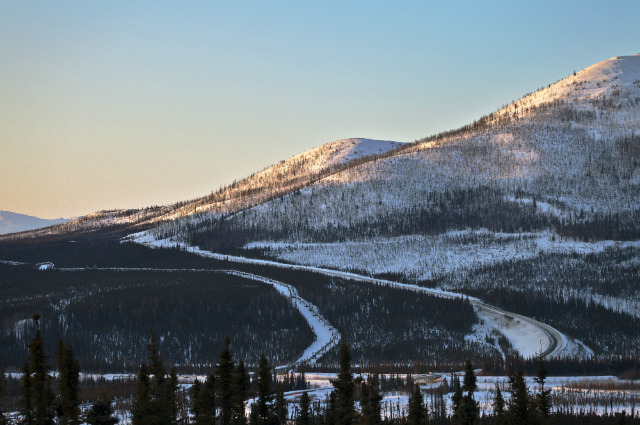 Shutterstock
Made famous by the reality TV series Ice Road Truckers, Alaska's 414-mile James Dalton Highway is the only land link between the Arctic Sea oil fields and, well, civilization. Truck traffic picks up during the long, dark winter, when Arctic winds batter the highway and 12% grades turn into treacherous miles-long Slip'N Slides. During the summer, beware the rocks and dust kicked up by the speeding trucks, and keep a close eye on your gas gauge: services out here are nearly nonexistent.
Stelvio Pass—Italy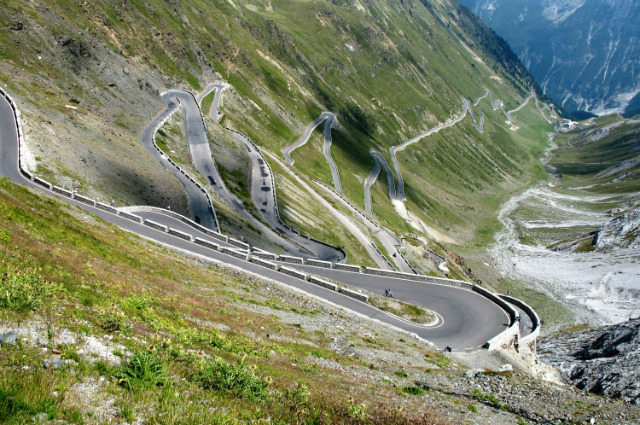 Shutterstock
It takes 48 hairpin turns for this road to climb through gorgeous alpine scenery on its way to the second highest paved pass in the Alps, the 9,045-foot Stelvio Pass. Don't spend too much time taking it all in, or you're sure to miss one of the 180-degree corners. Located in northern Italy's Ortler Alps, this is the highest pass traversed by any cycling Grand Tour. And on one day each August, the pass is closed to vehicle traffic, so thousands of cyclists can put their lungs and legs to the ultimate test. On the way down, navigate another 38 hairpins and hope your brakes hold.
Kabul-Jalalabad Highway—Afghanistan
What's more dangerous than driving through Taliban territory? Driving through it along the 40-mile stretch of road that squeezes through the Kabul Gorge from Jalalabad to the capital city of Kabul. There, the insurgency is perhaps trumped by opium-crazed Afghan drivers who recklessly—and blindly—try to pass the lumbering freight trucks that crawl up the narrow mountain passes.