Your Next Adventure Must Include Riding The Waves On Horseback At Jamaica's Montego Bay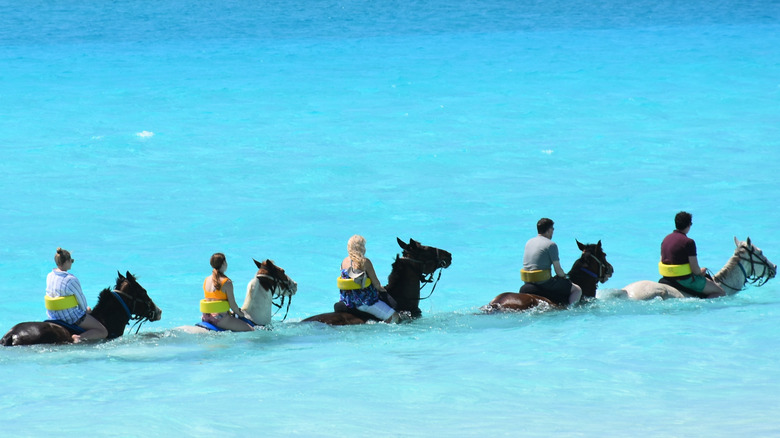 J Leacock/Shutterstock
Jamaica's Montego Bay is one of the Caribbean's most popular destinations for tourists and is even great to visit in the off-season. With its beautiful beaches, lush natural scenery, and vibrant culture, it's no wonder why so many people flock to this island paradise every year. From thrilling water sports activities like snorkeling and scuba diving to relaxing beach days with a cocktail in hand, there are plenty of things to do in Montego Bay that will make your vacation unforgettable. Whether you're looking for an action-packed adventure or a peaceful retreat from the hustle and bustle of daily life, Montego Bay has something special waiting for you.
While there are many fun activities to do, riding horses in Jamaica's crystal clear blue waters is one of the most unique and unforgettable experiences. You'll feel as though you're in a dream as you and your steed are galloping along the shoreline with the wind in your hair or taking a leisurely stroll along rainforest trails.
Experience the best of Montego Bay on horseback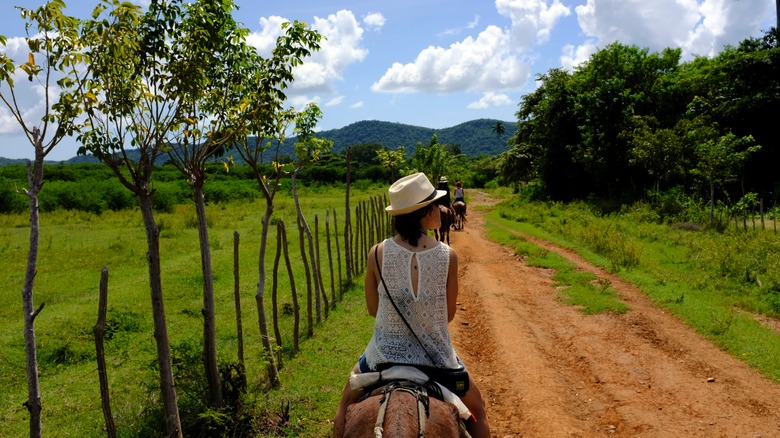 dowraik/Shutterstock
Riding horses is a great way to explore natural areas at your destination. Not only can you go farther and see much more in a shorter amount of time but you may also more easily enjoy the peace and tranquility of nature as you become more acquainted with your horse. And you can rest assured that many of the horseback riding tour options in Jamaica employ local experts who will provide you with a safe and exciting adventure, no matter your riding level.
The Planet D has a fantastic write-up on their blog that details their entire horseback riding experience from dry land to sea and back again with Chukka Tours. On this specific tour, the experience was split into a trail ride portion and a separate swimming portion since the horses that walk the trails are not always up for a swim. This also offers guests time to change out of trail riding clothes into their swimsuits so they can enjoy their horseback swim in comfort!
It's also important to note that every rider is given a flotation device and the guides are with you the entire time to make sure you and your horse are safe. Just be sure to trust your horse knows what it's doing and enjoy the ride!
Other great outdoor experiences in Montego Bay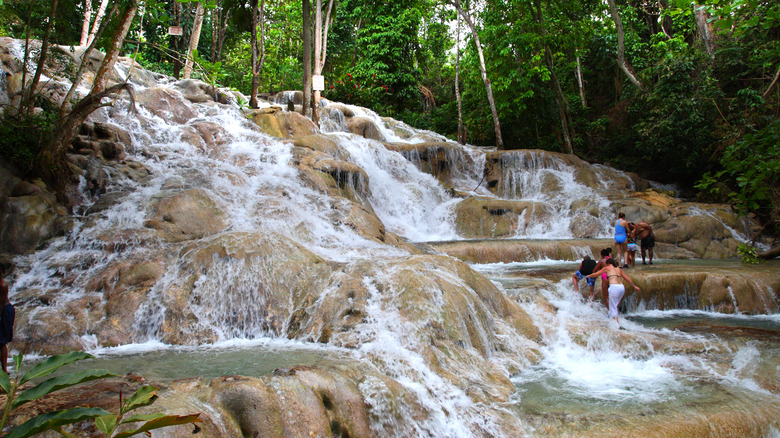 CO Leong/Shutterstock
Montego Bay, Jamaica is a destination that is well-known for its natural beauty and surplus of outdoor activities. Along with horseback riding and swimming, there are plenty of other opportunities to get outside and explore the best that this Caribbean paradise has to offer. For beachgoers looking to relax, Planetware recommends heading to Doctor's Cave Beach and Bathing Club where you can enjoy beautiful white sand beaches or take a romantic sunset stroll along the shore. But with such a vibrant underwater world why not jump in and explore with snorkeling or a scuba diving adventure?
But it's not all lazing in the sun — if you're looking for a more active adventure, Montego Bay has plenty to offer. The PlanetD also recommends some more exciting activities like zip lining or river tubing, where you can enjoy a leisurely float down the river. You can also enjoy a round of golf on one of Jamaica's premier courses, like the White Witch Golf Course. You could also go ATVing on one of the many forest trails, take a kayak excursion around the coastline, or take a day trip and hike to Dunn's River Falls. The options are nearly limitless!