How To Build Your Ideal Appalachian Getaway Along The Blue Ridge Parkway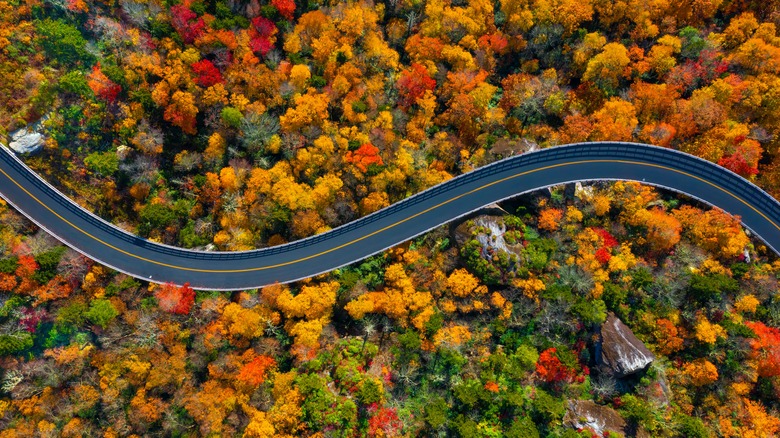 Kirk Wester/Shutterstock
The Blue Ridge Parkway isn't just about the spectacular drive. With a wealth of attractions from diverse landscapes to cool towns, you can build a custom itinerary for your dream road trip. We're calling all outdoor enthusiasts, history buffs, music lovers, and foodies: the Blue Ridge Parkway has something for all of you. This shouldn't come as a surprise: the parkway extends 469 miles through Appalachia, traversing Virginia and North Carolina, and connecting two national parks: Shenandoah and Great Smoky Mountains.
Firstly, the highway is a great way to see some of America's beauty without leaving your car, so if you're not very mobile or simply don't want to do too much physical activity, there are tons of scenic overlooks along the route. Ravens Roost Overlook is a favorite among visitors, according to Blue Ridge Mountains Travel Guide. The towns along the route are also wonderful places to spend a few days and do some urban exploring. Southern Trippers love Boone, North Carolina for its small-town feel; artsy Roanoke, Virginia; and lovely Asheville, North Carolina.
The great outdoors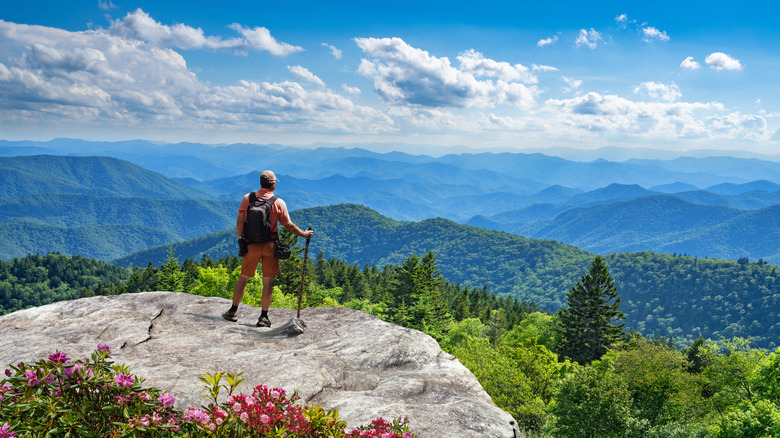 Margaret.Wiktor/Shutterstock
If you're into hiking, fishing, biking, and boating, you won't be disappointed on the Blue Ridge Parkway. You could spend years exploring the outdoors here, and you can certainly fill a road trip with activities. According to the National Park Service (NPS), there are 369 miles of hiking trails near the parkway; they have a list of the most popular ones. Many of the hiking areas offer options for novice and more experienced hikers. At Cumberland Knob, the shorter trail is great if you're traveling with kids, while the more challenging route gives you lovely views of a mountain stream.
If you want to fish, the NPS has a lot of advice for fishing in the park, and there are a variety of species here, from bream to trout. For more water-based activities, Explore Boone recommends a trip to Price Lake, where you can rent a canoe, kayak, or boat. You can also enjoy biking on and near the parkway. Cliffs Living loves the trails around Bent Creek near Asheville, North Carolina, and those in the Dupont State Forest near Brevard, North Carolina, which has challenging trails and a kids' loop too.
History, food, and music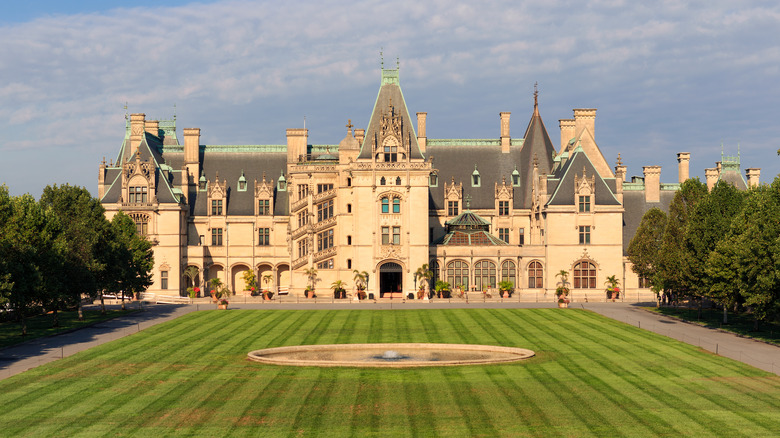 ZakZeinert/Shutterstock
If you're more into the history and culture of the Blue Ridge Parkway, here are some tips for building your perfect itinerary. Blue Ridge Parkway has a list of historical sites and museums to visit along the road. Just two fascinating examples are the Biltmore Estate in Asheville, North Carolina — America's largest home — and the Blue Ridge Farm Museum in Virginia, where you can get an immersive insight into rural life in the year 1800.
To see some local art along the road, follow the Appalachian Mural Trail. The route is laid out in easy-to-follow steps and includes a historic music mural at Marion, Virginia, and the gorgeous Dolly Mural in Asheville. As for music, the area is internationally known for bluegrass music, and there are plenty of places to engage with this slice of culture. At the Blue Ridge Music Center, you'll be able to learn more about the music's roots and hear live concerts. The National Park Service also recommends the events at Humpback Rocks, Roanoke Mountain Picnic Area, and Mabry Mill.
Finally, the unmissable foodie stops on the Blue Ridge Parkway. Many of the restaurants serve up dishes made with ingredients from the area (per Atlas Obscura). At Paul's Family Restaurant in Cherokee, North Carolina, you can eat Indigenous specialties like elk burgers, while at Hotel Roanoke in Virginia, you can try traditional peanut soup. The Blue Ridge Parkway allows you to create your itinerary based on your interests, or to make a road trip that will delight a group with diverse passions.