Turkey's Ölüdeniz Blue Lagoon Is Always Crowded But Worth The Trip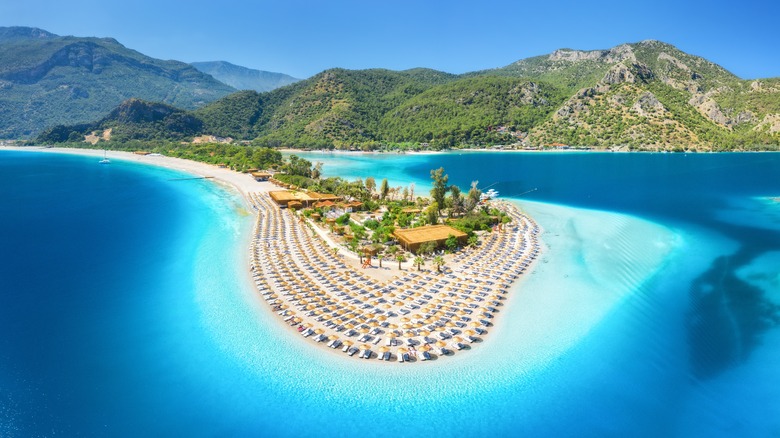 Denis Belitsky/Shutterstock
We've said it before, and we're saying it again: Europe's coastline and beaches, with views of the sparkling Mediterranean, Ionian, Aegean, and Black Seas, are some of the most spectacular beaches on the planet. From Italy, Spain, France, Greece, and everything around and in between, there's no shortage of stunning seaside landscapes that beckon visitors to their European shores. Many are so secluded that only the locals know about them. Meanwhile, others are so packed with beachgoers, it may seem impossible to find a place to soak up some rays.
Turkey is right up there when it comes to boasting a long stretch of gorgeous European coastlines and beaches. Just off its southwestern coast, where both the Mediterranean and Aegean Seas intertwine, lies the small village of Ölüdeniz, and one of the country's most captivating and popular beaches known as Ölüdeniz Blue Lagoon. Its panoramic landscape of mountains, sea, fine white sand, and calm, shallow, turquoise-blue water invites sunbathers year-round to its shoreline. And, while it's always crowded, it's worth the trip while visiting the officially, newly renamed country of Türkiye, as identified by the United Nations.
Welcome to the authentic Blue Lagoon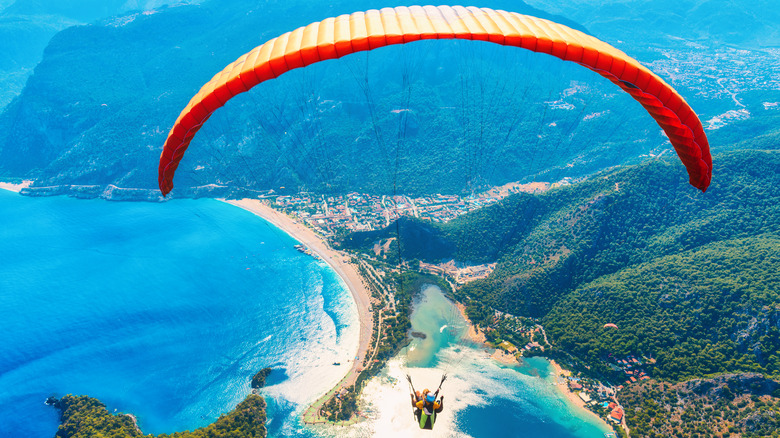 Den-belitsky/Getty Images
The village of Ölüdeniz is located within the port city of Fethiye, and according to Fethiye Tours, its name translated into English means "Dead Sea." Off the village's main Belcekiz Beach, near the protected nature reserve known as Butterfly Valley and surrounded by the azure-colored, warm waters of the Mediterranean, sits the village's very own Blue Lagoon (via BBC).
A stunning backdrop of green mountains, dense woodland, and its position behind Belcekiz Beach as a narrow strait keeps the shallow waters as still as bathwater, even during the windiest days. While its companion beach reveals a more rugged coastline of pebbles, the Blue Lagoon proudly boasts fine, white powdery sand that tantalizes the toes. Sunbathers will also find that this part of the beach is much quieter, and will often see paragliders descending from nearby Babadağ Mountain as they laze or swim underneath the Mediterranean sun.
What to know before you go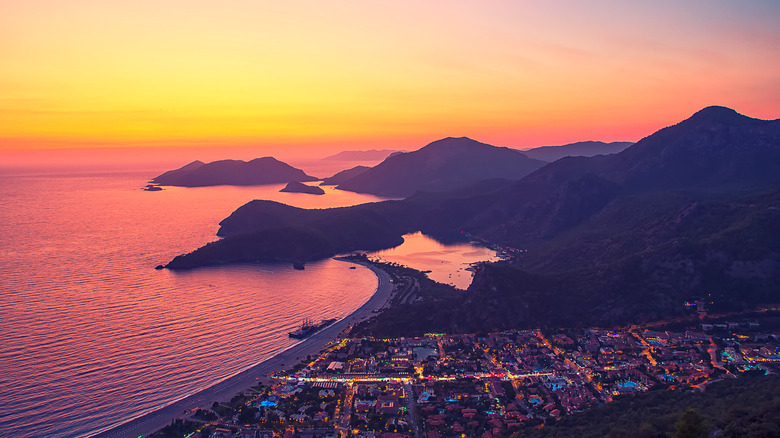 Turkey Photo/Shutterstock
Since Ölüdeniz Blue Lagoon is in a protected area, as per Property Turkey, you won't find the usual beach bars or hotels along its narrow strip of sand, which keeps its stunning and pristine landscape intact and makes it a perfect place for families with children. What you will find is an array of activities and things to do nearby, according to Planetware. From exploring ancient ruins to hiking and paragliding, or hopping on one of many boat tours in the area, adventurers will not be disappointed when visiting Ölüdeniz.
The Blue Lagoon, however, is the perfect spot for spending the day relaxing along the Mediterranean shore while taking in the stunning scenery surrounding this gem of a beach off the southwest coast of Türkiye. And, have we mentioned the jaw-dropping sunsets you can see there? Officially branded one of the country's best beaches — receiving a Travellers Choice Award, according to Visit Turkey — it's no surprise why the Blue Lagoon draws crowds of people to its captivating shoreline annually.