Follow The Monarch Butterflies To Their Winter Home In Pacific Grove, California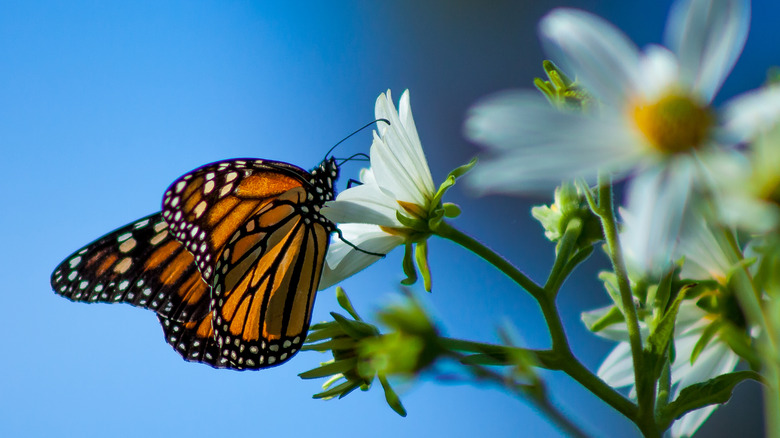 Neil Aronson/Shutterstock
Nature has a unique way of shining a spotlight on the unexpected. Sometimes, the smallest creatures out there are credited with the most awe-inspiring accomplishments. A prime example is the migratory monarch butterfly population. Easy to spot thanks to vibrant orange and black wings, monarch butterflies weigh less than a paperclip and have a wingspan of no more than 4 inches (per U.S. Fish and Wildlife Service). While monarch butterflies are small, they are also incredibly resilient. These butterflies typically travel an impressive 3,000 miles along their annual migration paths (via World Wildlife Fund).
According to The Nature Conservancy, monarch butterflies are the only species of their kind to complete a grueling two-way migration route. Along the way, they pollinate a variety of ecosystems, playing an important role in the success of many greater North American environments. While many migrating monarch butterflies find their way to a warm winter destination in central Mexico each year, others overwinter in sunny Pacific Grove, California instead.
Located just two hours from San Francisco and home to just over 15,000 people (per World Population Review), Pacific Grove, California's city website states that the area adds thousands of visiting monarch butterflies to their numbers beginning every October. Residents of this coastal Monterey County destination have happily and fully embraced the butterflies that arrive annually. They've even gone so far as to nickname Pacific Grove "Butterfly Town, U.S.A."
A coastal California oasis for migrating monarchs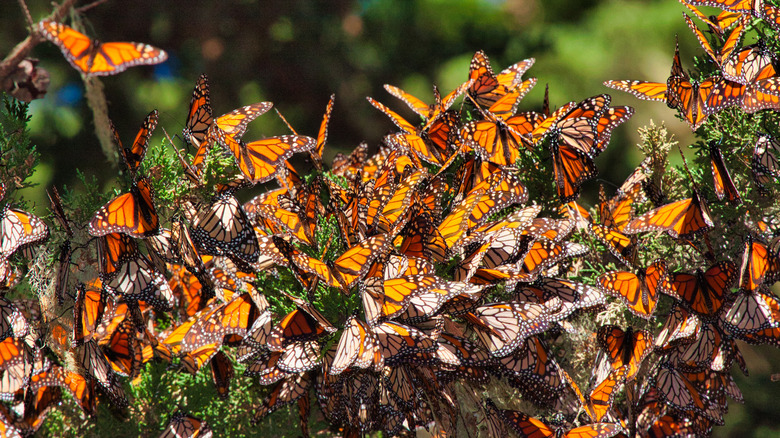 Manuel Balesteri/Shutterstock
Overwintering monarch butterflies instinctively head toward warm habitats where there is an ample food source and plenty of protection from the elements (per U.S. Fish and Wildlife Service). Pacific Grove, California checks every box on that list offering monarch butterflies an idyllic wintering destination. This is thanks in large part to its inviting winter weather and landscape filled with protective coastal trees. Weather Spark lists Pacific Grove's warm season as extending through the end of October and average highs lingering around 66 degrees Fahrenheit.
The Xerces Society for Invertebrate Conservation reports that monarch butterflies spend the majority of the winter season drinking nectar from local flowers and laying their eggs. To do this successfully, they require safe, forested groves. The U.S. Fish and Wildlife Service points to Pacific Grove, California's rich landscape dotted with Monterey pines, eucalyptus, and Monterey cypress trees as offering up a prime wintering space where monarch butterflies can thrive.
While the arrival of thousands of monarch butterflies can create an unforgettable overhead scene in Pacific Grove, roosting monarch butterflies can be equally captivating for spectators. The Center for Biological Diversity points out that monarch butterflies roost in trees near water in colorful clusters. Like many other creatures in winter, monarch butterflies can go into a hibernation-like state while roosting in these clusters. This provides local and visiting observers alike with a chance to take in the unique scenery at their own preferred pace.
Pacific Grove monarch protection and conservation efforts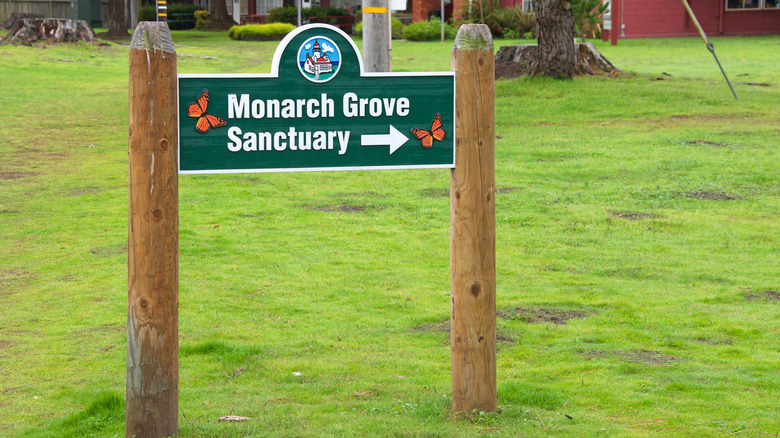 Sheila Fitzgerald/Shutterstock
Monarch butterflies play a pivotal role in nature as pollinators. Unfortunately, significant habitat loss has led to the species' categorization as endangered by the International Union for Conservation of Nature. In Pacific Grove, California, this designation has been a clear call to action. According to the Pacific Grove Museum of Natural History, the best place for visitors and locals to view monarch butterflies between October and March is at the Pacific Grove Monarch Sanctuary.
The City of Pacific Grove reports that the sanctuary was built with tax-payer dollars that residents agreed should go collectively towards local monarch butterfly conservation. At the sanctuary, butterflies are protected further through strict regulations. Visitors can face a $1,000 fine for disturbing the butterflies in any way. The Pacific Grove Museum of Natural History website also indicates that there are many opportunities for residents and visitors to volunteer at the monarch sanctuary during the winter season. Those looking to lend a hand when it comes to conservation can participate in weekly monarch counts. Volunteers can also lead sanctuary tours for guests.
Visitors heading to Pacific Grove, California at the end of September and into early October will be just in time for the annual Butterfly Days festivities. This event aligns with the butterfly arrival and features a parade, pancake breakfast, treasure hunt, and live entertainment too. Between the festival fun and spectacular seasonal views, making the most of the monarch migration experience is always exciting in Pacific Grove.