Get The Classic Boardwalk Experience With A Visit To Seaside Heights, New Jersey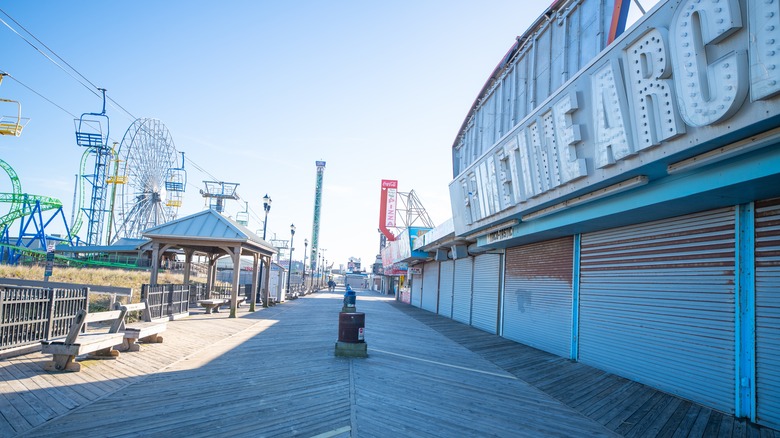 Davslens Photography/Shutterstock
"Mooooom, I'm boooored!" is not something you're going to hear when you're on vacation in Seaside Heights, New Jersey. While some beach vacations might leave teens begging to go home, this isn't one of them. Whether you're vacationing with little ones, normally slightly hard-to-please teens, your partner, or your grandpa, you'll all find something to do on the boardwalk here.
This compact beachside area sits an hour north of Atlantic City and is a 1.5-hour drive from both Philadelphia and New York City, so it's easily accessible from many of the surrounding areas. Despite covering only a 16-by-4-block area, it packs a huge punch in terms of entertainment from Casino Pier to the golden sands on the shoreline, and has many hotels, restaurants, and shops. And it's in a stunning area, sitting just north of Island Beach State Park, where the sands stretch on and the entertainment becomes more do-it-yourself.
The boardwalk at Seaside Heights, New Jersey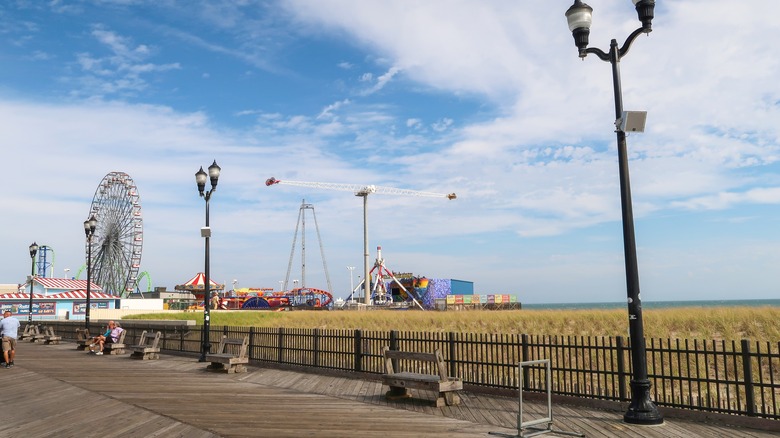 John Arehart/Shutterstock
The well-maintained boardwalk is full of attractions that run both day and night. First, there's Casino Pier, which Fun New Jersey calls one of the best amusement parks in the state. There are rides for both big and little kids, including roller coasters and a merry-go-round, as well as places to grab some food. If you prefer your rides with a watery theme (you are at the beach, after all), head to Breakwater Beach, a waterpark full of slides and other attractions.
One of the most famous rides on the boardwalk, however, is the Sky Ride, a relatively calm chair ride that gives you aerial views over the boardwalk and beach. When you've worked up an appetite, grab some food from informal dining spots on the boardwalk. Exit 82 has a huge list, which includes places to pick up pizza, fries, and empanadas. When night falls, the boardwalk keeps going as the bars and clubs ramp up their entertainment (per Exit 82.)
Other things to do in Seaside Heights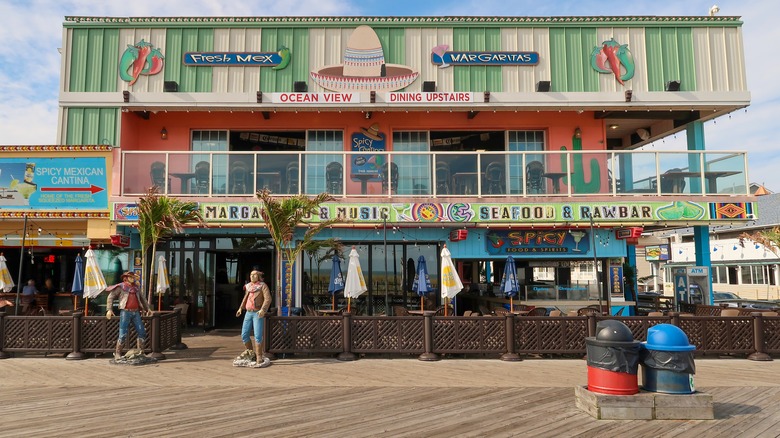 John Arehart/Shutterstock
There's more to Seaside Heights than just the boardwalk. An obvious one is the oceanfront beach, which is patrolled by lifeguards for safe swimming and is beautifully kept thanks to the fees that are charged for entrance (per Exit 82.) Visit New Jersey recommends spending summer evenings at the beach too, where you'll find free movies, concerts, and fireworks.
On the flip side (literally), there is the beach that faces the bay, Bayfront, which is free to enter. You can rent water sports equipment like stand-up paddleboards and kayaks here and go crabbing too. If you've had enough of feeling the sand between your toes, Exit 82 suggests heading to the Boulevard in town to shop at the local boutiques and check out fine dining and casual restaurants.
Finally, if you visit Seaside Heights outside the summer season, you'll find the town still thriving. According to Visit New Jersey, St. Patrick's Day is a big event, and the famous Polar Bear Plunge for charity sees brave people diving into the wintery Atlantic. In Seaside Heights, all you'll hear from your grumpy teen is: "Mooooom, I don't want to go home!"