You Don't Have To Be An Expert To Hike Austria's Seebensee And Drachensee Mountain Lakes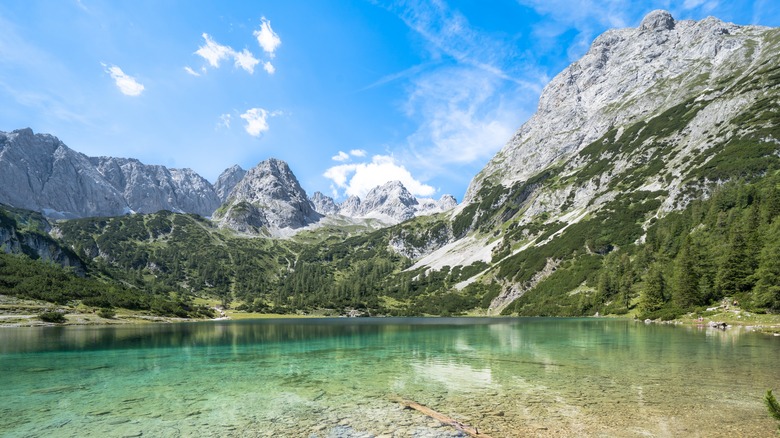 D.Bond/Shutterstock
The Seebensee and Drachensee lakes are found in the gorgeous alps south of Ehrwald in Austria, near the German-Austrian border. These two lakes are surrounded by stunning alpine scenery and mountains, but the best part is that you don't have to be an expert hiker to tackle these mountain hikes and enjoy the breathtaking views. It is also perfect for families and those who wish to experience the gorgeous Austrian landscape.
The Seebensee and Drachensee lakes are particularly beautiful during the summer months between June and September. According to Voyage in Style, summer is the ideal time of year for hiking these mountain lakes. However, the summer school break in Europe is between July and August, so in those months, it is better to be on the hiking trail early in the morning to avoid crowds. You can even bring some snacks for a picnic by the lake while resting your feet in Seebensee before continuing your journey to Drachensee.
According to the Globe Trotting Detective, Seebensee lake has an altitude of 1,660 meters (5,446 feet), while Drachensee Lake stands at 1,870 meters (6,135 feet). The hiking trail is easy at the start of the journey, and you'll encounter many cows and a waterfall along the way. The terrain is a bit rocky, so make sure you were comfortable hiking shoes. Toward the end of the trail, it'll get challenging, but the final lake destinations more than makeup for it.
How to Get to Seebensee and Drachensee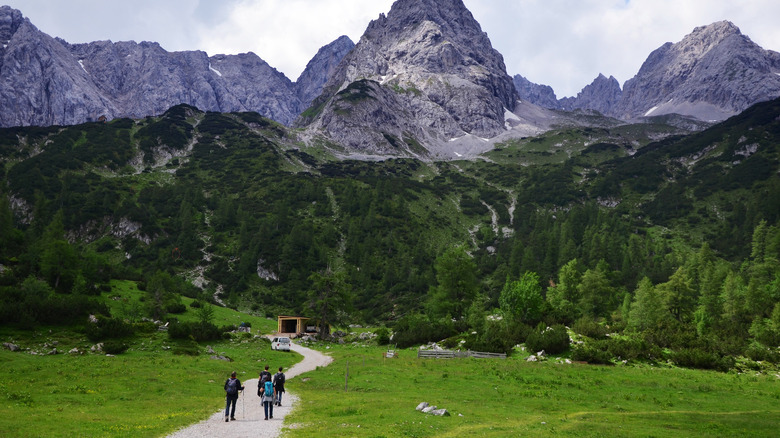 Mirjam Claus/Shutterstock
The Seebensee and Drachensee lake hikes are great options for day trips for travelers based in Munich, Garmish-Partenkirchen, or Innsbruck. From Munich, the drive takes about one hour and a half to reach the hike's starting point. From Garmish-Partenkirchen, it only takes 20 minutes, and from Innsbruck, it takes about an hour and 15 minutes. You can rent a car and travel toward the Ehrwalder Almbahn, a cable car that takes hikers to the trail starting points.
The Ehrwalder Almbahn cable car will take you to the top mountain station. It is also the perfect time to get your camera out and take photos of the mountain views. Once you arrive at the top, you can start your hike to Seebensee, which is 6 km (3 miles) and will take approximately two hours, according to Globe Trotting Detective. You can spend some time at Seebensee to rest, explore, take photos, and relax while taking in the views of the lake and surrounding mountains. Afterward, you can continue your hike to Drachensee from Seebensee, and even though the route takes about 30 to 45 minutes, the terrain will be a little more challenging as it is steep but not too intense. The Drachensee trail will take you to the Coburger Hütte, a cottage high up from where you can enjoy the views of the lake. You can also make reservations to stay overnight and eat at their restaurant.
What to Bring to your Hike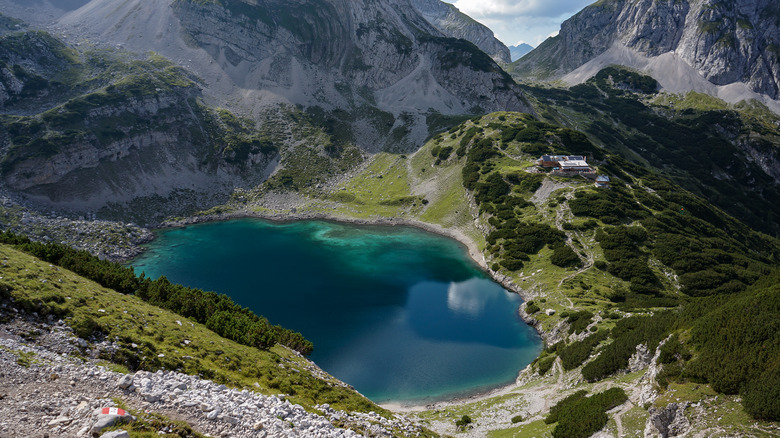 Indre Brazauskaite/Shutterstock
Voyage In Style recommends making a reservation and staying overnight at the Coburger Hütte during its open season before heading back to the Ehrwald. However, hiking back to the cable car is much easier as you're basically hiking down the mountain, just make sure you do so before the sun starts to set to avoid hiking in the dark, especially if you're hiking alone.
You will also need to bring a few essentials and be ready for unexpected weather changes. First, wear comfortable and durable hiking shoes as you will encounter various terrains, including forests, meadows, and rocky areas. You will also be walking on a mixture of dirt, mud, and stones, which can become slippery when wet. You should also wear weather-appropriate clothing like rain jackets, in case it happens to rain. During a hiking trip, you will also spend a lot of energy so bring snacks and water. Even if you don't feel like eating anything, it is important to consume a few simple snacks to keep your energy levels up and drink plenty of water to avoid getting dehydrated. Lastly, bring your camera to capture all the stunning views you will see during your hike and of the lakes.