These Simple Tips Will Make Traveling With Just One Carry-On Bag Even Easier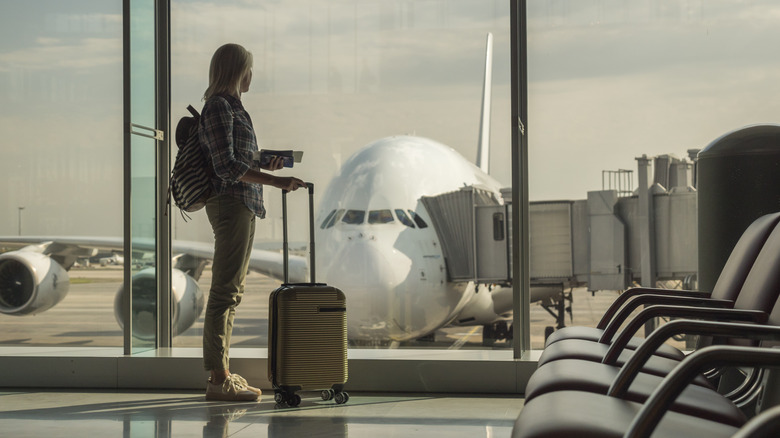 Stockseller_ukr/Getty Images
With extra bag fees looming and the additional time it takes to check a bag before heading to the lengthy airport security line, having check-in luggage definitely makes for a less-than-enjoyable travel experience. Of course, the fun does not stop there. Once all your bags are checked, and you finish the TSA "Hokey Pokey" with your shoes and other things in your one allowed personal item, you are left to wonder if your luggage will arrive at your intended destination.
As lost luggage becomes more commonplace and the extended time it takes to collect your belongings (if they do arrive) increases, there is no denying that there has to be a better way. Thankfully, you can bypass most of these travel hiccups by mastering the art of packing just one carry-on or a single piece of cabin luggage. Yet with limited space in addition to strict rules and regulations, packing your smallest (under 22 x 14 x 9 inch) suitcase can initially seem challenging. But, with these simple carry-on-only packing tips, backed by frequent flyers, packing a carry-on bag just got a whole lot easier.
Plan ahead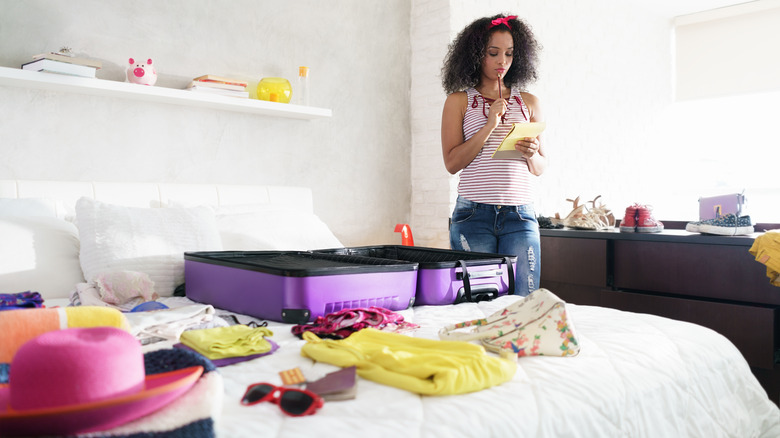 Diego_cervo/Getty Images
Planning is crucial when bringing only a carry-on bag (and one personal item) on vacation. Important details like what the weather will be like at your destination, what kinds of toiletries your accommodations provide if you need extra foldable duffel bags for souvenirs, and so much more have to be taken into account when packing only one carry-on bag. So, if you are someone who is not particularly fond of packing in general, then get ready to step outside your comfort zone.
In addition to having a tailor-made packing list for their cabin luggage, travelers should expect to spend extra time reconfiguring or editing their belongings. With that said, last-minute packers will need to do the unthinkable and start packing a few days before their departure date. Similarly, over-packers will have to embrace packing light and remind themselves that they often need less than they think.
Use the right carry-on bag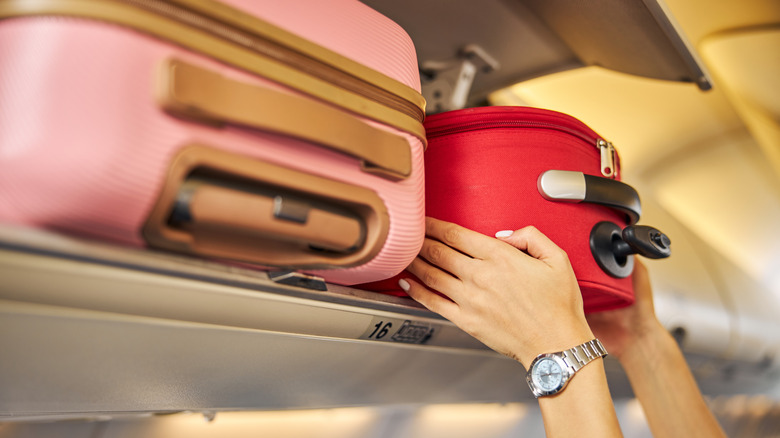 Yacobchuk/Getty Images
Before selecting just any old small travel bag you have, it is in your best interest to figure out if it is indeed the right carry-on bag. Having a durable and appropriately sized suitcase is really only half of the battle. Thus, travelers will likely be in the market for new cabin luggage, but the good news is that most carry-on luggage is reasonably priced. So when shopping for a new bag, look at things like the material since both soft and hard-shell suitcases have pros and cons (via Pure Wow).
Whether your roller suitcase has any outside pockets, non-removable spinner wheels, or expands also needs to be considered. Surprisingly, the weight of your bag matters too — some airports will weigh your carry-on, and if it is too heavy, they will check it planeside. So, ideally, you want a bag that allows for all, if not the bulk of, your must-have belongings. While, at the same time, still fitting in the overhead compartments and being somewhat easy to carry around or roll about town. Remember, your chosen carry-on bag should not be overly heavy or bulky before or after packing — and the same goes for your backpack or personal item.
Review the rules and regulations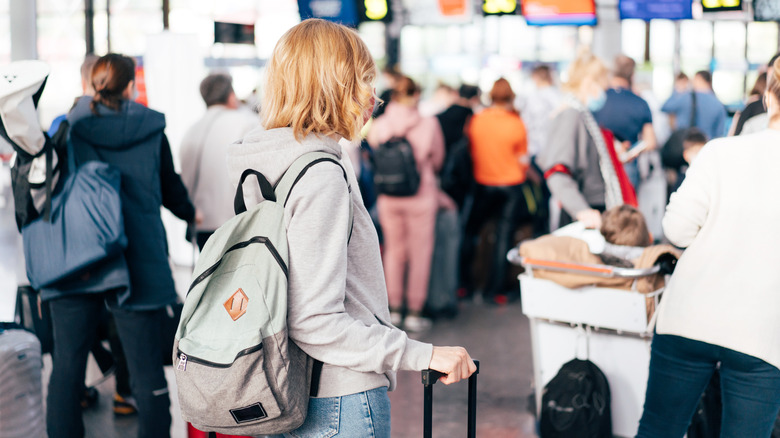 Ilona Titova/Getty Images
Your chosen cabin luggage should also meet the latest airline and TSA requirements for a carry-on. You do not have to be a frequent flyer to know that the airlines are constantly revamping their rules for carry-ons. Likewise, TSA luggage regulations seem to be ever-changing, especially when it comes to what passengers are allowed to bring on board. So, reviewing the most up-to-date information beforehand is just one more crucial step in the pre-packing process (per HuffPost).
With official websites, available information on various travel apps, and extensive online reading material all focused on what a person can and cannot have in their carry-on luggage, travelers should have no trouble at all keeping things compliant. This additional step may seem tedious at first, but with different rules for almost every airline (some are stricter than others), it is truly necessary. Plus, TSA regulations are not immune to what's happening in the world — just look at semi-recent liquid requirements, extra screening on powders post-2018, current rules regarding batteries for electronics, and even changes implemented with hand sanitizers in the wake of Covid (via Upgraded Points).
Pack for a week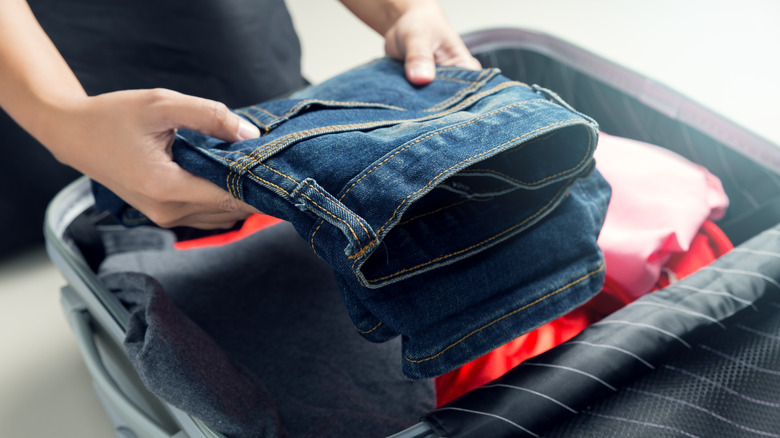 Tharakorn/Getty Images
Once you have completed the prep work mentioned above, it is time to get your hands dirty. Most frequent flyers typically aim to pack for a week, no matter the length of their trip. Since a week's worth of clothing easily fits in most carry-on luggage, this should also be your goal. Of course, there are several ways, clothing countdowns, and recommended approaches that travelers can rely on to accomplish only packing for one week (per Her Packing List).
Still, the most popular methods that seem to get the job done for cabin luggage are packing versatile items (that you can easily mix and match) and creating a limited number of outfits (in advance) that can be used for multiple occasions. These specific packing methods complement one another, so you can pack for a single week with ease if you opt to use them both. Plus, when they are paired with the right hacks, smart tips, travel organizers, and pack-friendly accessories, you will be done packing in no time at all.
Choose your outerwear and footwear wisely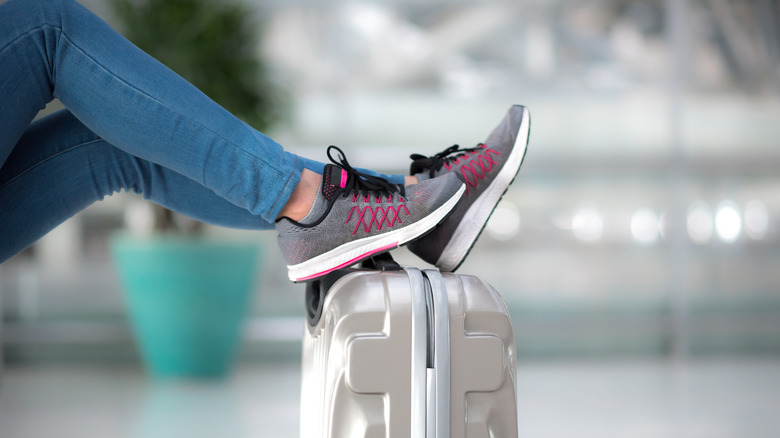 Interstid/Getty Images
For travelers off to colder destinations, bulky outerwear (winter coats, sweaters, and sweatshirts) can be worn on the plane or possibly placed in your one allotted personal item to save space. If your cold-weather vacation involves recreational fun, then expect to dedicate a section of your bag to snow boots or ice skates (both are permitted on board and as checked items). That said, you can still wear your casual boots on the plane, use any packed recreational footwear for storing other things, and pack your remaining pair of walking shoes in your one personal item (per Blue Gray Gal).
Light jackets, hoodies, and extra pairs of jeans can also be worn on the plane to allow extra room in your carry-on luggage when off to milder weather or warmer locations. In terms of footwear, frequent flyers recommend wearing a comfortable, easy-to-take-off pair of walking shoes to the airport for nice weather vacations. Here, your additional two pairs of shoes will likely be durable sandals or flip flops, which can go in a backpack, and a pair of dressier shoes that can be packed in your carry-on.  And for outdoor activities that require hiking or summer walking boots, you can wear those on the plane and stow your regular walking shoes in your carry-on bag (via The Points Guy).
Use compression cubes or space-saver bags for clothes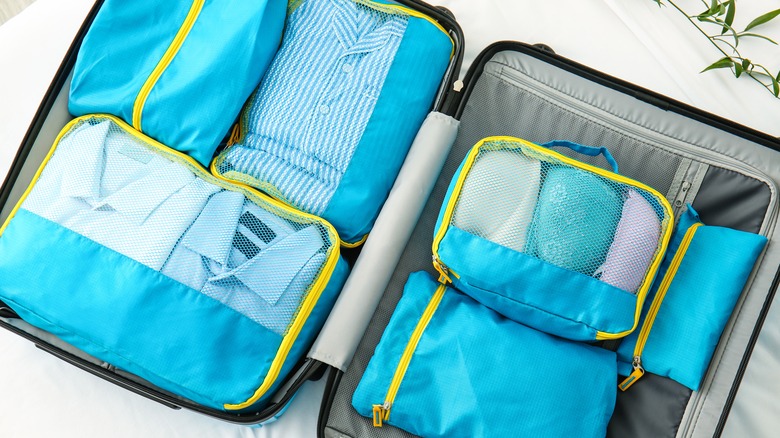 Pixel-Shot/Shutterstock
Compression cubes and space-saver bags are packing hacks that are carry-on-only game changers. In fact, when packing light, either option is a must. If you are a traveler who normally does not use cubes or bags, then now is the time to invest in some high-quality ones. Both of these packing organizers come in a variety of sizes and are budget-friendly. Compression cubes make packing your easy-to-layer clothing more streamlined, and you can spend a little more for the cubes that come with labels to stay organized from start to finish.
Likewise, space-saver or vacuum-sealed bags are worth the investment, especially when traveling to colder destinations. These clear, waterproof bags are easy to use and do not require a vacuum or another accessory — you simply squeeze the air out while closing the bag. Once properly sealed, you have almost double the extra space in your carry-on bag, luggage, or backpack, making it much easier to have all your must-have vacation attire.
Roll your clothing items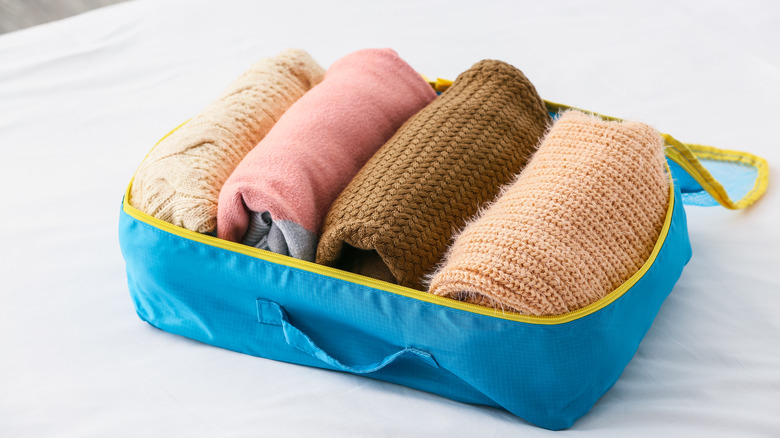 Pixel-Shot/Shutterstock
Yet another space-saving hack that cabin luggage-only passengers can take advantage of is rolling their clothing items. Not only does rolling your lightweight tops, versatile bottoms, and other clothes create more room in your suitcase, but it also allows you to fit more in those handy packing cubes. Rolling wrinkle-resistant shirts and flowy pants also helps cut down on the creases or wrinkles that are practically inevitable when you use space-saver bags (per The Travel Hack).
Smaller belongings such as underwear, sports bras, socks, swimwear, leggings, ties, and more can easily be rolled up. Here, these kinds of clothing items are often tiny enough to be rolled and placed in your packed shoes or any open crevices in your carry-on bag (via Travel Awaits). In fact, the only other articles of clothing that should not be rolled are bulkier items like blazers, oversized scarves, or heavier loungewear — these things should be folded and placed on top of your filled cubes or folded in a vacuum-sealed bag.
Limit dressy outfits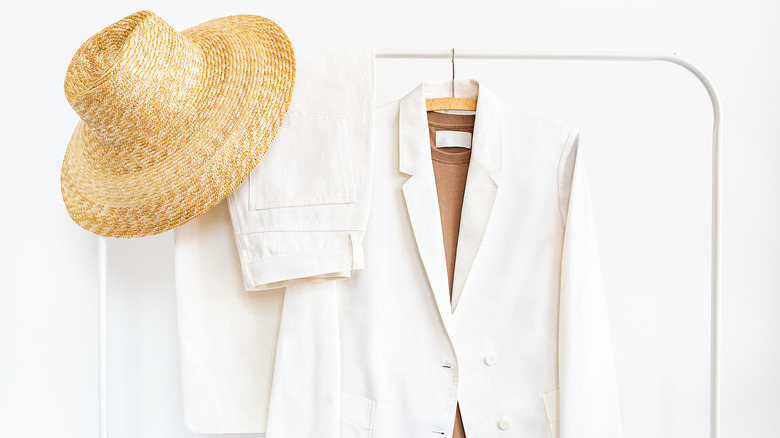 Shyrokova/Getty Images
For many travelers having at least one formal look is essential, if not necessary. But sometimes, there is not enough room in your luggage for extravagant statement pieces and ensembles. Limiting your dressy outfits is better if this is one of those times. One of the best ways to look chic without overdoing it on the packing side is to rely on those versatile pieces and pre-planned outfits you have already packed (per Solo Sophie).
Often travelers are too busy with their scheduled tours, events, and sightseeing, and then some run back to their hotel for a full costume change before dinner, drinks, or other impromptu fun. So seriously, please do not overdo it here. By sticking to looks that work well during the day yet can be seamlessly transformed into night attire with a few accessories, you can save much-needed space in your carry-on bag (via Thrifty Traveler).
Solid toiletries are your friend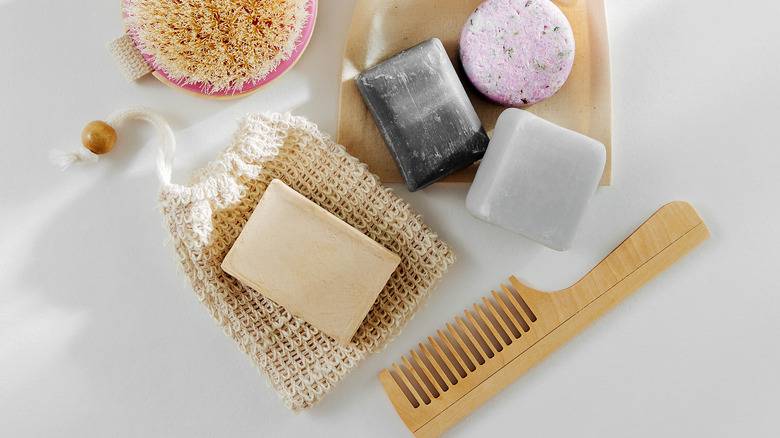 Igisheva Maria/Shutterstock
Most accommodations offer some form of soap, shampoo, and conditioner. But even if you are not staying at a place that provides these amenities, you can still opt for solid toiletries. So, to save space in your carry-on and backpack, the standard liquids and travel-sized products need to go. Bar toiletries or even wipes are both great options when traveling with cabin luggage. Plus, they will make your recommended hanging toiletry bag much sleeker and easier to pack (via Travel Made Simple).
That said, travelers thinking about switching to solid toiletries will be glad to know that various products besides soap or body wash, conditioner, and shampoo are available. There are a wealth of products you likely never considered before, such as bug repellent balm, hand sanitizer wipes, make-up remover (wipes or a bar), bar sunscreen, bar lotion, and bar perfume. Travelers can even say goodbye to their travel toothpaste and opt for tablets instead. And the best part about packing non-liquid products is you no longer need to worry about the TSA liquid requirements (per Self).
Buy miscellaneous items after you arrive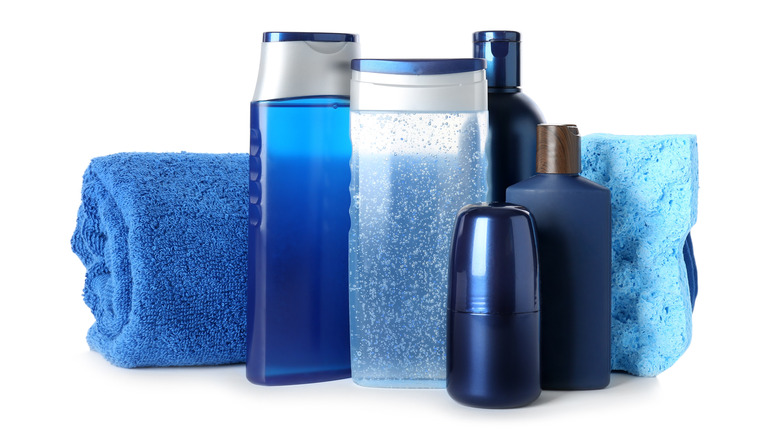 New Africa/Shutterstock
Along those same lines, if you cannot find what you need in bar form or wipes, you can always buy them when you arrive. This will save space in your carry-on and allow you to still have everything you need without checking a bag. Travelers who choose this convenient option can add a few must-have travel-sized products to their allotted personal items if they have a long flight ahead. But again, if it is something you can get in non-liquid form, then solid toiletries are still the most sensible way to go. Not only will you be able to get through airport security faster, but you will also prevent any unfortunate spillage in your bags (via Blue Gray Gal).
Still, from an economic standpoint, buying the products you need when you reach your destination is often a lot cheaper than purchasing travel-sized toiletries before your flight for some reason, which is a little odd. Moreover, even when you do your best to follow the rules, accidents happen — your beloved lotion is an ounce or two over the limit, and you are hoping no one notices — well, this is typically when they notice. So, instead, avoid the added stress and potential loss of property by simply buying when you arrive.
Plan to do laundry at your destination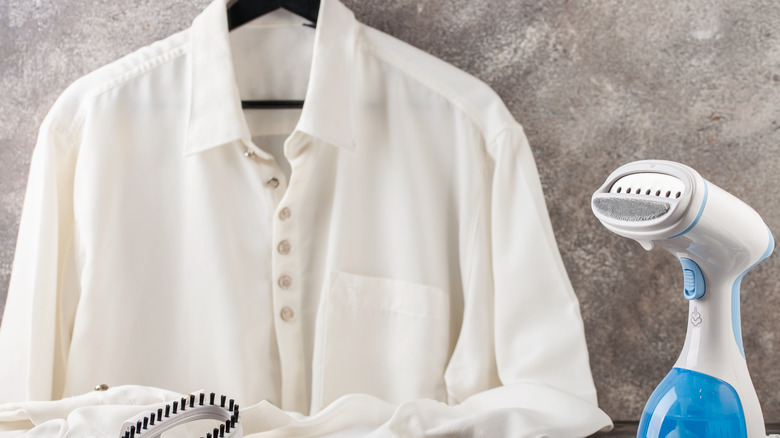 NatalyaBond/Shutterstock
You will likely have to wash your week's worth of clothes for longer getaways. So, remember to pack some detergent sheets or pens (via Peter Greenberg). Doing laundry, utilizing dry-cleaning services, or paying extra for the hotel's laundry amenities will ensure you get the most wear out of your ten pre-planned outfits. Plus, you can limit the number of socks, undergarments, and even pajamas you pack if you know you will be doing laundry regularly at your destination.
A laundry bag to store dirty clothes in until wash day also comes in handy. Though if you use space-saver bags and do not need to wash your clothes before returning home, you may want to ditch the extra laundry bag. Storing soiled garments in one of these vacuum-sealed bags also makes doing laundry at home easier — just unseal and pop those color-neutral clothes in the washer (per Life Nomading).
The only travel essentials and accessories you need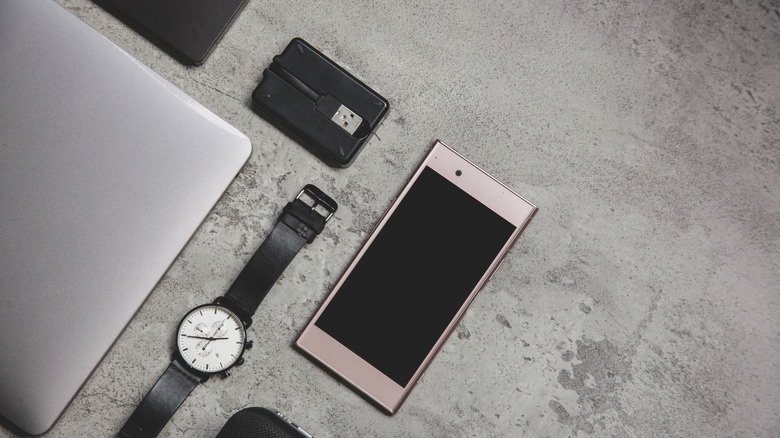 Gatot Adriansyah/Getty Images
Travel essentials like hats, compact rain jackets, mini travel umbrellas, passport cases, travel wallets, and collapsible water bottles can all fit in your daypack or personal item. In contrast, accessories and essentials such as travel or neck pillows, compression socks, eye masks, earplugs, and blankets should be attached to your daypack, not in it (ideally, all these things can be stored together within your travel pillow). There is no reason to take up precious real estate in your backpack when the airlines and TSA are okay with you clipping your travel pillow to your allotted personal item (via The Professional Hobo).
Chargers and other tech are also must-haves for travelers (make sure to charge all your tech before you head to the airport). Of course, you will likely have to remove tech items when going through security so use or invest in a separate, easy-to-pull-out case for all your electronics. On the other hand, cable and cord organizers are not necessarily essential, but it does not hurt to have such an organizer, so cords are not just anywhere in your backpack (per In Search Of Sarah).
What to put in your daypack
Jaromir Chalabala/Shutterstock
More than a few items are going in your daypack or backpack. But again, this is another situation in which you should not overdo it. Putting too many things in your personal item can only lead to trouble. Not only is it a struggle to quickly access your documents, passport, and other items in an overstuffed daypack, but overpacking this particular bag can also lead to injury (per Her Packing List).
A rookie mistake many passengers make (with only one carry-on bag) is assuming that what does not fit in their suitcase can just go in their backpack or oversized tote. But, if you find yourself struggling with much-needed space all the way around, then it is definitely time to edit things down in your carry-on luggage and allotted personal items. Remember, your daypack and cabin bag must remain as light as possible (via Solo Sophie).
Check-in hacks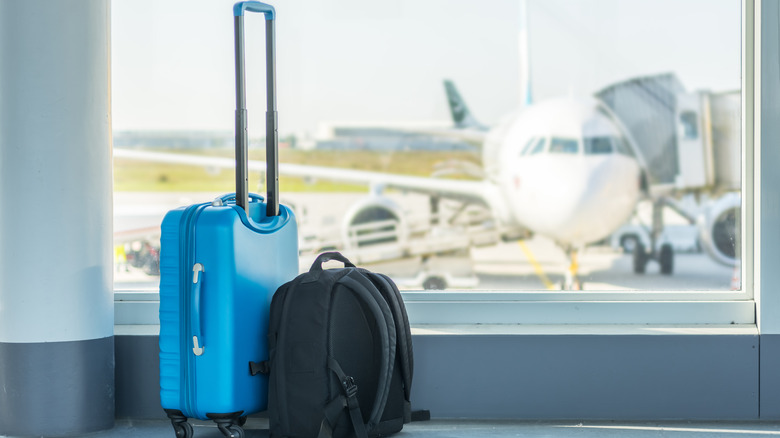 Ralf Geithe/Getty Images
After slimming down both bags, there is really nothing left to do besides prepare in other ways for your departure date. Still, once you are all packed and ready to go, you can still ensure that your airport check-in process goes smoothly. There are quite a few check-in hacks that will make your entire travel experience more pleasant (per Plan Ready Go).
The top frequent flyer tips and tricks to keep in mind when navigating the airports with your cabin luggage then include checking in online before heading to the airport so that you can go right to the security checkpoint. Travelers should also wear TSA-approved clothing and sign up for programs (Clear, TSA PreCheck, and Global Entry) to make it easier to get through security. Lastly, layer up where you can, use a zip-up travel pillow for additional storage (preferably for in-flight essentials), and add a name tag to your carry-on so mix-ups do not occur on the way to your gate or onboard (via Get Lost).