The Best Ways To Get Around Hong Kong To Make The Most Of Your Trip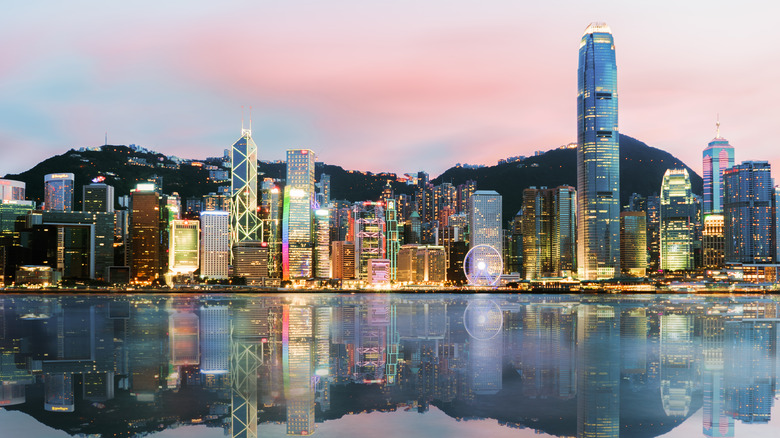 Amnad/Getty Images
One of the world's most exciting cities according to Time Out, Hong Kong is a vibrant travel destination full of opportunities to shop, eat, and take in the culture. Many of the most popular attractions are located on Hong Kong Island and the Kowloon Peninsula, densely populated areas where around half of the city's 7.5 million population lives. It should come as no surprise that such a tightly packed urban center is served by an excellent public transport system, convenient for visitors and locals alike.
But what is the best way to get around Hong Kong? Let's start with the ferries. The Chinese name for Hong Kong means fragrant harbor, and a trip across Victoria Harbour on a ferry is a wonderful way to experience the city. Discover Hong Kong writes that the Star Ferry is not just a mode of transport, but a tourist attraction too. With views of the city skyline, the ferry will carry you between Hong Kong Island and Kowloon for incredibly cheap prices. If you can't afford a trip on one of the famous junk boats, the ferry is a superb alternative.
The Mass Transit Railway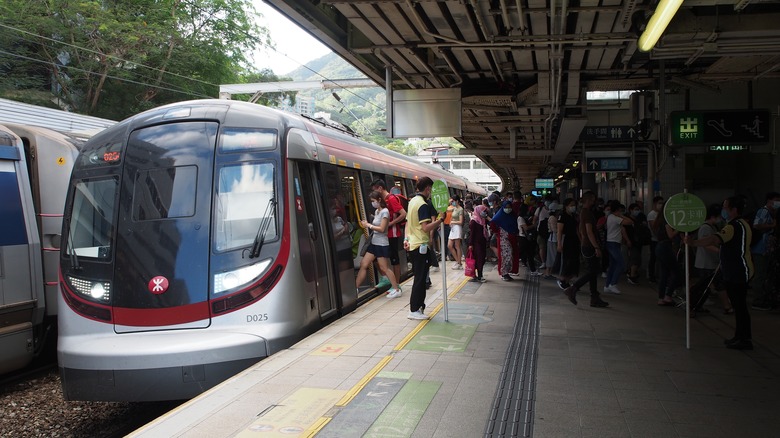 michaelshawn/Shutterstock
Many travelers, including Treksplorer, agree that Hong Kong's Mass Transit Railway (MTR) is the absolute best way to get around the city. It's a safe, convenient, and clean metro system that covers almost the entire city, with a line that reaches as far as the border with mainland China. You can take the MTR between Kowloon and Hong Kong Island if you want to skip the ferry ride and you can get to Lantau Island, where Bucket List Journey suggests going to see Tian Tan (Big Buddha).
The MTR might be the first mode of transport you experience in Hong Kong too; the Airport Express can take you from the airport to Hong Kong Island in just 24 minutes for around HK$205 for a round-trip ticket (about $25). For comparison, a taxi fare on the same route is about HK$375 (about $48) for a one-way journey. Save your cash for spending on more exciting things like Hong Kong's delicious yuenyeung beverage, its famous pineapple buns, and delectable dim sum.
Buses, Trams, and Taxis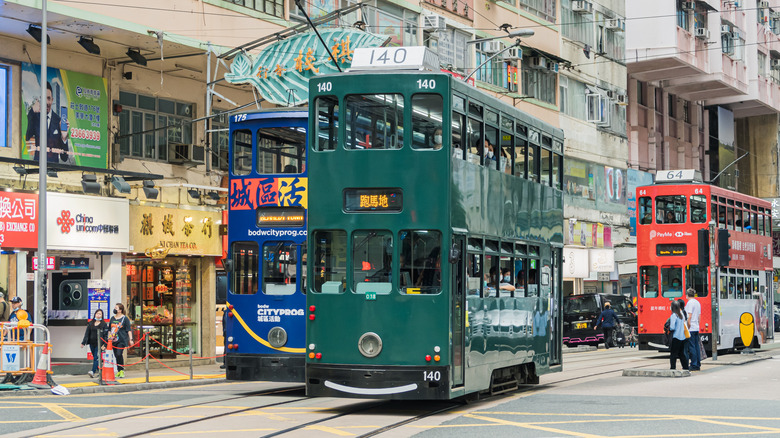 estherpoon/Shutterstock
Buses can be a convenient way to get around Hong Kong if you prefer to be above ground. China Discovery writes that Hong Kong's double-decker buses are clean, efficient, and — importantly — air-conditioned. Plus, stops are broadcast in English as well as Cantonese and Mandarin. The minibuses might be trickier for visitors to navigate, U.S. News warns, particularly if you don't speak Cantonese.
Treksplorer loves Hong Kong's trams to get around Hong Kong Island. Like the buses, the trams are double-decker, so you can watch the city go by from your perch. And, you won't want to miss Hong Kong's renowned Peak Tram. This traditional tram takes you to the top of Victoria Peak for some of the best views of the city.
Finally, taking a taxi to get around Hong Kong is an option if you need a break from the city's crowds. According to Discover Hong Kong, the taxis here are not too expensive and are highly regulated, with drivers required to use a taximeter. However, Country Reports writes that congestion on the roads can be bad during the daytime so, if you don't want to waste your vacation snarled up on the road, we highly recommend using the Mass Transit Railway (MTR).