Don't Discount Bali As A Family-Friendly Vacation Destination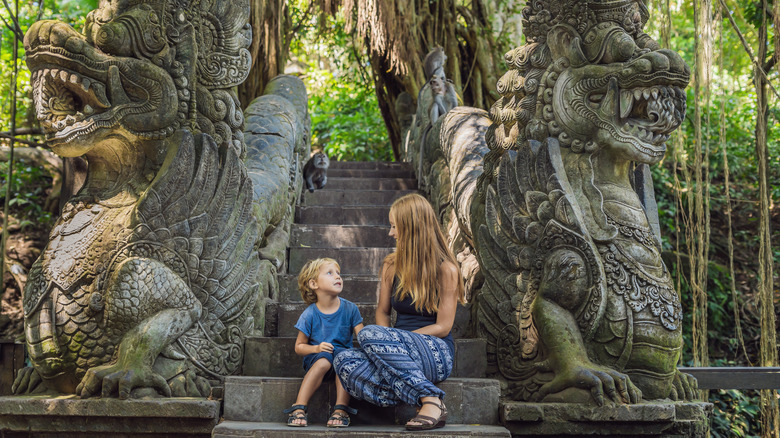 Galitskaya/Getty Images
Bali, Indonesia is often seen as an idyllic location for honeymooners and yoga-loving Instagrammers. Or, a place for young Australians to party. Either way, Bali doesn't instantly come to mind when thinking of a family-friendly vacation destination. But that's a huge shame, as Bali is a wonderful place to travel with kids and has all kinds of different activities to keep children and teens engaged.
First, for animal-loving kids, Bali is a tropical paradise. Holidays With Kids writes about several places to see animals here, one of which is the Bali Safari and Marine Park, where you can meet over 1,000 animals, including the fearsome Komodo dragon. They also suggest a visit to the Ubud Monkey Forest, full of monkeys roaming wild; and the Bali Bird Park, where brave kids can have colorful parrots perch on their shoulders. The Honeycombers recommend a unique experience at Bali Zoo: breakfast with the orangutans. (You eat breakfast while watching the orangutans play, you don't actually share a plate!)
For little adventure seekers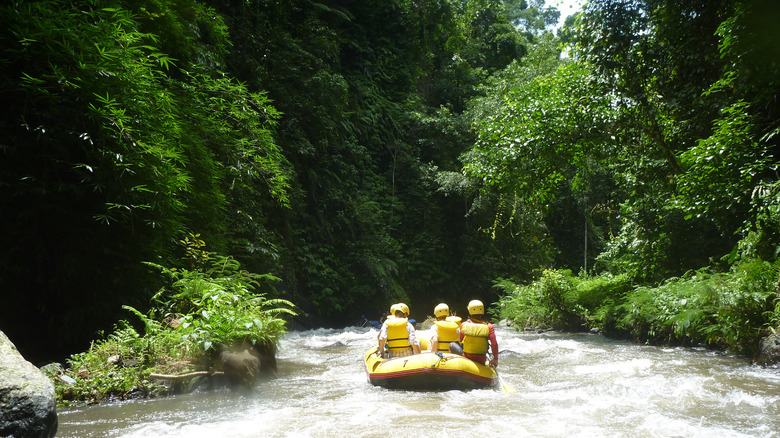 Pashaco/Shutterstock
If you've got active kids, Bali is full of exhilarating adventures to tire out littles and teens alike. On land, your family can try out a bike tour, as recommended by the Honeycombers, who enjoyed cycling through local villages and verdant rice paddies. Family Destinations Guide loved horseback riding at the Bali Equestrian Centre, which leads you on a ride down to the beach and ocean. Speaking of the beach, why not head to one of Bali's spectacular sandy shores? Mengiat Beach in Nusa Dua is a top pick.
While you're at the beach, your kids (and you) will probably want to get out onto Bali's azure waters. Surfing should be at the top of your agenda. As the Honeycombers say, Bali is renowned for having some of the world's finest surf spots and it's full of schools where you can learn — they tested two in Canggu that they loved. For those who want to get in the water, Bali is a paradise for scuba divers and snorkelers, per Dive Magazine. There are spots all over the island. Kids from the age of ten can go scuba diving, while anyone who can swim confidently can snorkel. Inland, your family might love a high-adrenaline white water rafting trip near Ubud, according to the Honeycombers.
Arts and culture for kids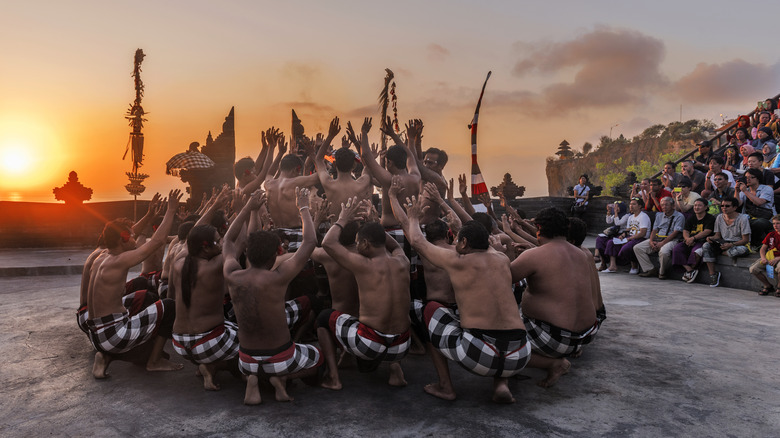 pradeep_kmpk14/Shutterstock
Lastly, there are plenty of memorable experiences that can give kids a taste of Balinese culture. Bali Buddies love the Balinese Village Experience, where kids can get an insight into Balinese and Hindu culture while learning how to make offerings and trying some yummy local food. They also recommend Studio Ceramic, which offers classes for kids to make a souvenir they can take away with them. The Honeycombers suggest other classes too, including jewelry making and cooking — their kids liked the hour-long class at Cubby House Kids Club (for 4 to 12-year-olds).
Shopping, while perhaps not a cultural activity at home, can be an entertaining activity for kids in Bali. Thrifty Family Travels loves the colorful wares at the markets and encourages teens to try their hands at haggling. To round off a well-spent day in Bali, head out to Pura Luhur (Uluwatu Temple) to watch one of the famous Kecak Fire Dances (recommended by Holidays With Kids). As the sun sets, you'll listen to hypnotic chants and watch the skilled fire dancers whirl away against a scenic backdrop of cliffs and the ocean.