Why Couples Should Always Stay At Their Destination Wedding Location Before Getting Married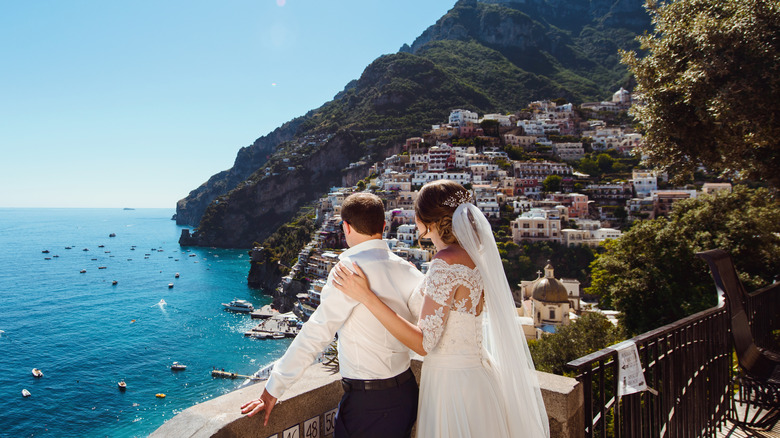 ANRproduction/Shutterstock
There are many reasons couples choose to hold a destination wedding over other types of weddings. TravelPulse lists several reasons, including the following: For one, it's an opportunity to travel and share new or unique experiences with loved ones. And depending on the destination and how fancy the wedding is, destination weddings also offer couples the potential to save money, especially with package deals. It's also a great way to trim the guest list and host a more intimate event. Brides adds that destination weddings provide photographers with epic backdrops for some memorable photos. Plus, it's an easy way to combine your wedding and honeymoon.
In short, destination weddings provide couples who love to travel and their loved ones with an experience of a lifetime. It's an experience that they can keep on talking about for many years to come. Of course, everyone hopes the memories are good and worth sharing, but let's face it, some things can go wrong. So, do all you can to minimize any mishaps, including visiting the location before the big day.
What could go wrong?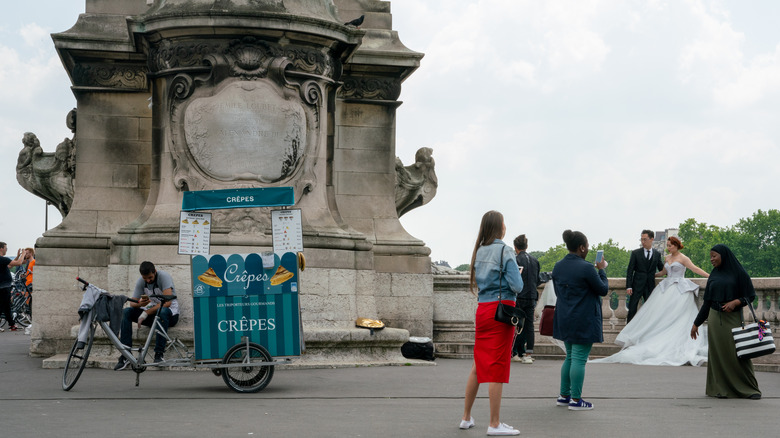 Omaly Darcia/Shutterstock
You and your soon-to-be spouse have this vision of how you want your wedding to be. With destination weddings, you have certain expectations, such as whether the location would be a very romantic setting to say your "I dos." But without seeing the venue firsthand, you might be setting yourself up for disappointment. For instance, couples who want to hold a wedding on the banks of the Seine in France need to take into account that there will be tourists on tour boats passing by (per The Wedding Planner Institute).
Darryl Moore, founder of D'Concierge Weddings, told Brides that it's important for couples to visit their wedding location at least once. Schedule to spend time getting to know the venue for two to three days, if possible, visiting during peak and non-peak hours so you can see and feel for yourselves what your wedding guests will experience during their visit or stay. This is also the time to determine a point of contact to whom you can direct any questions, according to insurance provider Markel Corporation.
Alternatives to visiting in person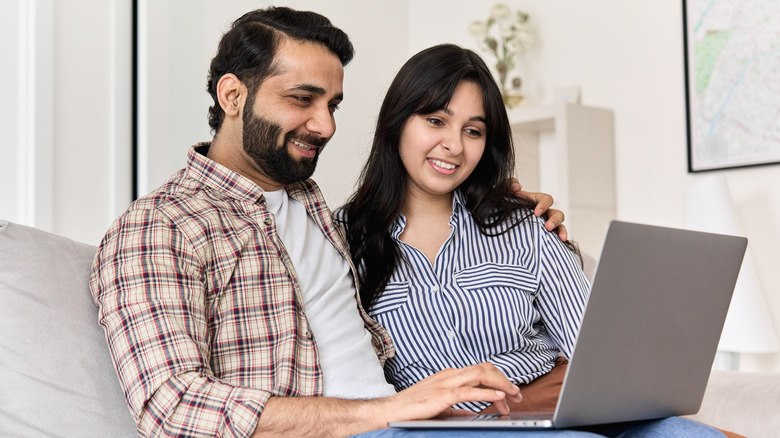 Ground Picture/Shutterstock
If you can't personally visit the wedding location, here are some alternatives. Darryl Moore recommends hiring a professional who is detail-oriented and a good communicator (per Brides). Another option is to hold a virtual wedding design call, suggests TravelBash. This could be a Zoom or FaceTime meeting where you and your wedding team go over everything that needs your input or needs to be done for your wedding day, including a tour of the venue. You can also consult a travel agent for pictures and information on the location, including what to expect during your wedding day.
Remember that with destination weddings there are more things to consider than traditional weddings, such as travel restrictions and weather conditions. And there might be details that you'll have to stop worrying about and let your planner take care of. The point is, don't let the little things ruin your big day. You have to focus on getting the vibes or ambiance you want with the venue or location so your wedding is memorable for you and your guests.