How To Easily Combine Your Destination Wedding And Honeymoon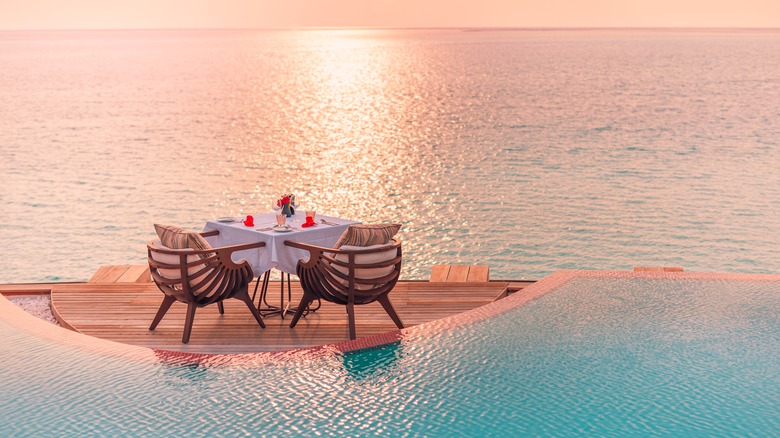 icemanphotos/Shutterstock
Let's answer the question right off the bat: How to easily combine your destination wedding and honeymoon? Easily! It's your wedding and honeymoon. Stay married until the honeymoon, dip out of the reception quietly, and soon, presumably, your destination wedding is now a honeymoon. Boom. Some travel tips are pretty easy. Kidding (sort of).
But, to be a bit more granular about things, we'll speak on how to compartmentalize the wedding and honeymoon. In other words, how to separate one from the other. The thing is, if you didn't have a destination wedding, then the honeymoon would be a completely different event. So, it's the same deal for a destination wedding, even if you're staying in the same locale.
According to data collected by The Daily Star, around 25% of weddings are destination events for the bride and groom. And great! Destination weddings are fun for all involved, so let the good times roll right into your honeymoon. But don't minimize one for the sake of the other. Here's how.
Destination weddings are for everyone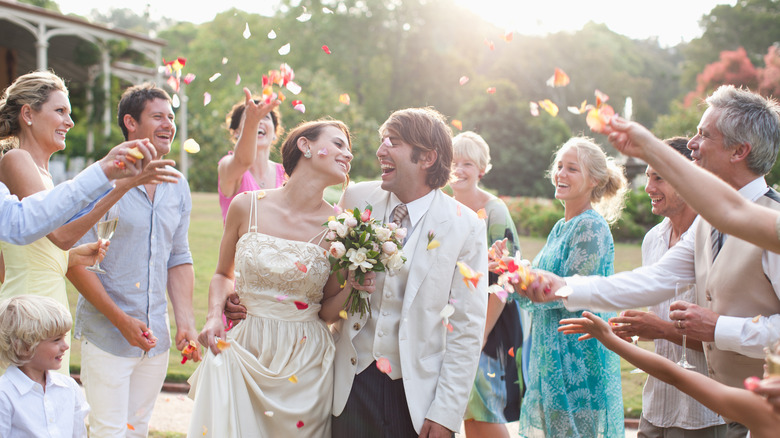 Tom Merton/Getty Images
Of course, a wedding is about celebrating love with loved ones, but a destination wedding is also a bit of a vacation. It's still styles as a bachelor/bachelorette party for close friends (when no one's watching) and serves as a trip that some guests would've never taken otherwise.
While a bit of Sherpa-ing may still be involved to get people where they're going, there's a level of autonomy, too. Point people, you may be more pressed to "play host" if you were hosting guests flying to your hometown. It's the psychology of people. Since it's your hometown, you're the tourism board for everyone, but destination weddings free-up everyone, yourself included, to do whatever outside of the wedding events. You're a visitor just like everyone else.
That's not to say you didn't reserve hotel blocks, create well-crafted advice about "things to do" in cool emails, and still transform into the tourism board. You did. And that's the first key in compartmentalizing a wedding and honeymoon — everything you experienced, ate, and stayed at during your wedding is now over. Leave that planet. It's time for the honeymoon.
It's now about you and your partner. According to Ampersand Travel, around 80% of couples who book a destination wedding have been married before, so let's appreciate one another while we're doing the whole shebang.
Honeymoons are for you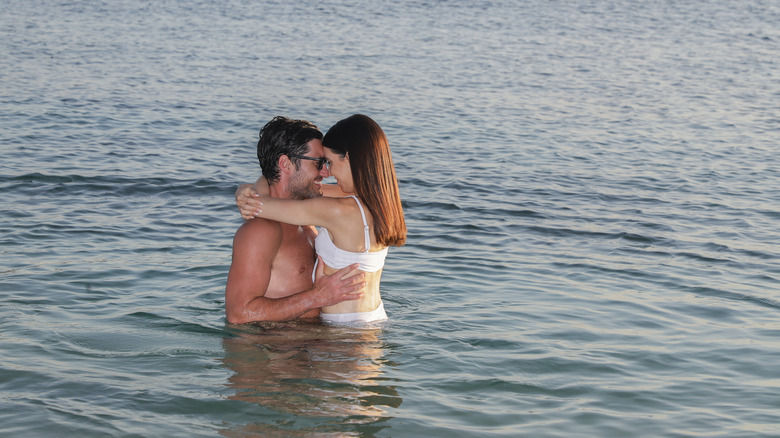 John Parra/Getty Images
Let's talk dollars and sense. Weddings and honeymoons are both expensive. And according to Condor Ferries, around 40% of destination wedding couples reported that they paid some of their guests' travel expenses. Understandable. It's family and friends and an invite. That said, you'll definitely save money by rolling your wedding into your honeymoon.
Let's say your destination wedding is in San Juan. Awesome! It's a lot cheaper to boogie over to St. Croix from San Juan then fly back to Amarillo, Texas, then head back to St. Croix. But barring the money, time is typically why combining your wedding and honeymoon can be helpful.
But even if you don't have time to go straight from San Juan to St. Croix, that's cool, too. But worth repeating, if your wedding was held in a certain neighborhood or at a particular resort, then leave that area or resort. Convenience is both the key and lock when it comes to combining a honeymoon with a wedding. Don't lock yourself into the same atmosphere as the wedding. If the wedding was for everyone else, then the honeymoon is for you. Together, on another planet. Even if it's on the same island.