If You're A Hardcore Harry Potter Fan There's A New York City Bar Just For You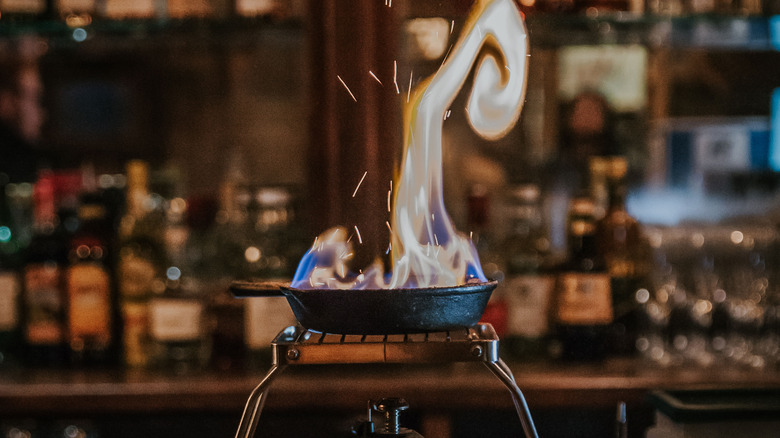 The Cauldron
In 1997, the world first learned the story of "The Boy Who Lived" with the publication of J.K. Rowling's first book in the "Harry Potter" series. By July 21, 2007, the final book in the seven-book series was published. According to The New York Times, "Harry Potter and the Deathly Hallows" sold a mind-boggling 8.3 million copies in the first 24 hours of its release in the U.S. alone. People lined up for hours to get their hands on the book, and the "Harry Potter" movies were also hits (here's what the "Harry Potter" cast is up to now). The final film raked in $1.342 billion in world box office sales, per Forbes. And for many, the passion for all things Potter lives on.
The game of Quidditch from the books has inspired the real-life game quadball, which has 16 teams across the United States and Canada (via Major League Quidditch). Potterheads can go to LeakyCon, a "Harry Potter" fan convention, held this year in Chicago. Then there are the theme parks — The Wizarding World of Harry Potter can be found in four locations around the world, including Universal Orlando Resort and Universal Studios Hollywood. But you don't have to go to Florida or California to feel like you're in the world of "Harry Potter" — you can visit this New York City bar for some magic in your life.
Use a wand and cauldron to brew your own potion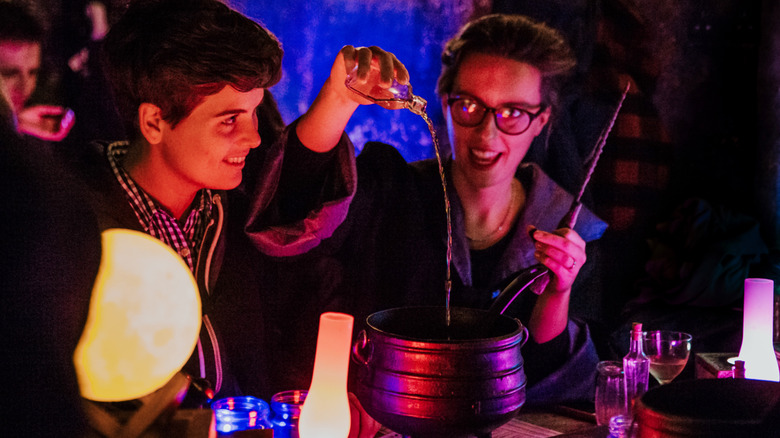 The Cauldron
The Cauldron NYC in Manhattan's Financial District is unlike any ordinary bar thanks to its wizard themed decor and, best of all, it's potion-making class. Guests in the nearly two-hour potions class don robes and get a wand and drink to start, and then under the guidance of a potions master, they'll blend and mix ingredients and generally get their witch or wizard on to make two unique molecular cocktails. It's magic in the form of mixology, but make sure to reserve in advance. If you don't want to splash out for the potion-making class — it starts at $44.99 for adults — there's a full bar and restaurant on the first floor, and through the week, they've got different theme nights like karaoke and drag bingo. You can reserve ahead of time or just walk in.
If booze isn't your thing but you still want a magical immersive experience, try the Wizard Afternoon Tea. Starting from $54.99 for adults, you'll solve puzzles and cast spells as you brew two different teas and enjoy a selection of sandwiches and desserts.
The bar started as a pop-up experience in Manhattan after the success of the first location in London, and now it's a permanent fixture (via Hidden Libations). If you can't make it to an in-person potions class and you're based in the U.K., you can order their at-home cocktail kit with ingredients and barware for four potions (drinks) for two.
Sip on butterbeer or explore Hogwarts with Dobby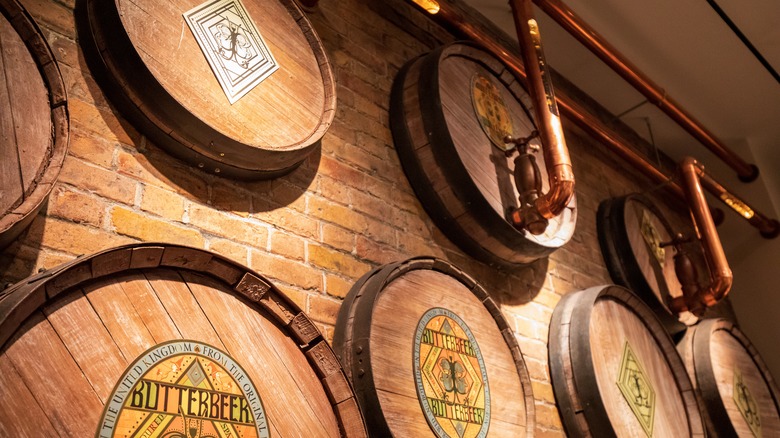 RonaldL/Shutterstock
Along with the potion-making class at The Cauldron NYC, there are some other can't miss attractions in New York for "Harry Potter" fans. Get tickets to see the Broadway show "Harry Potter and the Cursed Child" at the Lyric Theatre. The play is based on a story by J.K. Rowling and it tells the story of Harry Potter's son Albus and Draco Malfoy's son Scorpius.
Then there's the Harry Potter New York store in the Flatiron District. Opened in 2020 by Warner Bros, the flagship store has a wand shop where you can cast spells and buy your own wand. Plus, there's the Butterbeer Bar with its butterbeer on tap, in bottles, and in ice cream (all non-alcoholic). Throughout the three-story store, look for a variety of interactive experiences and photo ops, and, of course, you can buy all kinds of "Harry Potter"-themed items from confectionery to collectibles. Perhaps most fun of all, feel like you're really a part of the "Harry Potter" world while you're there with the virtual reality experiences — current options are "Chaos at Hogwarts," where you help Dobby, and "Wizards Take Flight," where you soar alongside Hagrid. Make sure to book ahead; VR experience tickets start at $34.