The Stress-Free Western Tour That Guarantees 5 National Parks In One Trip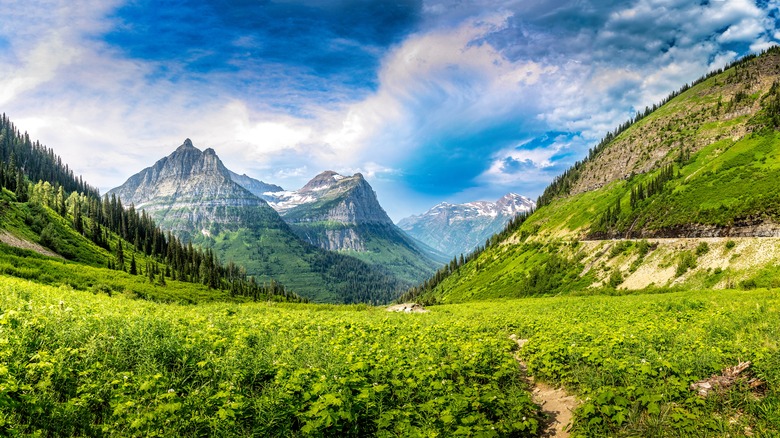 Martina Birnbaum/Shutterstock
A fully-escorted and guided 14-day trip with Vacations by Rail gives you the chance to visit five of the U.S.'s most spectacular national parks with ease. Your vacation starts with a departure from the grand Chicago Union Station, where you board Amtrak's Empire Builder. From your comfortable seat, you'll have dazzling views of Minneapolis and St. Paul lit up against the night sky. You'll awaken to the vast plains of North Dakota and Montana, before arriving at your first destination: Glacier National Park.
Here, you'll leave the train behind to head into the picturesque park. One of the highlights will be a trip up the world-renowned Going-to-the-Sun Road on a vintage, open-air Red Jammer bus. You'll also have plenty of time to explore the park on scenic hikes and on a boat tour, where you'll have a good chance to see some of the local wildlife. After this, you'll continue your trip to Yellowstone, where you'll have a guided tour to see attractions including Old Faithful and the Upper and Lower Falls.
Grand Teton and Utah
Larry Gibson/Shutterstock
Heading south from Yellowstone, your itinerary with Vacations by Rail takes you to Grand Teton, your third national park of the trip. You'll go for a float down the Snake River, surrounded by towering peaks, forested slopes, and wetlands. Then, you head into Utah to see two more stunning parks: Arches and Canyonlands. You'll have a guided tour to see some of Arches National Park's incredible rock formations and have time to admire the eternal canyons, mesas, and buttes in Canyonlands.
During the trip, you'll spend one night on the train and experience an overnight journey, and another 12 nights in comfortable accommodations in or near the parks. When not on the train, you'll travel by luxury motorcoach, and the trip includes 16 meals and a raft of activities. You won't be completely in the wilderness during this trip, either. With stops in the charming town of Jackson Hole and thriving Salt Lake City, you can combine America's wonderful national parks with a little urban exploration.
Other national parks you can visit by rail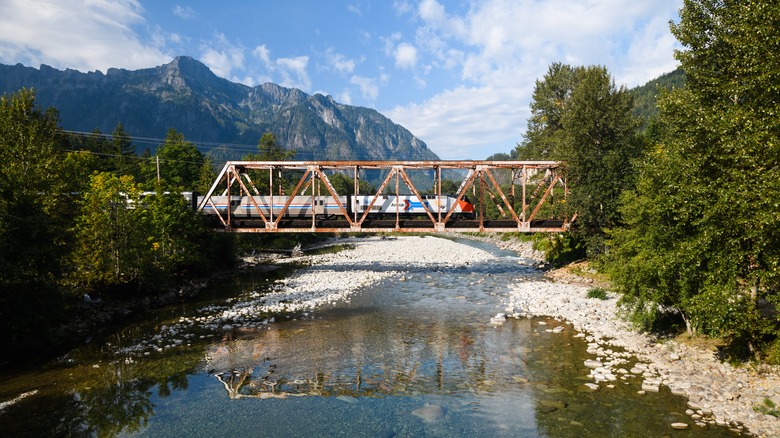 Ian Dewar Photography/Shutterstock
While Vacations by Rail offers a convenient escorted trip so you can hop off the train and be taken straight into the park, you can opt to visit many of the parks by train independently (though it will take a little more forward planning.) Amtrak states that many of its routes pass through America's national parks and it has stations in two: Glacier National Park in Montana and New River Gorge in West Virginia. Here, you can hop off the train and be directly in the park.
Amtrak also runs through many other national parks, including Joshua Tree in California; Saguaro in Arizona; Gateway Arch in Missouri and Mount Rainier in Washington. From these trains, you'll have breathtaking views of the parks right from your seat. On certain Amtrak trains, you'll find volunteers with the Trails & Rails program, who help you connect with the landscapes you'll pass through. If you want to visit these parks, you'll need to find the nearest station and either hire a local tour guide or rent a car.