10 Spots For Stargazing In Phoenix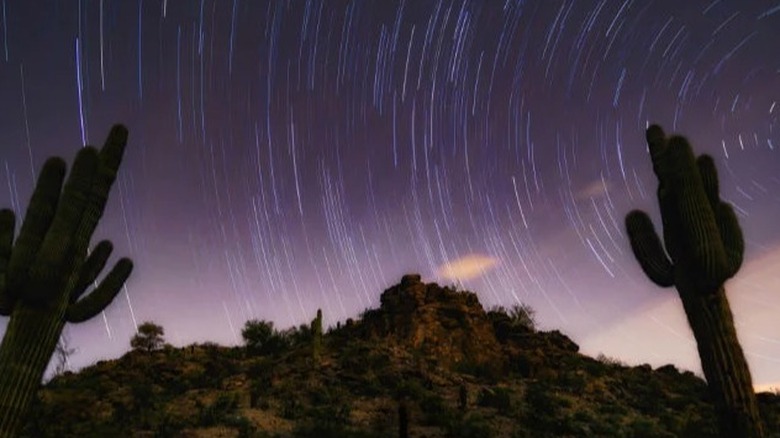 Stargazing has been a much loved part of our human experience since our early days as a species, and there are plenty of good reasons why. As well as providing an opportunity for lifelong learning, meditative quiet and adventures with loved ones, it's also a fun and free way to spend recreational time while discovering the galaxy we call home.
Warm Arizona nights are the perfect backdrop to begin your own stargazing journey. These 10 spots in Phoenix and its surrounding area are ideal for you to begin your celestial exploration.
1.White Tank Mountain Regional Park
If you're new to astronomy, then why not begin with a guided tour of the night sky through Stargazing for Everyone? Offered at White Tank Mountain, along with many other Maricopa County Parks, you will spend the evening learning star names, seeing constellations, and listening to stories of the night sky. The events are family friendly and include the chance to view several planets, star clusters, nebula, and galaxies through a telescope. With the $6 vehicle park entry fee covering participation in the whole program, this is a uniquely affordable and hands-on introduction to the study of astronomy.
2.Cave Creek Regional Park
Did you know that while stargazing you can see the remains of stars that have died, as well as places where stars are just beginning to form? There's no better place to catch both than Cave Creek Regional Park. Ranging in elevation from 2,000 to 3,060 feet, the park provides stargazers with majestic views of the night sky, making it the perfect classroom for learning all about the Milky Way. Located north of Phoenix, Cave Creek National Park is a favorite tourist destination, with the Go John Trail a popular choice for hikers.
3.Verde River Area
If you're up for a bit of a field trip, consider driving a couple of hours north of Phoenix to get a clearer look at the night sky. Away from the bright city lights and loud urban buzz, you'll discover a silent and pitch-black desert. This offers a stark contrast to the beautiful display of celestial lights. As one of the desert's few free-flowing rivers, the Verde River sustains a large wildlife population and diverse riparian community, making it one of the most natural and best preserved places from which to stargaze.
4.Tempe Town Lake
If you're a lover of kayaking, consider checking out a nighttime class for a glow-in-the-dark paddling experience. Offered by the City of Tempe, the class is a breathtaking opportunity to enjoy the stars in the sky above, as well as reflected on the smooth surface of the water all around. For added fun, each kayaker is provided with glow-in-the-dark equipment, though students are invited to bring along additional accessories to shine as bright as the stars.
5.Phoenix Mountains Preserve
Nestled in the heart of the Sonoran Desert, the preserve is a group of parks offering extensive hiking trails and impressive scenery. Located south of Greenway Road and west of Cave Creek Road, Lookout Mountain Preserve is one of the parks ensuring an excellent option for the beginner hiker. Lookout Mountain Preserve showcases a stunning panorama of the sky paired with the city below.  Make sure to keep in mind that most trailhead parking lots are only open until 7p.m., though many of the actual trails are open until 11p.m.
6.McDowell Mountain Regional Park
This 21,099-acre desert oasis is an outstanding place to stargaze and a perfect reminder of how small we are in this big, brilliant universe we call home. Surrounded by mountain ranges, McDowell Mountain offers a scenic view of the northeast valley, and serves as a sacred marker to the Yavapai people. Nature-loving stargazers will deeply appreciate the special vibe of this revered parkland.
7. Hilltop at SunRidge Canyon
For those who would prefer to receive a hot stone massage over hiking hills, one of Scottsdale's many resorts may be the most suitable spot for some stargazing. CopperWynd Resort and Club is a favorite of both visitors and locals alike. Enjoy the visual treat of spectacular surrounding mountains and an expansive night skyline from atop the hill at SunRidge Canyon. It's the perfect combination of luxury accommodation and beautiful nature.
8.Sonoran Desert Tours
If you're ready for some adventure, experience a once-in-a-lifetime tour of the night sky with Walker Remington in his Jeep Adobe. Walker offers his Moon Rising tours in the summer months from June to October, and will regale you with stories of the Old West all evening long as you see the sun set and the full moon rise. As a native of the Phoenix Valley, and an experienced tour guide, Walker has crafted his Arizona Territorial Adventures to be one of the most unique ways to go stargazing.
9.San Tan Mountain Regional Park
Want an adrenaline-charged starry night experience? Combine the usually peaceful activity with the challenge of mountain biking, and experience the exhilaration of riding under a canopy of stars. Consisting of over 10,000 acres of trails, San Tan Mountain Regional Park provides an evening mountain biking program called Night Shredders that focuses on safety and fun for all the family.
10.Riparian Preserve at Water Ranch
Home to The Gilbert Rotary Centennial Observatory, the Riparian Preserve at Water Ranch is a must for those who want a detailed look at all that the night sky has to offer. Boasting a 16-inch-diameter Meade and a modified Richey-Cretien scope, the observatory is open to visitors every Friday and Saturday evening at nightfall.
Looking up at the stars is both an introspective delight, and an exciting adventure. Even without a telescope, you're able to see up to two and a half million light-years into space with reasonably dark skies. In a more rural setting, the celestial experience is only heightened. So whether you're a novice to reading the night sky, or an astronomy enthusiast, Phoenix and its incredible surrounding area is one of the best regions to discover new stargazing spots. The only question is, where will you start your starry adventure?