You Can Book A Celebrity Cruise With An Art Museum On Board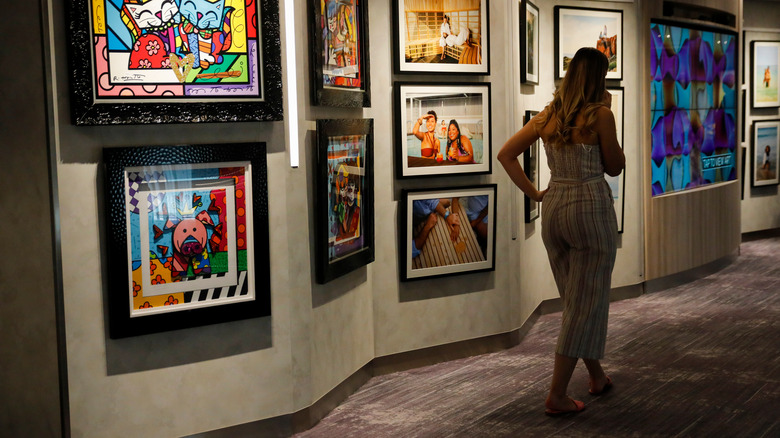 Bloomberg/Getty Images
Cruising can be an excellent way to travel. From luxurious excursions to unique onboard experiences, it's no wonder consumers opt for this method of travel each year. According to High Seas Cruising, approximately 30 million people chose to cruise in 2019. With a wide variety of cruise lines to select from, each catering to specific demographics from families to retirees, there is something for everyone onboard your next cruise. 
Celebrity is an award-winning cruise line under the umbrella of the Royal Caribbean Group (per Celebrity's website). The cruise line's ships boast itineraries that take passengers to many different destinations domestically and abroad and may include up to eight stops per cruise at more than 300 destinations worldwide. U.S. News & World Report states that Celebrity has come to be known for its high-end details, excellent customer service, and unique culinary experiences. Additionally, Celebrity offers a variety of cultural activities including one ship with an onboard tech-forward art museum.
Celebrity Beyond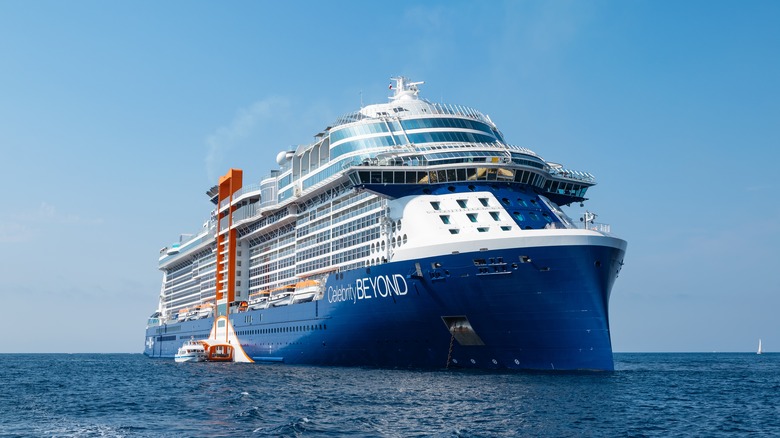 NAPA/Shutterstock
According to the Royal Caribbean Group, Celebrity boasts 16 ships in its fleet. These vessels vary in capacity ranging from 48 onboard the Celebrity Xpedition (which sails to the Galapágos) to 3,836 for the newest members of the fleet in the Celebrity Edge series. Among the members of the Edge series is Celebrity Beyond, which launched in April 2022.
Celebrity Beyond is well-appointed with beautiful aesthetics, 32 options for both food and beverage venues, and services that focus on wellness and relaxation (per U.S. News & World Report). A unique feature of Celebrity Beyond (and its fellow Edge-class ships) is its Magic Carpet, which is an open-air gathering space that moves up and down the side of the ship, changing its feel dependent upon which deck it is situated at. One of the many amenities of this new cruise ship is its onboard art museum. While displaying an art collection or even having a little museum is not an unusual sight onboard cruise ships, this particular museum has so much to more see and do.
Onboard art museum
When guests arrive on Deck 5 of Celebrity Beyond, they are welcome to indulge in the ship's onboard art gallery. According to U.S. News & World Report, there are approximately 4,500 pieces of art displayed in the museum featuring both international artists as well as a variety of travel photographers. Curated by Park West Gallery, guests can take in works from world-renowned artists, including Pablo Picasso.  
Park West Gallery goes on to note that not only does this museum offer incredible works of art, but Beyond is one of the first cruise ships to offer touchscreen capabilities. This technology allows guests to engage in a variety of interactive experiences, including learning more about the works of art displayed onboard. Guests can also put in requests for certain pieces to be included in the ship's onboard art auction. Another amenity that makes this gallery unique is that guests who are aspiring artists can also request to have a personal consultation with one of Park West's experts in order to garner advice for their own artistic endeavors. Art lovers are sure to enjoy this unique feature onboard Celebrity Beyond.