The Ultimate Guide To Perfectly Packing For Your Cruise Vacation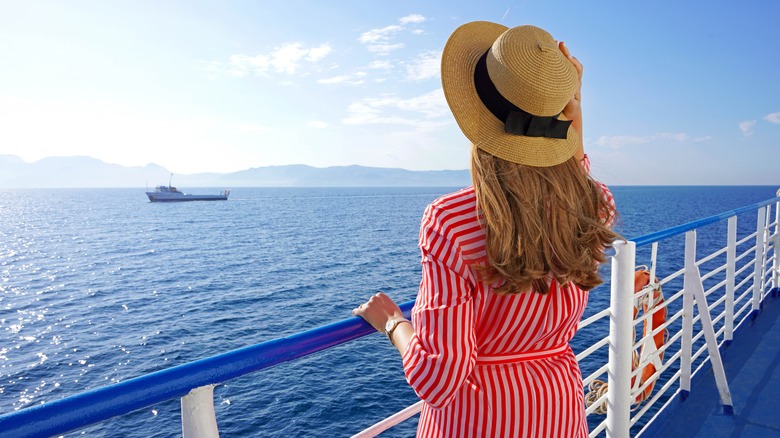 Zigres/Shutterstock
Cruises are an exceptionally fun option for any prospective vacation. Between the excellent dining options, the endless chances to soak up some sun and sit by the pool, and the dozens of port destinations cruise ships stop along their route, it's a trip that has the potential to delight every adventurous traveler. But as fantastic as cruise ships are, there is one key setback that might have you scratching your head in puzzlement before you even step foot on your ship: "What exactly should I pack for my cruise?"
It's a great question, but one that has no right answer, with many cruises having drastically different policies for things like outside alcohol and even passengers' clothing choices. However, it's worth remembering that, in many cases, most onboard cabins can be fairly tight in storage space. As a result, it's always better to pack the absolute bare essentials rather than overpacking, lest you risk becoming cramped in your assigned cabin. Furthermore, most cruises do guarantee you certain supplies and amenities ideal for your voyage, including basic toiletries like shampoo and soap, and towels for the pool, making packing for your trip slightly less burdensome.
Still, there is a lot left open to interpretation regarding what "bare essentials" might mean, as well as what items your cruise will already have on board waiting for you to use. From handy pool items to things we recommend having for your room, here is everything we suggest packing for your next cruise getaway.
The essentials for by the pool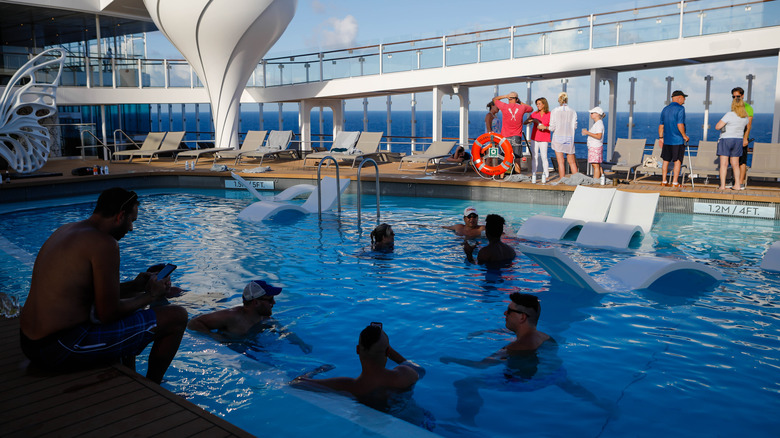 Bloomberg/Getty Images
On days when you're at sea (which will likely be most days of your cruise), there's a good chance you're going to spend a large chunk of your time relaxing by any one of your ship's pools. That being said, there are plenty of things you'll need to bring for when you're catching some rays or going for a quick dip. Perhaps most obviously, you're going to need a bathing suit; if you have them, bring at least two. Bathing suits can take a little while to dry all the way through, and there's nothing worse than trekking all the way to the pool in a still-soggy bathing suit (especially if you happen to wear one during an excursion day to the beach).
You might also want to consider bringing a few pieces of protective clothing for getting to the pool and actually lounging out in the sun. These include cover-ups, a spare T-shirt you're not afraid to get dirty, flip flops, sunglasses, and some sort of hat to provide you shade if the sun gets a little too intense (a baseball cap or sun hat will do nicely).
Perhaps most importantly, you should absolutely pack sunscreen — and lots of it, if you can. If you run out or don't bring enough, you can purchase some onboard or during a port day, but at potentially heavy markup prices. The one thing you won't have to worry about packing is towels, with nearly every cruise providing with you one upon request.
The essentials for your room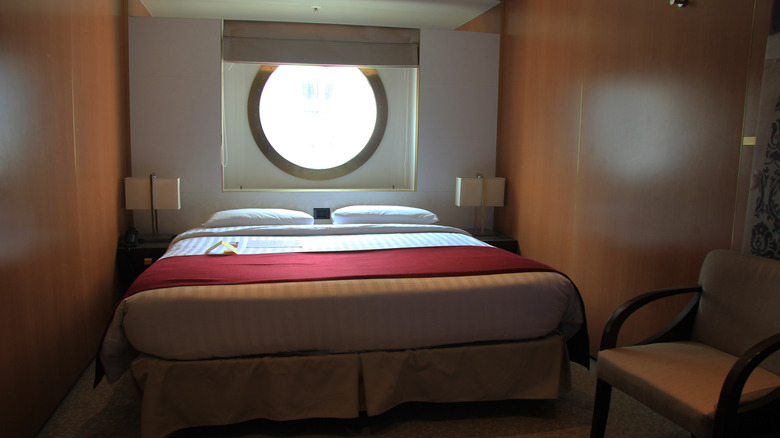 Studioportosabbia/Getty Images
Depending on the cruise line, there's a strong likelihood that you'll be spending the bulk of your voyage experience partaking in the engrossing activities cruises offer (such as seeing shows, playing trivia, or venturing off the ship whenever it makes port),  rather than resting in your room. However, there are still some things you should bring with you to have around your cabin.
First and foremost, you're going to want to bring a charger for any electronics you brought onboard, especially if you purchased Wi-Fi for your trip. You should also bring a spare reusable bag to store dirty laundry in, in case your cruise doesn't offer a laundry service for passengers to use on their vacation. Similarly, you might want to pack some kind of stain remover — such as a handy, portable Tide Stick — to remove any embarrassing stains you find on your clothing during the cruise.
As storage within such a confined space can be tricky, you might think about bringing collapsible racks to lay out and organize your clothes. If you need to hang something up, you can also use removable, suction-based hooks that stick on the wall or ceiling of your cabin without leaving a mark or damaging the paint. We also suggest bringing a portable shoe rack to hang on your door. Even if you don't have that many shoes to place in it, you can always store your spare toiletries and bathroom supplies to save your bathroom from potential clutter.
General onboard apparel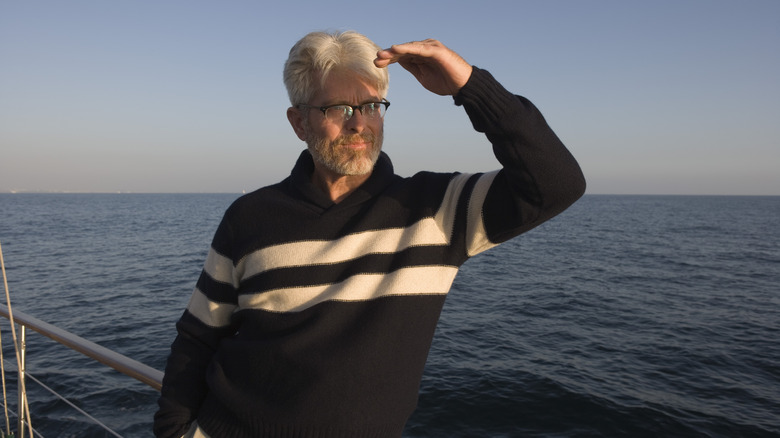 Burke/triolo Productions/Getty Images
Ah, yes, the million-dollar question, "What clothing should I wear on my cruise?" Unfortunately, there's no easy answer to that question. Each cruise line across the world has varying levels of acceptability regarding passengers' clothing. For example, larger companies like Carnival and Royal Caribbean emphasize passengers' comfort, meaning that you can wear anything you want (no matter how casual) on board their ships. Meanwhile, more exclusive luxury promotions like Celebrity Cruises encourage guests to dress up a bit more formally (think business casual).
Before you start laying out any potential outfits you might want to wear onboard, we suggest researching your cruise's clothing policy to better understand the acceptable clothing options you can wear during your cruise. A good rule of thumb to remember is that the more expensive the cruise, the better the odds you'll have to dress up. If you opt for more inclusive family cruises, such as those offered by Carnival, you'll likely be free to wear whatever clothing you find most comfortable when you're walking around the ship. That means you can wear T-shirts, gym shorts, sweatpants, or other relaxing clothing if you're so inclined.
However, you might also want to keep in mind that, in nearly all cases, cruises are filled with families and younger passengers. With that in mind, it'd probably be best to pack clothes that aren't too revealing or contain any potentially offensive language or images. It's also worth pointing out that separate clothing rules apply regarding onboard dining (although we'll discuss this in more detail further on).
Comfortable wear and nighttime apparel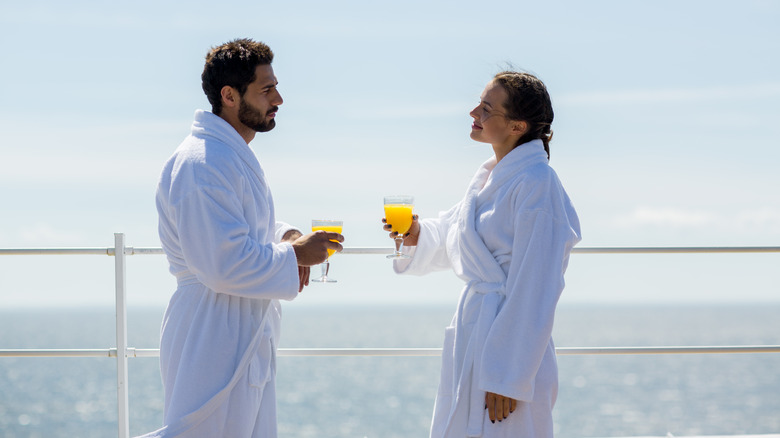 Shironosov/Getty Images
As mentioned above, most cruise lines' main priority is the comfort of their passengers. Because of this, you're usually free to wear whatever clothing you find the most relaxing. We recommend packing plenty of comfy clothing for the duration of your trip — including those extra baggy pairs of sweatpants or that two-sizes-too-large fuzzy sweatshirt. Also, it's worth remembering that nights at sea can get a little cool, so if you're keen on walking the promenade deck once the sun's gone down, bring a pair of long pants and a spare sweatshirt to combat the potentially balmy weather.
Nearly every cruise cabin comes with an internal thermostat that allows you to control the temperature of your room. However, the air conditioning isn't as powerful as the ones you find in hotels, meaning you might not get it as cold as you like if you enjoy a cooler room temperature while you sleep. Because of this, you might want to pack lighter pajamas instead of longer, warmer bedding apparel.
Most cabins also come equipped with a robe that passengers are free to wear throughout their cruise — however, you're generally expected to leave them behind when disembarking. In addition to robes, some cruise lines like Cunard offer slippers for passengers as well, which you're then free to keep once your ship has reached its final destination.
Dining wear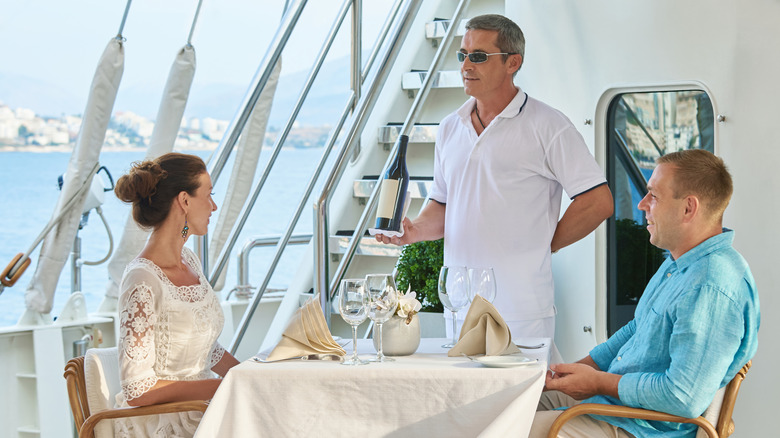 Alvov/Shutterstock
Ah, yes, the age-old headache: "What to wear for meals on a cruise ship?" Frustratingly, the answer to that — much like the answer to what to wear in general for your onboard attire — is not so simple. In many cases, most cruise lines' main dining halls require slightly dressier outfits (think business casual). On pricier luxury cruises, you can expect stricter policies, requiring guests to dress even fancier for mealtimes. Like the rule surrounding onboard attire, it helps to think of it like this: the more costly the cruise, the more formal your dining attire should be.
To play it safe, be sure to pack a fair amount of nicer clothes to wear for meals, even if it's simply a tropical button-down shirt, a polo, a casual sundress, or khakis. If you're traveling on a luxury cruise, you might want to bring a nicer array of fine clothing, like formal dinner jackets, ties, blouses, pantsuits, and slacks.
However, one thing you absolutely should pay attention to is formal night, a staple for many cruise lines across the globe. Usually scheduled once per cruise, formal nights allow travelers to dress to the nines for their dining experience. What this means is you can wear anything from a suit and tie to a full-on gown or tuxedo, so root through your formal wear and pack accordingly. Technically, formal nights are not strictly enforced by most cruise lines, but you might find your dining options a bit more limited, as most onboard restaurants require slightly formal wear for admittance.
Toiletries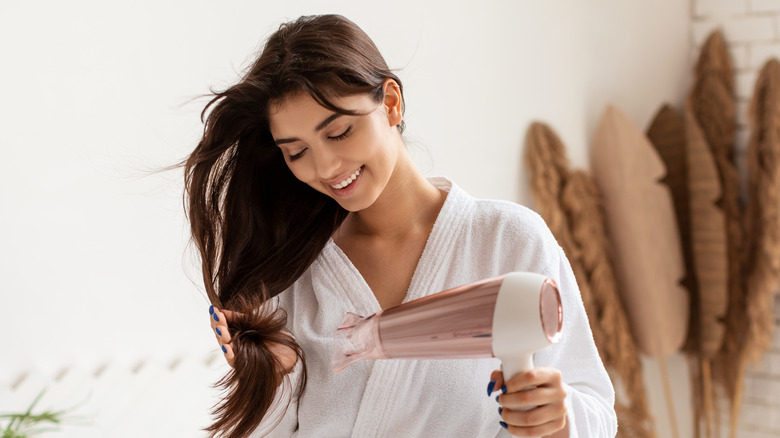 Prostock-studio/Shutterstock
Another potential roadblock when it comes to properly packing for your cruise is determining which toiletries to bring with you. Luckily, you can relax when thinking about bathroom items, as you'll be able to find basic toiletries like shampoo, conditioner, soap, and body lotion in nearly every cruise line bathroom. As with hotel shampoo and soap, these toiletries are not necessarily the most luxurious quality and are in fairly short supply (though you can always ask your room attendant for more). As an alternative option, if you want to use a particular brand-name product, you're free to bring those onboard as well.
Aside from basic toiletries, other essential items you'll want to have on hand include a toothbrush, toothpaste, dental floss, and deodorant. For hair products, you should also bring a comb, hairbrush, dry shampoo, and any styling products you use on a regular basis. Feel free to also pack makeup and beauty products, but be careful not to overpack.
Of course, it's important to remember that nearly every cabin's bathroom will be incredibly tight. Keeping that in mind is important for packing purposes, as you don't want to overstuff your bathroom with needless supplies you'll only use once or twice on your vacation. To save on room, it's probably wise to invest in a handy toiletry bag to keep all your personal hygiene products in a portable, easy-to-access tote. You can even make due with a compact shelf to hang on the back of your door to store all your bathroom essentials in.
Other bathroom supplies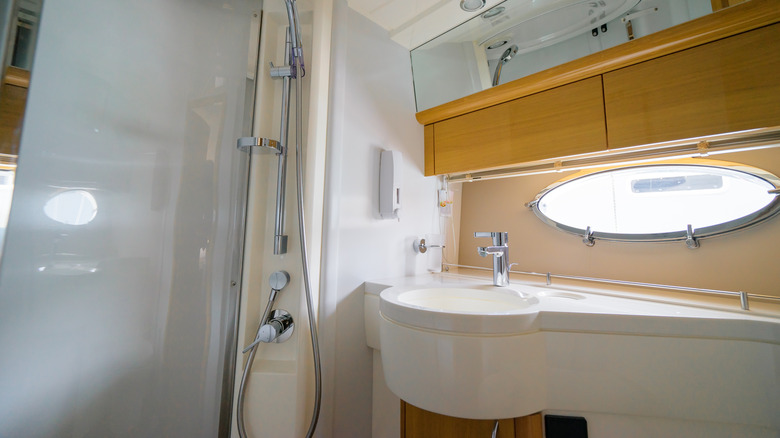 kudla/Shutterstock
For bathroom supplies outside of the usual toiletries, there are some items you might want to bring with you on your cruise-going experience. For example, you should think about packing hair straighteners, shaving kits, shaving creams, moisturizers, loofahs, and facial scrubs. These are things that do not come with a standard cabin and must be brought onboard by passengers. Hair dryers are a common amenity you'll find in most cabins' bathrooms, though you might have to request one if you're traveling on an older ship.
There are also some more specific toiletries that you will probably want with you on your cruise-going experience. In case of any nasty burns you incur lunging in the sun, be sure to pack some aloe vera. Like sunscreen, this product is also available for purchase on the ship or in port locations, but it can be considerably more expensive than the average bottle you bought at home.
Cruise ships are also known as a high-risk area for germs — a fear you might have in the back of your mind with so many viral illnesses permeating throughout the world nowadays. To lessen your chances of getting sick, it's definitely not a bad idea to have travel-sized bottles of hand sanitizer or sanitation wipes at your disposal throughout the duration of your cruise. If you want to be extra cautious, you can even pack some spare face masks in case you start to feel a little worse for wear or uncomfortable being around so many people in one location.
Leisure and entertainment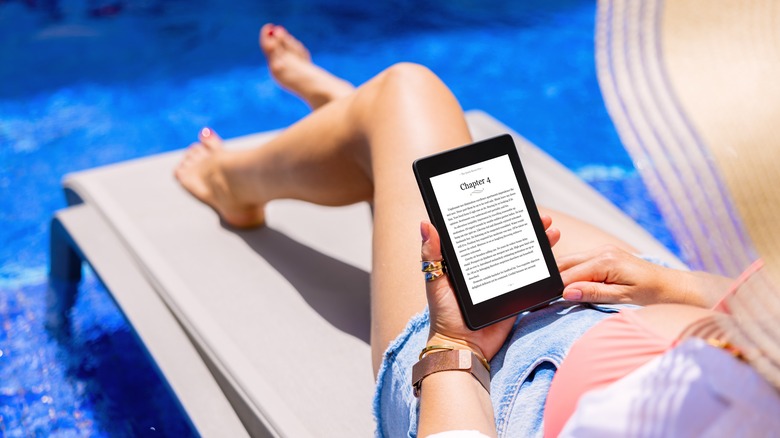 Kaspars Grinvalds/Shutterstock
As with any vacation type, you can expect one thing during your cruise experience: having boatloads of fun. Whether it's spending the entire day at the ship's pool and visiting any one of your vessel's specialty restaurants, there are endless entertainment opportunities aboard virtually every cruise ship. Still, there may be a few things you'll want to pack with you on the off chance you're ever bored and in need of entertainment — with some caveats attached to these specific items.
The biggest thing you have to remember about most cruise ships is that Wi-Fi often comes at an extra cost, usually through an all-inclusive plan. If you're sailing on a standard, non-inclusive cruise, that means you're going to have to pay extra per device in order to access Wi-Fi. If you're thinking about purchasing Wi-Fi, you should make sure you're purchasing it for the most accessible device that makes the most of the added cost. For example, having Wi-Fi on your phone may be convenient, but having it on an iPad or laptop allows you greater access to other Internet features, such as streaming platforms or even work emails (if you wanted to do some work aboard your cruise).
Of course, if you wanted to simply unplug and get away from the online world for a bit, you can have a decent supply of books with you, as you'll have plenty of reading opportunities sitting by the pool, or at the ship's bar, lounge, or onboard library.
Beverages and alcohol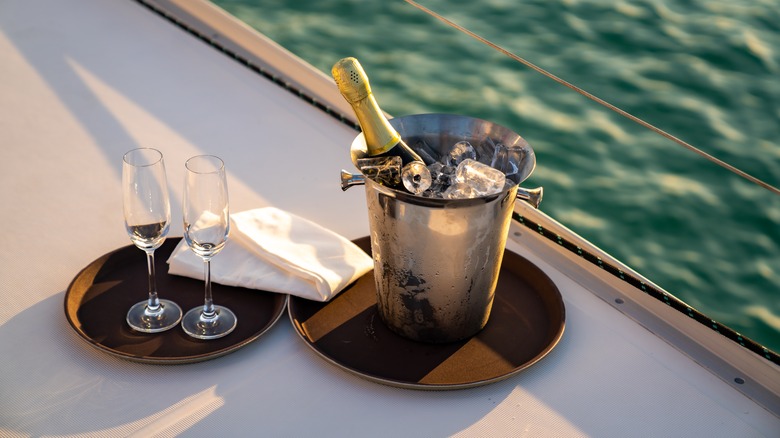 CandyRetriever/Shutterstock
Another potentially nagging thought in the back of your mind while you're packing for your cruise might be whether it's all right to bring snacks, bottled beverages, and even alcohol aboard your ship. Well, like approved cruising dress codes, the answer differs greatly depending on the specific cruise line.
As basic beverages are offered in pretty much every location onboard a ship — from cafes to restaurants to bars — most cruise ships ask that you avoid bringing bottled beverages of any kind onboard their voyages. Those that do allow nonalcoholic drinks like bottled water must be under a specific amount, with cruise companies like Royal Caribbean limiting the number of bottles, cans, or containers to a maximum of 12 per cabin. However, as is the case with dining apparel, each cruise line has a different policy for outside beverages brought onboard, so it's definitely not a bad idea to research whether it's okay to stow away your favorite sodas or energy drinks for your trip.
Almost every cruise ship also offers a variety of alcoholic beverages, be it cocktails, wines, beers, or hard liquor. If you want to avoid the high cost for onboard liquor, though, you could research your cruise line's policy on outside alcohol. Some cruise lines allow you to bring along limited quantities of certain alcoholic drinks (such as one bottle of wine per passenger or two bottles per cabin). On the other hand, other cruise lines outright prohibit guests from bringing outside liquor of any kind aboard their ship.
Medical supplies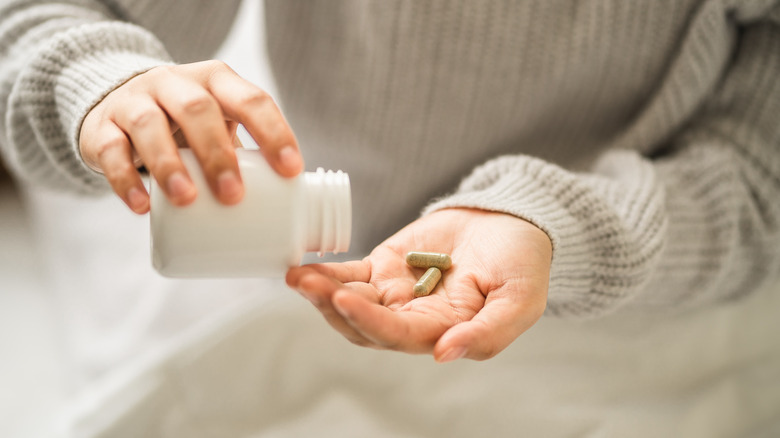 Gumbariya/Shutterstock
It's unavoidable that you'll need to pack certain medications and health supplies with you on your trip. While on the subject, there are a few things you should know in regards to storing any medication you bring onboard. For prescription medication, it's recommended that you keep your pills in its original packaging, and, if possible, to obtain a letter from your doctor explaining the prescription (some locations, such as the Bahamas, have fairly strict policies on foreign medication). As you can expect with international travel, each country has a different outlook and definition for particular medications, with some over-the-counter products in America banned in other nations.
Other medical items you could take with you include non-prescription pain relief medicines, like Advil, and birth control medications. As you're sure to be eating a decent amount of rich foods throughout your cruise, you can also bring some antacid products like TUMs to prevent any mild maladies like heartburn or indigestion. Fortunately, if you don't end up packing any of these, most cruises also sell them to passengers (although at a potentially higher markup).
Similarly, bring a first aid kit or a decent supply of Bandaids to keep in your cabin, in case of any smaller injuries you face in the privacy of your room. All cruise ships are equipped with a capable medical staff to handle any maladies plaguing vacationers on their trips. However, first aid kits are probably a better option if it's something less serious, such as a small cut from shaving.
Tobacco products and E-cigarettes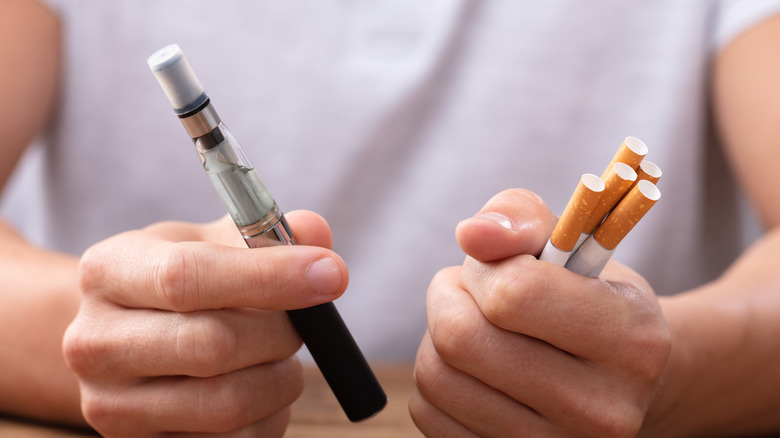 Andrey_Popov/Shutterstock
Tobacco products are sort of a gray area for most modes of travel nowadays. As you might expect, most public locations with closed or limited ventilation systems (such as airplanes or restaurants) bar the use of tobacco-centered products, whether it's a traditional item like cigarettes or an electronic device like a vape pen. Like other public transportation options, cruises follow many of the same rules and health regulations as mass transit vehicles like planes or trains do, with some lax exceptions depending on the cruise line.
Nearly every cruise line does allow you the opportunity to bring aboard virtually any tobacco product (save for hookah pipes), including E-cigarettes, cigarettes, and cigars. It's important to note, though, that like any public location you can find on land, you're only able to use these products in select spaces aboard your ship. Similar to outside alcoholic beverages too, each cruise ship has a different policy regarding tobacco products, meaning you should learn beforehand whether it's okay to bring specific products aboard your ship.
Cruise lines are also quick to remind you that, while specific tobacco products can be brought aboard their ships, passengers should still adhere to TSA protocol for transporting these items through airport security or on airplanes if they're flying to your cruise ship. After all, just because you can bring it onboard a cruise ship, doesn't mean it's okay to be brought onboard a plane. The same can be said for cannabis products, which are strictly prohibited from being brought on board.
Excursion supplies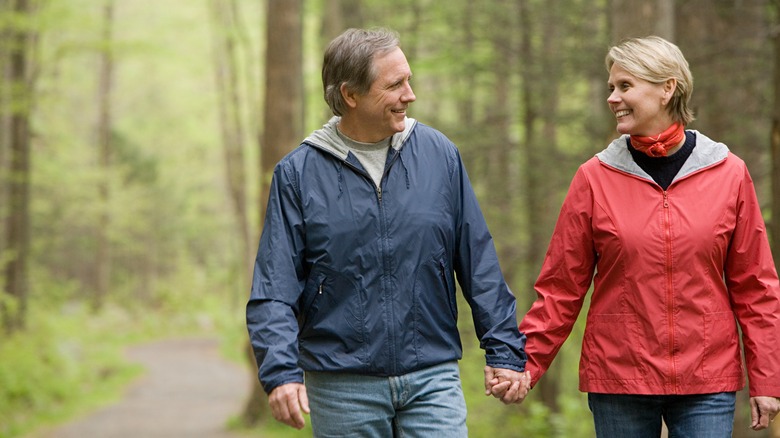 Image Source/Getty Images
Excursions are a main feature of any decent cruise that guests can look forward to. On them, you can do anything as intensive as hiking a centuries-old backwoods trail in South America to swimming with adorable wild pigs at CocoCay. Participating in these excursions could be the highlight of your cruise experience, creating many fond memories with your fellow travelers that could last a lifetime. With that in mind, it's important that you should carefully plan ahead of time what excursions you're thinking about doing, and pack any supplies you'll need for those onshore activities.
There are a few items that you'll probably need, regardless of the anticipated excursion you had in mind. For example, a good pair of comfortable shoes are a must, with particularly reliable options being either rain boots, hiking boots, or walking shoes (depending on your planned activity). It also doesn't hurt to pack some additional supplies, such as a spare pair of socks to change into in case your shoes happen to get wet somewhere along the way. If you're headed for a beach or water-based destination, you should also bring with you a towel.
For most off-ship activities, it's also advisable to bring sunscreen, bug spray, sunglasses, and/or a hat. Naturally, you'll also want to keep a wallet in hand during these onshore trips, and you can even bring with you a camera to capture every memory you make during the excursion. You might also keep your most valuable items that can be water-damaged in a waterproof bag.
Other clothing essentials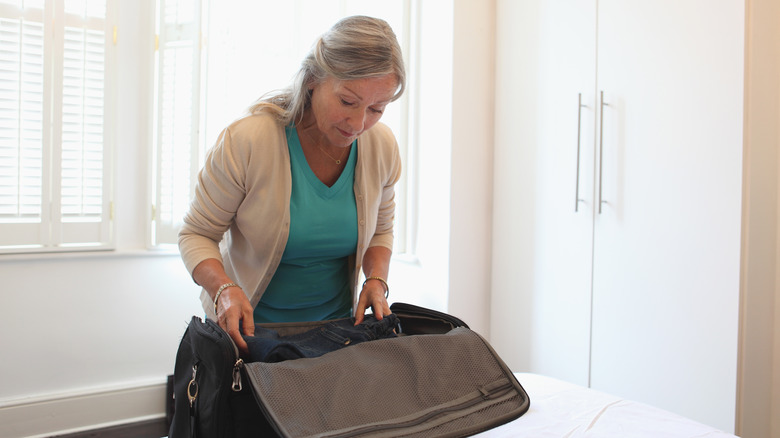 Daniel Allan/Getty Images
Another essential clothing item to pack would be a rain jacket, especially if you're headed somewhere with erratic weather. The tropics haven't earned that name by accident, and it always helps to have some sort of protection from rainfall that might stymie your cruise (jackets, umbrellas, rain boots, etc.). There are also plenty of other, smaller articles of clothing that frequently go overlooked when packing — things that are easily forgotten about, or that some people don't pack enough for the entirety of their trip.
Perhaps the most frequently forgotten piece of clothing that trips up most travelers is the appropriate number of undergarments for your vacation. Before you pack anything else, make sure you lay aside some space in your suitcase for socks, underwear, undershirts, and other must-have clothing pieces that you'll have to change on a daily basis. It's also helpful that you don't pack the bear essentials alone either — pack extra pairs of each. You never know when your socks might get wet or your undershirt gets too uncomfortable, requiring you to change into a fresh pair. For such sensitive items as socks or underwear, it's always better to have more than less.
There are also a few other things you'll want to make sure you have with you prior to setting out for your cruise. A dependable belt for your pants is always handy to have, as are any prescription glasses or contact lenses you need to guide yourself around the ship.
Food and snacks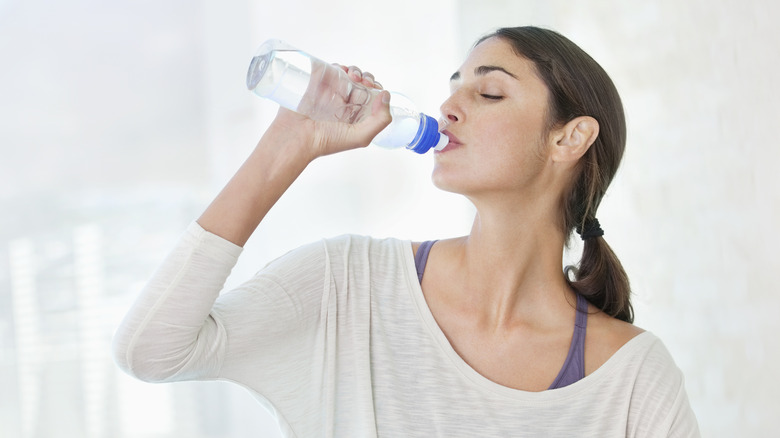 Sam Edwards/Getty Images
Like outside beverages, food can be another tricky subject as you pack for your cruise. But like beverages, we can assure you that there will be plenty of opportunities to eat during your cruise, with most ships having an ample array of food for you to eat on a 24/7 basis. Still, for those who wanted to bring their own food that the cruise ship might not carry, we can safely inform you that most cruise ships do allow you to transport certain foods aboard their ships — although with some exceptions to this rule.
Firstly, all food you bring onto the ship must be in an unopened, prepackaged container. That means that, while you're able to carry on unopened packs of name-brand cookies or bags of your favorite chips, homemade food in Tupperware containers is not allowed onboard. The same can also be said for unpackaged store-bought foods like meats, fruits and vegetables, and cheese.
If you're traveling with a toddler or infant, baby food and formula are almost always okay to be brought on board. That being said, it's worth looking ahead of time to see whether your cruise line will provide you with baby food at no additional cost. For example, Princess, Celebrity, and P&O Cruises will happily meet any requests for free baby food, while Carnival and Norwegian request that you supply your own.
Things you absolutely cannot bring on a cruise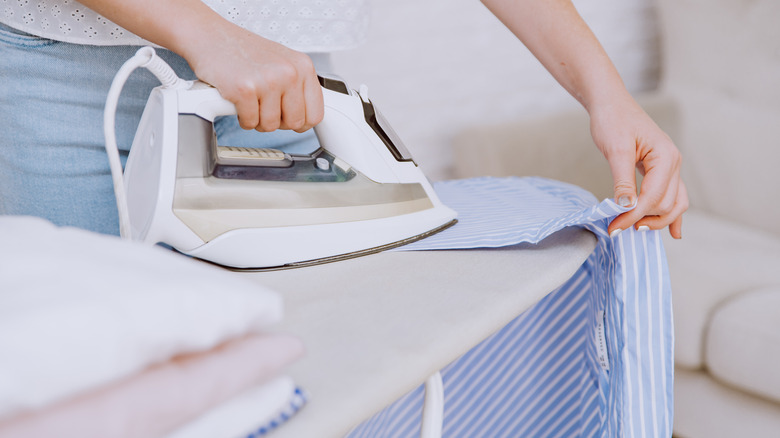 Damian Lugowski/Shutterstock
As with other kinds of transportation like planes or trains, there are certain items that are outright banned from being brought onboard nearly all cruise ships across the globe. The biggest and, in some cases, trickiest items you'll find on most cruises' prohibited list are inflatable pool toys and pool noodles. As cruise ships' pools are already limited in space, having things like pool floats or large tubes can take up room that might be reserved for other travelers. Because of this, it's better to come empty-handed when you're headed for the pool, bringing only necessities like a towel, sunglasses, and sunscreen.
Other items that you're barred from bringing aboard include electrical devices like clothing irons or coffee makers (both of which are capable of starting a fire, hence they're being banned). The same logic also applies to candles, incense, and even surge protectors — the latter of which is important to keep in mind when you're packing chargers or outlet adapters for multiple plug-in chargers.
Other child-friendly toys and accessories are also not allowed from being brought on board. These include toy guns, kites, and shoes or toys with wheels (such as skates and skateboards). Anyone who's interested in using a metal detector at a local beach destination is also out of luck, as most cruise lines ban metal detectors from passing through security. As mentioned above, prepackaged foods and non-alcoholic beverages can be brought onboard, although there are exceptions to this based on the cruise line.