The Best Ghost Tour To Take On Your Next Trip To Edinburgh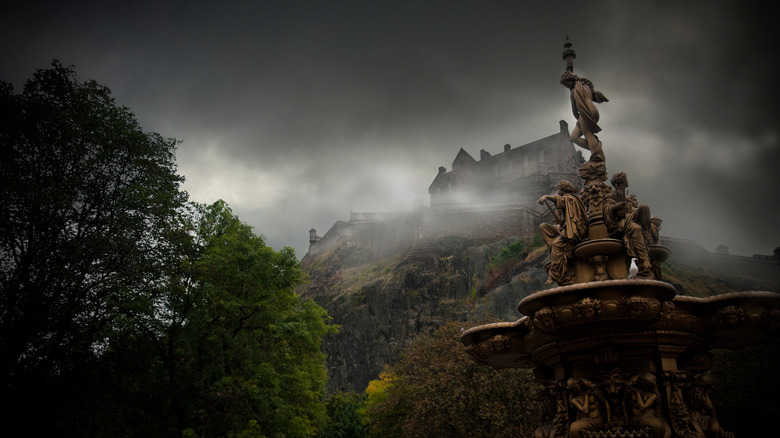 Sharkshock/Shutterstock
When you think of Scotland, you visualize beautiful lochs, streams, majestic mountains, an abundance of wildlife, and of course, kilts and bagpipes. However, the capital of this small country within the United Kingdom — Edinburgh — offers anything but that, and has a long history that is so dark, frightening, and gruesome, as reported by Ranker, that merely visiting this city, and walking its streets, narrow alleyways and dark closes, will send shivers up your spine and make the hairs on the back of your neck stand up to this day.
If it's any indication by the nickname of "Auld Reekie" — given to Edinburgh back in the 16th century, as reported by The Scotsman — this city's reputation of plagues, witch trials, ghosts, and violent poltergeists still exists even now in the 21st century. With such a haunting and dark past, it's no wonder that there are numerous ghost and paranormal tours led just after dark to anyone who is intrigued by such entities. And, one company in Edinburgh prides itself on providing the best of those terrifying tours to all who dare attend.
If you're someone who doesn't spook easily, has a keen interest in graveyards and underground vaults, and are prepared to take an unnerving and petrifying walk through them at your own risk, the award-winning City of the Dead Tours can provide all that to you and more. 
Prepare to jump out of your skin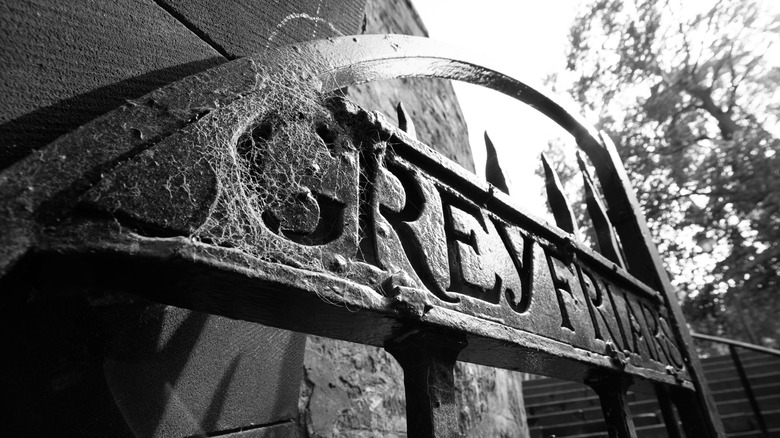 Arcady/Shutterstock
Delivering three heart-stopping, eerie, and spine-chilling tours nightly, attendees are forewarned ahead of time of the risks they may encounter. The Haunted Graveyard Tour will take you through Edinburgh's ghostly Greyfriars Kirkyard Cemetery, Covenanter's Prison, and the Black Mausoleum where paranormal activity is regularly recorded and seen, while a deeply investigated, mean-spirited, supernatural entity named The Mackenzie Poltergeist reportedly makes its presence known to visitors by quite literally attacking them, leaving documented and visible scratches, bruises, and marks on their bodies.
Their Underground City of the Dead Tour leads attendees through the haunted, sinister underground vaults laden throughout Edinburgh's Old Town, previously sealed for nearly 1,000 years, only to be recently unsealed to the public. Their gruesome past filled with squeamish stories that are not for the faint of heart. But be prepared to feel the presence of those who have died there walking alongside you, and possibly smell the stench of death.
If you're someone that doesn't frighten easily, has a strong heart, and is in good mental and physical health, City of the Dead Tours offers a double-whammy of frightening encounters and terrifying history that comes with a firm warning label: The Double Dead Tour. A terrorizing combination of the graveyard and underground vaults tour: This package screams of hair-raising, chilling, outright fear.
Things to know before you go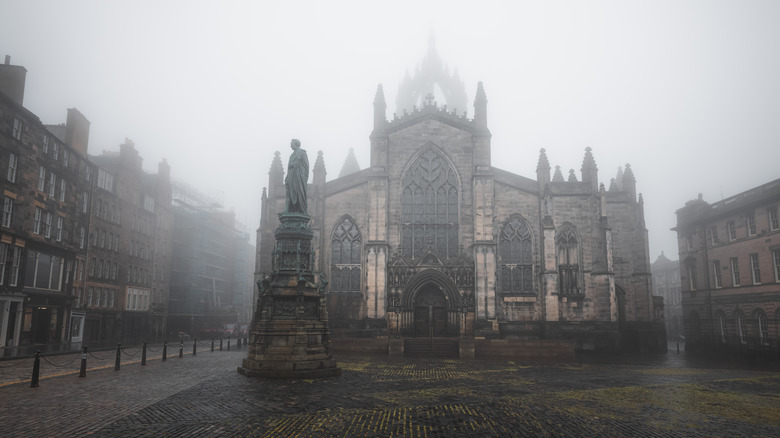 Stephen Bridger/Shutterstock
While these three spooky tours are for adults only, City of the Dead Tours offers a separate one for groups of kids and their parents: The Secret City Tour. However, for the more ghastly tours, you must be age 12 and older. You're not permitted to attend any of the tours if you are intoxicated. You're also encouraged to wear proper footwear should you need to run for your life from the Mackenzie Poltergeist, or any of the other tormenting entities that are annoyed by your presence. It's important that you're also in good health and check the rules on each of the tour pages for who the tours are not best suited for.
Each of the nightly tours lasts from just over 1 hour to up to 2 hours, with special times noted during the summer and winter. Attendees are told to arrive at a specific time when booking online, meeting by a designated landmark named, "The Tree of the Dead" next to St. Giles Cathedral located on the famous Royal Mile in Edinburgh. It goes without saying that should you choose to attend any of the tours mentioned here, you're in the hands of the best there is, but you've been forewarned, your experiences attending them will either firmly confirm your belief in the supernatural, or have you running for the Highlands of Scotland, never looking back.