The All-Inclusive Planet Hollywood In Costa Rica Gives Vacationers The Celebrity Treatment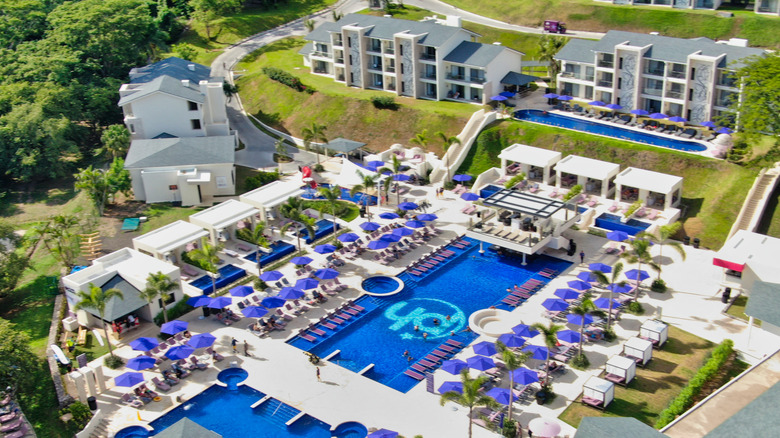 Joshua ten Brink/Shutterstock
Spending time in Costa Rica is always a good idea. Located in Central America, the breathtaking destination is surrounded by lush greens, rolling hills, jungles, pristine beaches, and even volcanoes. There are many reasons to visit Costa Rica, but for starters, it's simply a paradise. The grand region is inundated with wildlife, national parks, waterfalls, and much more. Needless to say, it's a region capitalizing on its natural beauty. It comes as no surprise as 1.7 million visitors per year, according to the Embassy of Costa Rica in Washington D.C. The 800 miles of coastline will put visitors in a trance, and the magnitude of outdoor activities and unique spots the region offers is impressive as well.
Everything in Costa Rica is "Pura Vida," which translates to "pure life" as it's the way of life. The phrase is commonly used in the gorgeous region by locals while visitors catch a glimpse of living like a local by taking on a relaxed vibe. From beachfront hotels and jungle treehouses to remodeled airplanes turned hotels, there is one hotel that stands out from the rest. Planet Hollywood Costa Rica is an all-inclusive resort that aims to provide its guests with nothing less than the red-carpet treatment. Here relaxation is top of mind not only for you, but for the entire family.
Receive star-studded treatment at Planet Hollywood in Costa Rica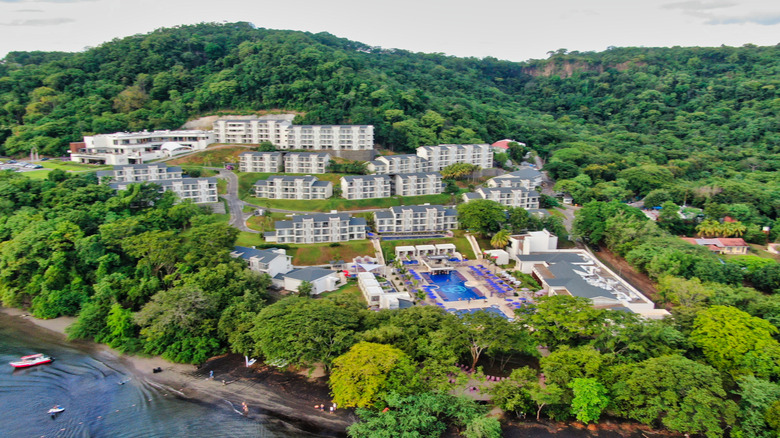 Joshua ten Brink/Shutterstock
You've already had to make hard decisions by limiting which of the many nature trails to visit on your trip, keep your hotel stay easy and breezy by opting for an all-inclusive stay such as Planet Hollywood. Located at the base of Papagayo Gulf in Guanacaste, Costa Rica, the chic hotel has it all for each member of the family with no "wow" factor spared. The hotel grounds itself as an entertainment hub and takes pride in treating every guest like Hollywood royalty. Upon check-in, guests will (literally) walk the red carpet and be treated like their at a film premiere (sans actual paparazzi). The decor pays homage to the film industry with film-inspired accommodations as well as a center filled with Hollywood memorabilia and even acting classes for children. With an added fee, guests can go A-list and receive the star treatment with an added perk such as a personal assistant and even exclusive dining options.
The beloved brand undoubtedly has made a reputation for its high-end features. However, the prime establishment in Costa Rica is the first-ever all-inclusive resort from the brand. "With the perfect line-up of features, we can confidently say that our guests will receive the full Vacation Like A Star experience," General Manager Jonathan Iriarte shared in a press release (via The Costa Rica Star). The added services are just the beginning of the celebrity-driven perks you'll receive while staying.
Take the stress-free all-inclusive option that actually provides options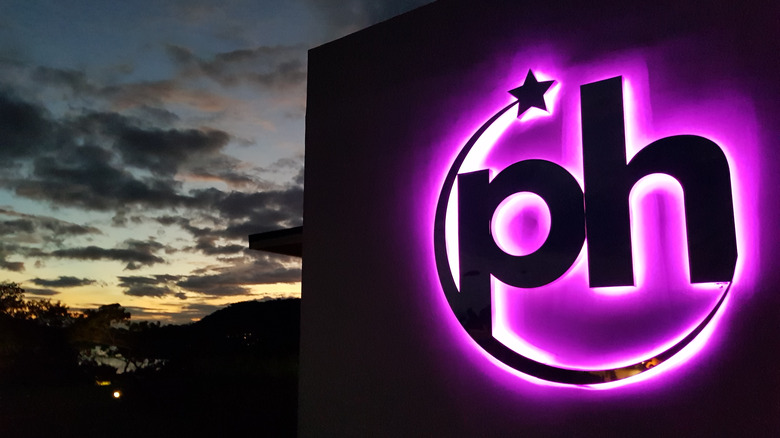 Joshua ten Brink/Shutterstock
Choosing all-inclusive is a bonus for many reasons. For starters, it typically creates the illusion of a well-planned holiday without all of the planning. Whether you're looking for a budget, family-family, or an all-out glamorous vacation, choosing an all-inclusive hotel is a great place to start. "All-Inclusive Vacations have been increasingly popular over the last two years," Playa Hotels & Resorts Vice President of Sales Andrea Wright revealed to Travel Pulse. "With all of the travel restrictions, the consumer wants a seamless vacation without having to worry about leaving the resort. All-Inclusive Resorts provide the perfect option with multiple dining venues, spas, and entertainment."
When choosing Costa Rica, visitors can fly into one of two airports Juan Santamaria International Airport (SJO) and Daniel Oduber International Airport (LIR), with multiple flights operating daily. However, when choosing this star-studded royalty-centered hotel, flying into Liberia will be the best option as the resort is 30 minutes from the airport. Whether relaxing in one of its two pools, enjoying a nightcap at one of the five bars, enjoying a meal within the eight restaurants, or simply soaking in the celebrity-like treatment, a stay at Planet Hollywood is the creme de la creme and "Pura Vida."