The Best Time Of Year For Avid Skiers To Visit Austria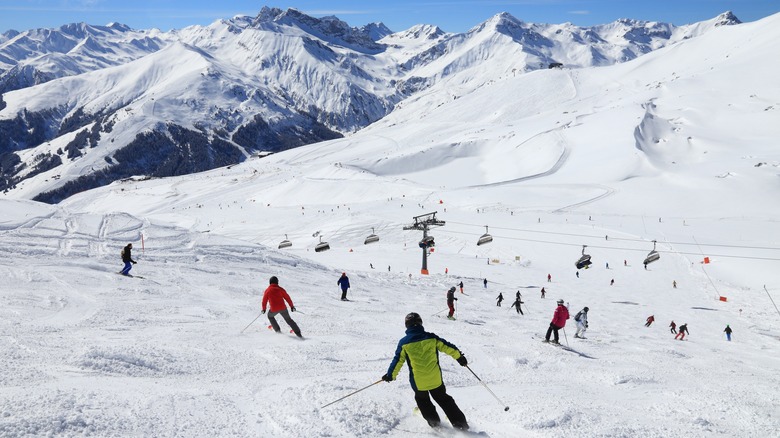 Tupungato/Shutterstock
When it comes to the top ten places in Europe to go skiing, Austria makes the list every time. Holidays in Austria writes that this is due in part to Austria's guaranteed snowfall, the value for money, and the variety of options available to skiers. It also helps that in Austria there is no limit to the things you can do off the slopes, too. For those interested in less adrenaline-inducing activities, there's snowshoeing, Christmas markets (via Austria.info), amazing après ski culture, and spas that will be sure to chase the chill of winter away.
Thanks to its perennial glaciers, Travel Awaits writes that Austria is one of six countries in the world where you can ski year-round. So when deciding on what month to visit, it all comes down to what you are most looking forward to. Just want to ski with the slopes all to yourself? Looking for great powder and great nightlife, too? Are you focused on maximizing your budget or seeing other Austrian sights while still getting your ski fix? If you plan accordingly, you will find it's possible to get the exact ski experience you are looking for in the Austrian Alps.
Best months for skiing in Austria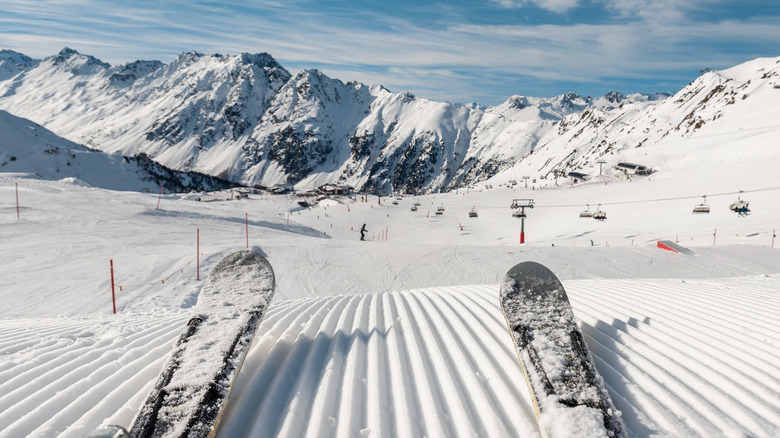 Gorloff-KV/Shutterstock
When considering the best time of year to ski in Austria, Powderhounds writes that you should consider these four things: crowds, snow, availability of the lifts and slopes, and price.
During the winter, you can avoid crowds by following these rules of thumb. Do not ski during the winter holiday periods, weekends, German and Czech holidays, and any time after mid-February as this is the peak snow season. If you follow these guidelines, Powderhounds say you will find that November, early December, mid to late January, and the middle two weeks of March will get you some one-on-one time with the best the slopes have to offer.
If you're looking for great snow with the least amount of people, Ski Solutions writes that mid to late January is when you will want to book your trip to Austria. Austrians aren't yet taking to the slopes, most of the holiday revelers have gone home, and the mountains are starting to see great snowfall. If you don't care about crowds or cost and you just want the best the Alps have to offer, go ahead and book for February.
Instead of spring cleaning, try spring skiing! According to Crystal Ski, March and April are great times to ski in Austria as the days are longer, the temperatures higher, and prices lower. This is also the best time to experience Austrian nightlife as the après ski scene ramps up for the season's close.
Best ski villages in Austria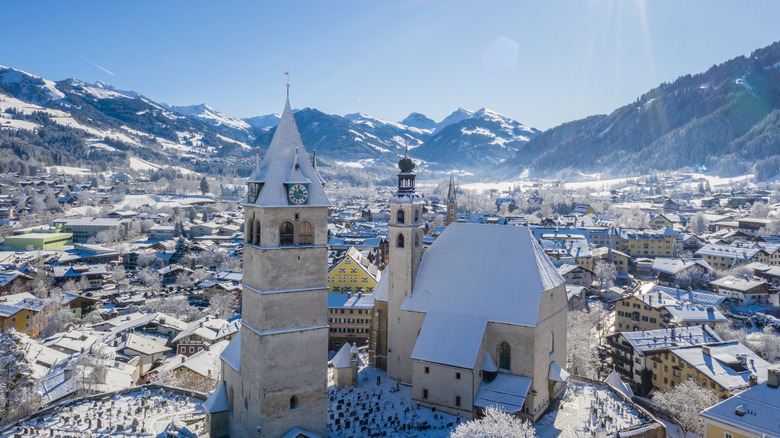 lightsandsquares/Shutterstock
Among the most popular and well-known Austrian ski areas is Skicircus Saalbach. Holidays in Austria reports that this is one of the world's biggest ski resorts and hosts numerous major events throughout the year including the Freeride World Tour and an annual cross-country ski marathon. Skicircus is also home to Rave on the Snow, the world's biggest winter-time electronic music festival!
If you're looking for an all-around great place for skiing, Powderhounds writes that Kitzbühel Ski Resort Austria is one of the best. Snow Magazine's review of the resort notes that there are innumerable options for every skill level and type of snow sport you can think of. Beyond the slopes, the village itself is very scenic and speaks to the classic Tyrolian style.
For skiers seeking more advanced runs with the added bonus of great après ski, head to St. Anton. Crystal Ski reports that skilled riders should head to the base of Valluga Mountain to take on the varied terrain. After you've had your fun, you can head straight to spots like Mooserwirt or Krazy Kanguruh but if you want something closer to town, just head down to the village's main street which stays lively late into the night.