You May Want To Consider Booking An ATV For Your Greece Trip. Here's Why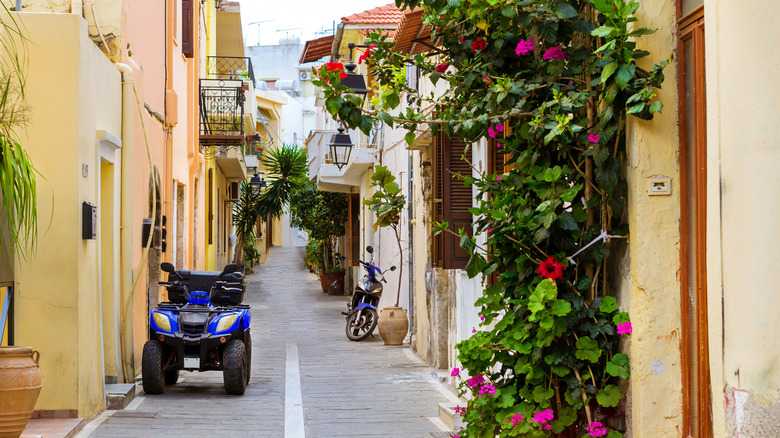 chasdesign/Shutterstock
If you've got a hankering for authentic lamb souvlaki, then Greece is ready to welcome you to its shores. In fact, Greece Travel Ideas suggests that souvlaki and hospitality are just two of the many things Greece is known for among travelers. Is The Greek Pantheon on the list? Of course. What about the country's role in developing medicine, philosophy, and the arts? Absolutely, but in an informal survey of best-of-style lists, one aspect of visiting the island rarely makes the cut — getting around amid its aggressive driving culture.
In an overview, Country Reports recounts that driving in Greece can be challenging due to deteriorated roadways, traffic, and the intense speed at which people tend to go. Sure, it can be a culture shock for some, but it shouldn't deter you from experiencing all the country has to offer. So, to avoid that chaos, you should consider renting an ATV instead of a car. It's the best way to explore the sights — and tastes — that await, especially those off the beaten path.
Unique experiences require rugged transporation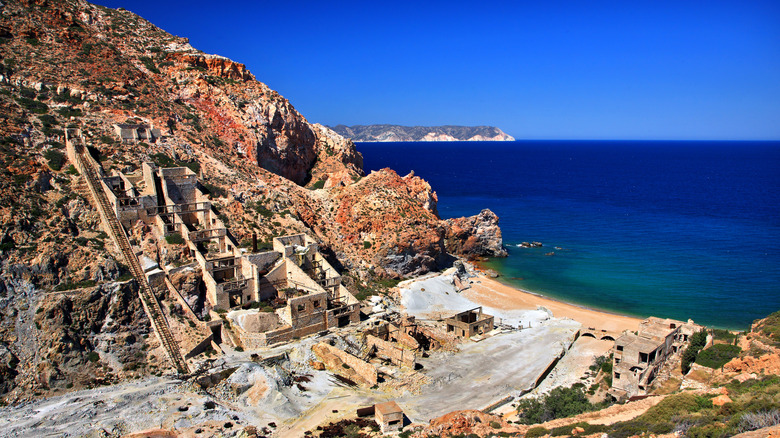 Heracles Kritikos/Shutterstock
Of course, renting a car is a perfectly reasonable option. But Driver Abroad is one of the many outlets to report that secondary roads on the Greek islands are often quite bumpy. So, if you're the kind of traveler that likes to explore the lesser-known areas of a destination, an ATV rental might be a better option.
For example, Docs in the Wild explored Milos by way of ATV and, in just two days, found 12 unique spots — including some of the best hidden beaches in Greece to caves. But they also stumbled upon Thiorichio beach, a gorgeous stretch of land along an abandoned sulfur mine. Greece Travel Ideas mentions that the mine is from 1862, and although you can drive to the area by car, you can only reach the mine and beach if you have an off-road vehicle.
And, taking a page out of The Wanderlust Effect Mykonos itinerary, you can stop at an organic wine farm. Sure, you can get to Vioma Organic Farm and Winery by car, but why would you when you can pull up in an ATV instead? Just remember to rent an ATV with the handy lockbox-style storage compartment, so you can stock up on local wine. But no matter the day's itinerary, an ATV will allow you to access the sunset from quieter, more remote locations.
Tips for renting an ATV in Greece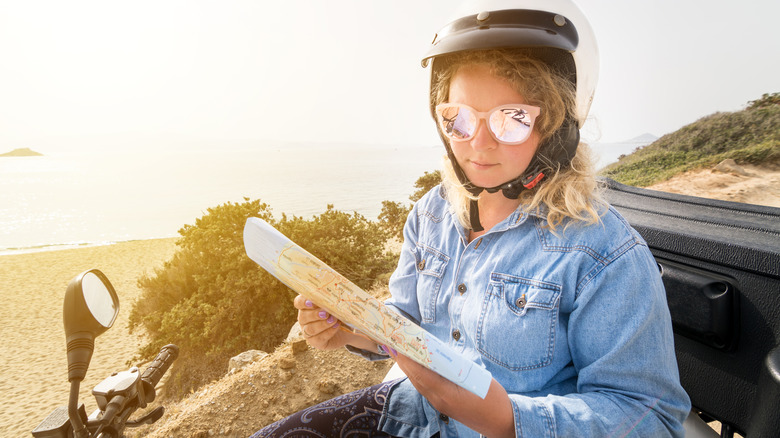 leonov.o/Shutterstock
So, if you're looking to get off the beaten path in Greece, the first step is to book a hotel that offers airport transfers. From there, you'll also need to plan a few things in advance of your trip. Along those lines, one of the most important details is to check if you need an International Driving Permit. Travelers from the United States will generally need this documentation, which requires some paperwork that can be done in person at AAA or by mail.
In terms of advice for booking an ATV rental in Greece, Ria Vistas suggests booking in advance and looking for a company that allows you to keep the ATV overnight as well. The folks at The Wanderlust Effect mentioned this well; it allows for total autonomy and flexibility. Also, chat with the rental company about which size engine will work best for your expected itinerary — expect engine options to range from 50 to 800cc.
Lastly, in terms of the driving itself, ATVs are very common on most of the roads in Greece. Having said that, you'll still need to be comfortable with a defensive driving style. But overall, the advice from Between England and Everywhere sums it up best. Just be aware of your surroundings, especially on the major roadways, and stay in the outermost lane to allow other vehicles to pass with ease!