Follow The Blue Ridge Parkway To This Maker's Mecca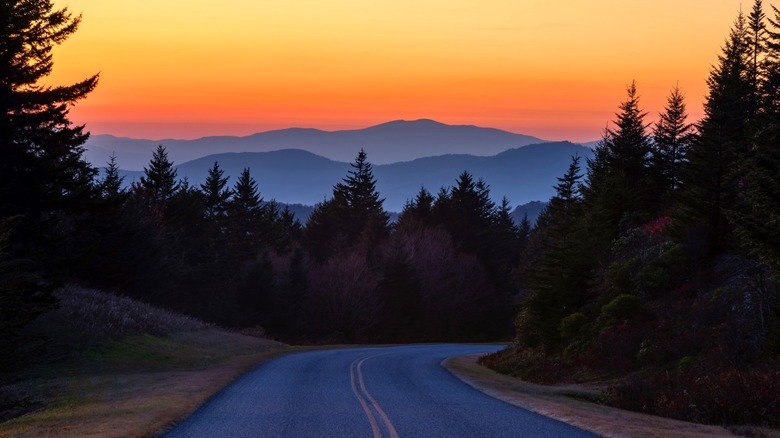 anthony heflin/Shutterstock
Around every curve of the road, the mountains swoop in to take your breath away. So welcome to the Blue Ridge Parkway, lovingly known as America's favorite drive, according to USA Today, and road trip enthusiasts galore. The 469-mile road connects Virginia's Shenandoah National Park with the Great Smoky Mountains National Park in North Carolina and is one of four national parkways under the care of the National Parks Service. And between that TLC and the parkway's endless beauty and recreational options, it's a massive draw for visitors.
The Vacationer reports that road trip popularity is going strong, as 206 million Americans planned such adventures in 2022. Add to that the Blue Ridge Parkway Foundation's insight that visitors from 29 countries toured the scenic route in 2021, and we're keen to shine a light on many adventures that await. This includes majestic, ever-changing mountain views (910 vistas!), which top out at over 6,000 feet, plus some 228 parking area overlooks and picnic areas. Plus, there are nearly 370 miles of hiking trails, 91 buildings of historical significance, 176 bridges, and 26 super cool tunnels.
But the best part is that this road tripper's delight leads to one heck of a funky makers' mecca — Asheville, North Carolina.
A scenic route to an eclectic oasis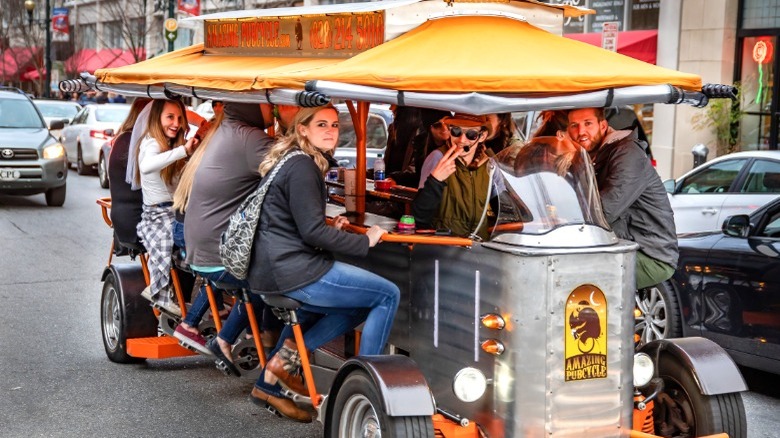 Nolichuckyjake/Shutterstock
Located in the southern Blue Ridge Mountains, Asheville, North Carolina, is a haven for craftspeople, culinary artists, and makers of all backgrounds. The tourism experts at Visit NC describe it as quirky, which rings true as you meander the eclectic shops, breweries, and farm-to-table cafes. Plus, it's not uncommon to delight in the street performances along the way. And when you get tired and thirsty, hop on a pubcycle tour, where the bartender pedals you around, slinging drinks and showing you the sights.
All in all, a great getaway, but if you want to get the whole — and delightfully overwhelming sensory experience — the best way to get there is by way of the Blue Ridge Parkway. The spring flowers and fiery orange-red leaves of fall create a kaleidoscope of color along the drive, making these seasons a great time to visit, according to U.S. News & World Report. And there are plenty of places to access the road, whether you join the fun from Virginia or North Carolina. If you want to begin in Asheville, the Jasmine Valley blog suggests flying into Charlotte, North Carolina, or Greenville, South Carolina. So, stock your rental car with some road trip safety basics, and the adventure begins!
Explore Asheville's endless experiences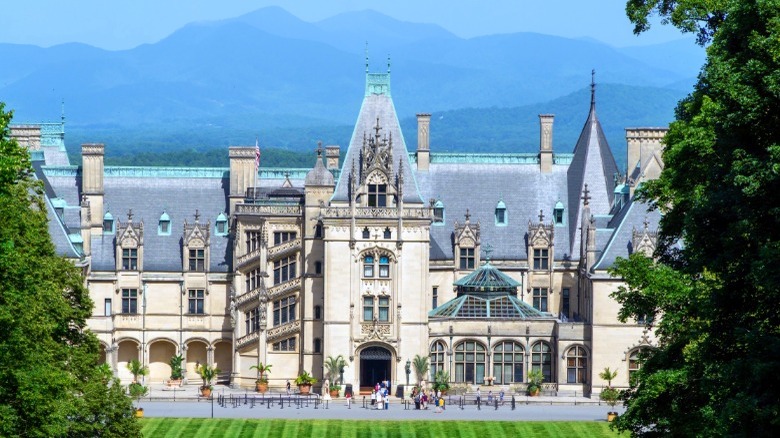 Konstantin L/Shutterstock
But as you plan your getaway, there are a few things to know about Asheville and the parkway itself. The city is bustling with activities — from outdoorsy to a vibrant art scene and incredible breweries and local food. The Vanderbilt family's famed Biltmore Estate is nearby, and visitor sites like Explore Ashville make choosing a hiking trail easy and offer suggestions on tours. But you can easily spend an agenda-free day just wandering the many unique shops that the city is known for, as highlighted by the Smoky Mountains tourism site. Plus, it's a pet-friendly scene. Even some of the cozy cabins and hotels — such as Aloft Asheville Downtown — welcome furry guests.
In terms of the driving, because it's under the oversight of the National Parks Service, the Blue Ridge Parkway is a little different — a good reminder from the folks at Means to Explore. First, you might experience iffy cell phone coverage. And although there are plenty of crossroads with gas station access, the parkway is meant to be a scenic drive, and therefore there are no gas stations or convenience stores.
Lastly, as you navigate your Asheville road trip, keep in mind that driving on the Blue Ridge Parkway is leisurely since the speed limit is reduced. But you'll hardly notice as you wile away the day with scenic overlooks and the best road trip picnic snacks.