The Best Budget-Friendly Way To Get Around Beijing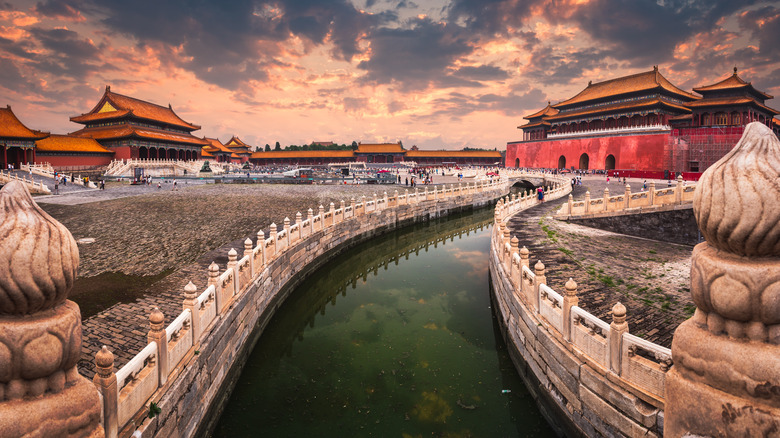 Vincent_st_thomas/Getty Images
With almost 22 million residents and covering an area of over 6,500 square miles, Beijing is a massive city by any measure. China Admissions explains that Beijing is arranged in rings, and there is a ring road around each, with the metro lines following this pattern too. Most tourists, according to Travel China Guide, will stay within the first ring road, where famous attractions like the Forbidden City and Tiananmen Square are located. So far, so easy.
However, as World Heritage Journey notes, there are seven UNESCO-listed sites in Beijing, and they're not at all close together. The Temple of Heaven is over three miles from the Forbidden City, while the Summer Palace is around ten miles in the other direction. The Great Wall is even farther away. Luckily, all of these sites, as well as many more, can be reached by public transportation, so they're accessible even for those on a budget.
The best way to get around Beijing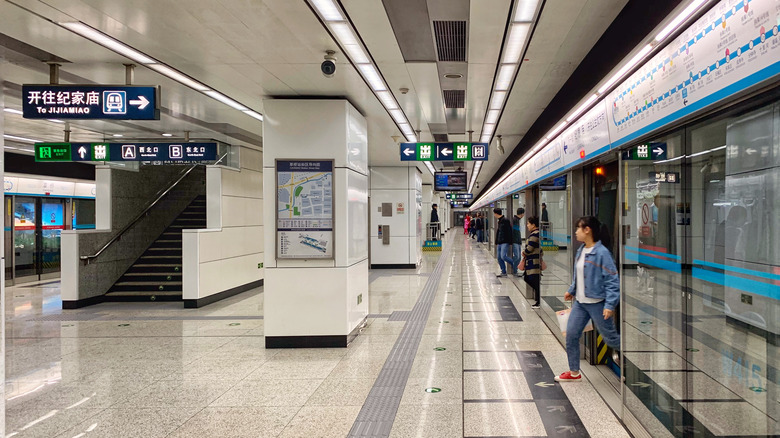 Shan_shan/Shutterstock
According to U.S. News & World Report, one of the best ways to get around Beijing is by subway. Ticket prices are extremely cheap and the network runs efficiently. It's also easy to use, even for those who don't speak Mandarin and, as U.S. News notes, English maps are available at stops near popular tourist spots. National Geographic also sings the praises of Beijing's subway system but warns against using it during rush hour, when it can get crowded. It's likely easy enough to avoid peak times if you're traveling as a tourist.
National Geographic recommends taking to two wheels to get around Beijing, as cycling is a fast and environmentally friendly way to move around. However, they caution that the city's bike-sharing services can be hard to use for foreign visitors, so it's best to look for bikes at your hotel or at one of Beijing's many rental shops.
Finally, U.S. News recommends not two wheels but two feet as a way to get around the city. Take the subway to reach the neighborhood you want to explore and then head out on foot.
Other ways to get around the city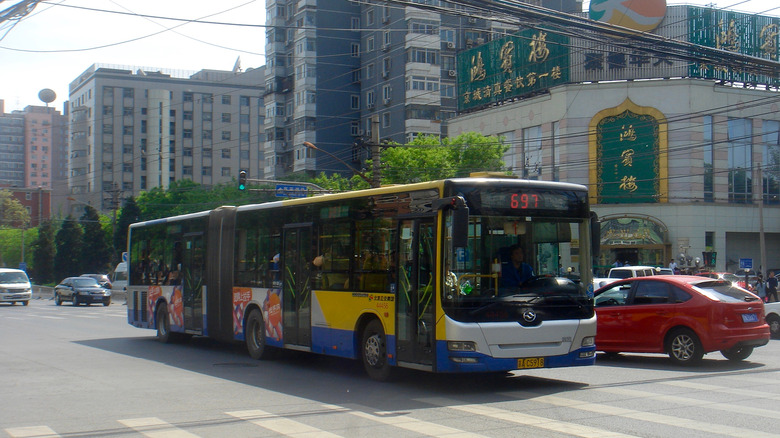 quiggyt4/Shutterstock
If you really want to save money, hop on a bus in Beijing. According to Expat Arrivals, it's one of the cheapest, if not the cheapest, modes of transport in the city. Just be aware that you might hop on the wrong one. Beijing is crisscrossed by thousands of bus lines and, as Expat Arrivals forewarns, the system can be tricky to navigate for first-time users. Especially if you don't speak Chinese.
Taxis are also plentiful and reasonably priced in Beijing, Expat Arrivals writes. In addition, they are the only transportation that's available 24 hours a day. Expat Arrivals recommends visitors have their destination written in Mandarin to show the taxi driver. One thing that everyone seems to agree on, including World Travel Guide, is that visitors should not rent a car. For one thing, it's illegal to drive a car unless you have a Chinese driver's license.
A word of warning, though. If you travel by bus or taxi, you risk getting snarled up in Beijing's traffic. U.S. News & World Report notes that there are traffic jams in the city, especially during the morning and evening rush hours. The way to avoid this is to use a combination of the subway and your legs to get around China's capital city.