Where To Get A Luxurious Hot Springs Experience In California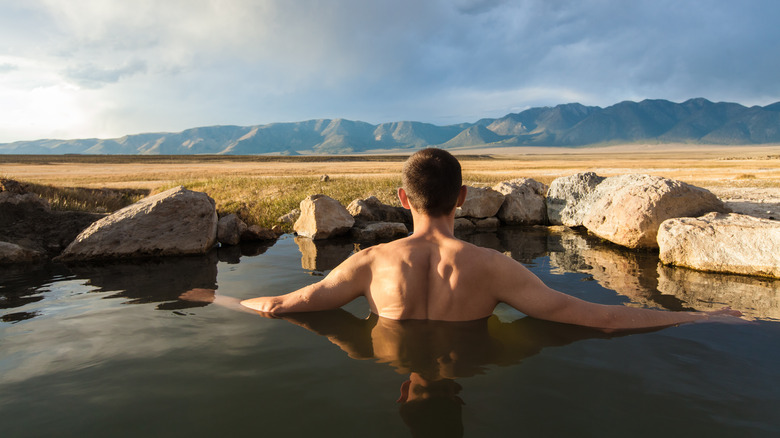 Nikolas_jkd/Getty Images
California is a state that truly has it all. From cliffside views along the coast to overlooking the pines in the mountains, the state is a plethora of beauty and plenty of outdoor activities to match. While many flock to the Golden State for its pristine beaches, the hot springs in the state are equally impressive which makes California a top destination.
According to the National Park Service hot springs are bodies of water that are heated from the Earth's interior. In other words, water reaches the piping hot core, then rises back to the top, sometimes seeping through the Earth's crevices and creating a pool of water. That pool of water produces a range of heat infused with various minerals. Other than the ranging temperatures, these bodies of water are far from your average — they are said to have healing powers. Packed with rich minerals, hot springs can offer an array of benefits such as increasing circulation, better sleep, and more, per Top Hot Springs. The end result is a hot spring that many enjoy so it's no wonder these magical pools of water are increasing in popularity.
There are only a little over 1,100 hot springs (via The Manual) in the United States and the great state of California is home to dozens of them. Buckle up, it's time to take a trip up the coast to soak up the best views while plotting your luxurious hot spring experience.
Take the plunge, literally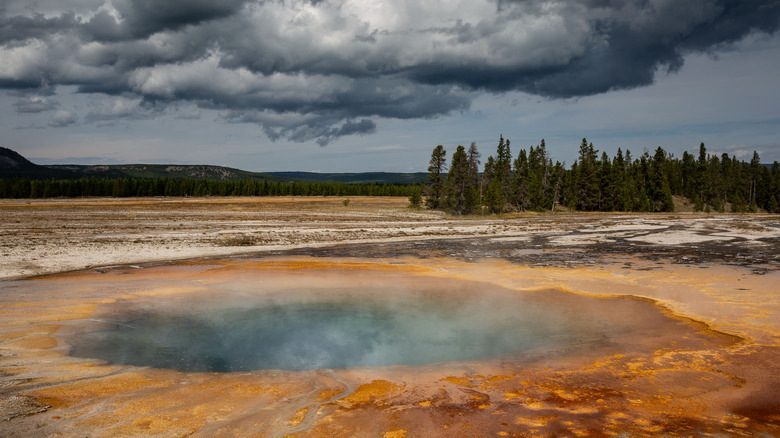 George Rose/Getty Images
Checking out a hot spring is a bucket-list goal for many. Luckily, there are a few to choose from in Southern California. Make your next hot spring getaway luxurious by starting your wellness journey at Glen Ivy Hot Spring. The beautiful property is located 75 minutes outside of Los Angeles, in the city of Corona, and is the perfect place to begin your hot springs hunt. Lined with lush greenery and palm springs the establishment is home to 19 pools and relaxation lounges. From saline pools to mud treatments, Glen Ivy is a must. In the mix of the pool offerings is their hot spring. Per its website, the mineral bath is packed with sulfur-rich spring waters that are known to ease joint pain as well as other benefits to your well-being. Once you've soaked up the experience (pun intended) grab lunch on-site. The culinary experience is just as luxurious as a day at this mesmerizing hot spring.
Travel back in time and get lost in the history while visiting Vichy Hot Springs. The phenomenal space has garnered a few renowned famous figures since its inception such as Mark Twain and Teddy Roosevelt. The space is home to a few different pools and hot springs, however, it's the carbonated water that makes this one unique as Vichy Hot Springs is home to a naturally warm and carbonated mineral bath.
Make your luxurious hot spring experience once for the books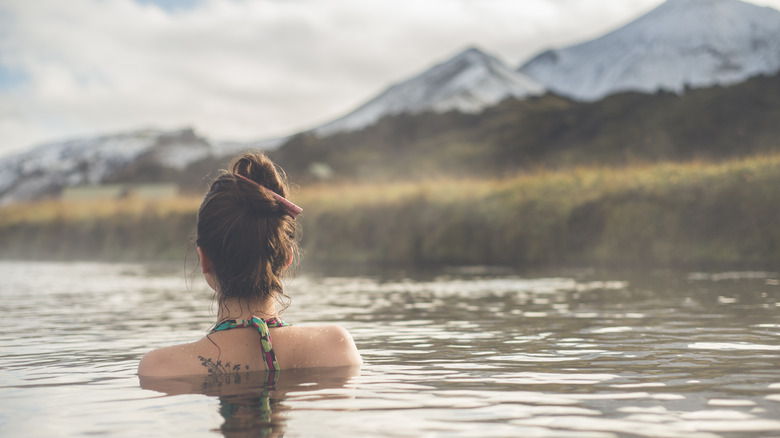 Gorodisskij/Getty Images
When it comes to hot springs, many may think they're typically found in remote regions, like the rugged (and equally impressive) Wild Willy's near Mammoth Lakes, California. While that can be true for some destinations, there are a few that have been discovered in the center of the city such as Beverly Hot Springs Spa. This charming spa was discovered in 1915 and is the site of what is now known as Beverly Hot Springs Spa. To date, the city center hub is Los Angeles's only 100% natural hot springs spa. Here guests can take an afternoon dip to release the everyday pressures in the water that is packed with minerals and ranges from 96 to 105 degrees.
If you're looking for ultimate luxury, chances are you've done a great deal of research. Splurge a little (or a lot) by checking out Esalen, a retreat that takes a holistic approach to wellness. Nestled between the mountain backdrop and Big Sur, the hot spring is the perfect way to escape while providing breathtaking views. Situated on over 125 acres, the ocean-facing hot spring takes relaxation to the next level. Here guests can receive a massage, meditate, do energy work and chakra balancing, and partake in astrological readings, amongst many other activities, while basking in the natural, serene beauty of Esalen. The crème de la crème of hot springs in California will leave you feeling relaxed, rejuvenated, and anew.