These Tips Will Make Traveling With A Group A Breeze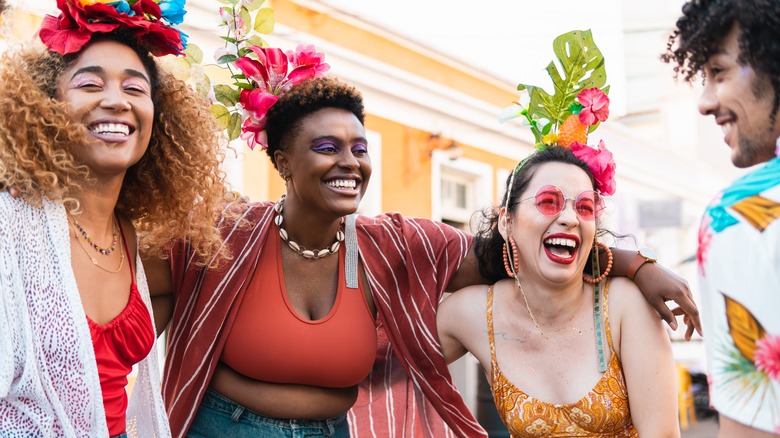 Vergani Fotografia/Shutterstock
The group trip: ten times more fun than going on vacation alone, but possibly ten times more stressful too. According to Evolve, travelers over the age of 40 are more likely to plan a multigenerational trip, while those under 40 are more likely to want to go away with friends. Either way, both of these types of vacations involve traveling with people who are not your significant other and spending large amounts of time with people who you might normally only see a couple of times a year.
This is, in fact, one of the benefits of group travel: you get to spend quality time with people you love, all while experiencing new things. Wind Star Cruises lists many perks of group travel, such as deepening relationships, sharing your strengths, and taking better photos (not all of the benefits have to be deep and meaningful!) However, there are some downsides to group travel, so here's our number one tip to avoid them.
Set expectations in advance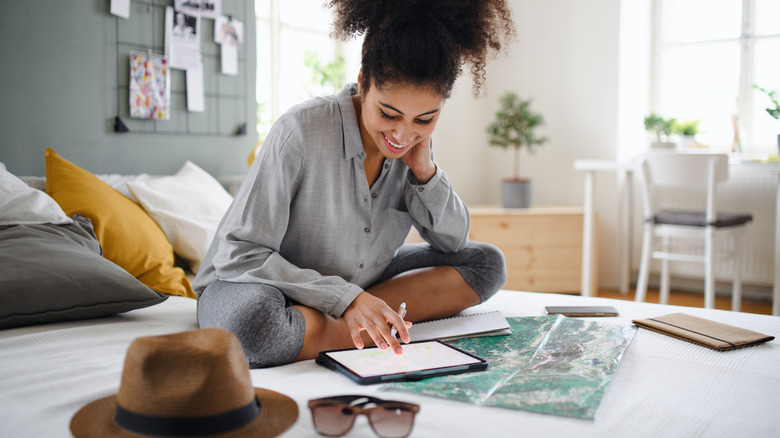 Ground Picture/Shutterstock
The Belle Voyage notes that setting expectations well before your trip is a great way to avoid many of the problems that might arise while you're away. First, decide on a budget and make sure it's right for everyone. Next, ask everyone what they want out of the trip. Some people go on vacation to relax in an all-inclusive resort; others want to squeeze every minute out of their trip with full-day sightseeing tours. If your group's idea of a perfect vacation differs, ask if people are comfortable with splitting up on some days so everyone can do what they want.
Sharing a document where you can write a loose itinerary for your trip is a great idea so everyone knows what is happening, and arguments can be had in the comments section and not in the central square in Prague. Finally, blogger Tall Girl Big World has some advice for those on multigenerational trips, especially adults traveling with older parents: throw your intentions of partying till dawn in Rome out of the window and make your peace with early nights and lots of coffee breaks. Sometimes you just have to give in and adjust to someone else's schedule. It's all about managing expectations.
Other ways to make a group trip enjoyable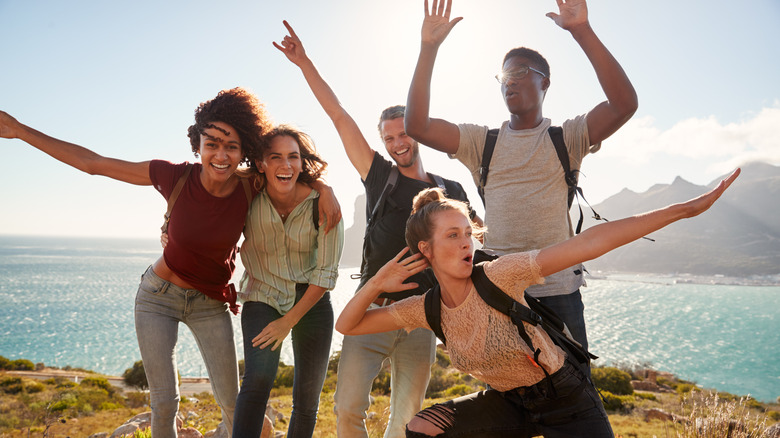 Monkey Business Images/Shutterstock
One tip is to not put all of the planning on one person. Even if you're a total type-A, you'll probably get overwhelmed if you try to plan everything. Wind Star Cruises recommends delegating certain tasks, like researching restaurants, to different people and allowing others to take control sometimes. Many bloggers, including Travel Awaits, recommend hiring a travel agent to plan your vacation. Not only can they often get group discounts, but they also have experience juggling varying expectations to create a harmonious trip.
Airbnb Magazine Editors writing on Medium advise being careful with room assignments and disclosing your sleeping habits. If two people in your group love an early night, pop them in together. And have some earplugs on hand for when someone inevitably starts snoring. A final tip from Life in Pleasantville is to always be prompt, so if you've set a meeting time with your group, don't show up late. This is a surefire way to annoy everyone, especially if it's dinner time. Hangry isn't fun.