Everything You Should Know About Spirit Airlines' Bag Policies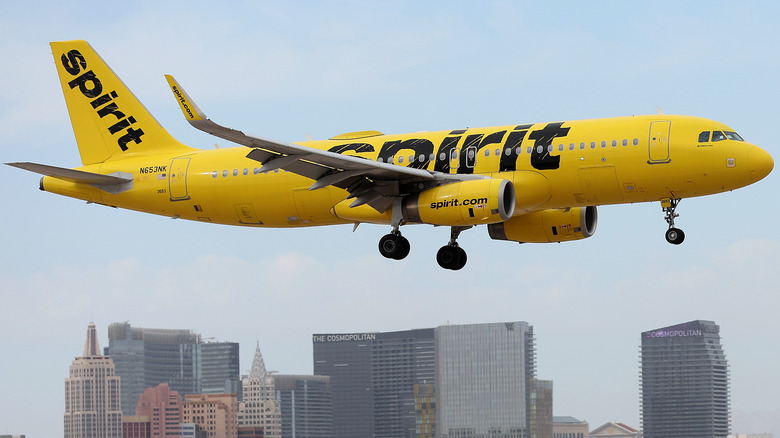 Justin Sullivan/Getty Images
Before booking a flight you should always have an understanding of an airline's bag policy. This can help determine how many bags you're going to travel with as well as how many items you can bring. For example, you can check in up to 10 bags if flying with American Airlines, which is crucial information for large families who need to bring multiple suitcases, (via American Airlines). However, we're going to specifically explain the bag policies of Spirit Airlines — one of the most affordable flying options. 
If you're planning on traveling with Spirit Airlines sometime in the near or distant future, we've luckily noted some of the most important aspects of their bag policies. This airline company travels to 90 different locations across the U.S., Latin America, and the Caribbean, (via Spirit). So whether you're making a quick visit to your parents in the Midwest or vacationing in the Bahamas, we'll reveal what you need to know in order to properly pack your belongings.
Bag sizes and prices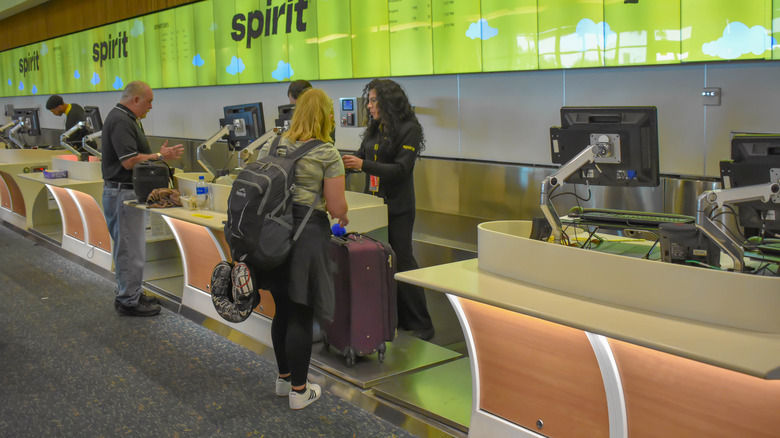 VIAVAL TOURS/Shutterstock
According to Spirit, everyone is allowed one free personal bag, such as a purse or small backpack, and it shouldn't be larger than 18 inches long, 14 inches wide, and 8 inches deep. You can also bring an additional carry-on bag that is 22 inches long, 18 inches wide, and 10 inches deep, but for an additional price. My Baggage notes that customers who purchase an additional carry-on bag when booking their flight pay $37. But this price increases to $45 if purchased during online check-in, and it's $65 if you do a last minute addition at the gate. All prices are current as of this article's publication but be sure to check again before booking. 
If you're bringing a checked bag, Spirit notes it should not exceed 62 linear inches, and you will be charged additional fees if your bag is over the 40-pound weight limit. Similar to carry-on bags, checked bags can be purchased at the lowest price when booking your ticket online at $26. However, if your bag is just 1 pound over the weight limit, the price can drastically increase. It should also be noted that bags weighing over 100 pounds or are bigger than 80 linear inches will not be allowed on the plane.
Lost luggage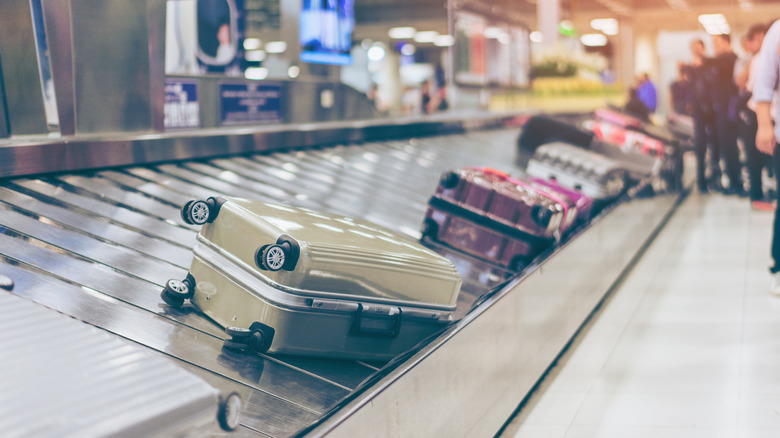 Travel man/Shutterstock
One of the biggest fears for travelers is losing their luggage. No one wants to get to their destination to discover their bags didn't arrive with them, but it's important to know what to do if this happens to you. According to Spirit, if you're unable to find your luggage, you must find a Spirit employee at the baggage claim or baggage service office and explain the situation. 
It's also important to note that there is a timeline; domestic travelers must submit an incident report and obtain a File ID within four hours after landing, and international travelers must do this within 21 days. 
While you're waiting for your bag, Spirit says to keep all of your original receipts for bought items, such as clothes and toiletries, so you can obtain a refund once you receive your luggage. Once five days pass have passed after you've filed your report, you can submit a baggage claim detailing the expenses you've lost if your bag isn't returned to you during this time. However, items such as electronics, perfume, and cosmetics will not be covered within your claim.