The Fastest Way To Get A New Passport In Time For Your Travels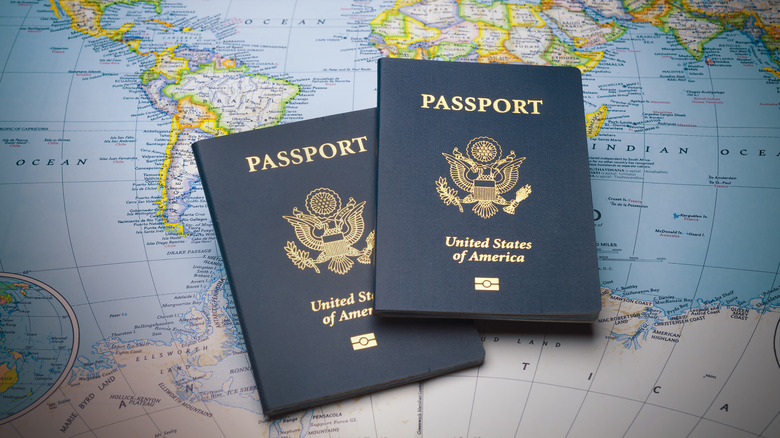 Maudib/Getty Images
You've purchased your plane ticket, packed your suitcase, created a travel itinerary, and your passport is ... expired?! This has happened to the best of us, which doesn't come as a surprise. According to The U.S. Department of State Bureau of Consular Affairs, adult passports expire every 10 years, so it's easy to keep thinking you've got enough time before you need to renew your passport. However, time can sneak up on you quickly and ruin your entire plans if you don't pay close enough attention. For some travelers, it may be their first time flying internationally, and needing a passport may have totally slipped their minds.  
The Department of State says the average time it takes to get a new passport is typically six to nine weeks, but for many travelers, this timeline cuts into their departure time. Luckily, we'll be revealing the exact necessary steps to quickly get a new passport so you can make your flight and enjoy your vacation.
Standard expedited services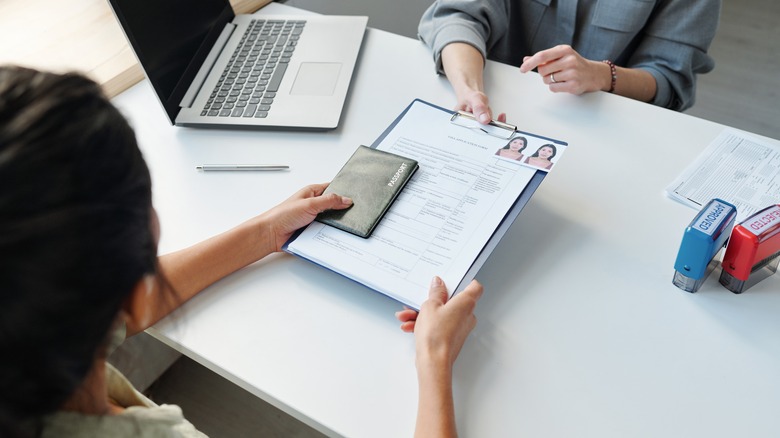 AnnaStills/Shutterstock
According to The U.S. Department of State Bureau of Consular Affairs, how quickly you get your new passport depends on your situation. If your departure date is a little over a month away, you can choose the expedited option. This will get you a new passport in three to five weeks, and you can do this by visiting a facility approved by the Department of State's Bureau of Consular Affairs, or through the mail. The application fee for a passport book is $130 plus an additional $60 to expedite it. 
If you're freaking out because you have to travel in two weeks, there's an option for that too. This is specifically for people traveling within 14 days and are not facing an emergency situation. You must immediately first call your local passport agency to ensure they offer the service, then ask what their availability is and quickly make an appointment. In order to process the paperwork, it's mandatory to also bring proof of travel. The price for this option is the same.
Emergency options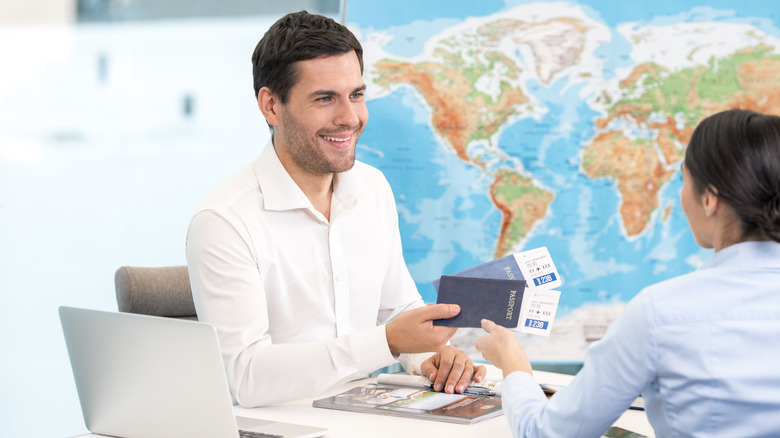 Friends Stock/Shutterstock
If you're facing a truly urgent situation, there is an option to get a new passport within three business days, according to The U.S. Department of State Bureau of Consular Affairs. Any local passport agency will perform this service, but you have to call to make an appointment and the date you choose has to be exactly three business days before your flight, which can be a stressful, last-minute option. It's also important to have proof of travel and proof of the life-or-death situation you're facing, such as a death certificate or a letter from the hospital.
In order to qualify for this option, the situation has to involve a close family member: parent, legal guardian, child, spouse, sibling, or grandparent. Also, only certain situations are approved for these family members, such as death, being under hospice care, or suffering from a life-threatening illness or injury. Luckily, although in this situation your passport would be much faster, the expedited fee is the same $60.