European Hotels Have A Good Reason For Asking For Your Passport At Check-In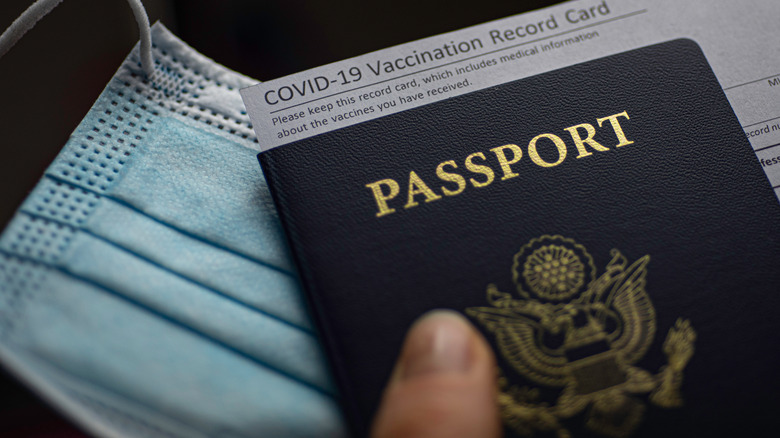 Evgenia Parajanian/Shutterstock
Europe, with all of its infamous history, is consistently the global leader in international tourism. According to Statista, two-thirds of worldwide tourist arrivals happen in Europe. Suffice it to say that a lot of folks from all over the world spend holiday time within the borders of Europe. Even now, after the fallout of the travel industry during the Covid-19 pandemic, travelers are still hungry for their European vacation, even outside of the traditional tourist season.
Airlines are still being bombarded by passengers when there is ordinarily a dip in air travel. "I've never seen anything like this before in my life in terms of demand in the fall," Patrick Quayle, United Airlines' senior vice president of global network planning and alliances, told CNBC. "The planes are full. The amount people are paying is remaining incredibly strong and it's actually significantly stronger than 2019."
Considering that American travel to Europe has grown exponentially in the last few years, there are likely a lot of travelers who haven't been to the continent before or haven't been in a long time. In either case, you're going to want to have easy access to your passport, even after you leave the airport. No matter where you're staying, you'll need to have your passport handy upon arrival at your European hotel. 
European hotels must ask for passports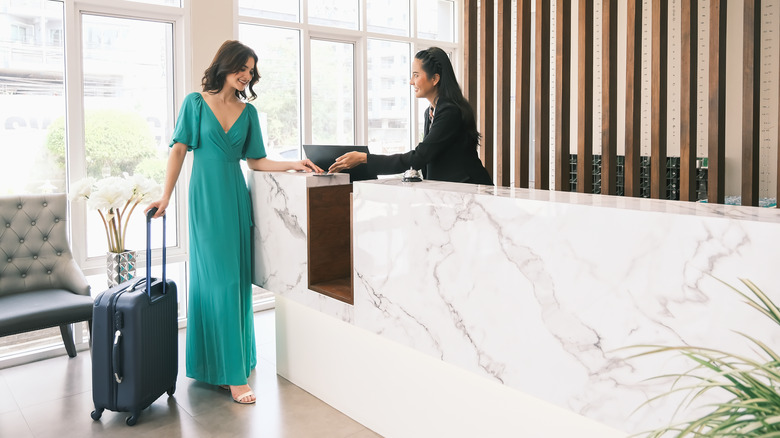 Photostock/Shutterstock
When checking into a hotel in Europe, the front desk folks will ask you for your passport because they are required by law to do so. According to Traveller, it is required for local authorities to know who is staying on the premises at all times. The outlet explains that it is necessary, in part, in case of emergencies, like if someone needs to be located after an incident.
Each part of Europe will have its own legislation around the legality of passport information collecting. For example, The Immigration (Hotel Records) Order of 1972 for the United Kingdom states that every guest over 16 must provide a passport, and guests must additionally explain where they will go after departing the premises. Additionally, the hotels must keep a 12-month record of each guest, per the law. So, whatever you do, don't bury your passport after customs at the airport. Otherwise, you will be digging in your bag for it in the lobby, which is never fun.
Passport regulations in Europe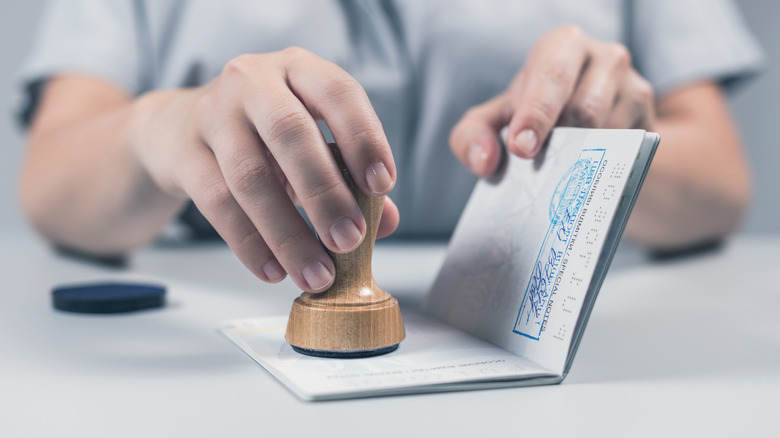 FTiare/Shutterstock
Just having a passport might not be enough to get you to where you need to go in Europe. Be sure you know the regulations from your home country to Europe before embarking. For example, most European countries require passports to be valid for at least 90 days after a visitor's date of departure, according to Thrifty Traveler. Some countries also require at least two empty stamp pages per passport. That could mean you need to avoid adding souvenir stamps to your passport. To ensure you won't have any issues at border patrol, double-check your passport before you depart for your destination!
There are also rules specific to the Schengen area, a 26-member group of European countries that allow for free travel within their borders for business or pleasure. U.S. passport holders are allowed to stay in the Schengen area for 90 days, but a visa is required if travelers intend to stay longer. Some of those member countries include France, Germany, Greece, and Iceland among 22 others. Keep those additional rules in mind before making travel plans or deciding whether or not you need to renew your passport before you leave.