How To Get Some Adults-Only Time On A Disney Family Cruise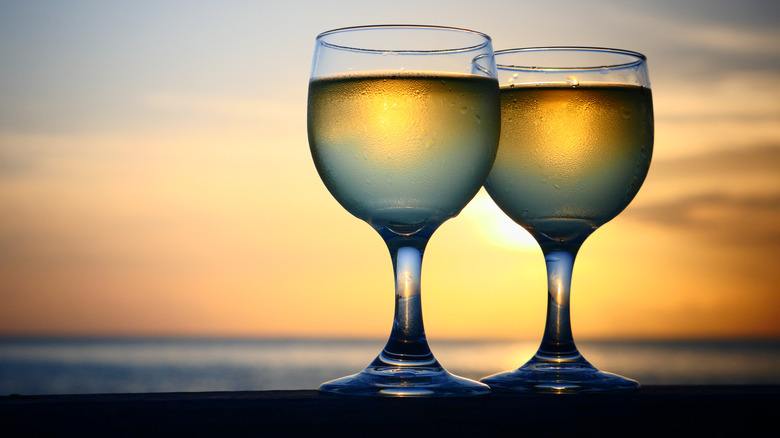 Beetroot Studio/Shutterstock
There's a bit of conflict when imagining a Disney cruise. On one hand, a cruise evokes images of poolside cocktails, romantic sunset dinners, exploring exotic ports, and deep relaxation. On the other hand, for some parents, a Disney vacation suggests a wholly kid-oriented experience, where their dreams definitely come true. Yours? Maybe not so much. After all, kids rule in the Magic Kingdom, and when you put the kids on the boat, well, welcome to Captain Hook's dilemma — a ship full of Lost Boys and Girls playing pirates.
While it may seem counterintuitive, booking a Disney cruise is actually a savvy choice for cruise-seeking families, even for adults looking for a little alone time. In fact, the U.S. News and World Report ranked Disney Cruise Line as the absolute best cruise line for families. While a kid-friendly atmosphere and Disney's whimsical touches assuredly contribute to this rating, Disney cruises still cater to adults and anticipate the needs of seafaring parents. From top-notch supervised programming to sophisticated adults-only areas, Disney Cruise Line offers a bit of pixie dust for everyone.
Supervised programming for kids is quintessential Disney magic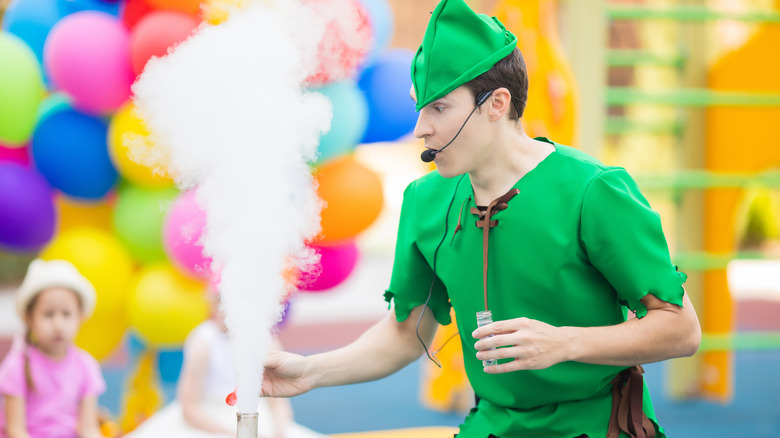 Alina Demidenko/Shutterstock
To find adults-only time on a Disney cruise, you'll first need to drop off the kids. You can leave your feelings of parent guilt on the mainland since the kids will be taken care of by Peter Pan, Tinker Bell, and an array of other iconic characters. Remember, it's Disney — creating amazing experiences for kids is definitely in their wheelhouse. Disney Cruise Line offers age-appropriate childcare for children ages 6 months to 17. (Children must be at least 1 year old to travel on Hawaii, Transatlantic, and Panama Canal routes, according to Disney's age requirements.)
Toddlers ages 6 months to 3 years can check in to It's a Small World Nursery. Cute, right? But, it is actually a small world after all, and space in the nursery is extremely limited. You'll need to reserve a spot in advance as early as possible. Children 3 to 12 years old can join Disney's Oceaneer Club to interact with Disney characters and visit magical, themed areas of the ship for immersive play.
The cruise line also offers two options for older kids. Tweens aged 11 to 14 can kick it at Edge, an interactive play space that features the latest tech in gaming, music, and video systems. Teens aged 14 to 17 can hang out at Vibe, a teens-only lounge featuring big-screen TVs, a dance floor, music, gaming consoles, and more. While offering a bit of freedom from the parents, the teen areas are still supervised by onboard counselors. 
Disney cruises leave plenty of magic for adults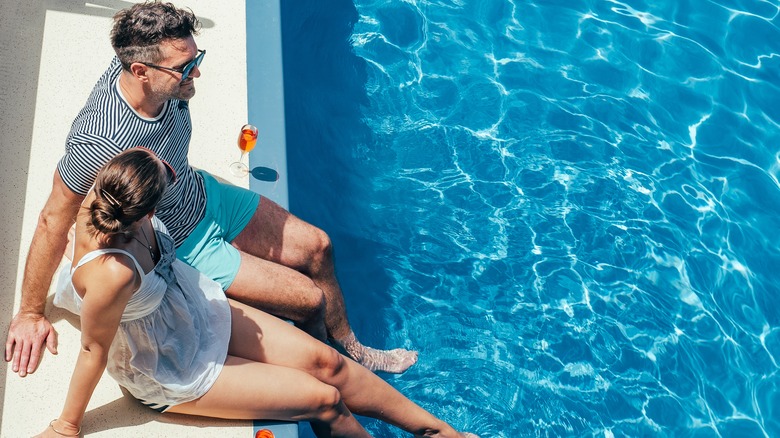 SvetikovaV/Shutterstock
After the kids sail off into their own adventures, Disney ensures that adults are equally entertained and pampered. For example, you can decompress with a workout at the adults-only fitness center or indulge in a rejuvenating spa treatment. Afterward, you can sneak off to Quiet Cove Pool, one of the best-kept secrets of the Disney ships. As the name suggests, the adults-only pool is a quiet oasis, perfect for soaking in the spa, taking a dip, or simply lounging poolside.
Surprising to some, Disney Cruise Line's programs for children are typically available until midnight, allowing parents to plan romantic nights by themselves. The ships boast adults-only dining options, as well as stylish lounges and danceable nightclubs. And while both kids and adults can enjoy their cruises separately, Disney offers plenty of family-fun activities to experience together. 
Erica Silverstein of The Points Guy agreed with Disney's top rating for family-friendly cruises. "Disney thinks of all the little things that can help parents have a stress-free trip with kids in tow," she writes. From the live shows and fireworks displays to the Disney-themed pools and magical dining experiences, a Disney Line Cruise is a family trip that only Imagineers could've created.