10 Things You Didn't Know About Disney's Castaway Cay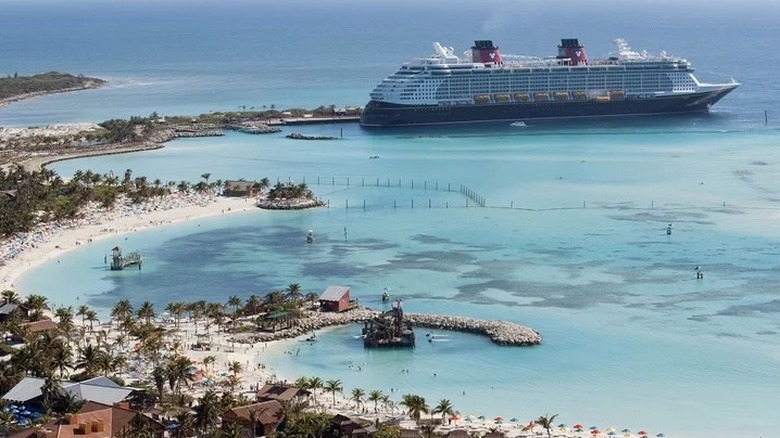 David Roark/Disney Cruise Line
On cruise lines and itineraries that offer them, a private island is the ultimate vacation day. Sun, sand and surf on an island that's only occupied by a few thousand people? Sign us up! While many cruise lines, such as Royal Caribbean, Carnival and Norwegian, have private islands in the Caribbean, the crème de la crème of private islands is Disney Cruise Line's Castaway Cay.
Don't believe us? Castaway Cay is regularly voted the Best Cruise Line Private Island by Cruise Critic and has a cult following among Disney fans and frequent cruisers. The 1,000-acre island (of which only 55 acres are developed) has three beaches, plenty of coastline and bright blue waters and activities for people of all ages. Whether you're a Disney Cruise Line veteran or considering going on your first cruise, there are some things you need to know before spending a day at Castaway Cay. First off: Cay is pronounced like key. And now that you know that basic fact, you should know a few other things, too...
Castaway Cay has its very own dock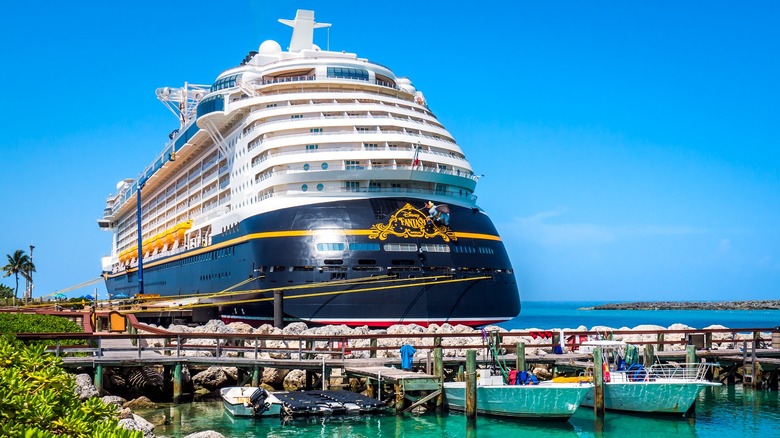 istockphoto.com
Disney was the first cruise line to have a special dock on its private island so guests wouldn't have to tender to land. The dock is relatively close to the beaches and other activities on the island; guests can either travel by foot or take a tram to Pelican Point, Scuttle's Cove or Serenity Bay.
There's a special post office on the island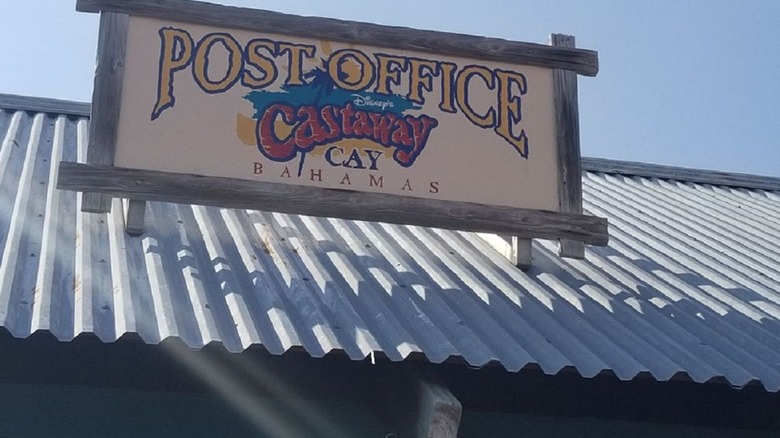 Yelp/Erik P.
There's a real Bahamian post office on Castaway Cay where you can send a postcard or letter to your friends and family back on land. Mail sent from this post office will have a special Castaway Cay stamp, which is quite the unique souvenir for your loved ones.
You don't need cash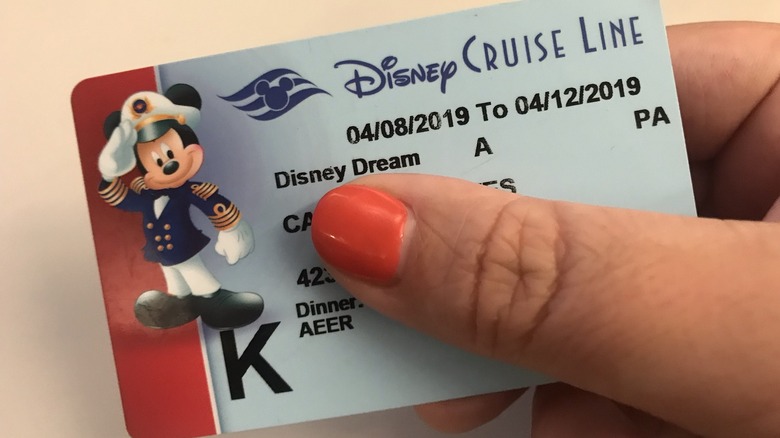 Carolyn Menyes/The Active Times
Disney cruises are all about keeping things convenient for the guests, and Castaway Cay is no different. Except for the post office, everything on the island is operated by Disney Cruise Lines. So when you're buying premium beverages (like a smoothie or a cocktail), picking out souvenirs or booking an excursion, you pay using your Key to the World card, which is linked to your stateroom back on the ship.
There's a Castaway Cay 5K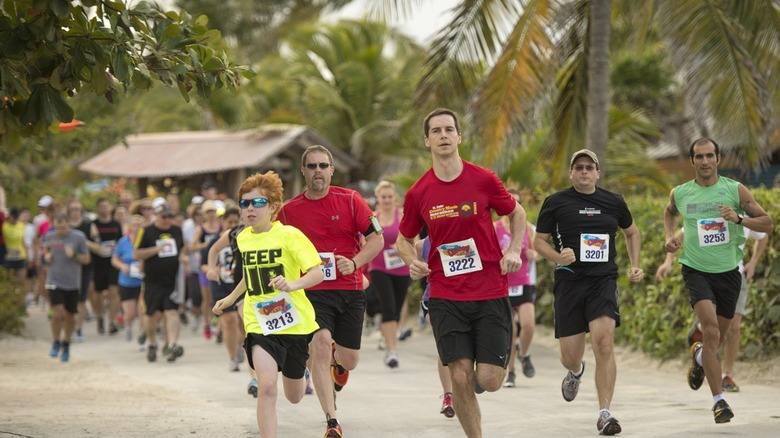 Kent Phillips/Disney Cruise Line
If you want to get a little exercise in before you spend a day at the beach or if you just want to participate in a unique experience, you can run the Castaway Cay 5K. You don't have to pay to partake in the 5K, but you do need to sign up at Guest Services before your day at Castaway Cay. Runners meet at a designated spot — usually around 8 or 9 a.m. — where you receive your bibs and further instructions. You run or walk on a there-and-back paved course that passes by the beach and forest. The race isn't timed or competitive, and there are plenty of photo opportunities along the way. At the end of the 5K, all participants receive a participation medal and T-shirts, and other 5K mementos are available for purchase.
Food is included on your Castaway Cay day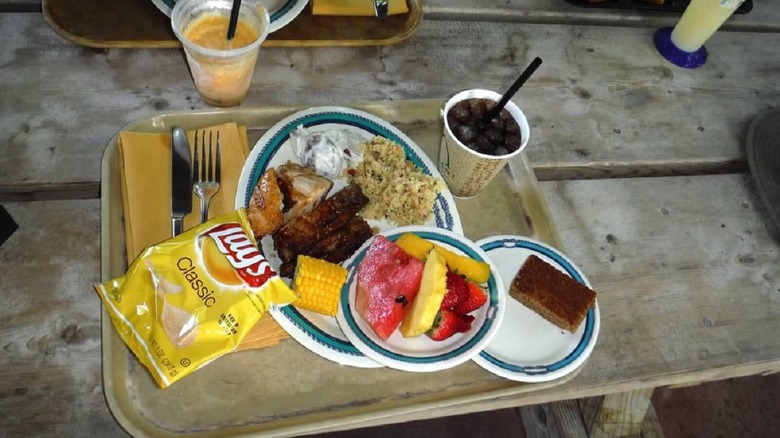 Yelp/April G.
Meals are included on the ship on your Disney Cruise Line vacation, and food is also included on your day at Castaway Cay. From about 11:30 a.m. to 2 p.m., a beach barbecue buffet is served at three different locations: Cookie's BBQ, Cookie's Too BBQ and Serenity BBQ. The food at the three locations is mostly the same, with made-to-order burgers, hot dogs and ribs along with classic barbecue sides. However, Serenity BBQ (on the adults-only section of the island) features a steak you can only get there.
The beverages on the island are phenomenal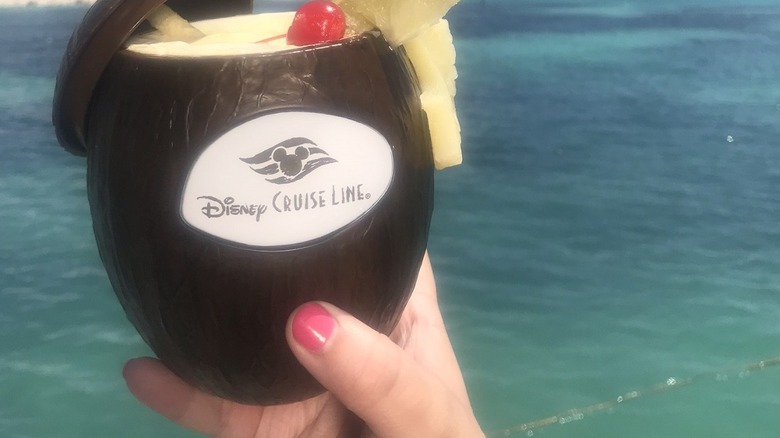 Carolyn Menyes/The Active Times
While soda and water are both included on a Disney cruise ship and at Castaway Cay, you're going to want to spring for one of the specialty drinks on the private island. If you're over 21 and like to indulge in a cocktail every now and then, there are plenty of refreshing and cooling options. The signature beverage on the island is the Konk Kooler, a take on the piña colada which features light rum, dark rum and coconut cream. However, we're big fans of the Pelican Mule, a bright and light island take on the Moscow mule with fresh fruit, pineapple vodka and ginger beer. There are also non-alcoholic specialty beverages and smoothies available for children and those who don't want to drink at Castaway Cay. Those drinks, such as the Castaway Crush, are available in festive sippers that look like Olaf and Sven from "Frozen."
There's a separate area just for adults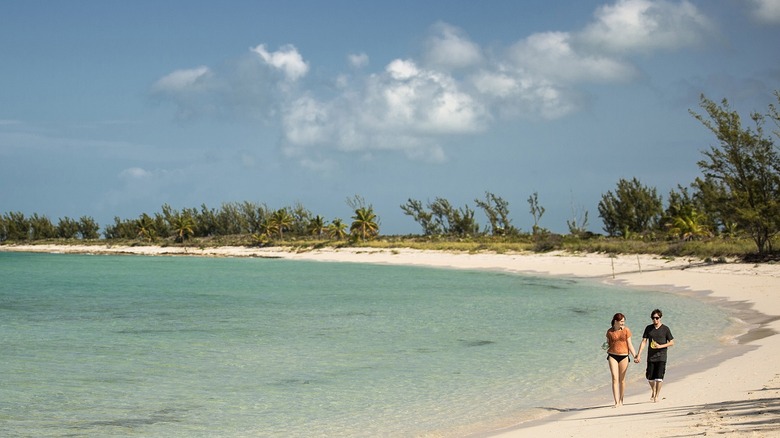 Kent Phillips/Disney Cruise Line
It's a Disney cruise — there are going to be a lot of children on board. But if you're over 18 and looking to do little more than relax on your Caribbean vacation, Castaway Cay has a special area for you, Serenity Bay. This small beach truly is serene, with quiet surroundings and water that is somehow bluer than the actual sky. The adults-only area also includes its own bar and dining spot, fittingly called Serenity Bay BBQ.
The best photo spot isn't right by the ship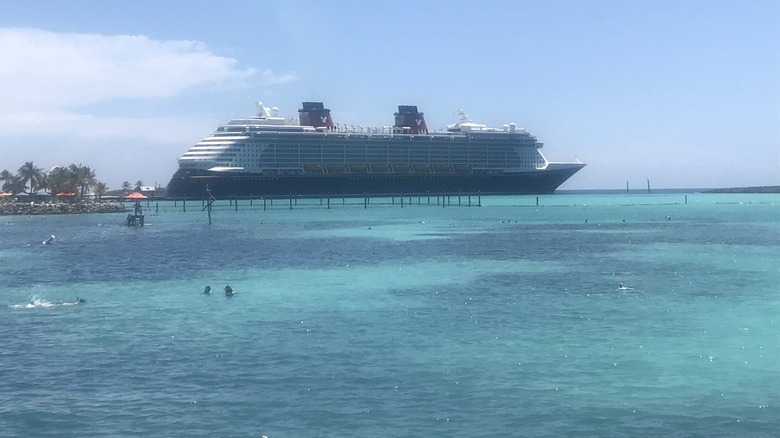 Carolyn Menyes/The Active Times
There are a lot of hidden gems on Castaway Cay, but our favorite is hidden in plain sight. The Heads Up Bar is right next to the Family Beach and Swimming Lagoon, and yet this seaside bar with an expansive porch is almost always empty. Not only can you get one of the aforementioned specialty beverages at this spot, but you can also take a wonderfully Instagrammable snapshot of your ship (and your family) here. Taking a break from the sand and sea for this stunning photo opportunity is a smart idea.
There are lots of Easter eggs in the Snorkeling Lagoon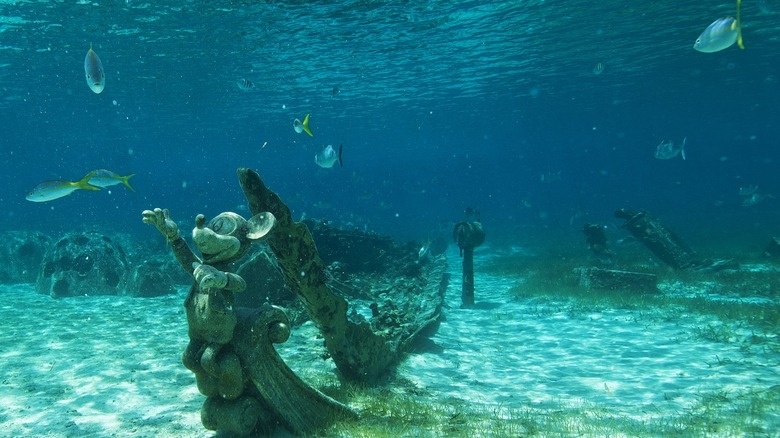 Matt Stroshane/Disney Cruise Line
Castaway Cay has a whole section dedicated to snorkeling, appropriately named Snorkeling Lagoon. In addition to seeing plenty of fish as you snorkel, you can also spot underwater statues of Mickey Mouse, Minnie Mouse and fun things to find and see. The coolest item submerged under the water is a submarine from the former 20,000 Leagues Under the Sea attraction in Magic Kingdom.
Castaway Cay is ridiculously popular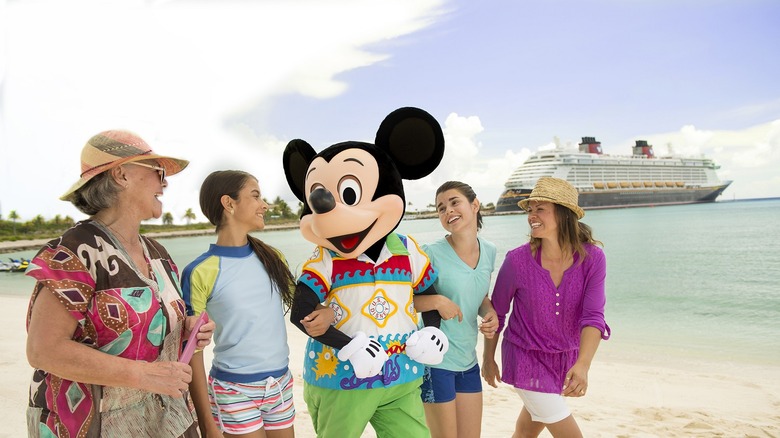 Matt Stroshane/Disney Cruise Line
Disney theme park and cruise fans are obsessed with Castaway Cay. And there's good reason for that; there's a lot to do on the island. Beyond the sun, sand and sea, there are water slides, biking and hiking trails, a kids-only area, games, gazebos and so much more to explore. Honestly, you can't do it all in one day, and Castaway Cay has proven to be so popular for guests that many five- and six-day cruises in the Bahamas will spend two days at this private island. If you didn't know that secret, you probably don't know these other things about cruising with Disney.