The Biggest St. Patrick's Day Celebrations In The US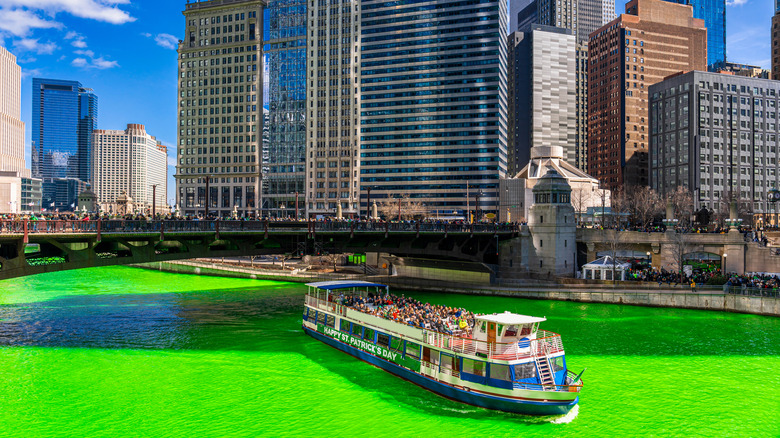 iStock.com/Tzido
Green hats and shirts, shamrocks galore and cold pints of beer are customary for a St. Patrick's Day celebration. This age-old holiday brings people of Irish heritage and other cultures together to enjoy a full day of fun festivities. Traditional step dancing, bagpipe performances and corned beef, cabbage and potatoes highlight the March celebration, but you absolutely can't miss the parade. Each city might have its own way of commemorating St. Patrick's Day, but these ones throw the biggest parties.
New York City, New York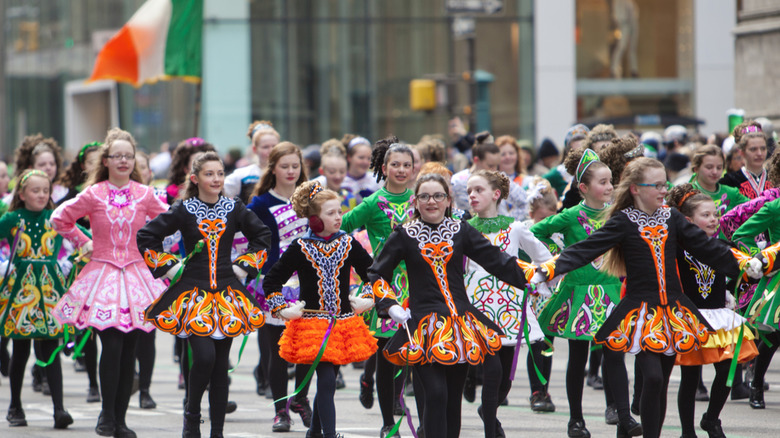 Stuart Monk/Shutterstock
The Big Apple claims to have the oldest and the largest St. Patrick's Day parade in the world. The first one was held in 1762 and it now attracts about 2 million people each year to Fifth Avenue, so grab a classic New York City bagel and get there early to find a place to stand with unobstructed views. You may even get lucky and spot a celebrity among the crowd.
Chicago, Illinois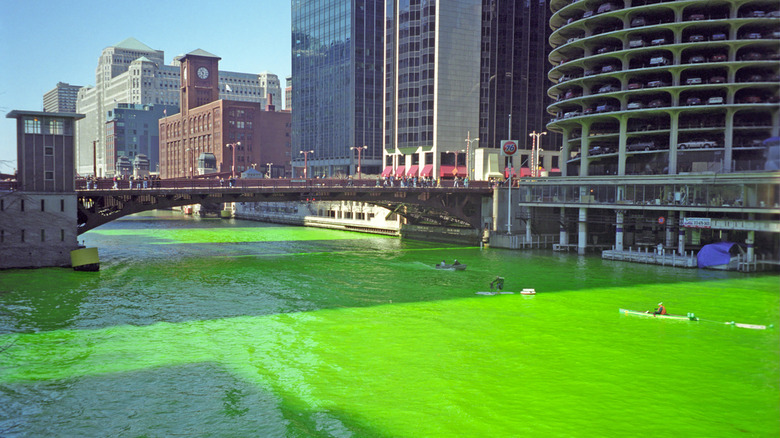 Attila JANDI/Shutterstock
The Windy City takes St. Patrick's Day seriously. To start the celebration, the Chicago River is dyed bright green. Around noon, about 800,000 people line up along the parade route to watch traditional Irish bands and dance troupes march. Then, adults of age move on to the best Irish pubs for a green beer or Guinness.
Boston, Massachusetts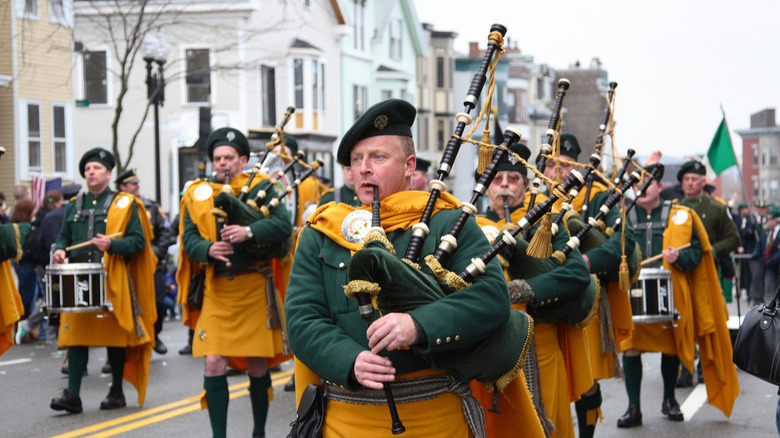 Liviu Toader/Shutterstock
Considering its large Irish-American population, it's no wonder Boston knows how to throw a true St. Patrick's Day party. Expect people in kilts performing traditional Irish dance, playing loud bagpipes and marching down the street as part of the country's third-largest St. Patrick's Day parade. This parade brings up to a million spectators to Beantown annually. Don't forget to ogle at the blooming cherry blossoms while you're there.
Savannah, Georgia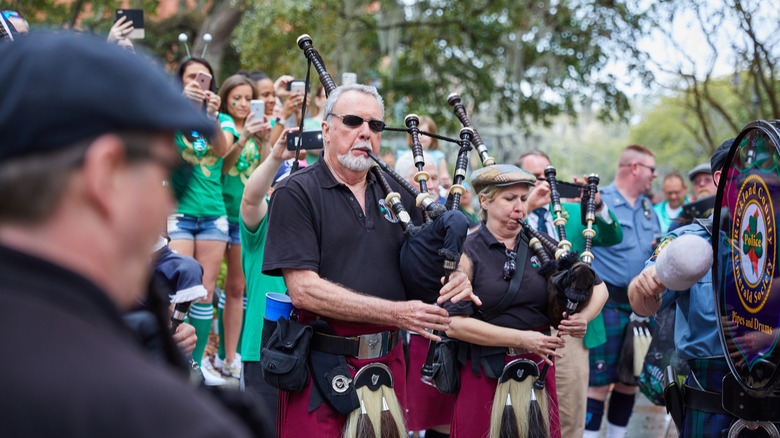 JoskaPhoto/Shutterstock
If Savannah is on your list for weekend trips to take during the spring, you should consider going in March for the St. Patrick's Day parade. The first observance of the holiday in this historic city can be traced as far back as 1824, when it started as a small military spectacle. Now, more than 350 marching units and up to 15,000 people are expected each year.
Kansas City, Missouri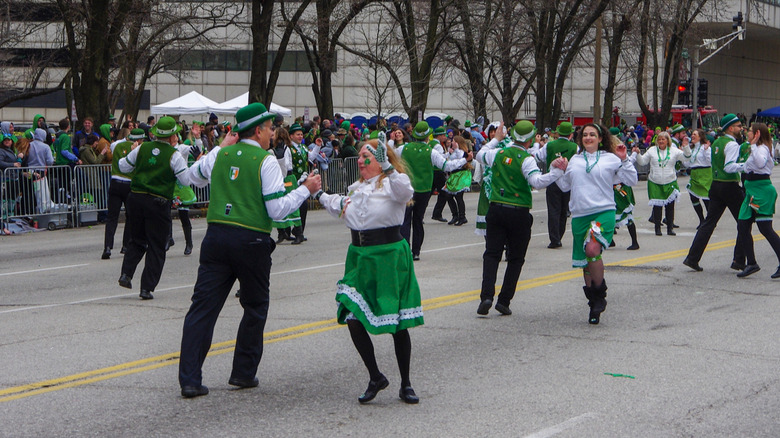 Philip Rozenski/Shutterstock
Kansas City's Irish roots date back to the mid-1800s, and today, the Celtic culture is strong. If you're looking for a family-friendly event to participate in during the spring, check out the festival the weekend before St. Patrick's Day. The two-day event features a cook-off, carnival and parade, which draws around 200,000 people every year.
Philadelphia, Pennsylvania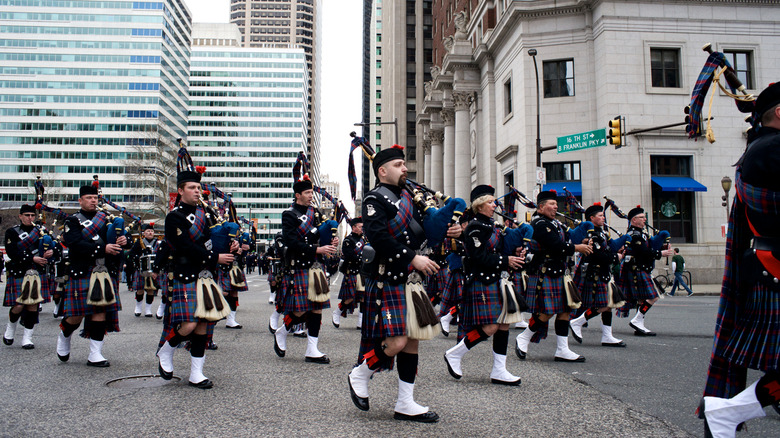 iStock.com/Bastiaan Slabbers
People might visit Philly to see the state's most iconic landmark, the Liberty Bell, but you shouldn't miss out on the opportunity to celebrate St. Patrick's Day in the City of Brotherly Love. The Irish festivity has been a tradition for Philadelphians since 1771. There are about 200,000 participants, including more than 200 groups that march in the parade. So get your green suits and shamrock necklaces ready for a fun-filled day of parades, corned beef sandwiches and dancing.
New Haven, Connecticut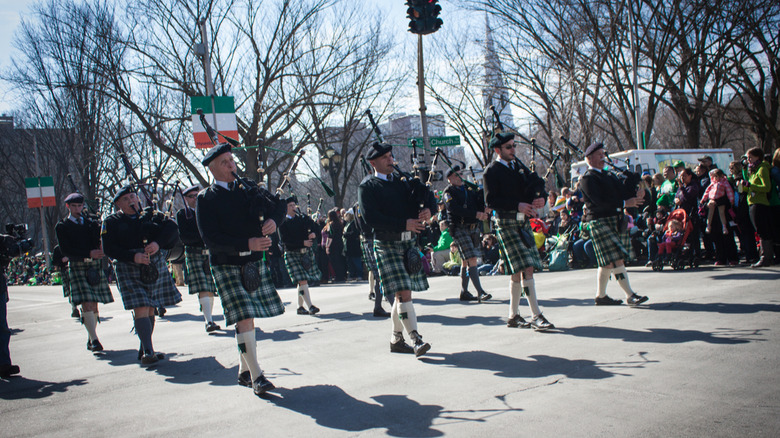 phucTechnology/Shutterstock
From tap dancing performances to loud whistling and cheering, New Haven's St. Patrick's Day parade is the largest single-day event in Connecticut and sixth-oldest parade in the nation. The parade can expect about 100,000 spectators to show up depending on the weather. The tradition began in 1842, when just 90 people marched through the streets of New Haven. Today, not only can you enjoy a grand parade of 3,000 marchers, but you can also attend the Parade Ball, featuring an all-you-can-eat buffet, open bar, wine pull and dancing.
Pittsburgh, Pennsylvania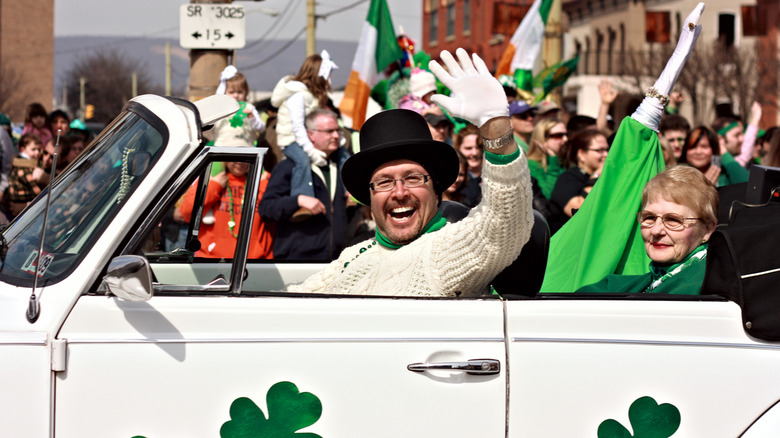 Christian Carollo/Shutterstock
Pittsburgh claims to host one of the largest St. Patrick's Day parades in the United States with 23,000 participants and 18 bands marching. The celebration happens rain or shine, and much like Philadelphia, this underrated American city brings people in from across the nation.
Denver, Colorado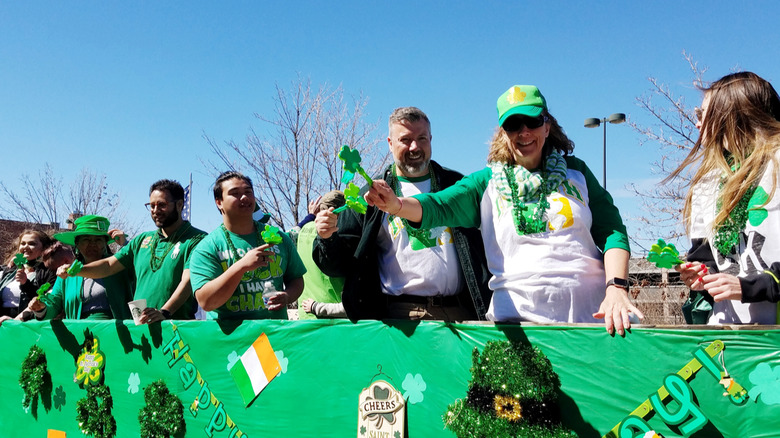 photo-denver/Shutterstock
Denver might be nice to visit in autumn, but you won't want to miss St. Patrick's Day, either. More than 200,00 people gather along the parade route to watch Emerald Isle-themed floats, cheerful marching bands and dancers. Even though the parade typically begins around 9:30 a.m., excited bystanders get there as early as 6 a.m.
Cleveland, Ohio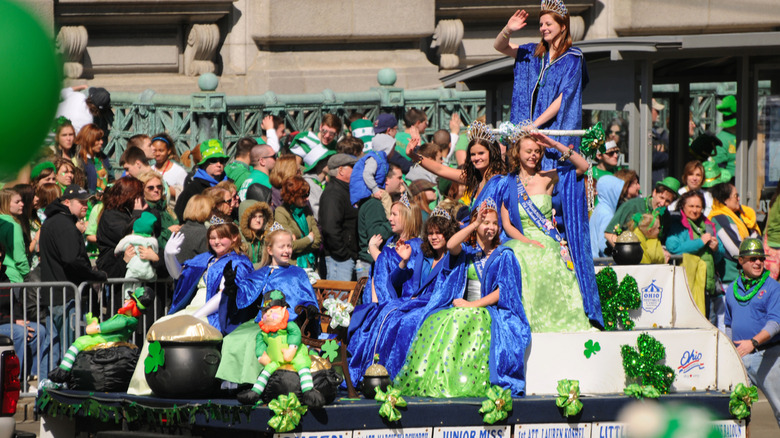 Kenneth Sponsler/Shutterstock
Although this city has much to offer in terms of fun indoor activities, you'll want to head outside to watch Ohio's oldest St. Patrick's Day parade. Every year, nearly half a million people decked out in green gather in Cleveland, where much of the population is of Irish descent. The festivities kick off at 1 p.m., when onlookers can watch kilted bagpipers, dancers, wolfhounds and more.
New London, Wisconsin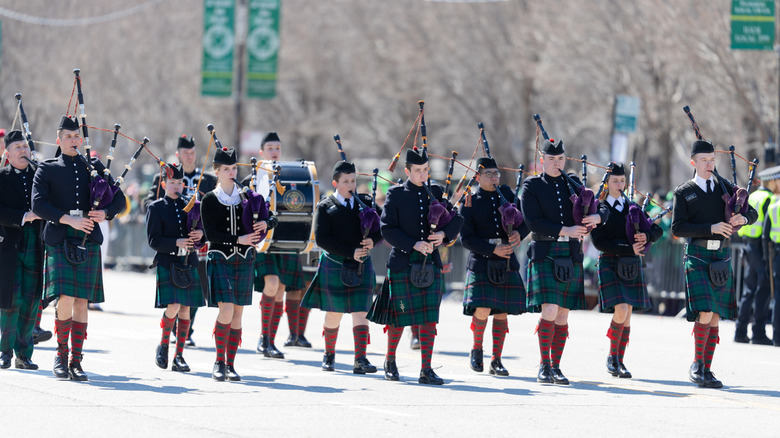 iStock.com/Roberto Galan
On the same day of its St. Patrick's Day parade — which attracts an estimated 30,000 spectators — New London, Wisconsin, puts on an Irish Fest with Celtic bands, Irish food and market booths. Grab an Irish beverage and corned beef with cabbage at the tent downtown, or pop into the area's great restaurants and sports bars.
O'Neill, Nebraska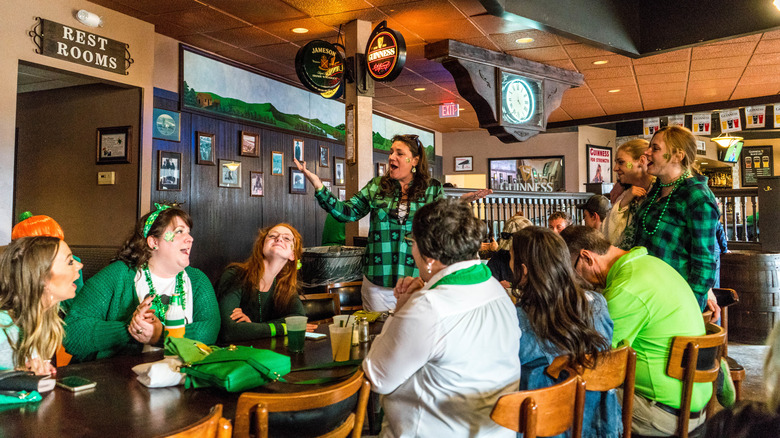 ID 142262156 © Mark Lucey | Dreamstime.com
This city's population of 4,000 people grows twice in size for the St. Patrick's Day parade. O'Neill, founded by an Irish native, was proclaimed the "Irish Capital of Nebraska" by the governor in 1969. It's also home to the world's largest shamrock, which was painted at a highway intersection at the center of the town in 1993. In the aftermath, it became a popular tourist attraction.
Hot Springs, Arkansas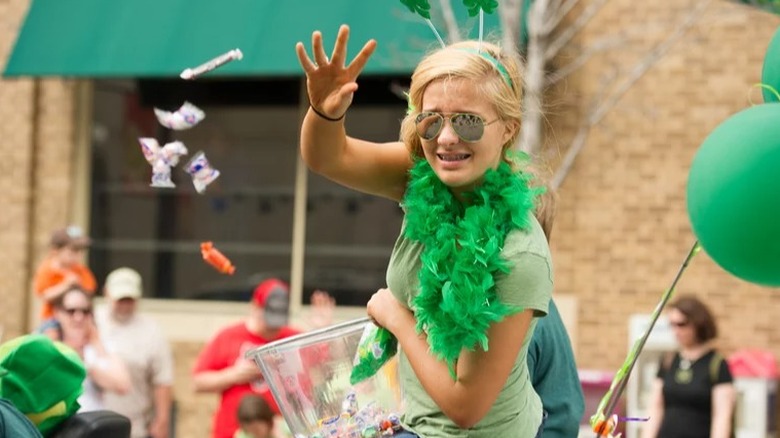 iStock.com/jcrader
To witness the world's shortest St. Patrick's Day parade, book a spring vacation to Hot Springs, Arkansas. The itty-bitty procession occurs on Bridge Street, which is only 98 feet long, but the event still attracts an estimated 30,000 spectators. Famous people honored as grand marshal have included NSYNC's Joey Fatone, Alfonso Ribeiro from "The Fresh Prince of Bel-Air," actor Kevin Bacon and comedian Jim Belushi.
Detroit, Michigan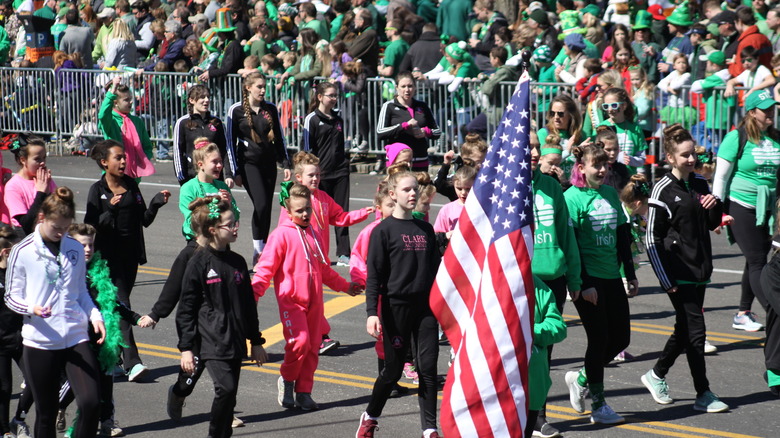 ID 142465426 © Darren Dwayne  Frazier | Dreamstime.com
Say "sláinte" in Motor City on St. Patrick's Day at the city's Sunday parade, which draws 80,000 to 100,000 people annually. Corktown, where the procession is held, was named after County Cork, Ireland, by immigrants arriving in Detroit. It is the oldest existing neighborhood in the city. Celebrate the Celtic heritage with a brew at local dive bars or head to the Family Fun Zone for heated grandstands, live entertainment, food, Irish step dancing lessons, inflatable amusements and more.
San Francisco, California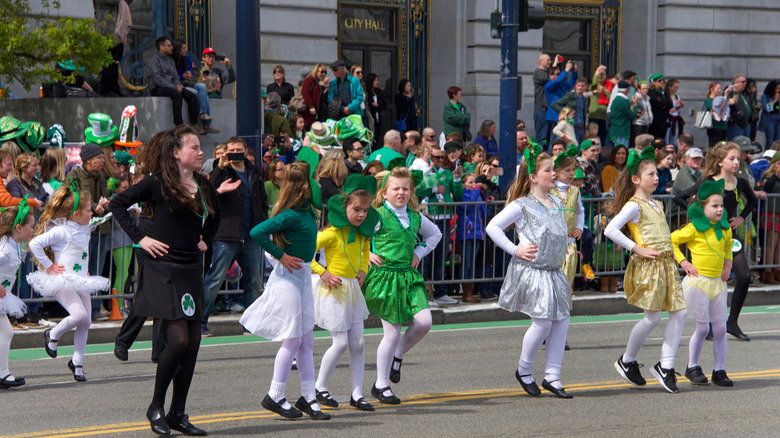 Sheila Fitzgerald/Shutterstock
It may be one of the most expensive travel destinations, but San Francisco sure knows how to celebrate St. Patrick's Day. The city streets turn into a sea of green with an estimated 100,000 spectators gathered for the annual Saturday parade. The endpoint is where you'll find an all-day festival with live bands, street food vendors and Irish pubs serving Irish nachos, bangers, fish and chips, light beer, Guinness and Irish coffee. Don't leave the kiddos at home. There are plenty of free, family-friendly spring break attractions for everyone.