Beautiful Lakes Around The World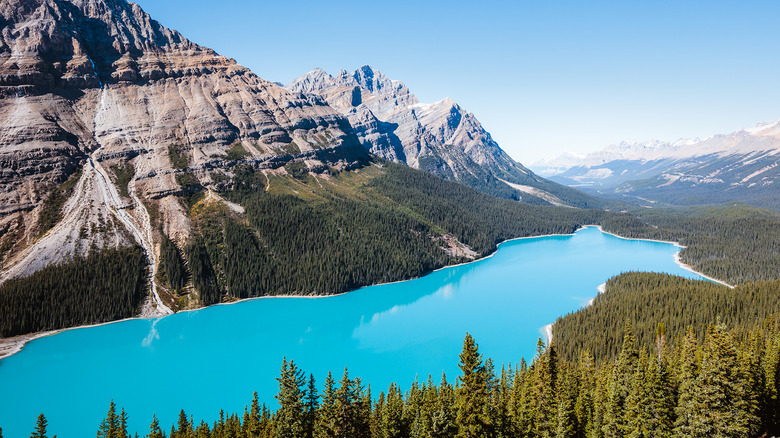 Matteo Colombo/DigitalVision via Getty Images
While the world is full of many impressive man-made marvels, some of the most stunning sights you can see are found in nature, such as gorgeous canyons, mountains, waterfalls and even coral reefs. These lakes, in particular, are some of the most spectacular in the world because of their clear, blue waters and beautiful scenery.
Peyto Lake (Canada)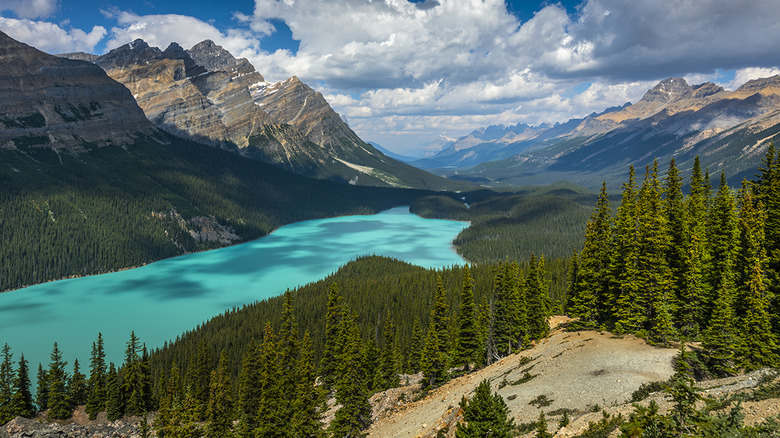 Schroptschop/E+ via Getty Images
Peyto Lake has some of the clearest, bluest water on the planet thanks to being fed by a glacier. The lake lies within Banff National Park, the oldest national park in Canada.
Lake Atitlán (Guatemala)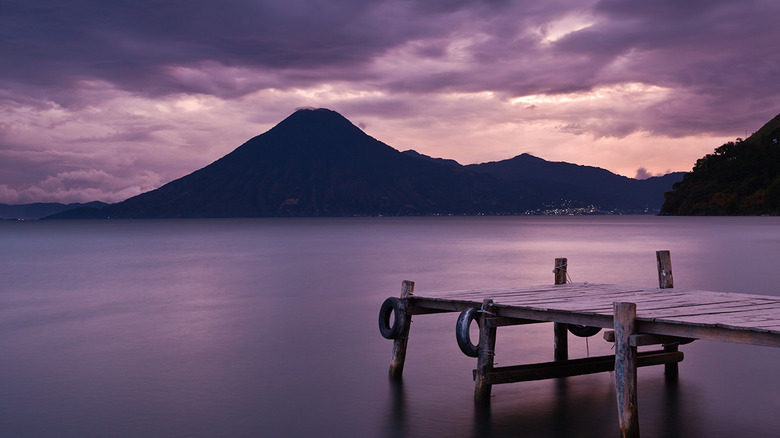 Kesterhu/iStock via Getty Images
Located in southwestern Guatemala, Lake Atitlán sits nearly 5,000 feet above sea level. It formed due to a volcanic eruption about 84,000 years ago, and its backdrop still features volcanoes today.
Lake Garda (Italy)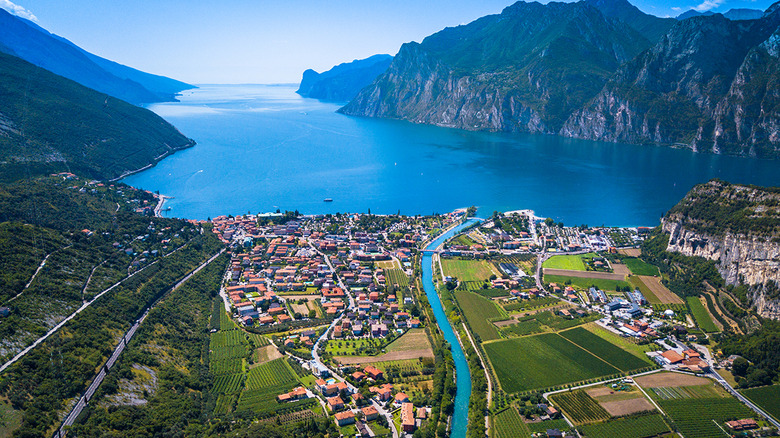 Zodebala/E+ via Getty Images
The largest lake in Italy, Lake Garda is surrounded by glacial hills and majestic mountains and has a classic mild Mediterranean climate.
Crater Lake (Oregon)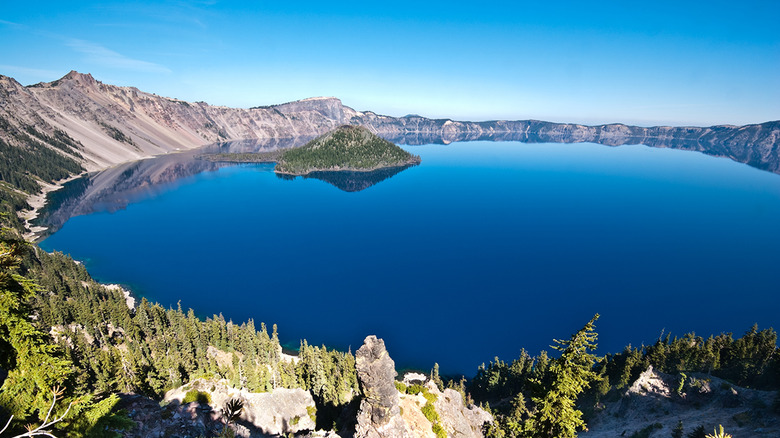 Jeff Goulden/E+ via Getty Images
Crater Lake is an iconic landmark of Oregon, sitting among the Cascade Mountain Range. The deepest lake in the United States, it's fed by rain and snow, leading to its remarkable purity.
Lake Lucerne (Switzerland)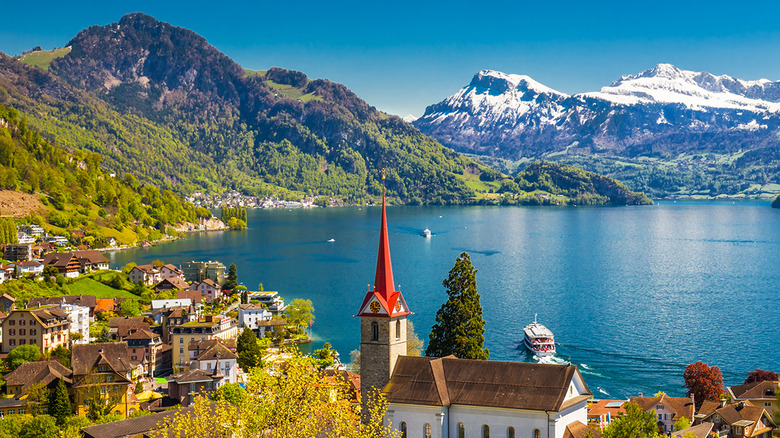 Eva Bocek/Shutterstock
Located in the heart of Switzerland, Lake Lucerne is surrounded by some of the most popular areas for skiing and other mountain recreation.
Lake Baikal (Russia)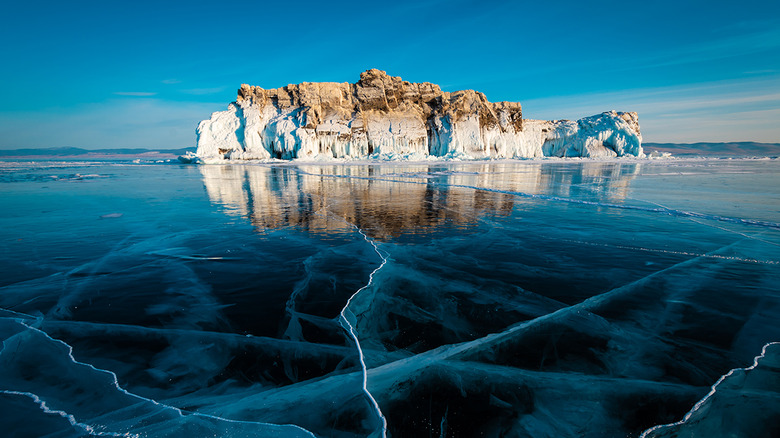 Weeraporn Puttiwongrak/iStock via Getty Images
The oldest and deepest lake in the world, Lake Baikal in the Siberia region of Russia is 25 million years old and more than 5,500 feet deep. Due to its isolation and its age, the lake is notable for its diverse and unusual underwater animals.
Jökulsárlón (Iceland)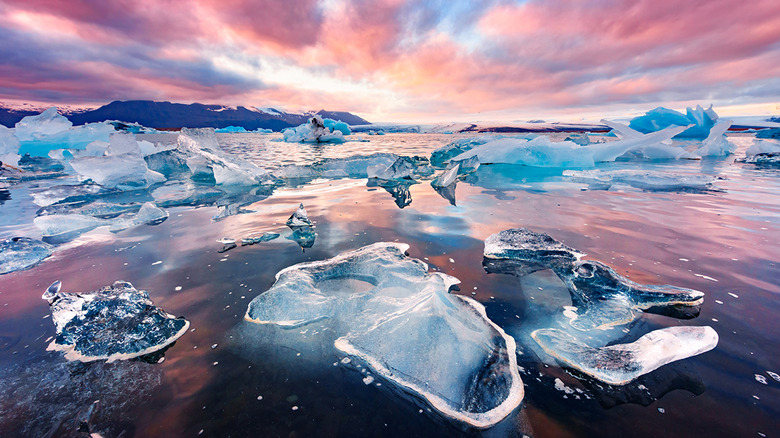 Smit/Shutterstock
Iceland's natural beauty is a big part of why it was one of the trendiest destinations of the last decade. Formed as the result of a glacier retreating, Jökulsárlón has icebergs floating in its waters.
Lake Hillier (Australia)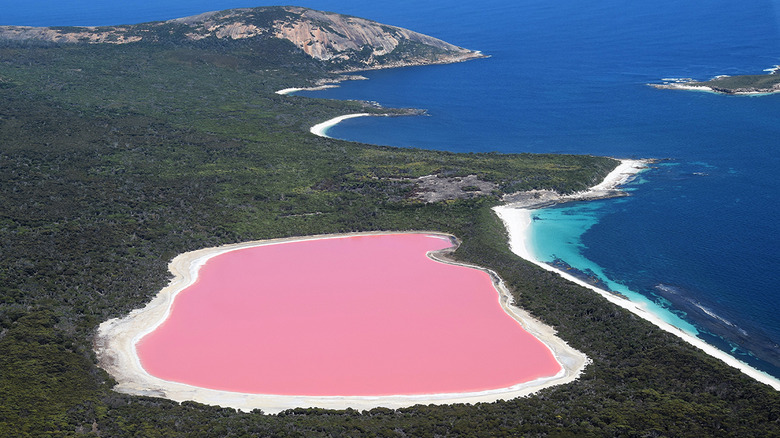 Matteo_it/Shutterstock
The bright pink Lake Hillier is located in the Recherche Archipelago off the southern coast of Western Australia. It's a striking feature of the beautiful coastline, with just a strip of forest separating the colorful lake from the beach.
Plitvice Lakes (Croatia)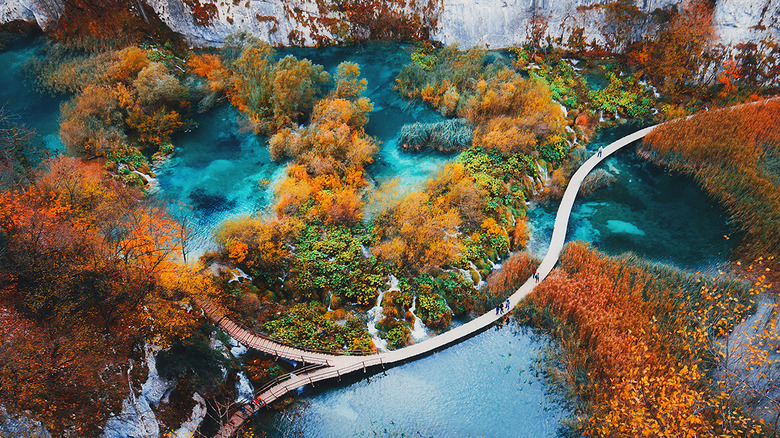 serts/E+ via Getty Images
The Plitvice Lakes are made up of 16 beautiful lakes connected by a series of picturesque waterfalls. Their waters flowing over limestone have created amazing rock formations and caves over the centuries.
Lake Beratan (Indonesia)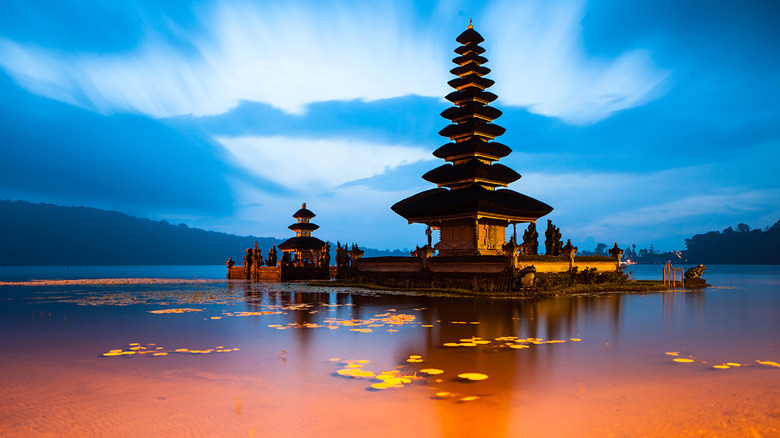 Hagen Production/iStock via Getty Images Plus
Lake Beratan is located on the Indonesian island of Bali, where it's summer year-round. Water from the lake is used to irrigate the plantations and rice fields of a nearby village. The lake is also home to a stunning Balinese temple.
Lake Tahoe (California and Nevada)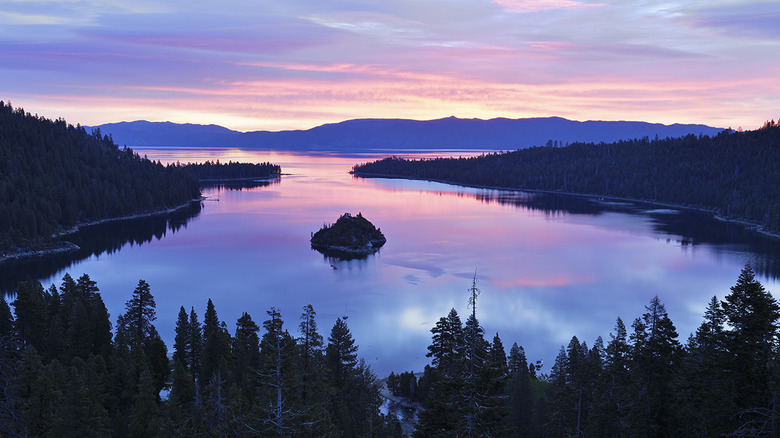 S. Greg Panosian/E+ via Getty Images
A popular ski destination, Lake Tahoe is the largest mountain lake in North America. Formed about 2 million years ago, it's among the world's 20 oldest lakes and contains about 3.33 billion gallons of water within one inch.
Lake Bled (Slovenia)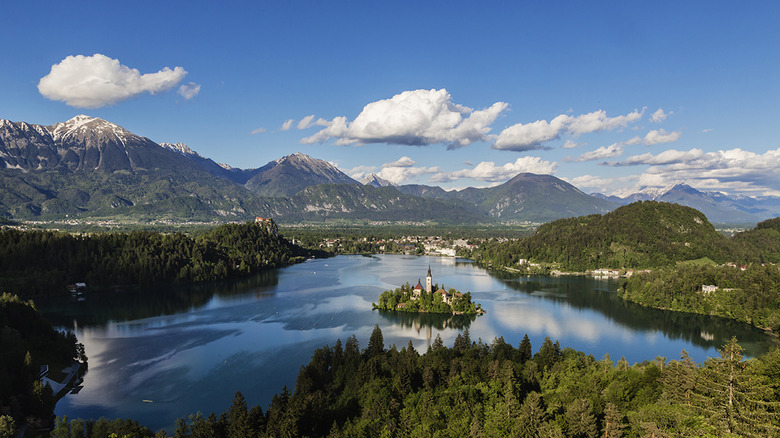 Jeremy Woodhouse/DigitalVision via Getty Images
Bled is an amazing mountain town in Slovenia, notable for its picturesque Alpine lake and the small island that lies within it. Traditional wooden boats, called pletnas, travel to and from the island and its church.
Derwentwater (England)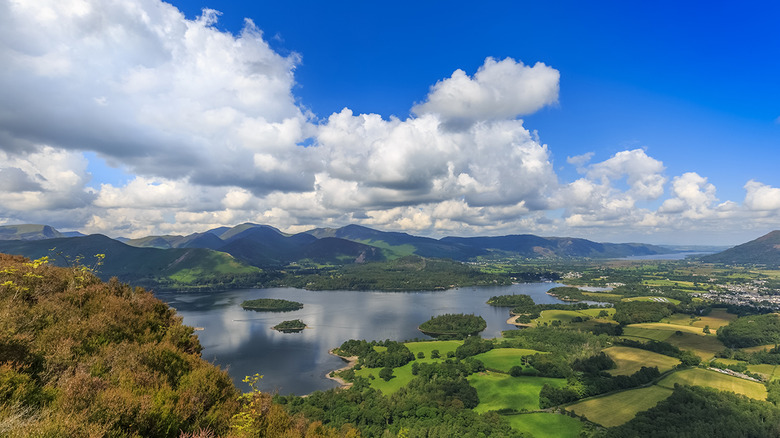 Michael Conrad/Shutterstock
Derwentwater in northwestern England is 3 miles long and 1 mile wide, with small islands on the lake. A 10-mile hike winds around the lake, popular with those looking for a pleasant outdoor walk.
Lake Nakuru (Kenya)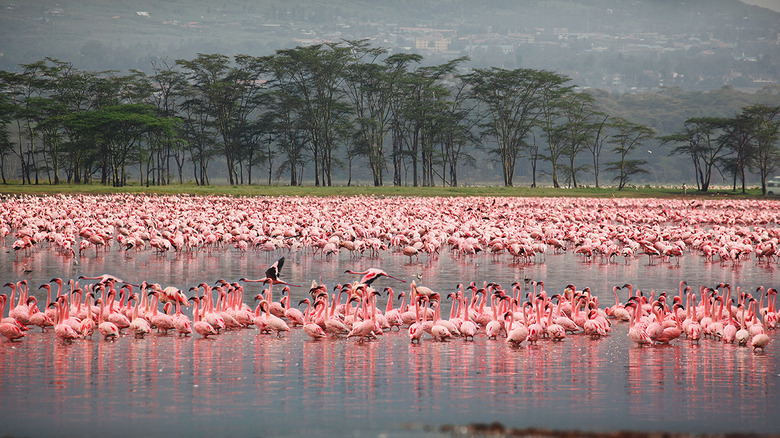 Vorobyev Dmitry/Shutterstock
Notable for its significant flamingo population, Kenya's Lake Nakuru and its surrounding national park are home to 450 species of birds, 56 species of mammals and 550 plant species.
Lake Titisee (Germany)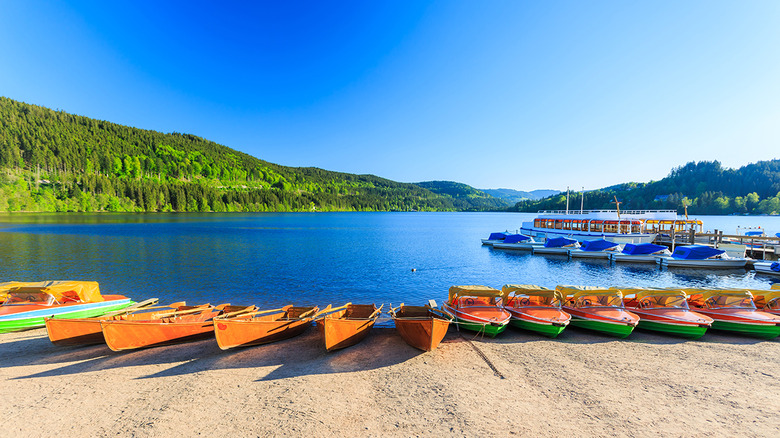 Iceink/Shutterstock
Lake Titisee lies within southwestern Germany's Black Forest, with its highest mountain, Feldberg, looking over its rich blue waters.
Kaindy Lake (Kazakhstan)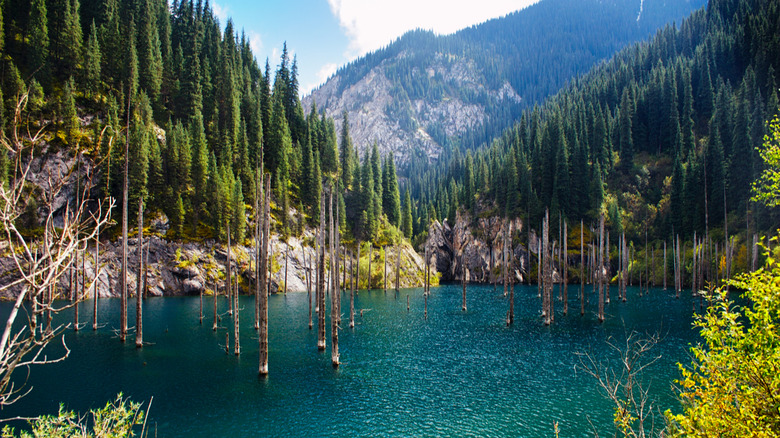 Ruta Production/Shutterstock
Kazakhstan's Kaindy Lake features an enchanting forest of ancient spruce trees submerged in its waters, a result of the area being flooded when the lake first formed.
Lake Matheson (New Zealand)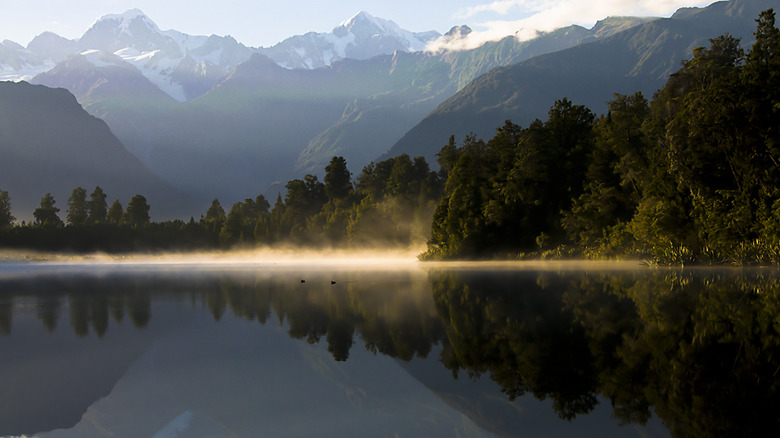 georgeclerk/E+ via Getty Images
Formed about 14,000 years ago, New Zealand's Lake Matheson has dark brown waters, which actually make for a stunning sight when they reflect nearby Mount Cook and Mount Tasman.
Ullswater (England)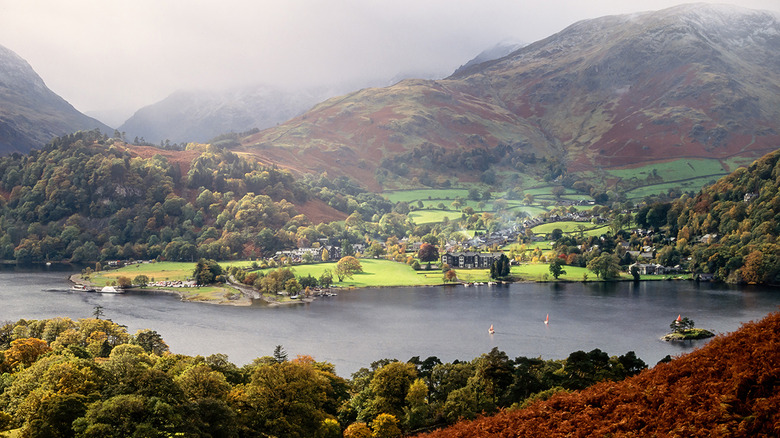 Fotimageon/Shutterstock
Hills and mountains surround Ullswater, an English lake that is 7.5 miles long and less than a mile in width. A 20-mile route around the lake can be taken by boat, bus or on foot.
Five Flower Lake (China)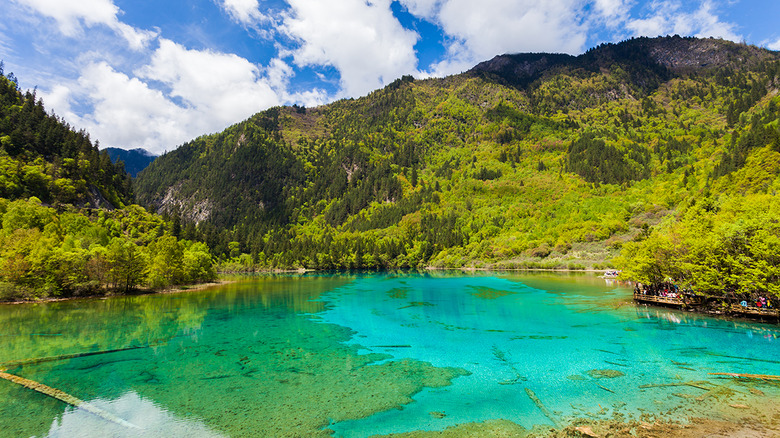 fototrav/E+ via Getty Images
Wuhua Hai, or Five Flower Lake as it is known in English, is a lake in China's Jiuzhaigou Valley that's a colorful sight. As a result of limestone and algae at the bottom of the lake, shades of red and yellow can be seen in its waters in addition to the usual greens and blues.
Moraine Lake (Canada)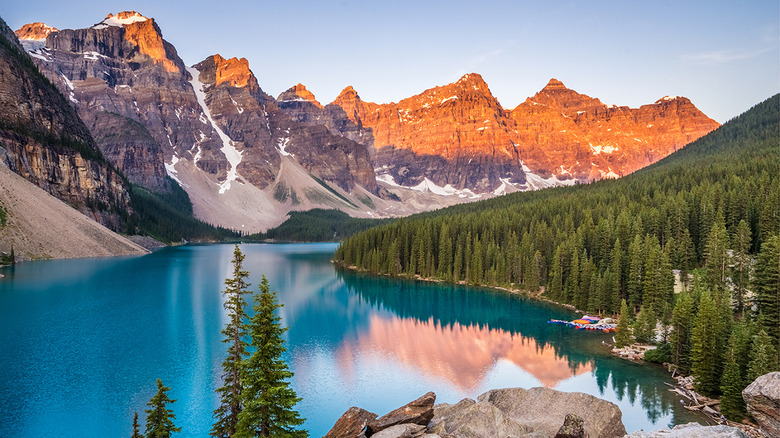 Rowan Sims Photography/Shutterstock
Not too far from the longest hiking trail in the world, Moraine Lake is a glacier-fed lake that's frozen for most of the year. The melting of the glaciers in the summer reveals stunningly clear blue-green water.
Lake Nahuel Huapi (Argentina)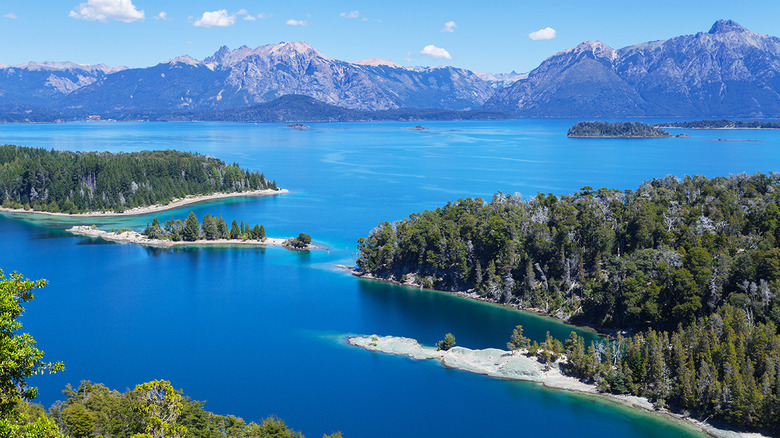 Sunsinger/Shutterstock
There is no shortage of mesmerizing beauty in the Patagonia region of Argentina and Chile. Lake Nahuel Huapi in Argentina is surrounded by the wooded foothills of the Andes, with water that's more than 1,400 feet deep.
Lake Tanganyika (Eastern Africa)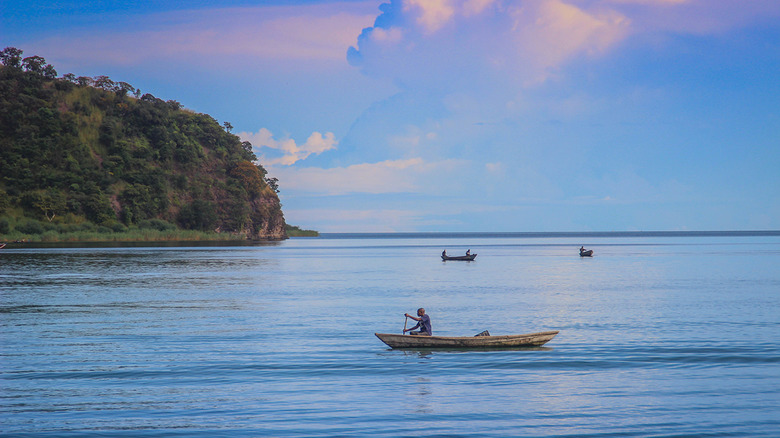 © Tatsiana Hendzel | Dreamstime.com
The second-deepest lake in the world, Lake Tanganyika lies between Burundi, Tanzania, Zambia and the Democratic Republic of Congo. It's 4,700 feet deep and is home to more than 350 species of fish.
Lake Toba (Indonesia)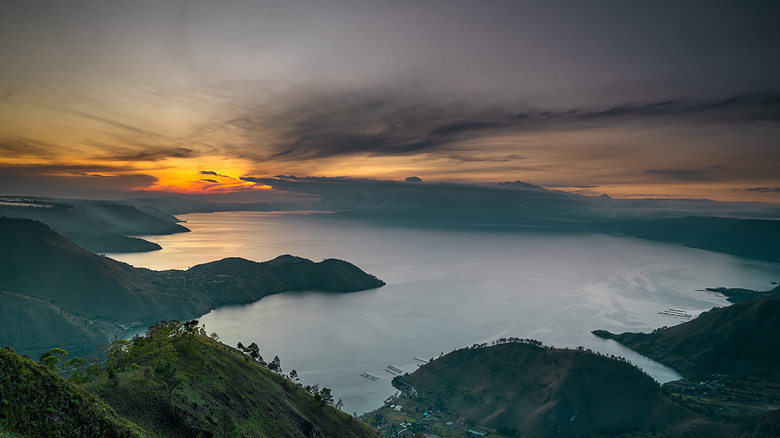 Zizy Damanik/iStock via Getty Images Plus
Lake Toba in Indonesia is more than 440 square miles, with a big island in its center, making it the largest lake in Southeast Asia. The island is home to a traditional village, known for its crafts, such as handwoven textiles and wooden carvings.
Lake Oeschinen (Switzerland)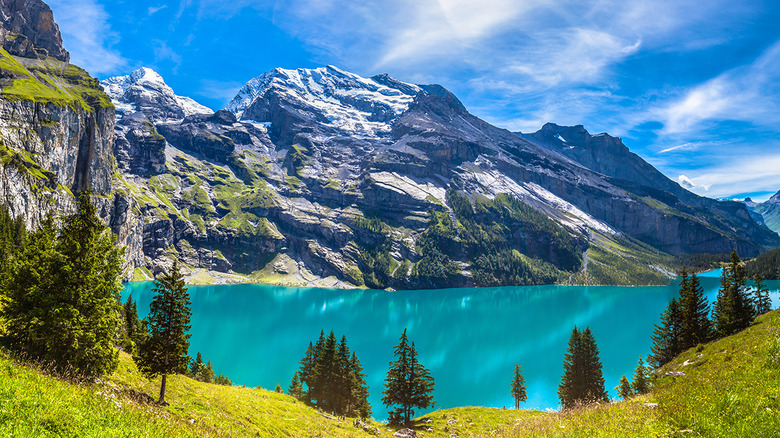 VogelSP/iStock via Getty Images Plus
At more than 5,000 feet above sea level, Lake Oeschinen sits at the foot of Switzerland's Blüemlisalp mountains. Despite being an Alpine lake, it can warm up to 68 degrees Fahrenheit in the summer.
Pehoé Lake (Chile)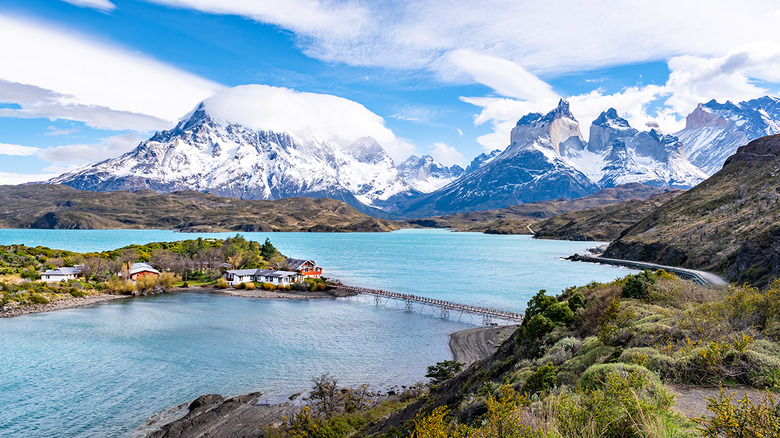 Jimfeng/E+ via Getty Images
Located in Chilean Patagonia, Pehoé Lake is surrounded by the Cuernos del Paine Mountains and has lovely, calm blue waters, making it a spectacular swimming spot.
Lake Como (Italy)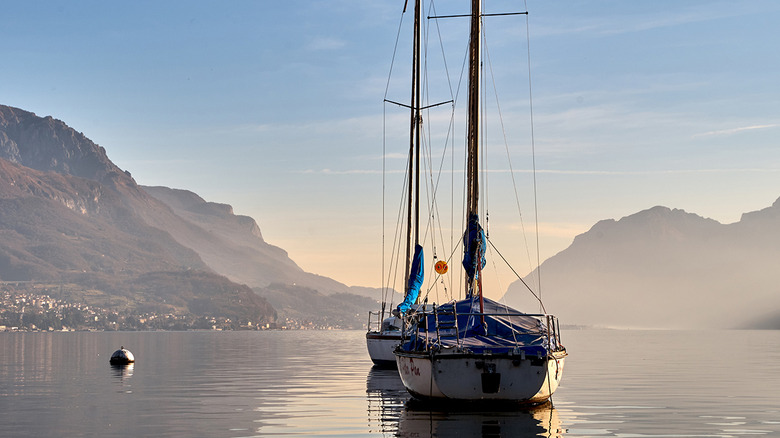 © Dmitrii Gromadskii | Dreamstime.com
It's not hard to see why Lake Como is such a celebrity vacation hotspot. Quaint villages and picturesque villas sit along its waters, with an impressive mountain backdrop surrounding them.
Lake Iskanderkul (Tajikistan)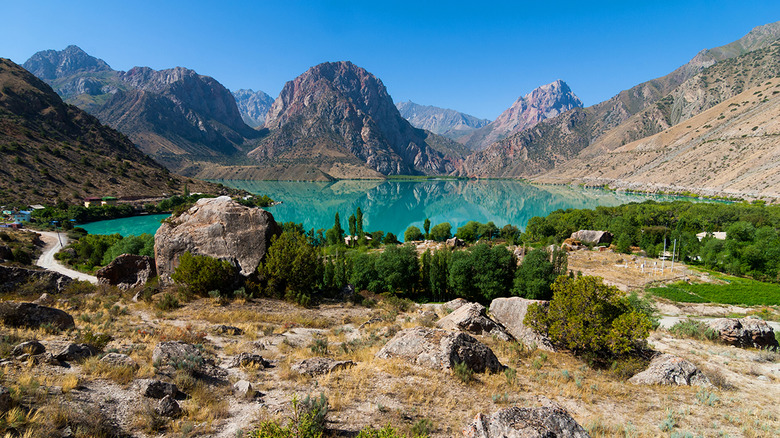 Shkonst/iStock via Getty Images Plus
Up in the Fan Mountains of northern Tajikistan lies Lake Iskanderkul, which sits at an altitude of more than 7,200 feet. Mist rises from its greenish-blue waters, which often reflect the surrounding mountains.
Diablo Lake (Washington)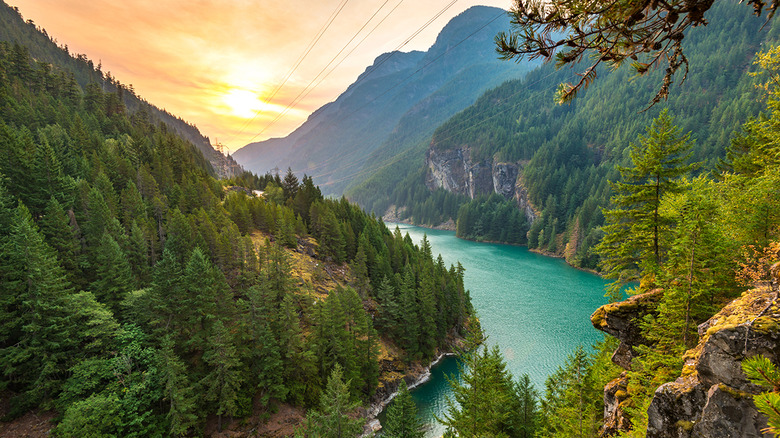 Checubus/Shutterstock
Located in North Cascades National Park, one of America's most underrated national parks, Diablo Lake is a man-made reservoir with bright, turquoise waters thanks to glacier sediment.
Nong Han Lake (Thailand)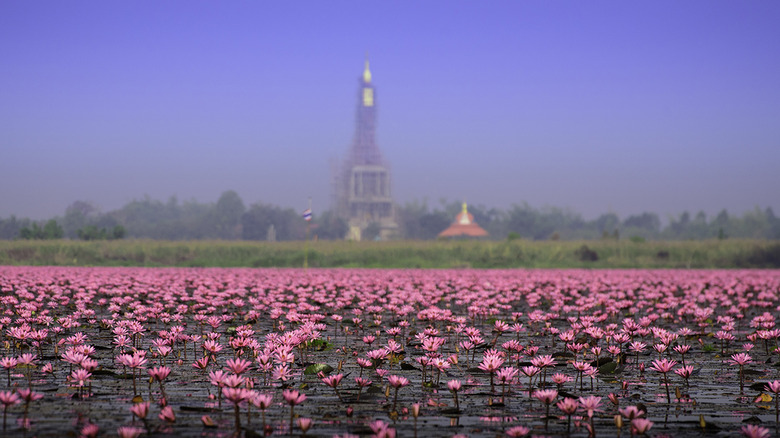 Pixbox77/iStock via Getty Images Plus
Nong Han Lake, more popularly known as the Red Lotus Sea, is a freshwater lake in eastern Thailand that is notable for the bright pink water lilies that bloom on its surface between December and February each year.
Lake Superior (United States and Canada)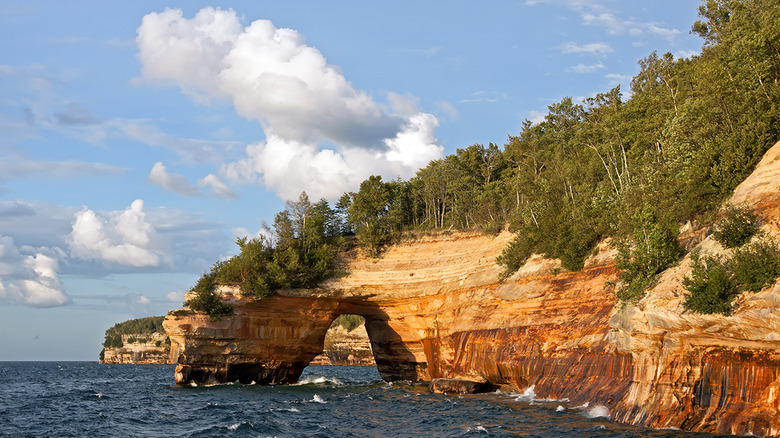 Delmas Lehman/Shutterstock
The largest of the five Great Lakes, Lake Superior is a natural wonder in its own right. With Ontario to the north, Michigan and Wisconsin to its south and Minnesota to the west, the lake stretches 350 miles from east to west and 160 miles from north to south.
Pangong Lake (India and Tibet)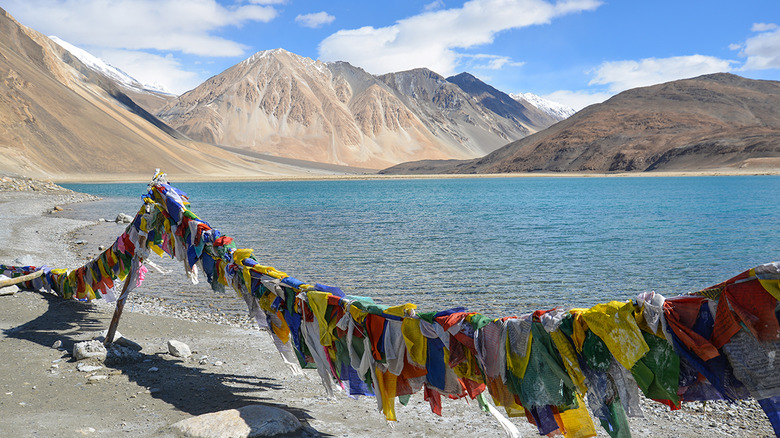 MrShashin/iStock via Getty Images Plus
Up in the Himalayas at an altitude of about 14,270 feet, Pangong Lake is located in disputed territory claimed by both India and China, with the eastern end in Tibet.
Lake Pukaki (New Zealand)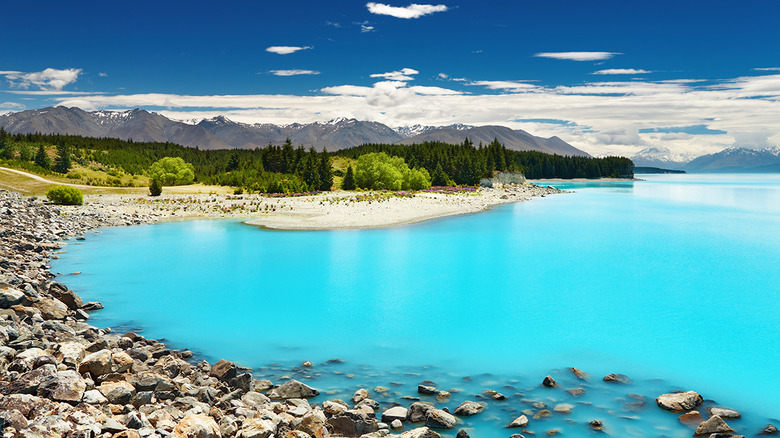 Dmitry Pichugin/Shutterstock
Lake Pukaki has such a breathtaking backdrop that it was used as a filming location for "The Hobbit" movies. Along with the nearby mountains and glaciers, the lake is part of New Zealand's Aoraki Mount Cook National Park.
Lake Kawaguchi (Japan)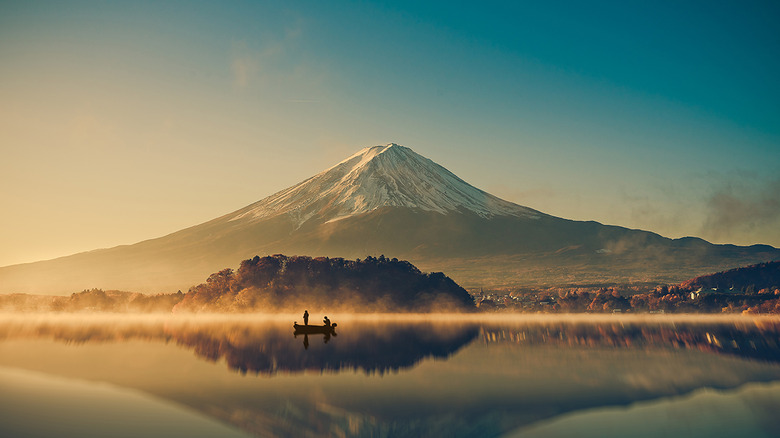 FocusStocker/Shutterstock
The most popular of the Fuji Five Lakes, Lake Kawaguchi sits near Mount Fuji, where it reflects the famous mountain and provides a great spot to view an amazing sunrise.
Lake Titicaca (Peru and Bolivia)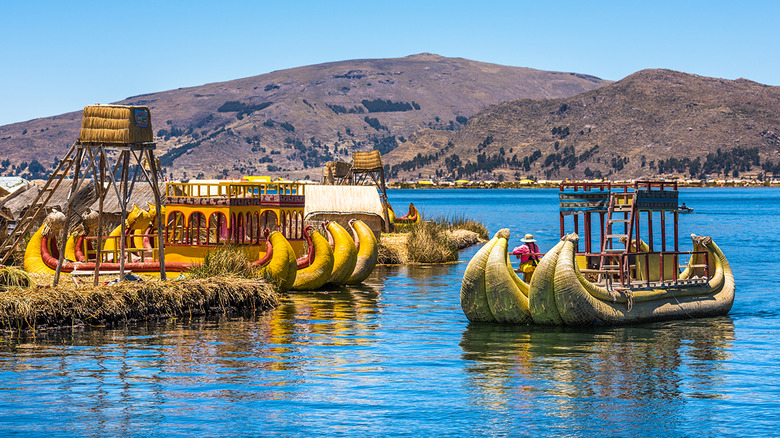 Javarman/Shutterstock
Another one of the 20 oldest lakes in the world, Lake Titicaca is believed to be more than a million years old. Covering 3,200 square miles between Peru and Bolivia, it's the largest freshwater lake in South America.
Loch Ness (Scotland)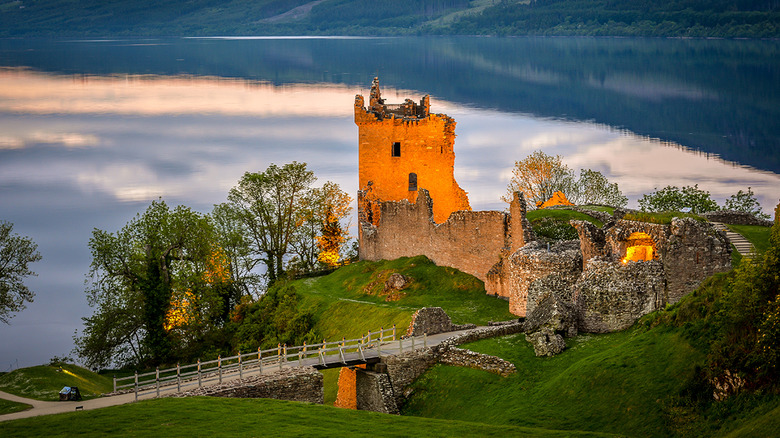 Nitasawan katterattanakul/Shutterstock
Perhaps the most famous lake in beautiful Scotland due to the urban legend of its resident monster, Loch Ness has more freshwater than all of the lakes in England and Wales combined.
Lake Malawi (Eastern Africa)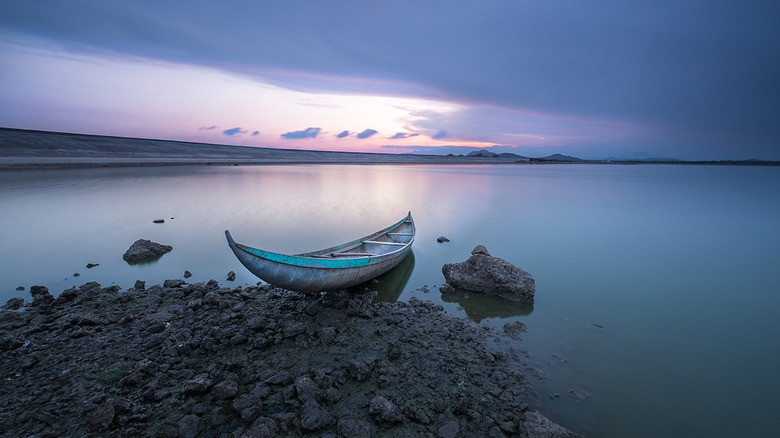 TonyNg/Shutterstock
Malawi is an underrated country that Americans might not be familiar with. One of its top landmarks is Lake Malawi — also known as Lake Nyasa — which forms part of the country's borders with Mozambique and Tanzania.
Lake Biwa (Japan)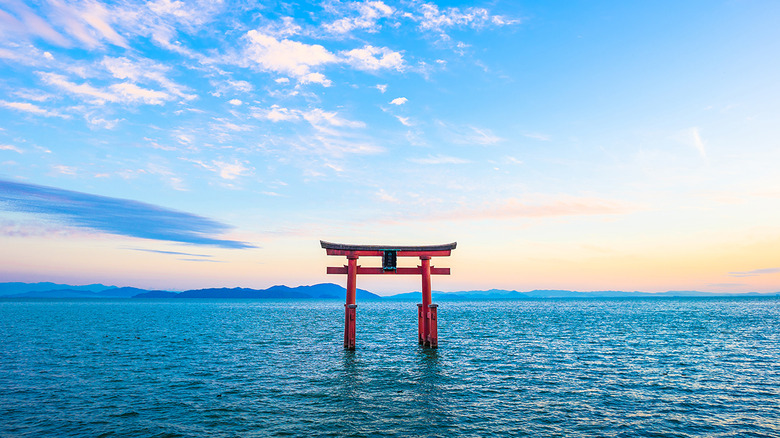 Beeboys/Shutterstock
The largest lake in Japan is Lake Biwa, located close to Kyoto and home to the small island of Okishima, a paradise for cat lovers.
Lake Annecy (France)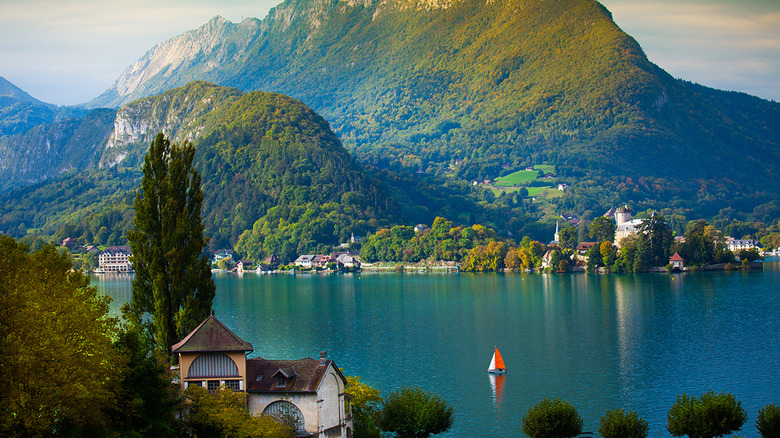 Pearl Media/Shutterstock
Lake Annecy is a natural wonder believed to be the purest lake in Europe. It sits at more than 1,400 feet above sea level and is surrounded by the northern French Alps.
Lake Saimaa (Finland)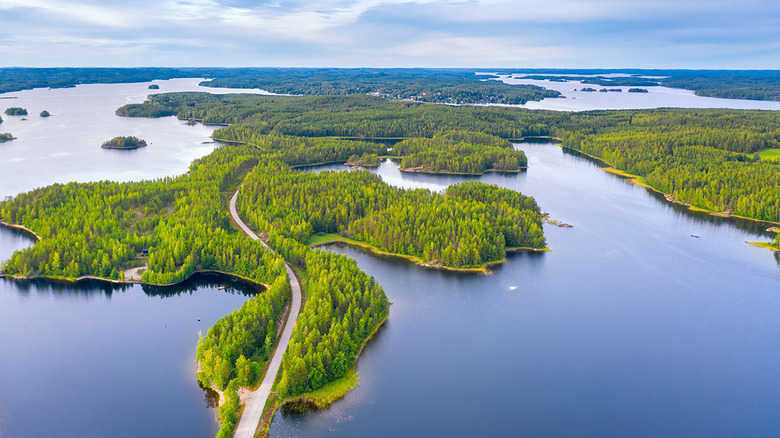 Della-Liner/Shutterstock
About 14,000 idyllic islands dot the surface of Lake Saimaa, Finland's largest lake. Among the animals that call it home is the Saimaa ringed seal, one of the rarest seals in the world.
Lake Geneva (Switzerland and France)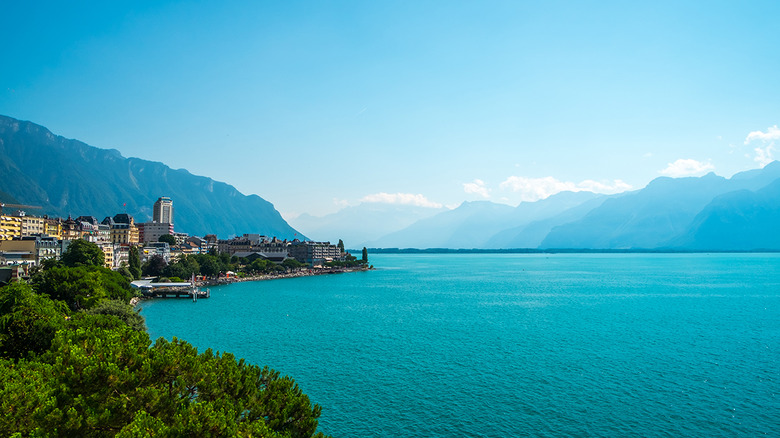 Byjeng/iStock via Getty Images Plus
Located on the French-Swiss border, Lake Geneva is Europe's largest Alpine lake with an area of 224 square miles. It runs 45 miles long and is the shape of a crescent.
Lake Mjøsa (Norway)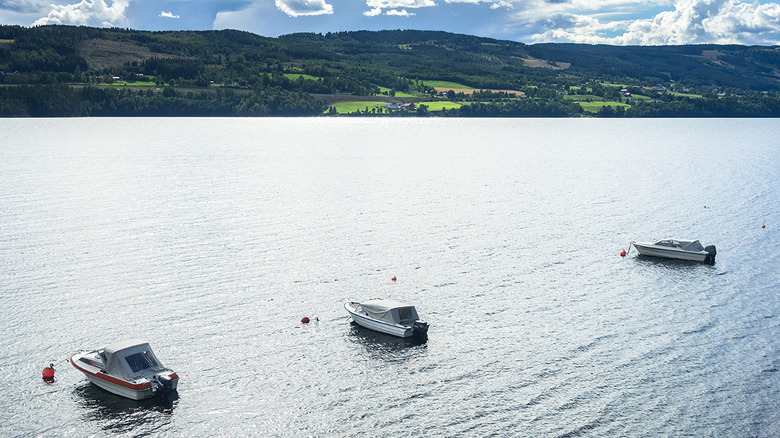 Font83/iStock via Getty Images Plus
Lake Mjøsa is the largest lake in Norway, located in the southeastern part of the country. It's very popular for boating and fishing, which is great for lovers of seafood.
Laguna Verde (Bolivia)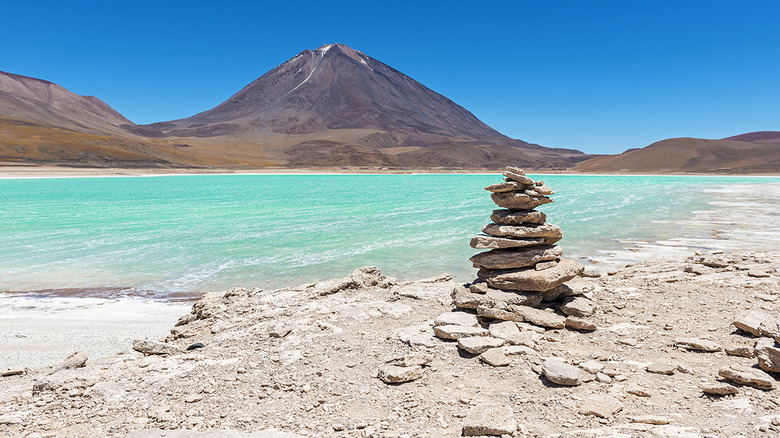 SL_Photography/iStock via Getty Images Plus
Laguna Verde is a saltwater lake located not far from the Bolivian border with Chile. Due to its toxicity, the lake can't support any life, but it does have an amazing aquamarine color.
Lake Berryessa (California)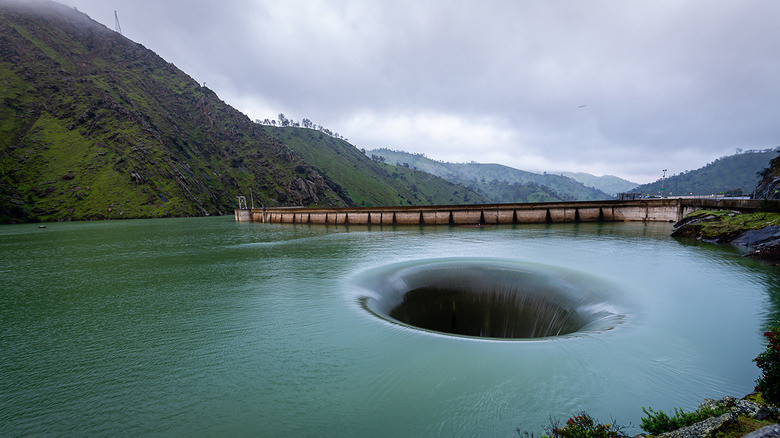 Chris LaBasco/Shutterstock
Wine tasting in California's Napa Valley is a top travel experience, but there's more to the area, particularly when it comes to natural beauty. Lake Berryessa, one of the largest bodies of freshwater in the state, has 165 miles of shoreline and a cool spillway.
Lake Orestiada (Greece)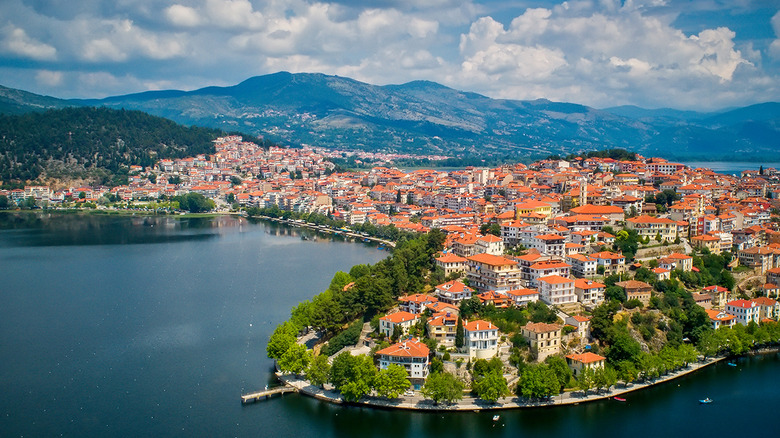 Ververidis Vasilis/Shutterstock
Straddling the North Macedonia-Albania border, Lake Ohrid is the deepest lake in the Balkans. It is surrounded by several lovely beaches as well as some of the most charming lake towns in the world.
Lake Ohrid (North Macedonia and Albania)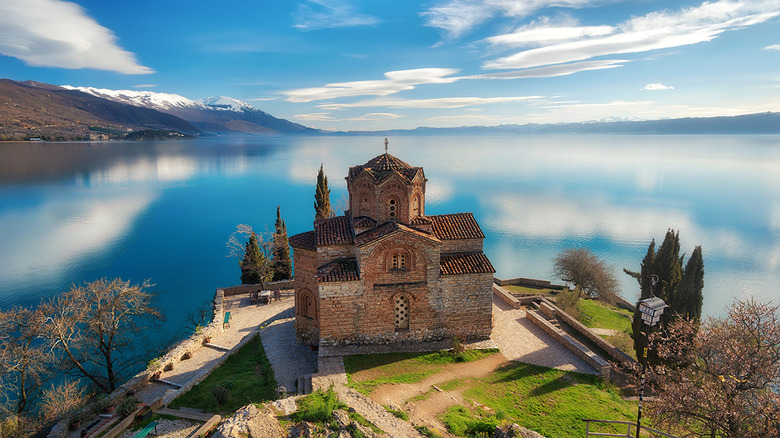 Lukas Bischoff Photograph/Shutterstock
Straddling the North Macedonia-Albania border, Lake Ohrid is the deepest lake in the Balkans. It is surrounded by several lovely beaches as well as some of the most charming lake towns in the world.