The Prettiest Waters Around The World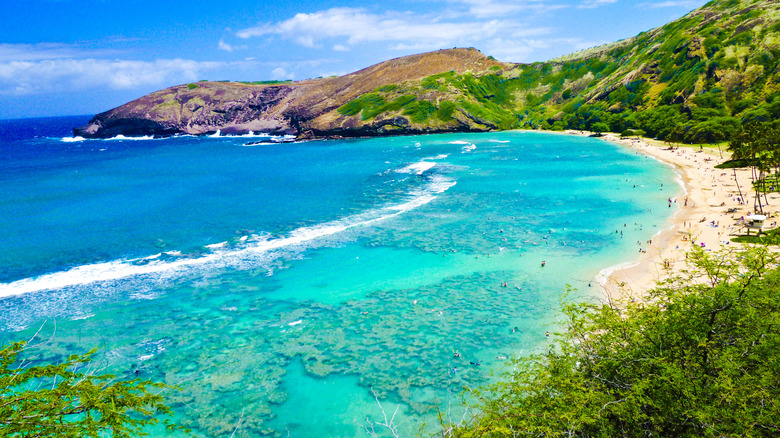 Lorcel/Shutterstock
The world is full of amazing natural wonders, but there's something special about recharging while enjoying blue waters glistening in the sunlight. Whether you're hoping to escape from the pressures of work on a scenic mountain hike or you want to play all day in the waves, here are destinations with the clearest, bluest water on the planet.
Aitutaki, Cook Islands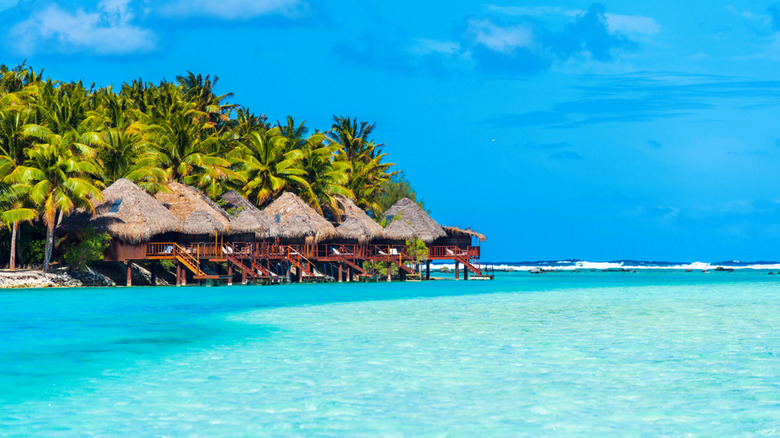 gg-foto/Shutterstock
Aitutaki, part of the Cook Islands, is one of the most stunning remote islands in the world. Aitutaki is a beach lover's dream and home to one of the world's most beautiful lagoons. You'll feel like you've stepped into a picture-perfect paradise once you get a glimpse of the waters. The hardest part won't be planning this international vacation, it'll be saying goodbye.
Ambergris Caye, Belize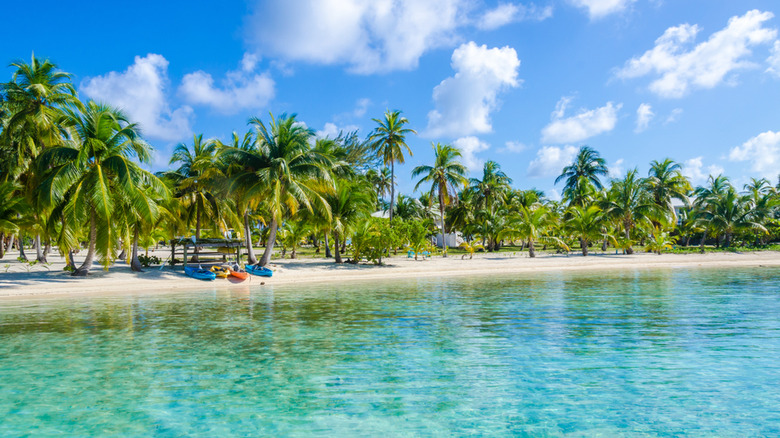 Simon Dannhauer/Shutterstock
Ambergris Caye, Belize's largest — and arguably most beautiful — island is a tropical dreamscape. This beautiful destination is next to the largest barrier reef in the Western Hemisphere, meaning its pristine, clear blue waters are perfect for exploring by scuba diving or kayaking.
Cala Macarelleta, Minorca, Spain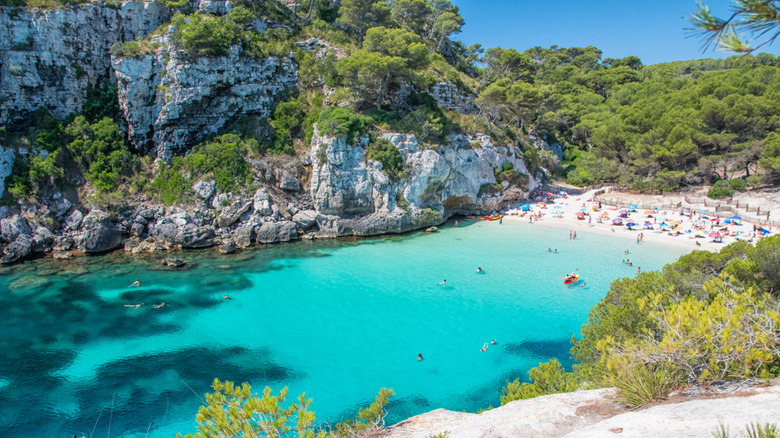 Jacinto Marabel Romo/Shutterstock
Minorca is an island oasis in the Mediterranean comprised of over 130 miles of beautiful coastlines. On the Spanish island is Cala Macarelleta, a small but popular beach with crystalline waters bordered by towering cliffs. You'll have to ditch your ride and walk to reach the beach, but relaxing on the white sand next to clear waters is worth the walk.
Carmel Beach, California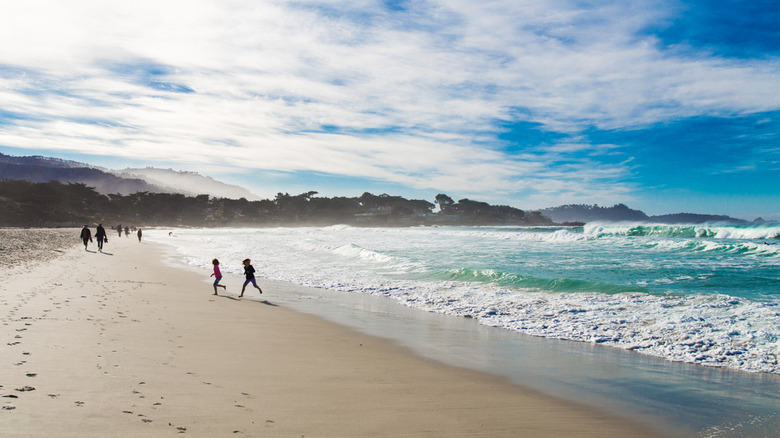 Jingjits Photography/Shutterstock
Without a doubt, Carmel Beach is one of the best beach towns you've probably never heard of. Thanks to its prime position on California's sunny coast, the waters are always a sparkling dream. Try your hands at surfing or, if you'd rather enjoy the waters from afar, host a beach bonfire.
Cocos Island National Park, Costa Rica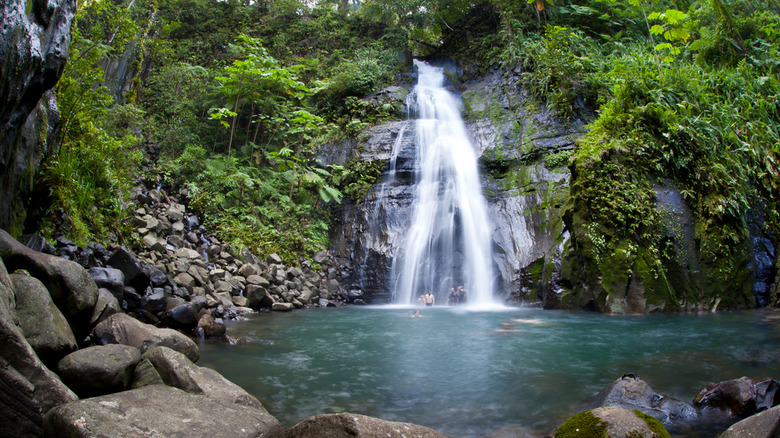 Ethan Daniels/Shutterstock
Declared a National World Heritage Site, the lake at Cocos Island National Park is one of the most beautiful places in this national park. The crystalline waters are perfectly blue and one of the best places in the world for scuba diving.
Crater Lake, Oregon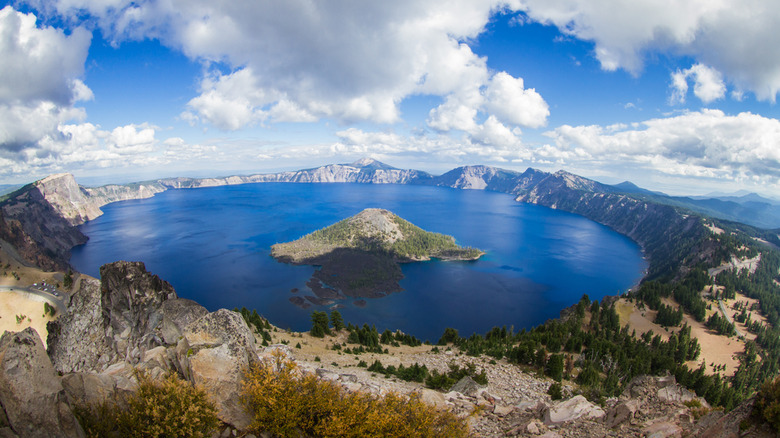 Wollertz/Shutterstock
Crater Lake is Oregon's most iconic landmark. It was formed more than 7,000 years ago when a volcanic eruption caused the destruction of a tall peak. Today, Crater Lake is the deepest lake in the nation and one of the most beautiful on earth. Views of the gorgeous lake are available year-round whether you're swimming in the summer or exploring on snowshoes in the winter.
Devil's Bay Beach, Virgin Gorda, British Virgin Islands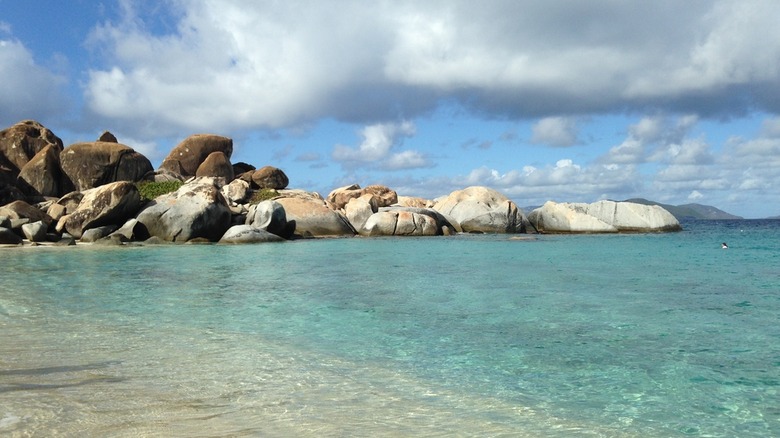 abbyweave/Shutterstock
You won't need a cellphone once you get lost in the beauty of Devil's Bay Beach. Located on the southwestern tip of Virgin Gorda, the third-largest of the British Virgin Islands, Devil's Bay Beach has been described as a tranquil, private destination perfect for relaxing and water adventures like swimming and snorkeling in its crystal-clear waters.
El Nido, Palawan, Philippines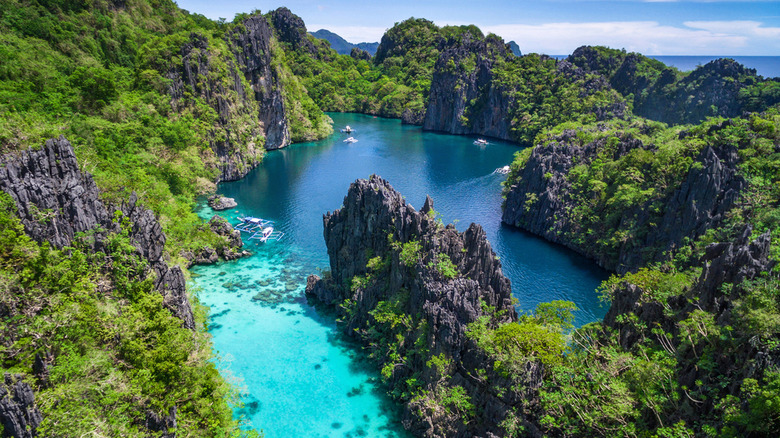 R.M. Nunes/Shutterstock
If you've ever seen photos of travelers in gorgeous blue waters in the Philippines, chances are you've caught a glimpse of Palawan. Deemed "the most beautiful island in the world" by Travel + Leisure, Palawan is the country's largest province, named after its largest island. El Nido is a standout beach on the island with black marble caves, marine life and gorgeous sand.
Five Flower Lake, Jiuzhaigou National Park, China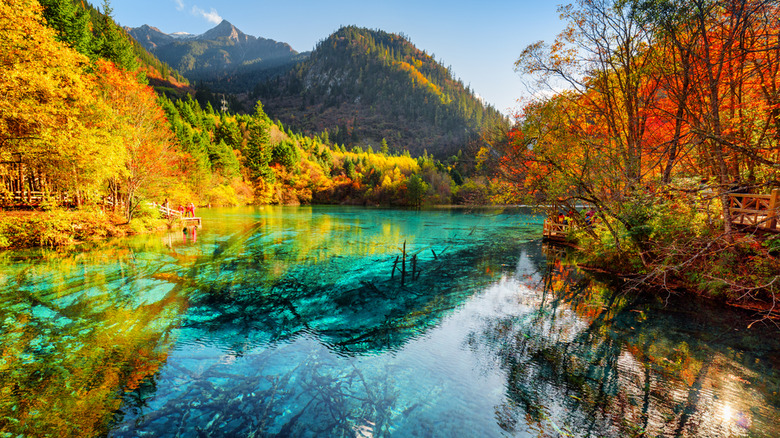 Efired/Shutterstock
Located in Jiuzhaigou National Park, Five Flower Lake is one of the world's most mesmerizing places. The water is so clear that the vibrant colors of algae, plants and rocks at the bottom of the lake are visible from its shores. Visit during the fall to see breathtaking foliage reflected on the clear water's surface.
Great Barrier Reef, Australia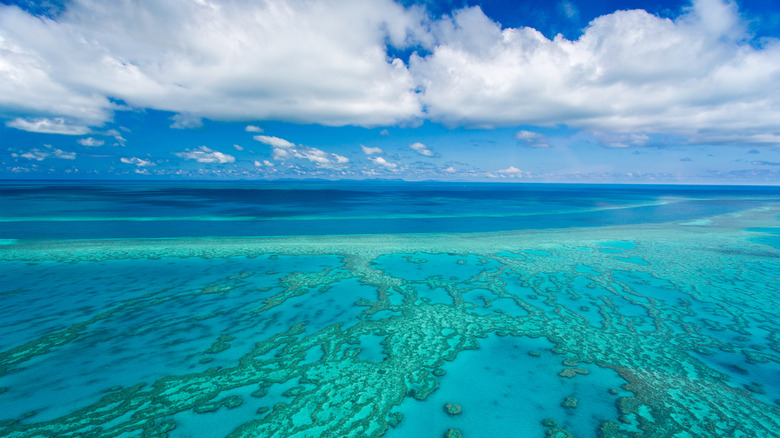 Larissa Dening/Shutterstock
Visiting Australia's Great Barrier Reef, the world's largest coral reef system, is a milestone achievement worth doing at least once in your lifetime. The clear waters are perfect for diving deep with diverse marine life.
Hanauma Bay, Oahu, Hawaii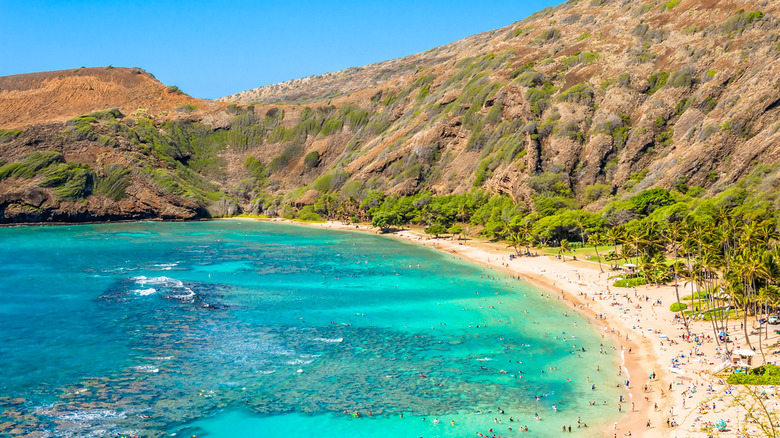 Eddy Galeotti/Shutterstock
Located in America's happiest state, Hanauma Bay on the Hawaiian island of Oahu is a protected marine life conservation area and underwater park formed by a volcanic cone. Voted the best beach in the United States, Hanauma Bay is a paradise perfect for snorkeling.
Kleine Knip Beach, Curacao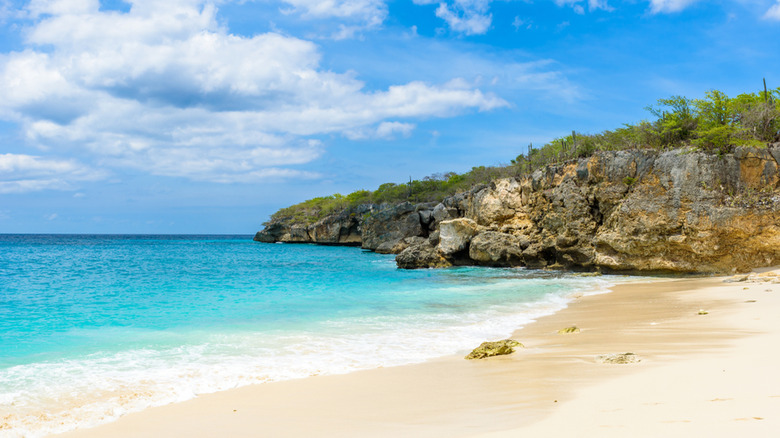 Simon Dannhauer/Shutterstock
Knip Beach is a popular tourist destination that even locals love. The beautiful blue waters are perfect for swimming or — if you're feeling adventurous — taking a deep dive to explore the island's reef. Kleine Knip Beach is known for being an intimate spot, making it one of the most romantic destinations in the Caribbean.
Lake Pukaki, South Island, New Zealand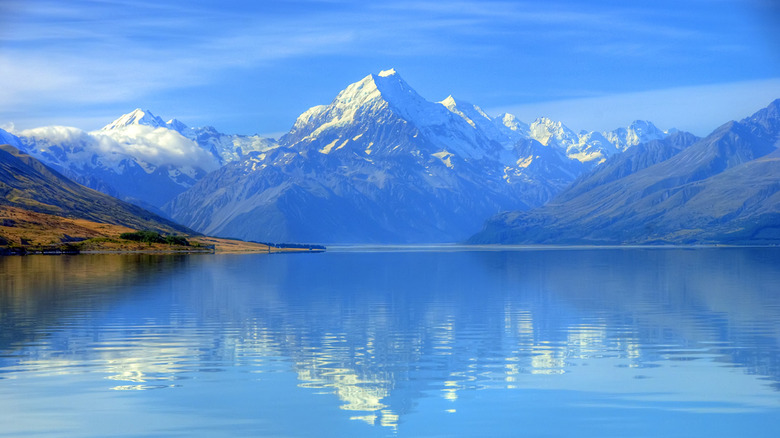 Krishna.Wu/Shutterstock
Lake Pukaki is a destination plucked straight from your favorite movie — literally. Scenes from "The Hobbit" trilogy were filmed here with the pristine, blue waters serving as a colorful backdrop. When you're not daydreaming about traveling to Mordor, Lake Pukaki and the looming Aoraki Mt. Cook, New Zealand's highest mountain peak, are gorgeous sites worth marveling at.
Lake Tahoe, California and Nevada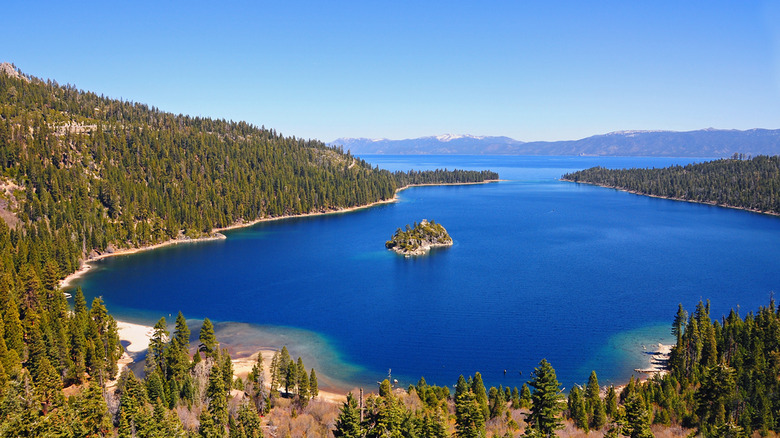 OLOS/Shutterstock
Kayaking in the crystal-clear waters of Lake Tahoe is something every American should do in the U.S. in their lifetime. Lake Tahoe is the largest alpine lake in the nation. And the deep, bluer-than-blue waters are especially photogenic thanks to the surrounding majestic Sierra Nevada Mountains.
Maldives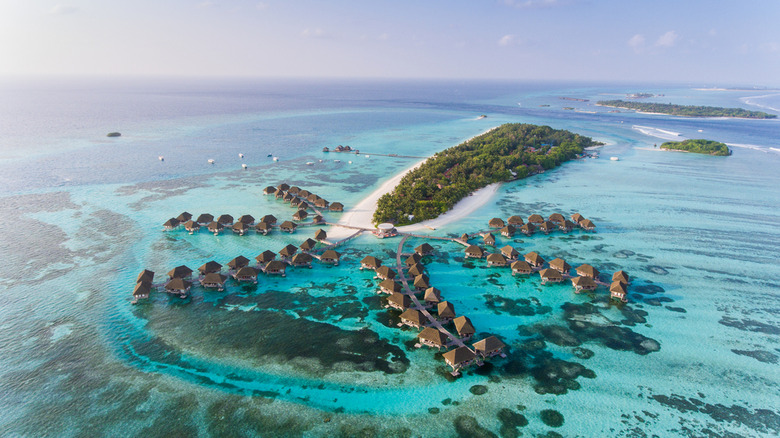 Siraphob Werakijpanich/Shutterstock
The area known as the Maldives is 99% clear, blue waters and just 1% land. So the list of ways you'll be able to enjoy the Maldives' waters is practically limitless. Swim with manta rays, play with the entire family on the beach or go diving among more than 1,000 species of fish.
Navagio Beach, Zakynthos, Greece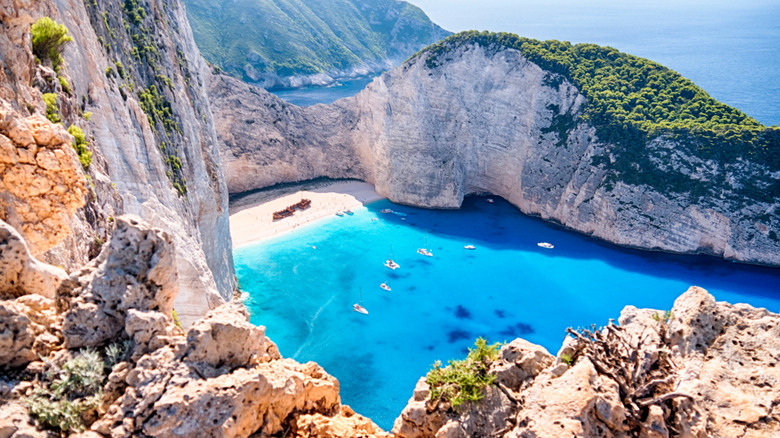 StockBrunet/Shutterstock
Greece is a celebrity vacation hotspot, and you can live like the stars while vacationing on this secluded beach. Nicknamed Shipwreck Beach, Navagio Beach on the Greek island of Zakynthos still has an actual shipwreck sitting on its sands, creating the perfect photo opp for when you're not exploring the waters.
Pig Beach, Exuma, Bahamas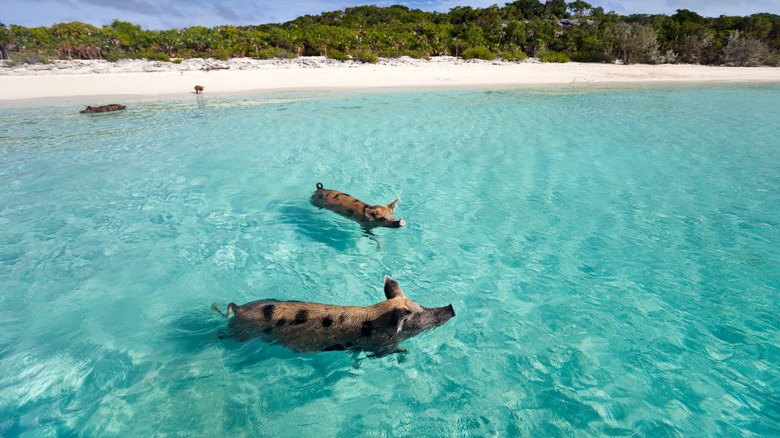 BlueOrange Studio/Shutterstock
There's no adventure quite like traveling to Pig Beach in Exuma and swimming with the pigs. The Exumas are a Bahamian archipelago surrounded by sapphire-blue water. And Pig Beach is one of its most well-known and adorable destinations. Grab a selfie with the swimming piggies, pet a stingray or snorkel in the beautiful waters. Swimming with the pigs in Exuma is a fun activity every American should do when traveling abroad.
Peyto Lake, Alberta, Canada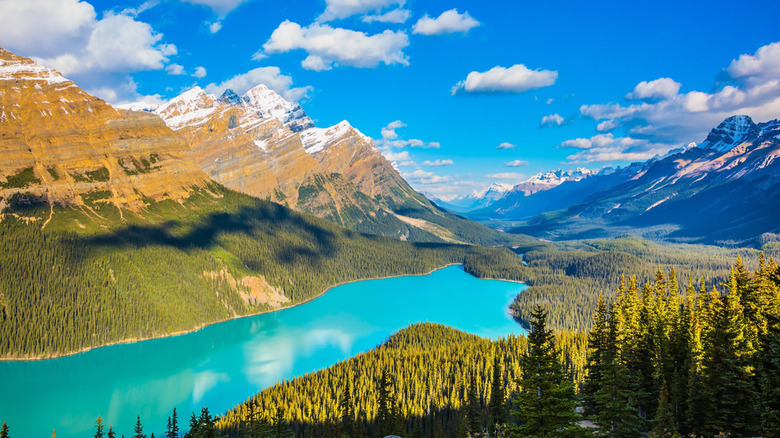 kavram/Shutterstock
Peyto Lake might be one of Canada's most beautiful sights. The lake became accessible to travelers in 1941 when the Icefields Parkway road was completed. It draws hundreds of thousands of visitors each year because of its breathtaking blue waters that have to be seen to be believed.
Rio da Prata, Bonito, Brazil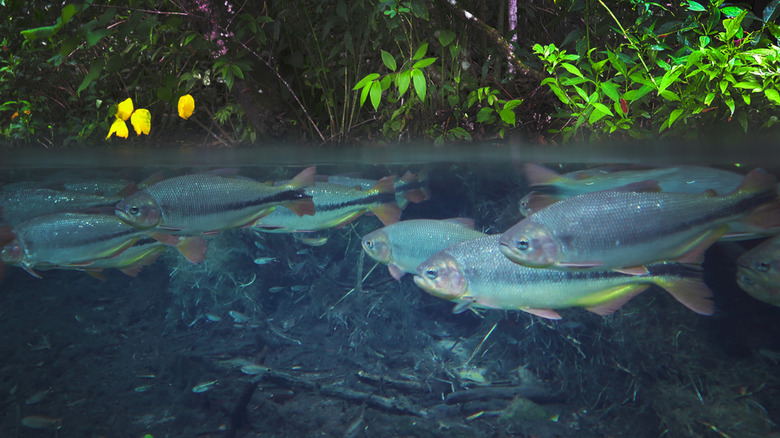 Amneris Martinez/Shutterstock
Bonito is Brazil's capital of ecotourism and adventure tourism. There you'll find Rio de Prata — the town's most famous river. Rio de Prat is defined by heavenly blue waters so clear you can see the fish swimming between your feet. Visitors can take a walk through the river's water among beautiful species of fish and aquatic plants or go scuba diving. Other than Rio da Prata, Brazil is home to some of the best beaches in the world.
To-Sua Trench, Samoa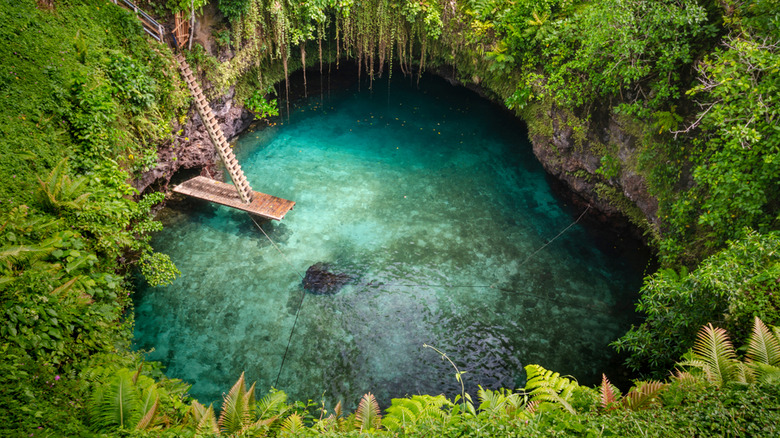 Martin Vlnas/Shutterstock
To-Sua — which translates to "giant swimming pool" — is a daydream-worthy swimming hole accessible by a wooden ladder. The cool, clear waters are ideal for diving or snorkeling. Because of its rare beauty, To-Sua Trench makes for one of the absolute best romantic adventures you can take.