The Croatian Island Mamma Mia Fans Need To Visit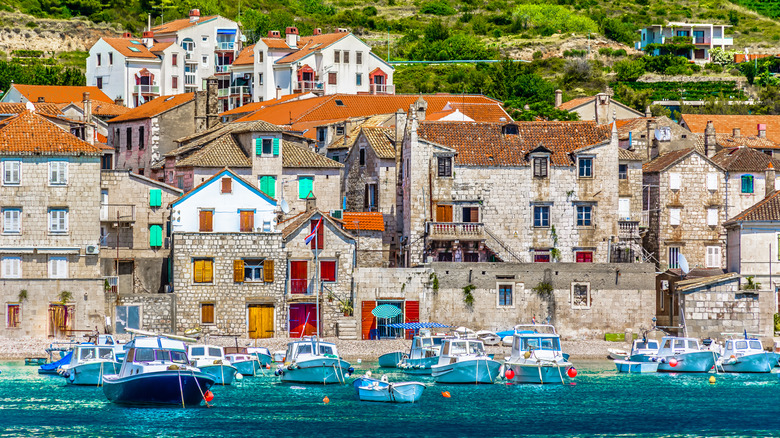 Dreamer4787/Shutterstock
Although the little island of Vis, Croatia, does not list being a "dancing queen" as one of its entry requirements, it would certainly enhance your visit since, as it turns out, this itty-bitty retreat was the filming location for the 2018 film "Mamma Mia: Here We Go Again!"
All of 35 square miles, the remote island's larger-than-life vibes caught the eye of Travel and Leisure, who recommend its 17th-century Venetian aesthetic to would-be travelers. The essence of Italy is evident in the island's limestone verandas, walkways, and even its restaurants, some of which, The Guardian mentions, are lovingly nestled into historic palazzos. 
The history of Vis is that of its rulers, which have included Greece, Venice, Austria, the Austro-Hungarian Empire, and Yugoslavia among others, before becoming part of Croatia in 1991, per Britannica. While under Yugoslavian rule, Vis was used as a military base, so while its neighboring island, Hvar, developed into a bustling tourist spot known for nightlife, Vis maintained its quiet charm. Today, its Mediterranean climate, fresh seafood, and bountiful wines have earned it a reputation for rustic finery. As for the dancing queens among us, you can also rent the very villas rumored to have been home to the stars during filming.
Rent this Vis Villa for the full Mamma Mia! experience
If you're looking to immerse yourself in the full fandom of "Mamma Mia," Travel and Leisure reports that it's thought that Colin Firth stayed at Villa Serena, a 5-bedroom, 5-bathroom waterfront rental in the historic area known as Kut. Clearly, there's plenty of space to recreate your favorite movie scenes and host a full-on Croatian karaoke extravaganza, and one traveler described it as having "an amazing terrace looking straight at the sea. Vis is stunning, and the place is located [in Kut] in the nicest area in Vis."
Rates vary depending on the season, with July and August topping out at rates in the $600 per night range, but March through May, October, and November offer plenty of opportunity to stay for a nightly rate in the ballpark of just $400. Plus, the villa is close to countless markets and restaurants, including Pojoda, which TripAdvisor lists among the top-ten spots for dining in the area. But, as with any getaway, don't forget to explore and find your own cozy nooks along the way, whether learning what a typical breakfast looks like in Croatia or chatting with the local fishermen. So, wander the island of Vis because, as young Donna from the movie suggests, "The best things in life, the very best things happen unexpectedly."
Quiet coves, galleries, and winery-vista sunsets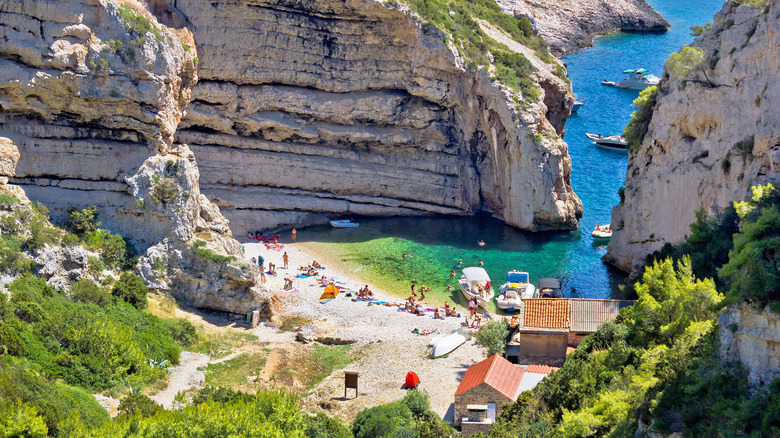 xbrchx/Shutterstock
Regardless of whether you're a "Mamma Mia" fan, Vis deserves star billing as a destination and — although we love a cruise — a ship's arrival on a small island can sometimes detract from the cozy vibe. Vis' ports cannot accommodate large cruise ships, so its small-scale tourism is based on the Jadrolinija Ferry or helicopter for those with extra kunas (or, as of January 2023, Euros) to toss around. This helps preserve the solitude, but that's not to say the island is void of buzzy offerings.
Although the Yugoslav army kept Vis from benefitting from the rise in Croatian tourism in the 1960s, that delay allowed the island to maintain much of its old-world allure. And part of that is, in fact, the 16 abandoned army bases — now partially cloaked in verdant growth, wild rosemary, and sage — and reported by The Guardian as potential spots for future hotels. But, for now, the island has just 3,000 hotel beds compared to neighboring Hvar's 30,000. Though this might be a hindrance in some locations, in Vis, it's an invitation to envelop yourself in the local culture by renting one of the many seaside villas.
Known for being a very walkable location, you can skip the expense of the rental car. And once you achieve your sunny satiety at the island's cliff-enclosed Stiniva Cove beach, head up to Mount Hum, which offers breathtaking views of the Komiža fishing village. There you can explore the Holy Spirit Chapel or follow the advice of Trip Advisor reviewers who suggest bringing up some wine for a sunset sip. If you want more, check out the Archeological Museum, one of the island's beautiful galleries, winery tours, or its many beaches, known for their rounded pebble shores!