The World's 10 Best Hikes: Tasmania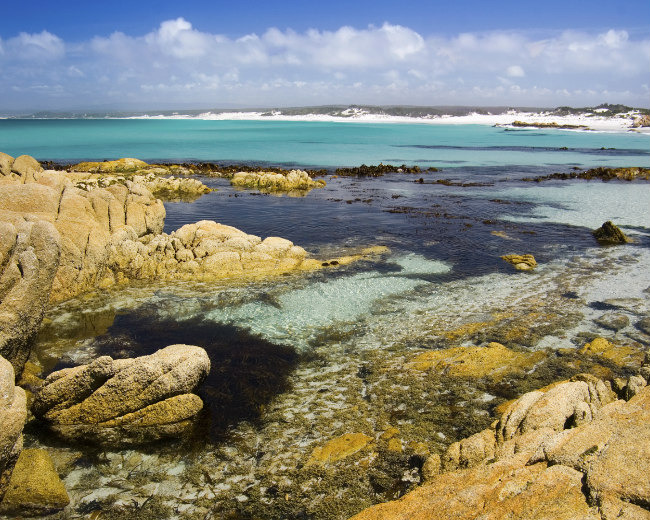 iStockphoto/ThinkStock
We may receive a commission on purchases made from links.
Trek: Bay of Fires—Stumpy's Bay to Bay of Fires Lodge
Destination: Tasmania, Australia
Length: 16 miles, 2 days
Difficulty: Moderate
From the start in Mount William National Park to the finish at the impressive lodge, the route never deviates from seemingly endless beaches of blinding white sand and surreal rock formations lapped by a turquoise Tasman Sea. Only the occasional headland of granite boulders turned blood red by lichen or forested points of shoreline push you up and out of the coves. No other beach route can compare.
The Bay of Fires walk is a four day guided trip; you can't do it solo as there is no water on the route so no place to overnight. The first day takes you out to a permanent camp at Forester Beach, the second, longer day finishes at the architecturally striking lodge, as green as they come (in fact you'll pump your own water to rooftop tanks for a shower). Day three is the ultimate reward: at leisure on the stunning Bay of Fires coast with the comforts and fine wine of the lodge at your beck and call.
There's no need to learn how to discriminate between the species of snakes on Tasmania, as they all have fatal bites. Strikes are rare though, so just keep your eyes peeled for the slithering black creatures when you're crossing the headlands.
Logistics: The vibe in Tasmania is like no other part of Australia. For the Bay of Fires hike, arrive at the island's "second city," Launceston, the staging city for the guided walk. October through May is the season for this extraordinary beach route.
Adventure journalist Peter Potterfield is the author of more than a dozen books on outdoor adventure, including the critically acclaimed "In the Zone," and "High Himalaya," which won the Banff Book Festival Award, and the iconic Classic Hikes of the World. He has written for Outside, National Geographic Adventure, Backpacker and Condé Nast Magazine. His latest book is "Classic Hikes of North America," to be released in August 2012. He lives in Seattle where he is editor of GreatOutdoors.com.