What Is Stand-Up Paddleboarding And Why Should You Try It?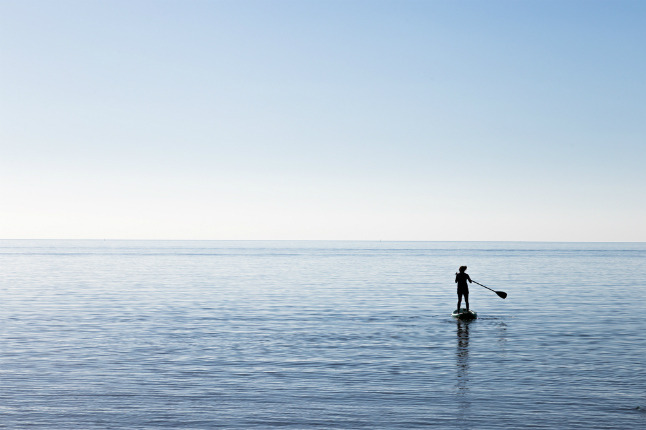 Shutterstock
It's the summer of 2015 and chances are you've either tried stand-up paddleboarding (SUP) or you've seen it. At the very least you've heard of this wildly popular water sport.
The once obscure surf-kayak-hybrid, with modern-day origins in Hawaii, has exploded in popularity over the past few years. In fact, since it was recognized for the first time on the Outdoor Industry Association's annual survey of outdoor activities in 2011, nationwide participation in the water sport has grown by an astounding 90 percent. In 2014 more people than ever before tried stand-up paddling.
If the growing popularity isn't enough to spike your curiosity, we've put together a few of the top reasons you should try SUP.
You can SUP in practically any water condition. We love classic surfing, but let's face it, the conditions aren't always right and the waves aren't always on our side. A big benefit of recreational SUP is that you can take your board out in almost any condition. Bonus: you can actually surf on a SUP board too.
You can paddle practically anywhere. Lakes, check; oceans, check; rivers, check; the canals in Venice, check.
SUP is a full body workout. Though it might be hard to believe at first, this sport is actually an incredible workout. SUP builds strength, challenges your cardiovascular fitness and improves balance—all in a way that's low impact. If you're looking for a killer workout that doesn't feel like another day at the gym, look no further.
It's a unique way to enjoy the outdoors. Stand-up paddling feels like you're walking on water, your standing tall and seeing the world around you from the top of the water. There's really never been a vantage point quite like this; it's something you've definitely got to experience for yourself.
The SUP community is amazing. Just take it from these three SUP experts.
There are so many ways to SUP. Let's say for some reason that recreational paddling isn't for you, even then, there are so many other facets of SUP. You could try SUP yoga, SUP racing, SUP surfing, the list goes on. Stand-up paddling is so versatile that you're bound to find some part you enjoy.
Get out there and try it for yourself.
Related:
The Most Incredible Places to SUP
The Best SUP Boards of 2015
Why SUP is Actually a Killer Workout