The Best Boat Accessories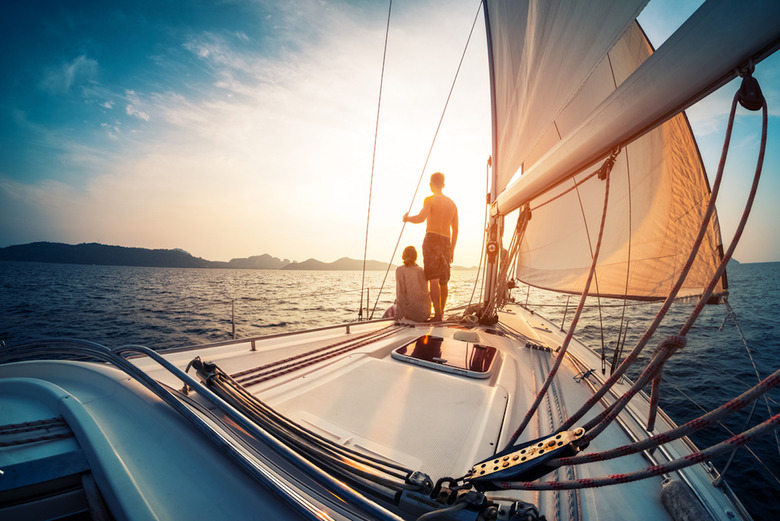 Dudarev Mikhail / Shutterstock
We may receive a commission on purchases made from links.
By Tana Baer, OnRamp
So, you've got the boat. Congrats, we're insanely jealous. What's next? Well, aside from finding your favorite place to cruise along, you've got to stock your boat with some key boat accessories. You likely have all the top safety items you want onboard, like your first aid and safety kit. You probably already have the spot to store all of that, too. Fire extinguisher? Check. Radio? Check. Flares? Check. But what else? Well, when it comes to boat accessories, you might just find that it takes a couple of times out on the water to really pinpoint what it is you need. If you're looking for some suggestions, however, this list is a great place to start.
Stanley Fatmax Rechargeable LED Spotlight Flashlight
Best Overall: Every boat needs a long-lasting, high-quality, totally-waterproof flashlight.
If you want to get just one boat accessory and nothing else, let this be the one you get. Seriously. A high-quality flashlight that's waterproof, rechargeable, and long-lasting will come in handy more times than you can count.
Made to be submersible up to 6 feet (and to still work after the fact), this flashlight features a comfy, ergonomic grip with a pistol-style handle that's much easier to hold than the average bulky, comparable flashlight. Our favorite feature? The lithium-ion battery doesn't have to be recharged for sixty days on average. It comes in a bright yellow and black color, so you won't easily misplace it, either. It's exactly what you need to find everything else you need when you need it most.
Pros:
LED light source that runs up to 10 hours on a lower setting.

Only needs to be recharged about every two months (and you can recharge it in your car).

Thin handle which is easier to hold than similar models.

Three-position trigger.
Cons:
The on-off button is like a dial, which means you can't just squeeze it on or off when you need to.
Robocup Cup Holder
Best Cup Holder: More than just a cupholder, the Robocup is exactly what you need for holding, well, just about anything.
Enjoy buzzing around the bay with a few brews? You'll want a steady, sturdy place to store your open container, then. Not into that? No worries, this cup holder also moonlights as a portable caddy, has a clamp-on holder for two fishing poles, gear, tools, phone, keys, or whatever else you brought with you.
With a slip-resistant grip and hardware that won't rust, you'll be able to keep everything you need right there on deck with you.
Pros:
Zero tools required for installation. Just clamp and be done with it.

The material has built-in UV inhibitors, which means that even out on the open water, this one will be well protected and long-lasting.
Cons:
Any extra accessories (holsters, etc.) are not included.
Garmin Striker 4 GPS Fishfinder
Best Fish Finder: Finding Nemo just got easier. Catching him? That part's up to you.
Okay, so the fun of fishing is in the process – we know. But it's also just really delightful to tool around in your boat, tracking fish and dropping a line where it's hot. With clear scanning sonars that show, in detail, exactly what's under your boat, gliding along on top of the water just got a whole lot more fun.
The Waypoint Map also helps in more shallow waters, as you can easily see sunken logs or other objects that are underneath you. This helps to keep you and your boat much safer. With a maximum depth of 1600 feet (freshwater) and 750 feet (saltwater), you'll find your fish in no time. Catching it? Well, that's entirely up to you.
Pros:
Very clear, precise images help to locate whatever it is you're after or floating over.

Chirp Sonar offers a wider range of information and input.

With a built-in Flasher View, you can use this for ice-fishing or vertical jigging, as well.

Easy navigation with a highly sensitive GPS.
Cons:
This unit needs to be connected to a 12v power source in order to use it.
Vifuur Water Sports Shoes
Best Water Shoes: Worried about what's in the water? Need a steady foot on deck? These water shoes will take you from the deck to the dock, no problem.
Maybe these aren't as stylish as boat shoes, but let me tell you: their grip is out of this world, and you can even jump overboard without worrying about ruining them. With a rubber sole and a highly breathable upper, you'll walk around in a water shoe that feels like a sock but with the added benefit of being completely and totally waterproof. These water-friendly shoes are extremely flexible, yet the rubber outsole offers unparalleled foot safety.
If you tend to hop from the boat to the next best thing, these shoes will work for whatever activities you have planned. You can wear them wakeboarding, surfing, kayaking, or even just swimming in a rocky river location. Because they fit like a sock, you don't have to worry about rocks getting stuck in your shoe, either.
Pros:
Multitude of designs and colors available for just about every style.

Smooth neck design equals much less chafing (a blessing when it comes to water shoes).

Variety of sizes available for the entire family.

Excellent to keep on board in your boat accessory box. They quickly dry, so you don't need to worry about mold or mildew.
Cons:
These water shoes are so comfortable, you might forget you're wearing them. This is great, except for when you wash ashore. They're not exactly the most fashionable statement ever.
Frequently Asked Questions
What is the best place to keep your boat accessories?
The answer to this question, of course, depends. If it's a paddle, you'll want it easily within reach or in a universal spot so that anyone can grab it. If it's a cup holder, you'll want to keep it wherever you find yourself needing to place your drink. Once you're on your boat, you'll figure these finer details out, of course.
But if you're looking to store a random assortment of boat accessories, a waterproof, lockable, and bolt-able box is highly recommended. You'll be able to store necessary supplies (a first aid kit, for example, or non-perishable snacks and drinks) without the worry of losing them overboard or fear of them getting wet.
What's the most important boat accessory of all?
Rather than just one item, we're going to answer this by simply saying, "safety gear." Although boats often come equipped with fire extinguishers (you'll want to double-check), you should add in a few key boat accessories yourself. This means a high-quality, well-stocked first aid kit. You'll also want some extras on board, such as duct tape, an extra line, a high-quality flashlight, and a sharp knife.
Tana is a freelance writer covering the latest in parenting, health, and beauty. 
The Active Times partners with OnRamp for informational product guides. OnRamp and The Active Times may earn a commission if you make a purchase through OnRamp product links. The Active Times is not involved in OnRamp content creation.
Distributed by Tribune Content Agency, LLC.