Shipwreck Beach In Greece Is A Haunting Sight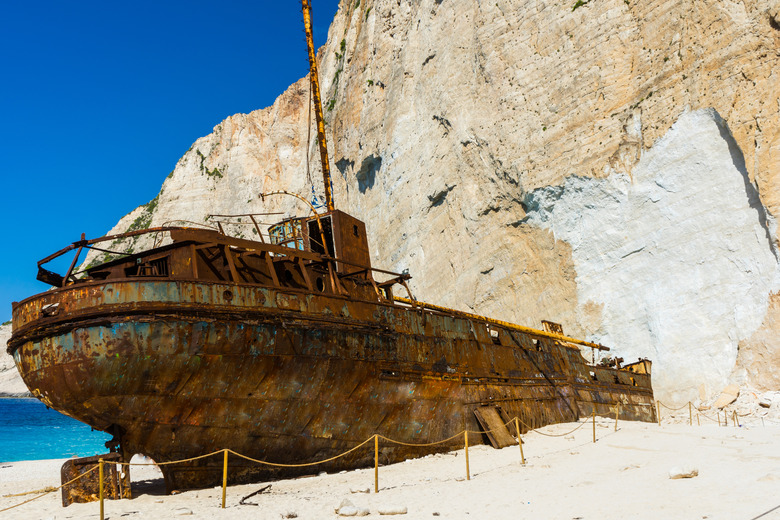 Simon Dux via Getty Images
The MV Panagiotis began its journey as Saint Bedan in Scotland in 1937. Though exact details aren't fully known, many presume the boat spent most of its life as a smuggler ship before becoming a tourist destination in Greece for those seeking spooky, off-the-beaten path places. Here's what to know about this mysterious, fascinating shipwreck.
Places You Didn't Know Were Haunted
Rumor has it that in 1980, MV Panagiotis was carrying contraband cigarettes from Turkey to Italy when Greek authorities caught on and alerted the navy. Marine police allegedly found 2,000 boxes of cigarettes worth 30 million drachmas, an obsolete Greek currency equal to more than $99,000. Adjusted for inflation, that would be worth approximately $331,700 today.
Many speculate that MV Panagiotis sailed off to escape the navy and met a devastating storm. The crew fled and the ship eventually washed ashore on Agios Georgios in Zakynthos, Greece. The beach was later named Navagio, meaning "shipwreck" in Greek. Now, people also call it Smugglers Cove.
Navagio has a seriously jaw-dropping coastline with towering limestone cliffs, sandy shores and vibrant blue seas. Visitors can explore the wreck up close on a tour or charter a boat because it's only accessible by sea. People also shoot jaw-droppingly beautiful photos 650 feet up on the cliffs above. Even if you can't visit in-person, photos of the MV Panagiotis and more of the most famous shipwrecks are a truly haunting sight.