How Many People Die In The Grand Canyon And Is It Becoming Too Dangerous?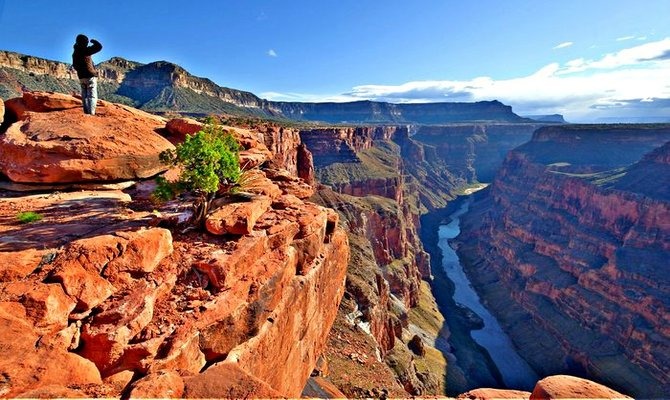 Shutterstock
Approximately 770 people have died in the Grand Canyon since the mid- 1800s and about 12 deaths happen every year – some were accidents, while others were suicides.
The Grand Canyon is one of the world's natural wonders – it's the second largest canyon in the world. It is located in the state of Arizona and became a National Park in 1919. The park gets approximately 5 million visitors every year.
Fox News reported that rangers at the Grand Canyon perform more rescues than at any other park; this includes 300 helicopter rescues a year.
In 2014, a 53-year-old man from Texas fell to his death approximately 350 feet from the South Rim, CBSNews says. It is believed he was trying to retrieve something, maybe a hat. There have also been incidents where people have slipped and fallen trying to take photos, and deaths that have occurred from people losing their balance and simply slipping and falling while peering over the edge.
It is important to educate yourself and take precaution when roaming around. There are no railings in many parts of the Grand Canyon – the West Rim being one example. You can literally walk to the edge anywhere you go.
Children especially need to be carefully watched – a 4-year-old girl fell over the side of the Grand Canyon while walking along a path with her family.
One of the most serious issues to watch out for in the canyon include hiking hazards, such as falls, dehydration and heatstroke. National Geographic explains, the most common mistakes hikers make is not bringing enough water and food, underestimating the wilderness, not wearing comfortable hiking shoes and appropriate hiking clothes, overestimating their own abilities and packing too much in their backpack.
Weather issues are also common; the National Park Service advises postponing your hike if there is threatening weather – lightening, rock falls and flash floods, are some conditions to watch out for.
Animals are also a cause for concern – according to National Geographic, the Grand Canyon "includes approximately 70 species of mammals, 250 species of birds, 25 types of reptiles and five species of amphibians." Do not attempt to approach, capture or feed the animals. "The most dangerous animal in the park is the rock squirrel. Every year, dozens of visitors are bitten when they try to feed these animals," according to NPS.
It's important to make sure you always plan ahead and let someone at home know your itinerary. The Grand Canyon can be a dangerous place; but if you are aware of your surroundings and take the right safety precautions, you will endure the experience of a lifetime.
More Readings
Facts About the Grand Canyon You Didn't Know Until Now
5 Best Hikes in Grand Canyon National Park