Haunted National Parks With Spooktacular Views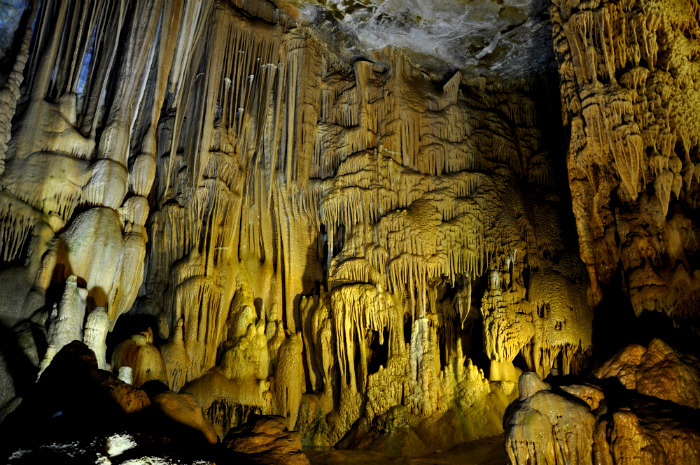 Thinkstock
Annie Libby – Any road-tripper interested in the strange and supernatural knows just where to go for some frightful fun. The Stanley Hotel. The Amityville Horror house. The Lizzy Borden Bed & Breakfast. But what if your sensibilities lean a little bit more towards The Blair Witch Project? If you long for the spookiness and chill that comes with the great outdoors, then you're in luck. The United States happens to be home to more than a few national parks that are both beautiful in the daytime and apparently haunted at night. For those who have the itch to get some hiking in as well as a possible ghost sighting, a trip to a haunted forest is the best of both worlds – literally.
Here are a few of the supposedly haunted national parks in the United States, as well as a bit of history behind their supernatural occurrences:
The Grand Canyon, Arizona
Although the Grand Canyon is breathtaking during the day, there's something a bit eerie about the desolate Arizona outback at night. With an almost preternatural calm in the air, it's easy to imagine strange things lurking at the bottom of the giant rift in the earth. There are many rumors that the Grand Canyon is full of ghost and apparitions, the most famous of these being "the Wandering Woman" who searches for her family who died in a hiking accident.  There are also reports of another ghost who haunts Phantom Ranch, where he was buried after he was crushed by a bolder. And, keep an eye out for otherworldly lights at night in the Canyon where two passenger jets collided in 1956. With actual tragedies combining with strange behavior in the skies – especially given that Arizona is right next door to Nevada and Area 51 – there's sure to be plenty of creepy things to spot if you go camping at the Canyon.
Gettysburg National Battlefield, Pennsylvania
It should go without saying that if you're looking for supernatural activity and apparitions, you should head to a place with a history of death. Battlefields are a natural site of spooky visitations, purported to be from former soldiers who continue to fight their ghostly wars. The Gettysburg National Military Park in Pennsylvania saw 51,000 casualties during the Civil War, and visitors report still hearing echoes of battle – drums and gunshots – as well as spotting ghostly visages. The most haunted part of the park is said to be Devil's Den, a hill used by artillery and infantry during the war. Some have reported that the den causes electronic malfunctions. While skeptics may point to this as a handy excuse for not being able to snap photographic evidence of spirits, anyone venturing to the Battlefield might need the courage of a soldier.
Yosemite National Park, California
As one of the most famous parks in the United States, Yosemite is home to gorgeous waterfalls and unique terrain. The National Parks Service website says that you can visit Yosemite to find "deep valleys, grand meadows, ancient giant sequoias, a vast wilderness area, and much more" – although "much more" could also mean supernatural activity. Yosemite's haunting leans towards its roots in aboriginal people, including the reported wailings of a young boy in a lake that calls for help, only to lure his rescuers to the depths of the lake. There is also a tale of an evil wind that haunts Yosemite's waterfalls called Po-ho-no, which entices visitors to the tops of waterfalls where they meet their unfortunate end. In 2011, three hikers fell from Vernal Falls to their deaths in Yosemite, corroborating the myth. Perhaps just be cautious around any bodies of water while you're at Yosemite.
Mammoth Cave National Park, Kentucky
People who are claustrophobic need not apply for a trip to Mammoth Cave, but those who are looking for a truly spooky experience should check out "the most haunted natural wonder in the world." There are cavern tours offered by lantern light for extra ambiance, but you might want to keep an eye out for any weird shadows, as the cave was used as a burial ground for local aboriginal tribes, and cave explorers. The most famous ghost of Mammoth Cave belongs to a young girl who abandoned her tutor because of her unrequited love. After feeling guilty and going back to find him, she died in the cave and continues to search for him still. If that's not enough, the Cave was used to house consumptive patients in the 1800s, which means there could be plenty of spirits roaming around – especially near the charmingly-named "Corpse Rock."
Great Sand Dunes National Park, Colorado
While Colorado is more known for its mountains, there's also a national park in the southern part of the state that's famous for its huge sand dunes – North America's tallest, in fact. It's the height of these dunes that make them the perfect place for some UFO sightings. "More than 60 UFO sightings have been reported in and around Great Sand Dunes National Park, and the region made national headlines in the 1970s with a rash of cattle mutilations that continue today," says Mother Nature Network. When you get tired of sledding down the dunes or spotting wildlife specific to the area, there's a convenient UFO Watchtower where you can look to the skies for strange lights. If your tastes lean more towards the extraterrestrial than the supernatural, head to the dunes for a potentially otherworldly experience.
Yellowstone National Park, Wyoming
It's more than just home to a geyser – Yellowstone's Old Faithful Inn also hosts plenty of things that go bump in the night. Legend states that a bride who was decapitated roams the halls with her head cradled in her arms. Avoid room number 2, if possible, as another woman ghost has appeared to visitors floating at the foot of the bed. Many other strange things have been reported at the Old Faithful Inn, including a fire extinguisher spinning on its own in the hallway. It might be a good idea to stick to your tent or RV, unless you're willing to sacrifice a couple nights of sleep.
Spooky and Spectacular
Taking a road-trip tour of national parks with ghost hunting in mind might not be for everyone, but for those looking for a unique and memorable vacation experience, searching for strange phenomenon could be just the ticket. Although the above instances are all only alleged to have occurred, there's no better way to prove it than to try and find some ghosts for yourself. Still, be sure to keep stocked with ghostbusting equipment along with your gear – just in case.
Annie Libby's passion for RVing and "experiencing life" was inspired early on when her parents packed up the camper every summer in search of the best campgrounds. Today at every opportunity, Annie and her family enjoy hitting the open road in their 2006 Winnebago Sightseer, affectionately named "Isabella." Annie Libby lives in San Diego, California.
More readings: 
Bats, Volcanos, Crocs: 15 Hair-Raising National Park Adventures
The Most Dangerous Places in National Parks