The Best 7 Adventures To Do In Yosemite National Park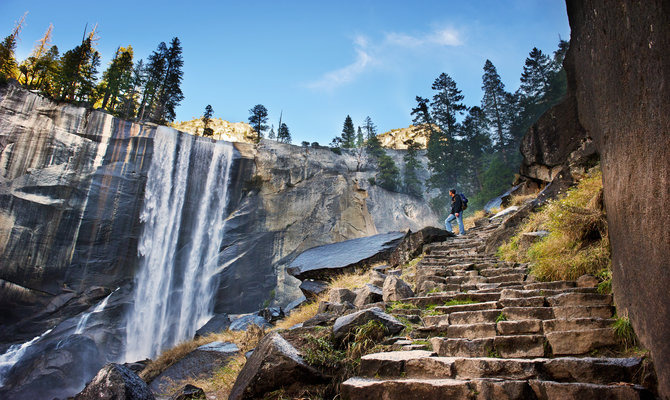 shaferaphoto/Shutterstock
Yosemite National Park is the perfect trip to embark on solo or with your loved ones.  There are over 20 waterfalls, challenging day hikes and family friendly trails.
From the trees, to mountains, high cliffs and stunning waters, if you have a love for nature you will have a great appreciation for Yosemite.
If you are planning a trip Yosemite, first decide which season you plan to visit. In the warmer months there are a variety of water sports at your disposal. From swimming in their outdoor pools to going on a rafting adventure, Yosemite will not disappoint. If you chose to visit during the colder months, gear up for some of the most incredible cross-country skiing, snowboarding and snowshoeing around.
Take tons of pictures, view over 400 species of vertebrates; even spot mountain lions and bears. Also capture a variety of stunning views that are accessible throughout the entire park.
Here is the Best 7 Adventure to do in Yosemite National Park
1. Visit Yosemite Falls: Yosemite Falls is one of the world's tallest falls at 2,425-feet. It is made up of three separate falls; the Upper Yosemite Fall, the middle cascades and the Lower Yosemite Fall. If you are up for it, take an all-day hike to the top of the falls for incredible views. Other falls located in Yosemite National Park include Sentinel Falls, Ribbon Fall and Bridalveil Fall.
2. Go Rock Climbing: The National Park Service considers Yosemite National Park "one of the world's greatest climbing areas." They have more than 3,000-foot rock walls, some of which demand advanced climbing strength and technique. The Yosemite Mountaineering School & Guide Service offers guides and private lessons for climbers with beginner, intermediate and advanced abilities.
3. Water Sports- The summer is one of the best times of the year to visit Yosemite National Park. Go swimming in their outdoor pools or even take a dip in the Dana Fork of the Tuolumne River. Also, go on boating and rafting adventures along the Merced River.
4. Visit Glacier Point: Drive up to Glacier Point and observe the stunning views of the Half Dome and Yosemite Valley below. Or, take the four-hour round trip Glacier Point tour.
5. Take a Full-Moon Bike Ride: Explore Yosemite on a two-hour full moon bike ride. Follow the park ranger as you observe spectacular views of the night sky, the incredible moon and beautiful stars.
6. Winter Sports- Yosemite National Park is home to the oldest downhill skiing area in California. During the winter go cross-country skiing, snowshoeing, snowboarding, downhill skiing and ice skating on their outdoor ice skating rink.
7. Horseback Riding- Take a Guided mule ride or go on a horseback riding adventure through Yosemite Valley. Big Trees Lodge Stable offers two-hour and half-day rides. Ride through the Meadow Loop Trail on the two hour ride and ride up into the mountain trails on the half-day ride (travelyosemite.com).
More Readings
The Most Beautiful Waterfalls in the World
The Most Beautiful Spring Drives in the U.S.