6 Reasons You Should Visit Great Smoky Mountains National Park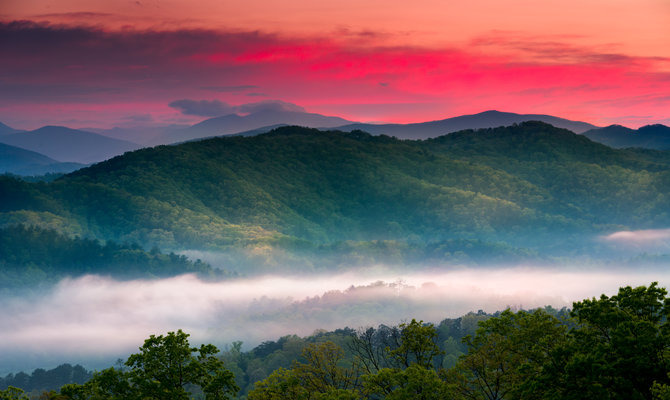 Shutterstock
Located in North Carolina and Tennessee is the spectacular Great Smoky Mountains National Park. It is well known for its diversity of plant and animal life.
Cades Cove is one of the most popular destinations in the park. It offers some of the best opportunities for wildlife viewing. According to NPS, "large numbers of white-tailed deer are frequently seen, and sightings of black bear, coyote, ground hog, turkey, raccoon, skunk, and other animals are also possible." You can also tour the cove on an 11-mile loop road for incredible sightseeing opportunities.
There are tons of things to do and explore – go hiking year-round, view spectacular waterfalls, take a scenic road trip on the Foothills Parkway, go camping, biking, auto touring, fishing and more.
According to NPS, Great Smoky Mountains National Park also holds one of the best collections of log buildings in the eastern United States. They have over 90 historic structures, some of which include barns, houses, outbuildings, churches and schools.
Continue reading for more reasons why you should visit Great Smoky Mountains National Park.
1. Hiking- Hiking is accessible to visitors year-round, and every season offers a different incredible hike. The most popular destination hikes in the park include Charlies Bunion, Alum Cave Bluffs, Andrews Bald, Rainbow Falls and Chimney Tops, according to NPS.
2. Horseback Riding- See the park in a different kind of way on a horseback ride. Cades Cove and Sugarlands are two of the most famous stables. Guided horseback rides are available from mid-March through late November. Rates are from $30 per hour, according to NPS
3. The Foothills Parkway- If you are looking for a scenic drive, look no further than the approximately 71-mile long Foothills Parkway. Unfortunately the entire parkway is not accessible, but the parts that are open provide incredible views of the park.
4. Waterfalls- You can't visit Great Smoky Mountains National Park without viewing their famous waterfalls. According to NPS, "every year over 200,000 visitors hike well-worn trails to view Grotto, Laurel, Abrams, Rainbow, and other popular waterfalls in the park." The large waterfalls are incredible, but smaller waterfalls and cascades can also be found on the majority of rivers and streams in the park.
5. Clingmans Dome- Visit the highest point in the park at 6,643 feet – Clingmans Dome. It is also the highest point in Tennessee and the third highest mountain east of the Mississippi, according to NPS. Reach the summit of Clingmans Dome for one of the most spectacular observation points. It offers 360 degree views of the Smokies.
6. Camping- Visit Deep Creek Campground – a 92-site campground which is ideal for individuals who want to embark on all different kinds of freshwater activities. It also offers incredible hiking trails, picnic areas and views of stunning waterfalls.
More Readings
15 Things You Didn't Know About U.S. Landmarks