The 5 Best Trails In Yosemite National Park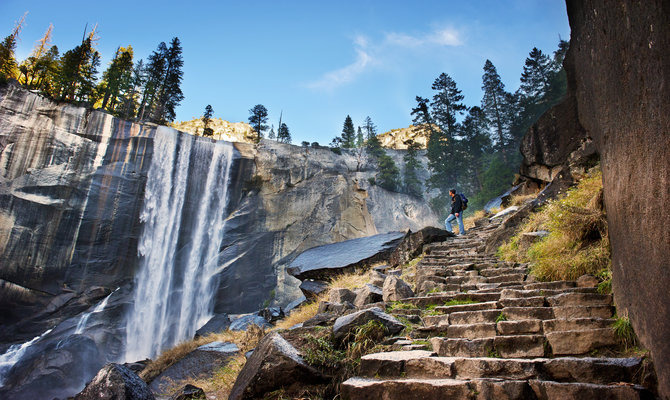 Shutterstock
A trip to Yosemite National Park would not be complete without a hike. Explore nature on a climb up a mountain; view stunning waterfalls, meadows, forests, beautiful mountains and a variety of wildlife.
Yosemite Falls is one of the world's tallest falls at 2,425-feet. It is made up of three separate falls; the Upper Yosemite Fall, the middle cascades and the Lower Yosemite Fall. Hike both the Upper and Lower Yosemite Falls for incredible panoramic views.
*Related: The Best 7 Adventures to do in Yosemite National Park
Along with hiking, there are tons of other year-round adventures for people of all ages and backgrounds to embark on. Go rock climbing, try a new watersport, take a Full-Moon bike ride, go skiing, ice-skating and horseback riding.
Embrace the spectacular tract of mountain-and-valley scenery in the Sierra Nevada on a beautiful hike. These are 5 of the best trails in Yosemite National Park.
1. Half Dome Trail- The Half Dome is a Yosemite icon, and a challenging hike. It rises approximately 5,000 feet above Yosemite Valley and 8,800 feet above sea level. The hike is about 14-16 miles round-trip. It's a tough hike, with a great elevation gain. Hikers say it's worth the effort. The panoramic views of Yosemite Valley and the High Sierra are stunning.
2. Glacier Point Trail- This is a short and easy hike, only about 1 mile round-trip. The elevation at trailhead is about 7,200 feet. It tends to get crowded, but the views are worth it. Tip: visit November to May when the crowds are low.
3. Lower Yosemite Falls Trail- This is an easy hike, it's a 1 mile loop that should only take around 30 minutes. Visit in the spring and early summer when the waterfall is at its peak volume. "This paved loop trail offers different vantage points of Yosemite Falls and Yosemite Creek, and you can stop at the many exhibits to learn more about the natural and cultural history of the area," NPS explains.
4. Upper Yosemite Falls Trail- This trail is about 7.6 miles round-trip from the Lower Yosemite Falls trailhead. It's a challenging hike, a long and steep climb; but hikers say it's worth it. Enjoy panoramic views of Yosemite Valley and take photos of Yosemite Falls and the Half Dome.
5. Mirror Lake Trail- Mirror Lake Trail leads to the spectacular Mirror Lake. It's about 2 miles round-trip and should only take about 1 hour to the lake and 2-3 hours for full loop, according to NPS.  Visit in the winter for some of the most spectacular scenery. The lake is frozen over and the cliffs are covered in snow.
More Readings
Jaw-dropping Photos of the Most Incredible Mountains in the World
The Most Spectacular Hikes in Every State