The Most Outrageous Pools On Cruise Ships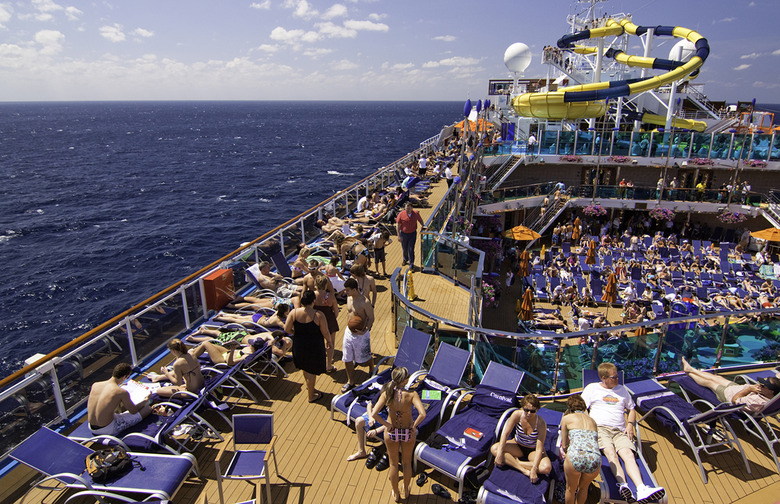 Dreamstime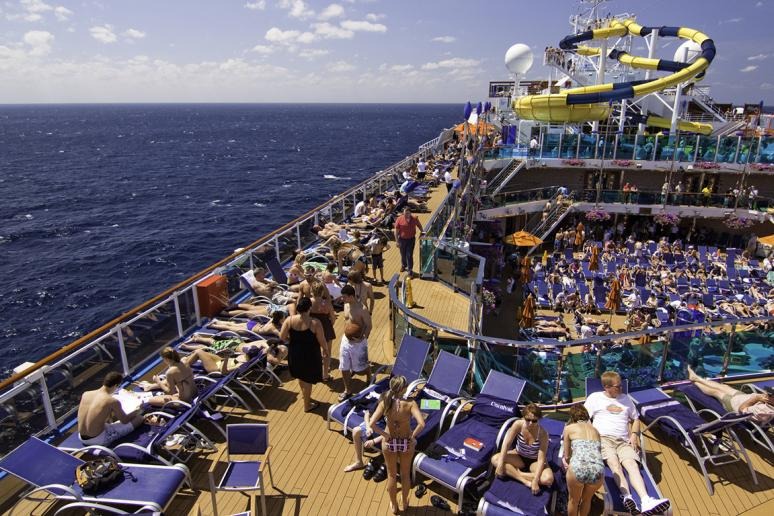 Dreamstime
There was once a time when a passenger on an ocean liner would step out on deck for a breath of fresh air. The exterior deck consisted of life boats, ventilators and some wooden deck chairs scattered along the promenade.
Back then, the most outrageous thing on the liner would be a postage-stamp-sized indoor pool.
The cruising industry is growing every year and the competition for the largest and most unique ships to attract passengers is growing, too.
One of the best ways to attract new clientele is with the most outrageous pools and pool deck features. Take a look at some of these pools. Tempted to take a dip?
Norwegian Epic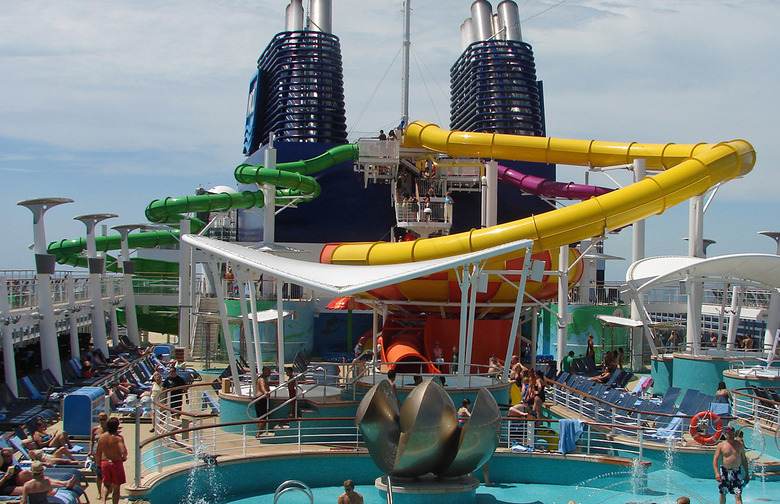 TNS photo archive
On the top decks of the Norwegian Epic is an area called the Aqua Park. And this park is epic with 3 water slides, 2 swimming pools, 5 whirlpools and splash parks. But for a really outrageous ride, try the Epic plunge. This 200-foot-long water slide towers four stories above the pool deck. After dropping two stories, you will end up swirling around the bigger-than-life water bowl before a second plunge into the pool.
Disney Fantasy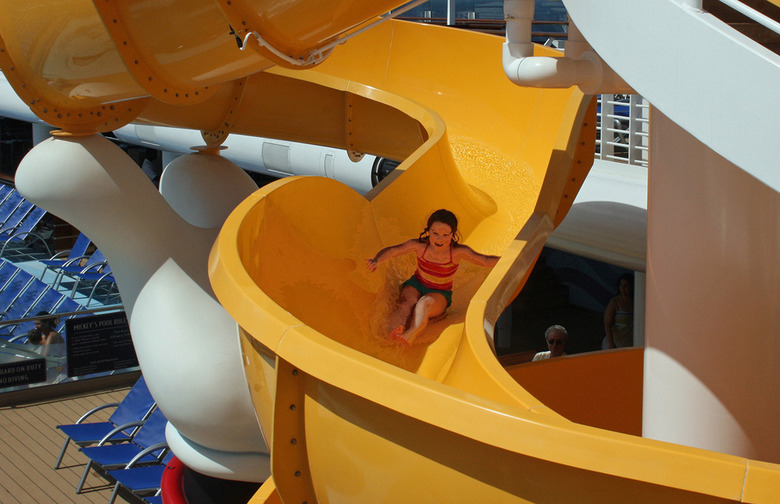 TNS photo archive
Your toddlers might have a different idea of what an outrageous pool adventure is. In this case Disney Cruise Line would probably take the top honors, if your youngest could vote. Located at Deck 11, mid-ship aboard the Disney Fantasy is a shallow freshwater pool for the young ones shaped like the world's most famous mouse, Mickey. Next to that is Mickey's Pool Slide. Held up by a huge gloved Mickey hand, this slide entertains with twists and turns, beginning one deck above the pool and splashing down right next to it.
Norwegian Getaway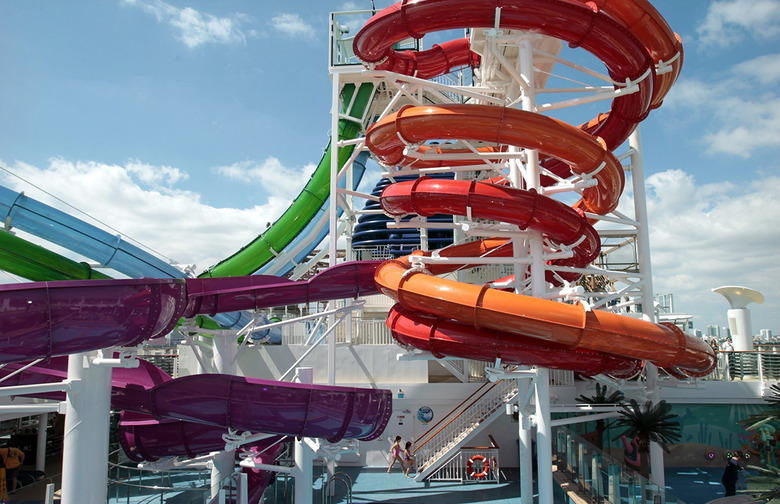 TNS photo archive
Norwegian Cruise Line really knows how to build over-the-top water themed activities on their pool decks. On the Norwegian Getaway, 17 decks above the sea, you will find five multi-story water slides descending into two pools. Norwegian Cruise Line calls them the fastest water slides at sea. There are two Free Fall drop slides; one drops you at 4Gs. The Whip features two side-by-side twister slides. Or you can always slow down with the family slide if that's more your speed.
Disney Dream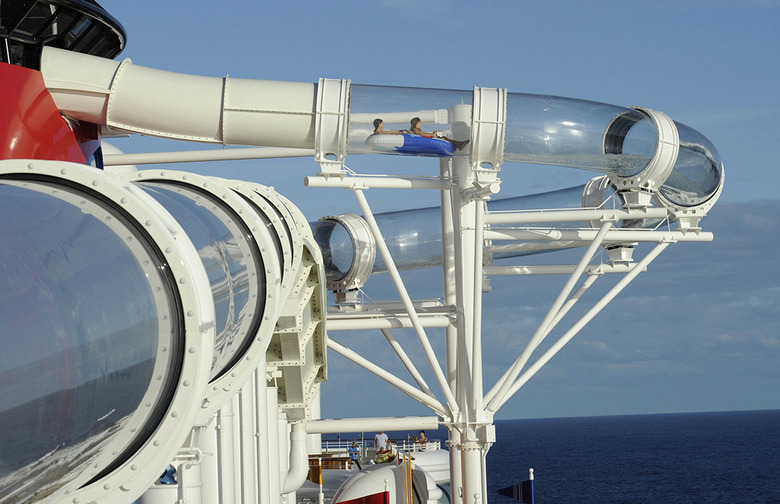 TNS photo archive
Another Disney first is the AquaDuck "water coaster," developed by Disney Imagineers. It includes 765 feet of snaking, transparent water tubes that take you out over the ocean, through the forward smoke stack, then over the deck pools before plunging you on a four-deck drop into a lazy river. This is a real mind-blowing experience for the older teens and parents, so best to keep the kiddies on Mickey's Pool Slide.
RCCL Freedom of the Seas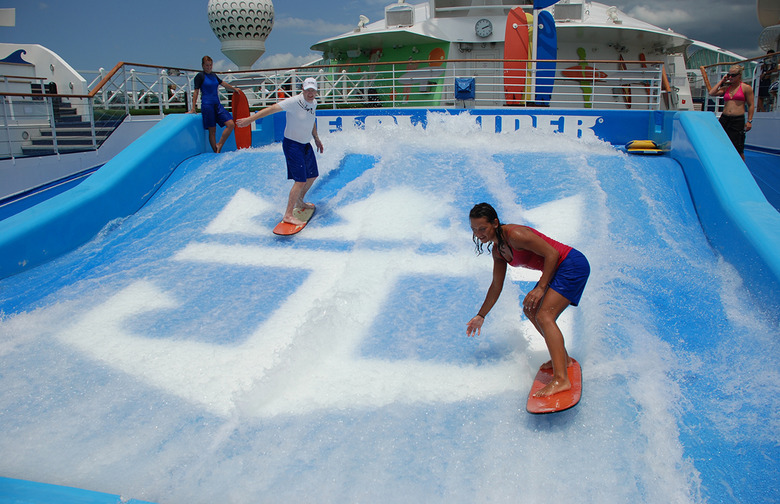 Dreamstime
One adrenaline invoking pool activity is synonymous with Royal Caribbean Cruise Line: the surf simulator known as the FlowRider. Back in 2004 RCCL was looking for something to make them stand out from other cruise lines, thus the FlowRider. Now a feature on most of their ships, people wait in line for up to an hour to experience surfing or surfboarding 10 stories above the ocean.  The surf simulator sends water at a very high speed across a small area that has an incline at the back. This can be a challenge for even the best wave riders.
Carnival Dream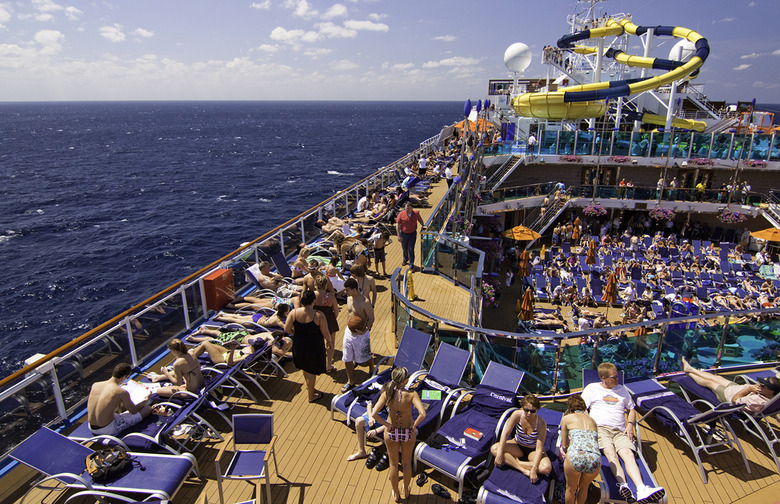 Dreamstime
Not to be outdone by any other cruise line, the "Fun Ships" have the Twister water slide at their onboard water park called WaterWorks. Thousands of gallons of water rush through hundreds of feet of twisting tubes that blast you into the pool at the bottom. If this doesn't do it for you, some select ships have side-by-side racing slides called Speedway Splash. These pool rides have hundreds of feet of slide, plus special lighting effects.
RCCL Liberty of the seas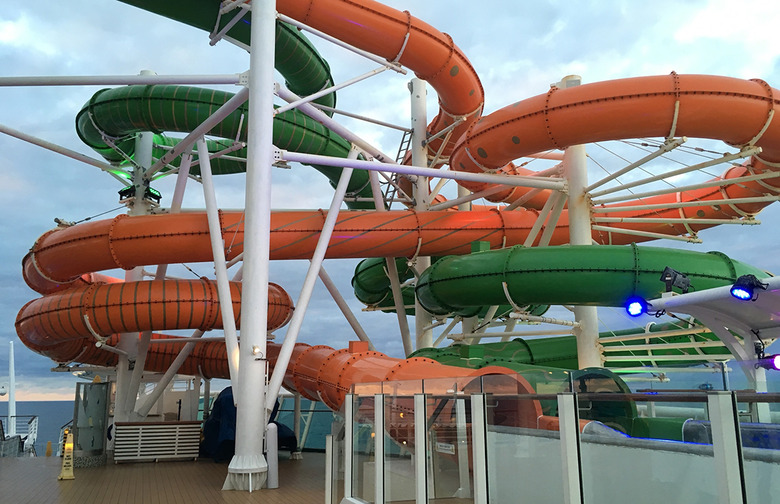 Dreamstime
Not only does Royal Caribbean Cruise Lines have the one-of-kind  FlowRider, it also has The Perfect Storm. This is a racing water slide: two translucent tubes with twists and turns with unforgettable views over the pool deck. Freedom also has the Tidal Wave, the first boomerang style water slide at sea. You plummet down one side, then up the next side to total weightlessness before rebounding back down.
Carnival Breeze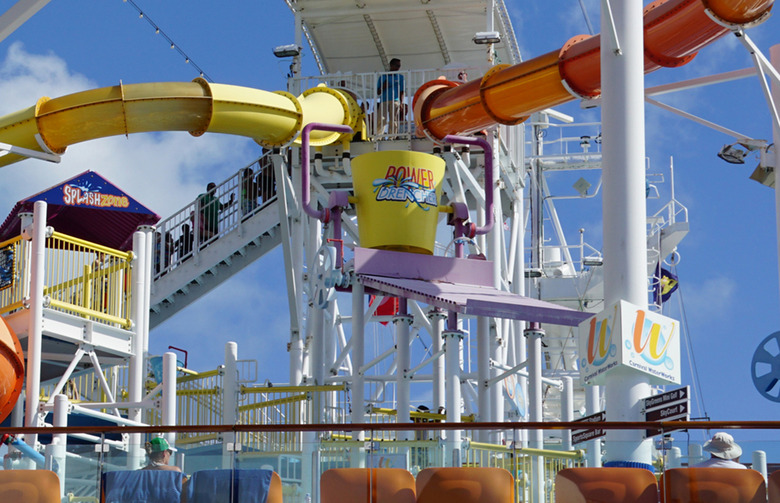 Dreamstime
This Carnival ship also has the trademarked WaterWorks water park. When you walk out on the pool deck, the first thing you can't help but notice is the 320-foot-long Twister water slide towering three decks above the pool deck. Then there's the PowerDrencher. This is a 300-gallon water bucket suspended 2 decks up. When it flips over, it drenches everyone below it.  
Norwegian Breakaway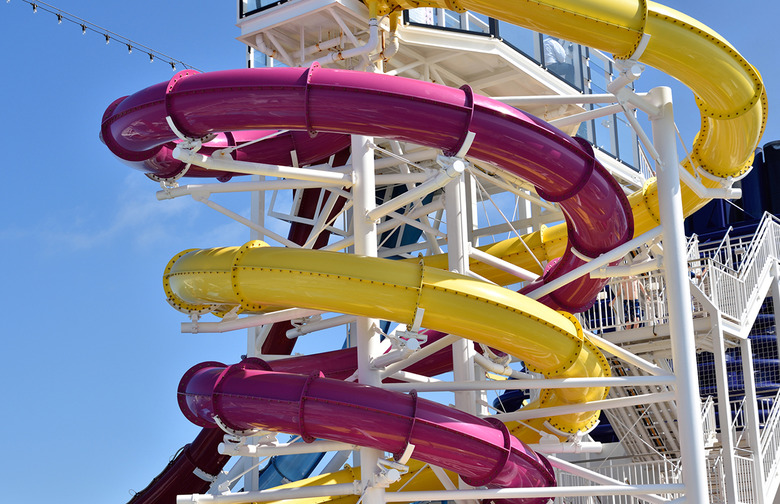 Dreamstime
This Norwegian cruise ship's sprawling Aqua Park and pool area is one of the largest at sea. This deck area has five major water slides and twin free-fall slides that drop passengers straight down 3 decks before spinning them in a loop. You will also find 2 large pool areas, 4 hot tubs and a SpongeBob-themed water park for toddlers.
Emerald Princess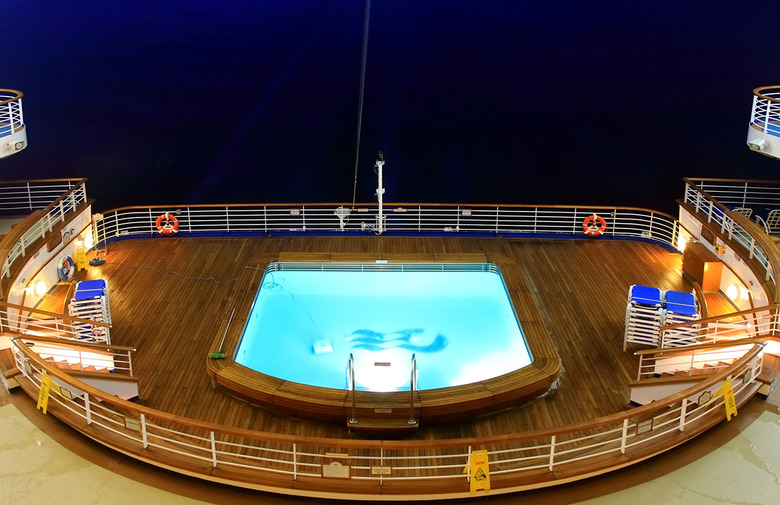 Dreamstime
As cruise lines grow and their ships grow with them, so will the number of passengers on each ship. Its almost inevitable that vacationers will not be able to find a lounge near a peaceful, secluded pool. This is why many find Princess Cruise Lines' Emerald Princess aft deck pool the most outrageously secluded adult destination. The Emerald also has its mega pools center ship, but nothing beats this hidden gem.
RCCL Oasis of the Seas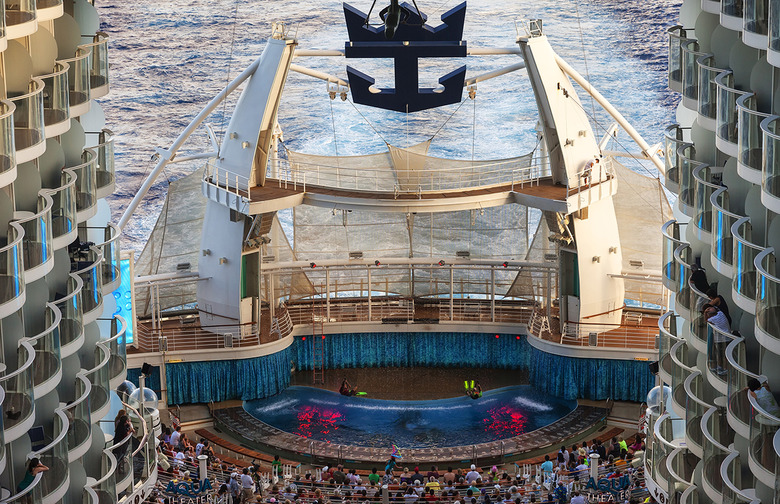 Dreamstime
The award for the most exciting and outrageous things done with a ship's pool goes to Royal Caribbean Cruise Lines' Aqua Theater on the Oasis of the Seas. Here you can watch high divers from almost 60 feet up plunge into a 17-foot-deep pool (deepest pool at sea) below. The show called "Splish Splash" has 6 divers, 4 synchronized swimmers, 2 specialty divers and 6 acrobat performers.
RCCL Symphony of the Seas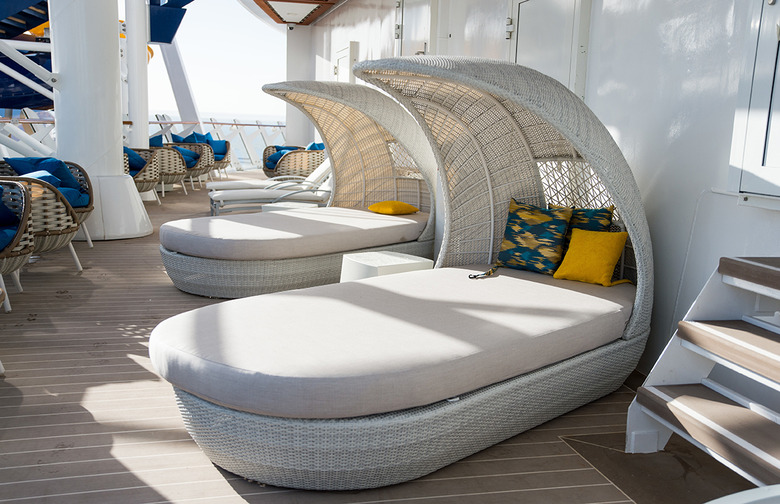 TNS photo archive
More and more you will find that some passengers will demand just a little bit more luxury from their cruise line and the companies are recognizing this and catering to them. You will find an increase in private decks with their own pools reserved exclusively for those who choose to pay a premium. Royal Caribbean's Symphony of the Seas offers some of the most insanely luxurious poolside seating in the industry. If you reserve a suite onboard, you have a special reserved section of 2 person cabana style chairs just for you.
Celebrity Reflection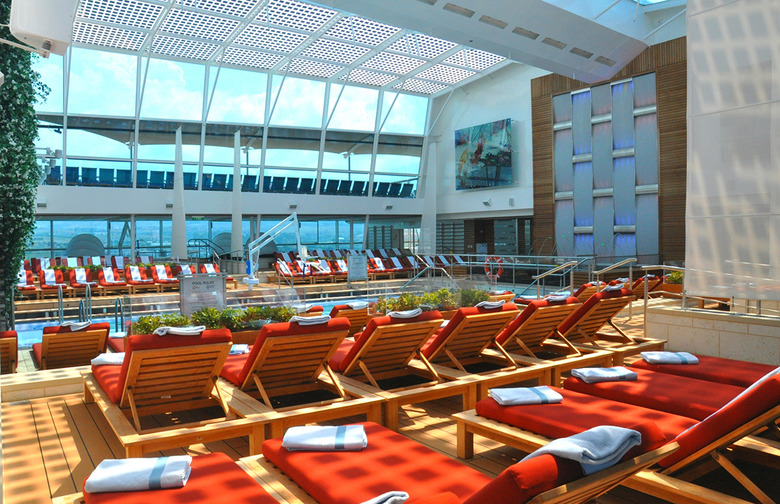 Dreamstime
Viking Star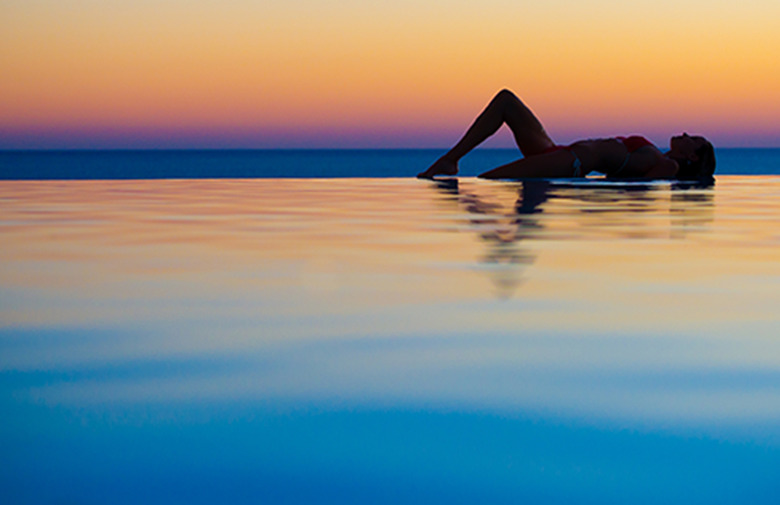 Dreamstime
How would it feel to be floating 7 stories above the ocean with nothing below you but the gentle whitecaps from the wake of the ship? Viking Cruise Lines' Viking Star will give you the most breathtaking views from a pool that you probably will ever have. A first for Viking, the infinity pool on the farthest point aft of the ship has a glass wall that looks right over the side of the ship. The optical illusion you will experience is a weightless void between you and the gently rolling sea.
Regal Princess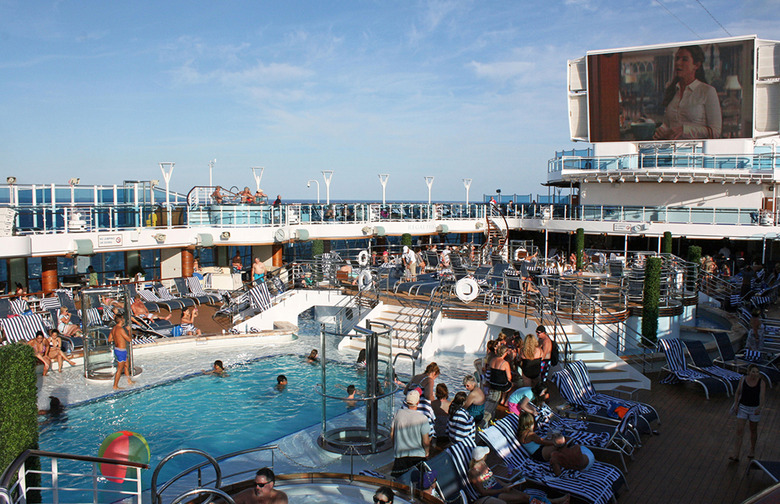 TNS photo archive
This pool activity might not seem that outrageous to some adults, but the kids will think it's the best! Princess brings the outdoor drive-in to the pool deck. Towering above the Lido Deck is a 300-square-foot, 69,000-watt LED screen. The ship really gets the drive-in feel right by offering deck chairs dressed with cushions and fleece blankets, complimentary popcorn, and snacks like burgers and pizza.