The Most Instagrammable Cherry Blossom Spots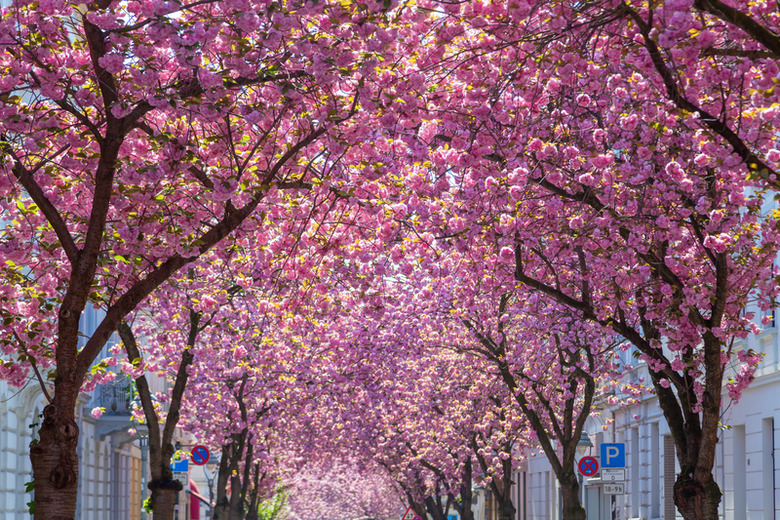 Dreamstime
There are no flowers quite like cherry blossoms. They come in hues from bright pink to almost white and fill the air like wisps of cotton. They provide a stunning background for photos, which of course you already know if you are on Instagram.
Nothing will set your Instagram ablaze quite like a photo of some gorgeous cherry blossoms. Your followers will see that pop of pink and immediately smash that like button. And you don't even have to go abroad to get a decent cherry blossom photo. Though many of the spots we've selected are in other countries, there are also opportunities to get the ultimate 'gram all across America.
The Active Times has raked the internet searching for the most Instagrammable places to photograph cherry blossoms, and it turns out there are a ton. So instead of taking those tired bikini shots in Cabo for an Instagram thirst trap that won't work, change your spring break plans and head to any of these super Instagrammable cherry blossom spots.
The old city in the onetime capital of West Germany features a tunnel of gorgeous cherry trees that are perfectly picturesque. Altstadt throws a celebration for these trees in late April with an open-air festival that features live music, food, and cherry blossom-everything!
Botanical Garden of Curitiba (Curitiba, Brazil)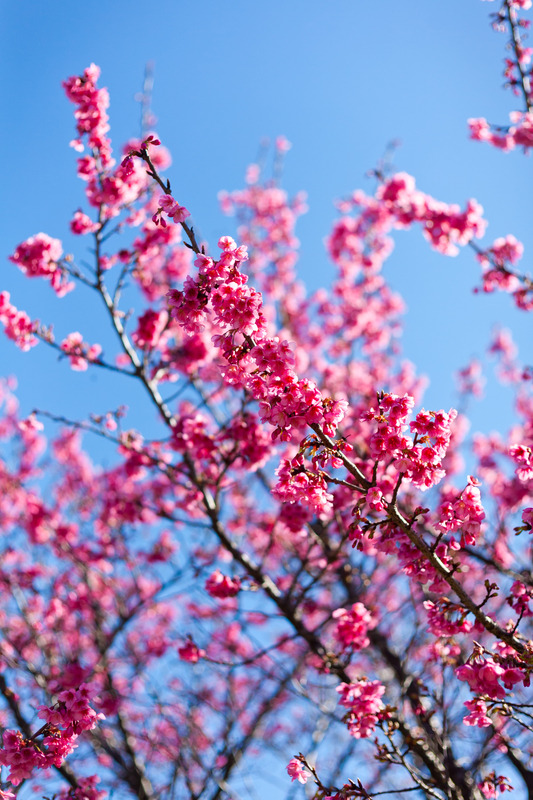 Dreamstime
Many Japanese expats in Brazil live in Curitiba, and as you would imagine, cherry trees decorate the streets and parks. The city's botanical garden has an amazing collection, making the city the best place in Brazil to witness cherry blossoms. Other famous places include Praça do Japão, Jardim Botânico, Parque Tanguá, Anita Garibaldi Street, Iguaçu Street and Pasteur Street. The best time to see them is in the winter, especially in July.
Branch Brook Park (Essex County, New Jersey)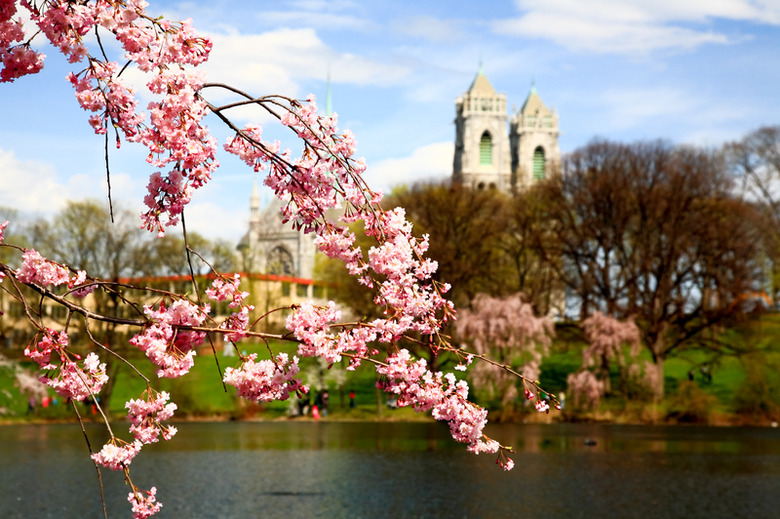 Dreamstime
You'll want to snap a few shots of the cherry trees in Branch Brook Park. Whether you're strolling under the beautiful blooms or partaking in the Cherry Blossom Challenge Bike Race or the Cherry Blossom 10K Run, you're sure to get a shot full of pink flowers.
Brooklyn Botanic Garden (Brooklyn, New York)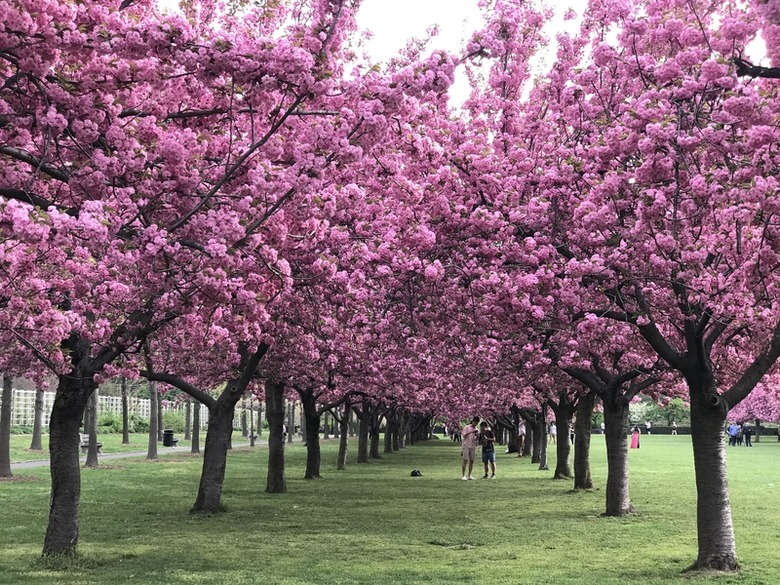 Dreamstime
This garden has one of the most diverse collections of cherry trees — more than 40 different varieties. The Botanic Garden puts on a Sakura Matsuri Festival in the spring, which features dozens of performances celebrating contemporary and classical Japanese culture. The 2019 festival is being held April 27 and 28.
Copenhagen Sakura Festival (Copenhagen, Denmark)
Dreamstime
This year's Sakura Festival in the Danish capital is being held the weekend of April 27. The blossom festival began in 2005 when a Japanese business with Danish ties gifted the city 200 flowering cherry trees to honor the bicentennial of the famous author Hans Christian Andersen. The weekendlong event takes place in Langelinie Park.
Dallas Arboretum and Botanical Garden (Dallas, Texas)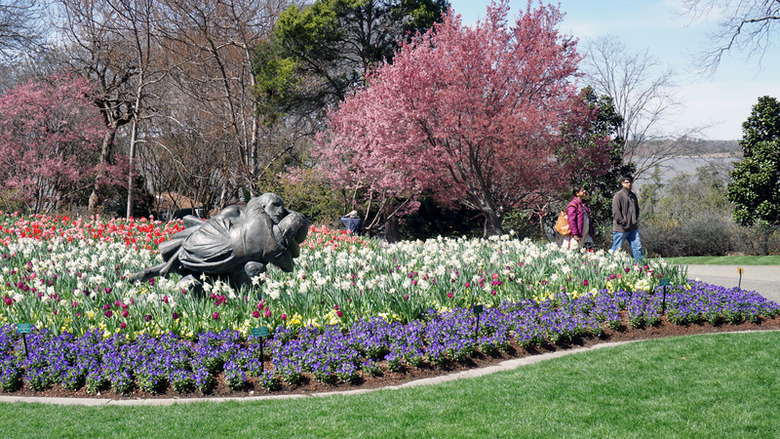 Dreamstime
This Texas arboretum offers an annual Dallas Blooms Festival. During that time, their selection of Prunus x yedoensis (aka Yoshino cherry) trees bloom. The window to catch them in their full glory is very small, only about a week. So, we recommend calling ahead of time to check so you can secure that awesome Instagram.
Fiesta del Cerezo en Flor (Jerte Valley, Spain)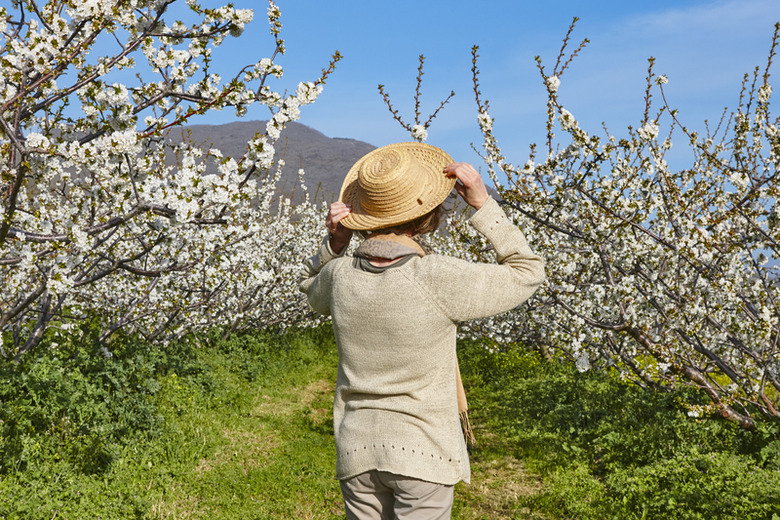 Dreamstime
The more than two million cherry trees in the Jerte Valley form a beautiful blanket of snow white flowers covering the hills. From far away, it looks like winter is not over. The region is totally transformed into an arena for celebrating the Fiesta del Cerezo en Flor with majestic views, exhibitions, and markets. More than 50,000 people attend every year.
Gucun Park (Shanghai, China)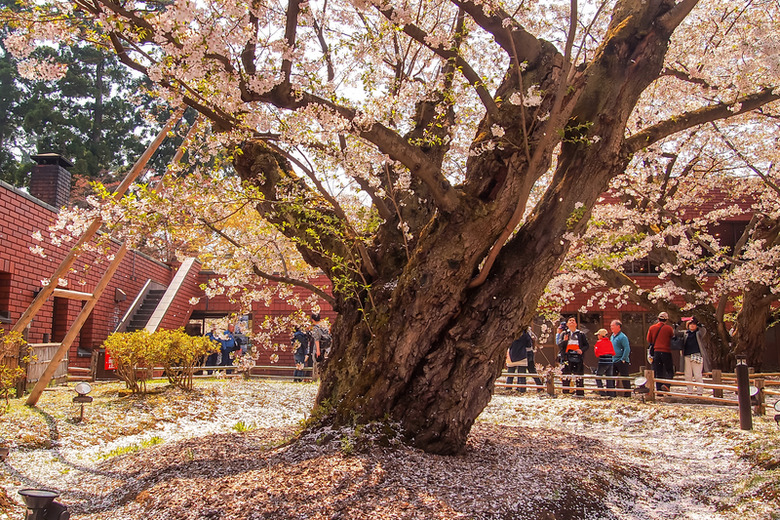 Dreamstime
This massive park hosts an annual Cherry Blossom Fair full of pretty blooms. "This is an ideal area for gathering and photos," commented one visitor on their Trip Advisor page.
Hirosaki Cherry Blossom Festival (Hirosaki, Japan)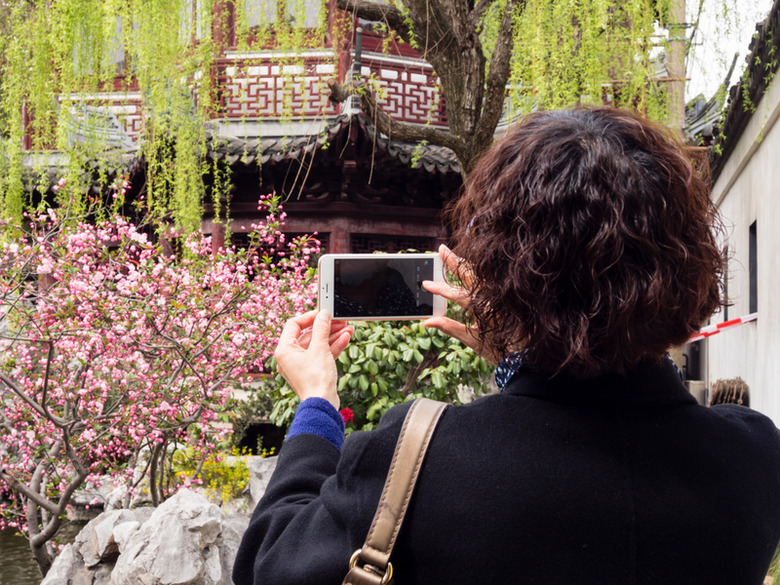 Dreamstime
This spring festival is famous in Japan for its display of cherry blossoms. The flower is a symbol of fragility, life, and beauty in Japan. People religiously follow the blossom forecast, which has already reported flowerings. More than a million people gather every season under the 2,600 trees of different varieties around the park's 400-year-old castle. The festival is held yearly from April 23 to May 5.
Japanese Tea Garden, Golden Gate Park (San Francisco, California)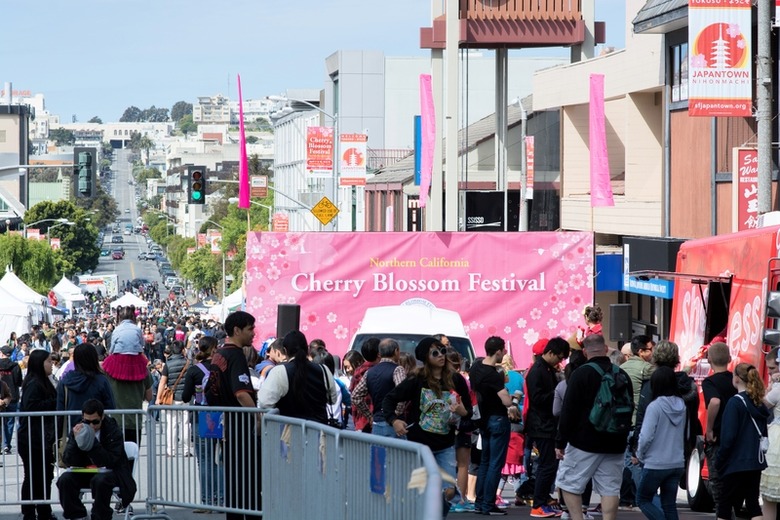 Dreamstime
In April, all the cherry trees really blossom at the Japanese Tea Garden inside San Francisco's Golden Gate Park. The park itself is absolutely stunning, but its beauty is enhanced by the spring-hued blooms. If you're in the Bay Area, there's also the Northern California Cherry Blossom Festival in San Jose from April 13 to 21. It's a massive celebration of Asian traditions. Despite the name, the focus is not on flowers, but you'll still get some incredible photos.
Jingae Gunhangje Festival (Jinhae, South Korea)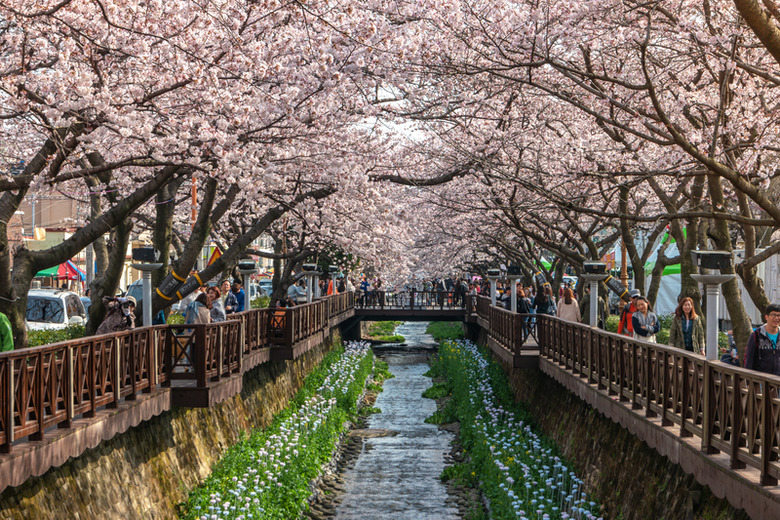 Dreamstime
Known for being South Korea's biggest festival, the Jingae Gunhangje first began as a memorial service to celebrate a South Korean naval admiral. Now it's the country's major spring festival and it's one of the best places to snap a photo of some pretty cherry blossoms. It's a gorgeous place to photograph during the day, and the blooms are illuminated with lights at night, so you can still enjoy their beauty in the evening.
Kungsträdgården (Stockholm, Sweden)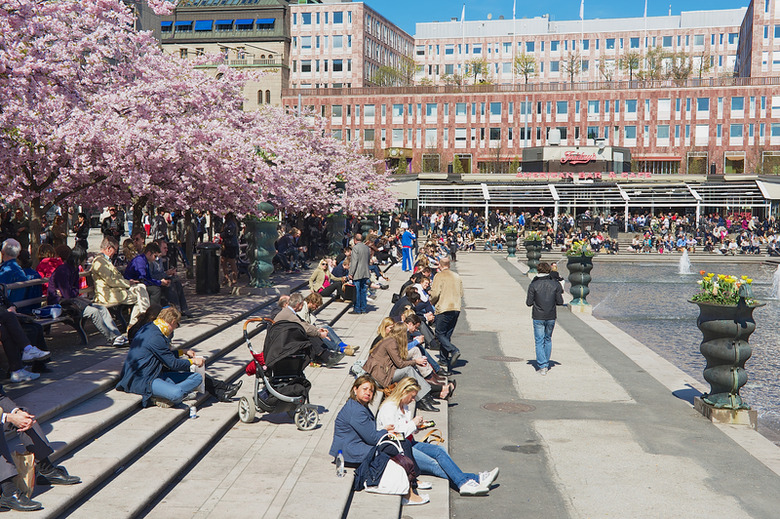 Dreamstime
The cherry blossoms in the open plaza of Kungsträdgården — which means "king's tree garden" in English — are stunning. There are more than 60 trees that have been planted there since 1998. The spring season is a real feast for locals and tourists alike, who love to go there for a picnic and to enjoy the dazzling sights.
International Cherry Blossom Festival (Macon, Georgia)
Macon is home to the International Cherry Blossom Festival. Every March, the city becomes a pink, cotton-spun paradise as more than 300,000 Yoshino cherry trees bloom in all their glory. This year, you can witness the gorgeous candy floss-hued paradise for yourself from March 22 to March 31.
Maruyama Park (Kyoto, Japan)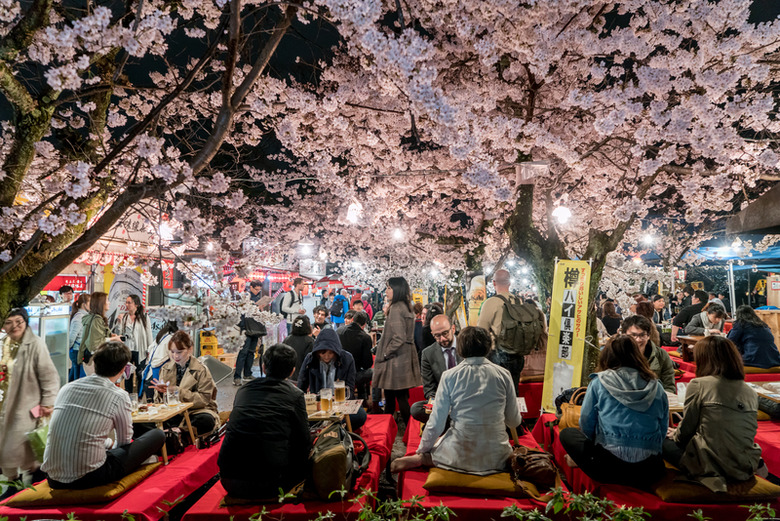 Dreamstime
Japan's historic former capital city is a perfect place to be surrounded by sakura blossoms. In Maruyama Park alone, there are over 680 kinds of cherry trees. The blooms begin mid-March and stick around until early April, so you might want to book your trip to Japan ASAP.
Missouri Botanical Garden (St. Louis, Missouri)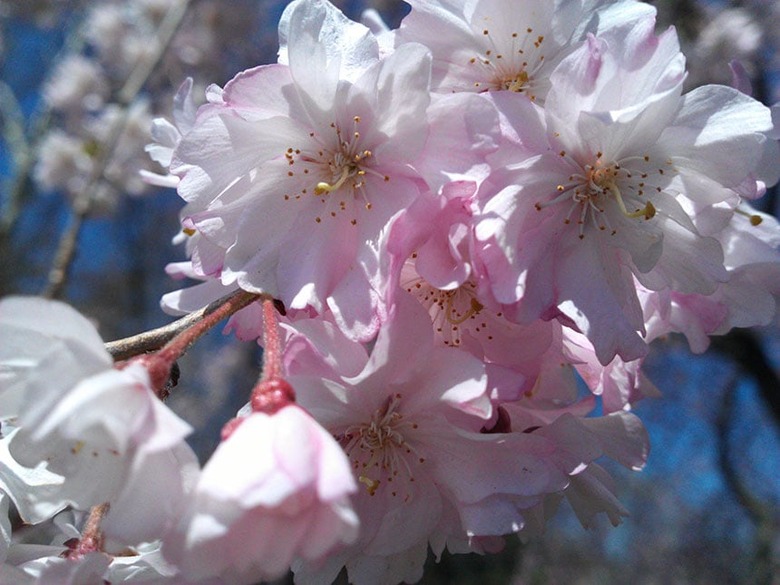 Sandi C./Yelp
This beautiful public garden is mostly known for its more than 7,500 orchids. But it also has more than 200 different cherry trees, 20 of which are of "Centennial varieties." They are descendants of the trees gifted to the U.S. from Japan in 1912. The Higan cherry trees and their fiery pink blossoms are among the most popular.
Shillong (Meghalaya, India)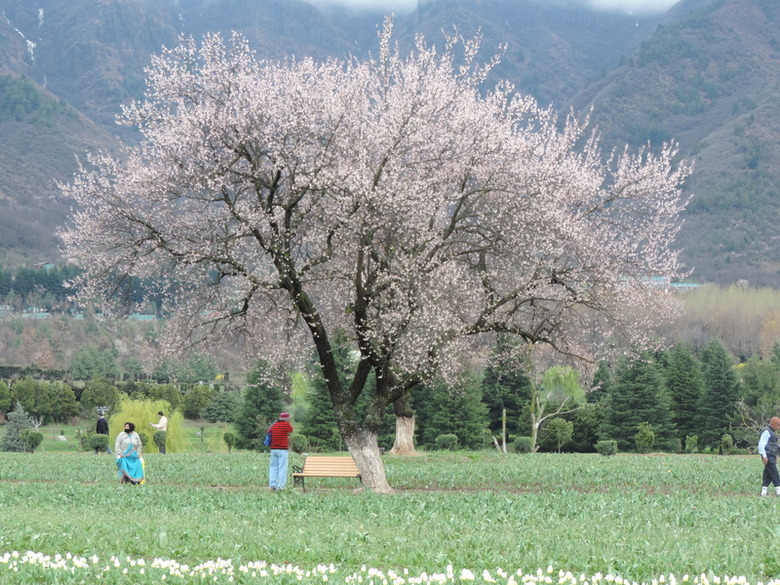 Dreamstime
While many countries have cherry blossoms that bloom in April, India's main cherry blossom attraction blooms in November. There are thousands of cherry blossoms across the forests of Shillong, and your best bet to see them is by bike or on foot.
State Capitol State Park (Salem, Oregon)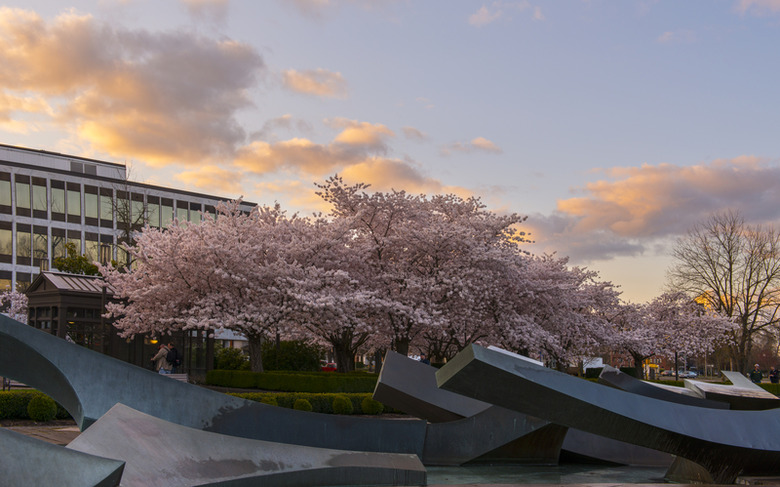 Dreamstime
Oregon's capital is known as the Cherry City because of the cherry orchards that used to be found all around the valley town. Salem had its first Cherry Festival in 1903. The trees can now be found in the State Capitol State Park, and there are more than 150 Akebono flowering cherry trees lining Capitol Mall in the city, which is only about 45 miles from Portland.
National Cherry Blossom Festival (Washington, D.C.)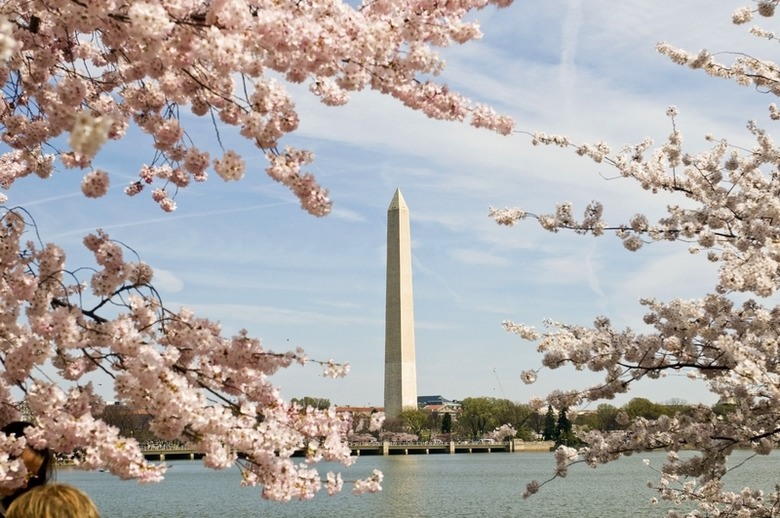 Dreamstime
This year's blossoms are expected to reach peak bloom on April 5, so you might want to head to D.C. fairly soon. This yearly celebration should be on the bucket list of anyone who admires gorgeous flowers. The capital has been celebrating the cherry blossoms since 1912, when more than 3,000 cherry trees were gifted by Tokyo's mayor as a sign of friendship.
University of Washington (Seattle, Washington)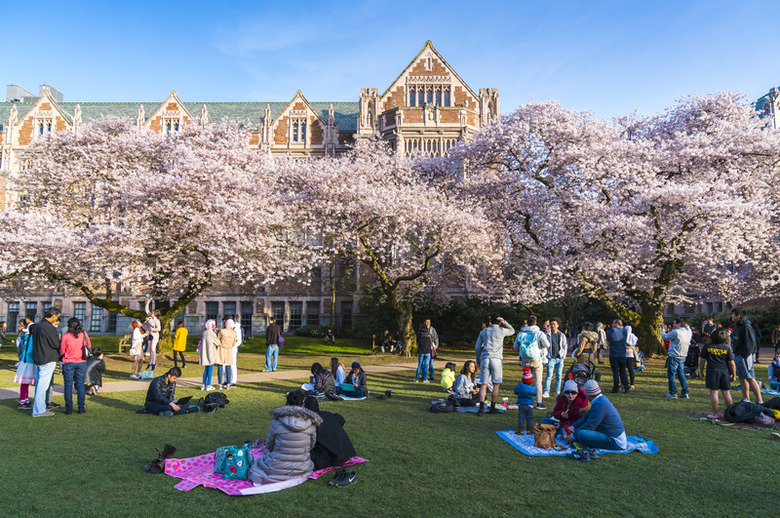 Dreamstime
The 29 cherry trees on the University of Washington's quad were planted in 1962 and have since become an iconic feature of the university. The campus is dotted with other cherry trees as well as similar-looking plus, but the species planted on the quad (Somei-yoshino) usually blooms first before the others, creating a spectacular early-spring display. The university provides annual updates on when the trees are expected to bloom; this year's peak bloom is expected to occur the third week of March.
Vancouver Cherry Blossom Festival (Vancouver, Canada)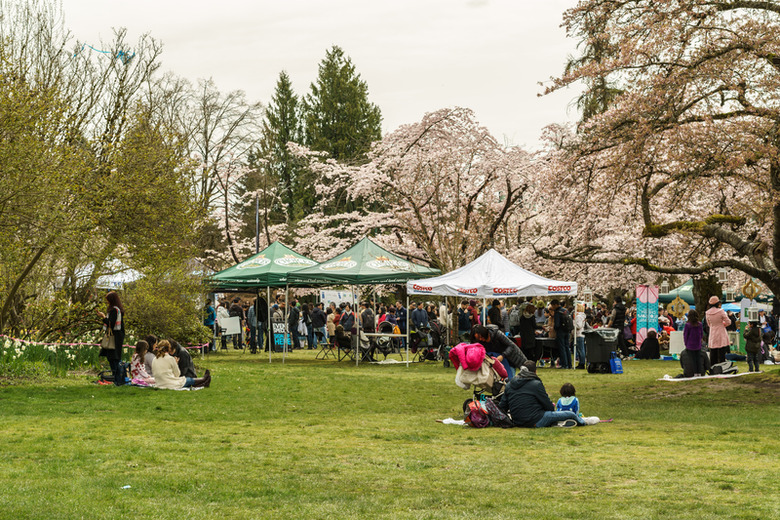 Dreamstime